Summer… a time of lengthening carefree days of light and heat, of gatherings, picnics, impromptu parties and holidays. With mornings that drift to afternoons which in turn slide timelessly to long warm evenings sitting around a firepit, watching the stars brighten in the night sky, the vapour trails of distant jets turning pink overhead - friends now silent as we watch the sun setting in a blazing orb behind a darkening horizon.
Wine-wise, summer parties are my favourite get-together's; demanding no fixed idea of wine, except a ready supply of ice to cool both reds, whites and rosés, all poured into decent glassware and served with no pretension or show. Summer parties are generally informal (especially the ones I go to!) and the food leans towards simple yet bold flavours, often with a grilled or BBQ element, so when pairing wines go back to basics and enjoy riper, more robust flavours.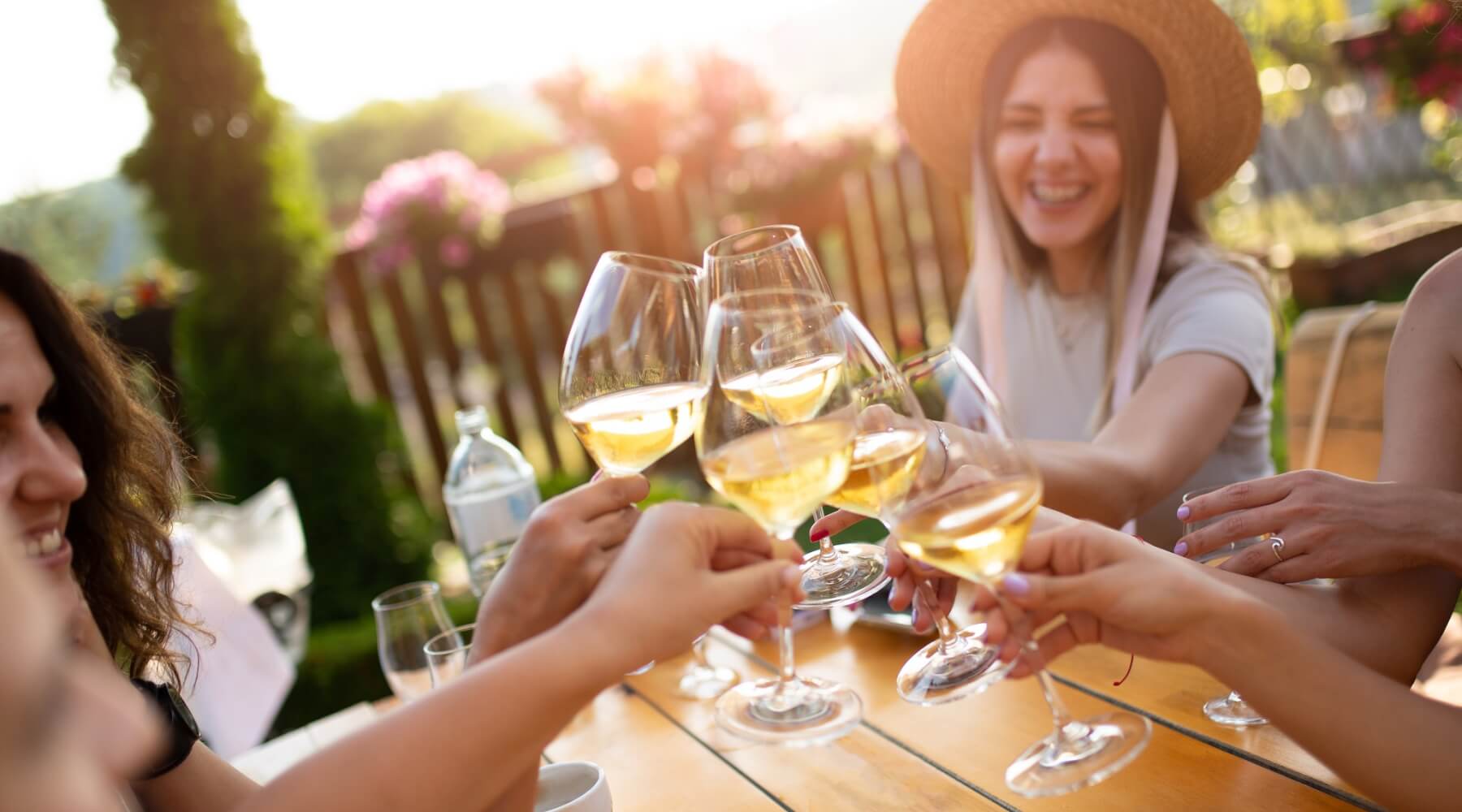 Here are my 12 summer party choices for 2022. All we need now, is the sun to shine...
Fizz
Sparkling Grillo, NV Brut, Santa Tresa, Sicily (Organic)
A wonderfully ripe, classy and flavoursome sparkler, made from the local Grillo grape in the sun-kissed and frankly hot island of Sicily. Expect underlying flavours of fresh grape, almond, biscuit and a crisp zesty finish.

Rosés
Côtes de Provence Rosé, Château Terrebonne, France
Whilst the fashion for pale Provence rosé continues, often with silly price tags and celebrity endorsements, this Vegan friendly rosé is made from local grapes and shows you don't need to pay stupid money. Crisp, steely, fresh as the freshest of daisies, with pale hints of alpine strawberry, spice and long finish. Move over Kylie, this is proper Provence perfection!
Rioja Rosé Bagordi, Spain
Unfashionable, and therefore a bit of a bargain, this dry and full-bodied rosé absolutely shines when the sun makes an appearance. Made from predominantly Garnacha (Grenache) with a sprinkle of Tempranillo and bled on the skins to show a bit more colour (and therefore flavour), this is ripe, cherry and strawberry infused with a streak of citrus and white pepper – try it with grilled sardines or even cold roast lamb.

Whites
Domaine Barcelo, Vermentino/Chardonnay, Il de Beaute, Corsica
This is my find for the summer of 2022! A cracking dry yet perfumed white from the beautiful shores of Corsica. Crisp, steely and fresh at first, there is depth and richness with a note of apricot and wet stones, overlaid with crisp acidity and a light alcohol (just 12% ABV), so good for a long afternoon. Best with poached salmon or grilled seafoods.
Sauvignon Blanc, Gran Reserva, Santa Luz, Leyda Valley,Chile
I have got friends who adore Marlborough Sauvignon and drink nothing else, but like a growing core of wine drinkers, I just want less hype and dilution and more flavour. So, if you're like me, then you will really appreciate this. Tasted blind this could be the finest single vineyard Sauvignon Blanc from the stony vineyards of Marlborough, except that this is better and half the price! A mind-blowing wine of great complexity, piercing fresh passionfruit and gooseberry notes with spine tingling acidity and minerality.
Riesling Trocken Goldschild, 2019, Moseland, Germany
Not a wine, or grape, that a lot of my friends would choose, but poured into a decent glass, swirled, sniffed and tasted this wine single handedly changes everyone's opinion of Riesling and German Riesling in particular. Grown in the fashionable region of Saar, this is piercing and dry with notes of fresh peach, lime juice and the kind of tongue tingling acidity and freshness 'bite' that I tend to get from a great margarita or freshly squeezed lime juice cocktail. Try it with cold roast chicken and salad. Vorsprung Durch Riesling Baby!
Dry Furmint, Talisman, Hungary
The local grape, Furmint is used extensively in Hungary, especially for rich dessert wines from Tokay. This dry Furmint works really well with lighter, bolder summer flavours, with its core of apple skin notes, overlaid with a hint of white pepper and sweet pear. Interesting, bold yet not overly high in alcohol, it tastes like a cross between the ubiquitous Picpoul and a crisp Sancerre with a side element of Gruner – so no bad thing!
Reds
Domaine Barcelo Rouge, Il de Beaute, Corsica
A juicy and softly spoken blend of local Niellucciu and Merlot, grown on sandy soil overlooking the azure Mediterranean on this most beautiful region, south of the capital Bastia, this light to medium bodied red shows ripe plum and cherry fruit, overlaid with a 'bite' of fresh acidity and mild-mannered tannins. Ideally drunk cool and partnered with local roasted meats or mild cheese.
Novellum Crianza 2017, Rejadorada, Spain
A lot of my friends like Rioja, and an equal number like richer 'New World' reds such as Grenache or Pinot, so why not combine the two styles? Novellum Crianza (Crianza means 1 year in oak) comes from Toro, a quiet and sedate region in North Central Spain, close to Rueda and Ribera del Duero. This is where the local Tempranillo grape thrives and gives rich, sturdy reds that partner with sweet oak rather well, yet offer more 'juiciness' and a spice and warmth that move them head and shoulders above Rioja. Try it with grilled game, hand-made burgers and meaty grilled sausages.
Coroa d'Ouro, Pocas – Douro valley, Portugal
I like big fleshy reds generally, but in the warm heat of a summers day I lean toward freshness and reds that have a certain uplifting acidity. This gives energy to red wines generally, but also cuts through the fatness exuding from properly grilled meats and holds the vinaigrettes of salads and tomatoes. This is made from Port grapes and shows dusty red fruits, warm spice and a lean streak of vanilla sweetness. Bordeaux in style, but not in price!
Petit Verdot 'Echelon' 2014, Kingston Estate, Australia
This will blow your mind. A wine that has won more awards than it has label space to show – adorned, awarded, loved and venerated equally by all those lucky enough to have tasted it. Made from the unfashionable Petit Verdot (a difficult and angst-ridden grape used in Bordeaux), this wine explodes from the glass in an assault of rich sweet cherry, blackberry and crème de Mure, with notes of spice, warm leather, sun-kissed earth and sweet vanilla. Layered, complex and strikingly delicious. Pour into a big glass, swirl, then sip with best grilled rump, hearty veggie burgers or spiced Moroccan 'whatever'. This is a wine to stop conversation.
Grenache de Visu, 223, Xavier Roger, Languedoc
I love Grenache. Its simple direct red fruit flavours, dusted with sweetness and a tiny 'kick' of heat and exotic spice, this is a wine that cries out for simple summer grilled foods and the cooling breeze of a summers evening under the stars. This wonderful Grenache from star winemaker Xavier Roger is labelled 223 – for the number of days it took to ripen the grapes in the heat of a Languedoc summer and autumn. Just glug it into a big glass, close your eyes and you could think it's Chateauneuf!
Neil Goldie
Director & Prestige Accounts

Back to blog