We recently hosted a Festive Wine Dinner at The Wheatley Arms (part of the wonderful Individual Inns Group) in Ben Rhydding. Regional Sales Manager, Rak Jain gives his account on the evening below.
As Christmas is just around the corner (and it's never too early to celebrate, is it?), we decided that our Wine Dinner at The Wheatley Arms had to be a festive one!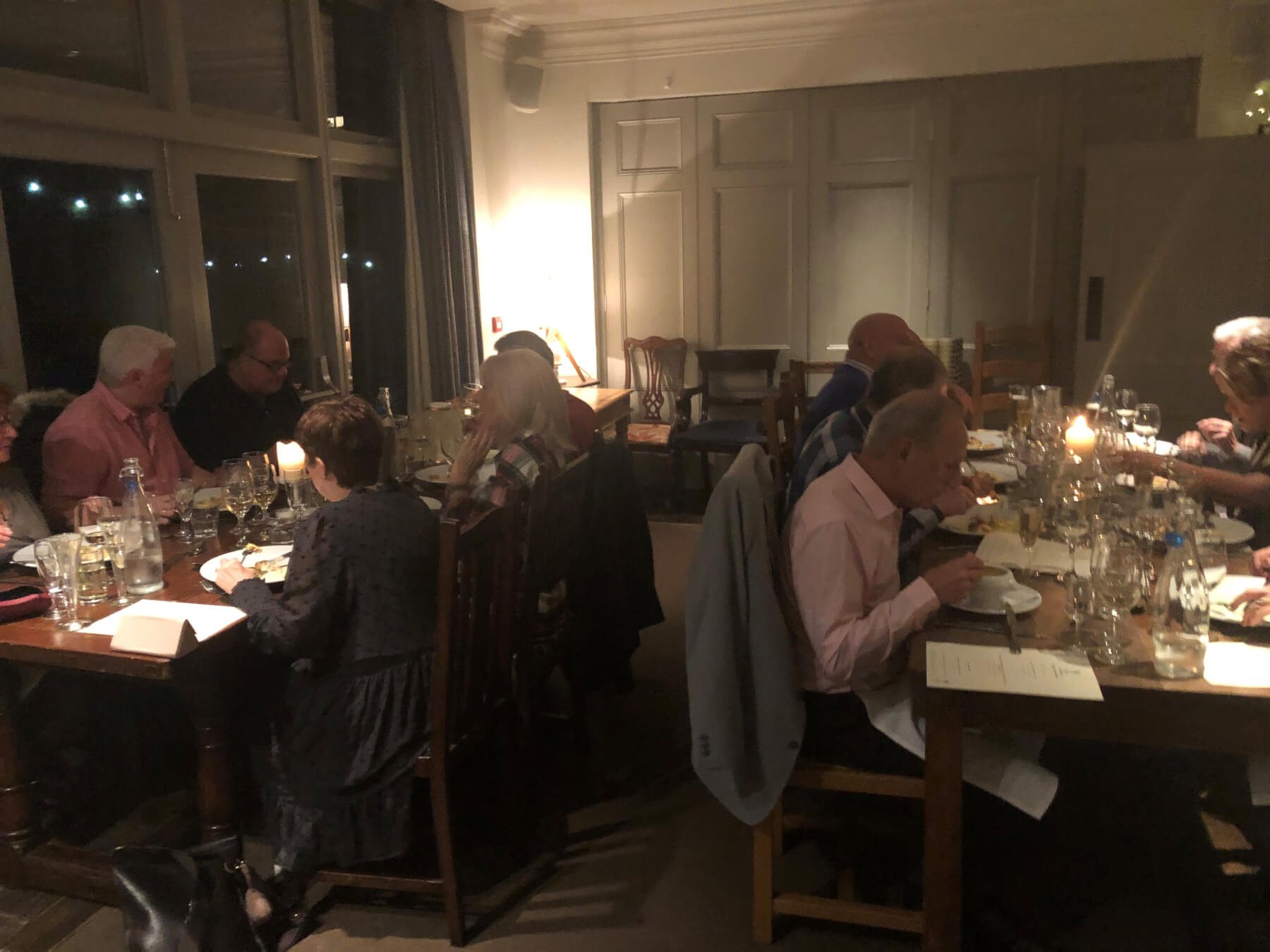 On arrival we served customers the fabulous Gardet Brut Reserve Champagne. It would be rude not to start with a glass of fizz! This went down extremely well and it was great to have so many of the customers (unprompted may I add) tell me what a wonderful glass of Champagne it was. We know that many people buy Champagne by brand but we have been extolling the virtues of the wonderful Gardet House for many years and even though it is relatively unknown alongside the likes of Veuve, Pol Roger & Bollinger, it really does give amazing value for money... but more importantly taste. The complexity of fruit and bready notes made it so hard for me to just have a few sips (I was working and as the saying goes, it's a dirty job but someone has to do it!) This Champagne was once reviewed by Jancis Robinson who gave it 16.5/20 and she's not a bad judge!
On to the food... as usual Chef Tommy produced three stunning plates of food. We started off with an Orange, Honey & Dill Smoked Salmon Gratin. This was gorgeous and, although it was a close call, this was my favourite dish of the three. Tommy informed me later that he had smoked the salmon himself earlier that day and you could really tell... it was so delicate and moreish that it wasn't a surprise to see all the plates were totally bare when we finished!
With the Salmon I had decided to serve two wines; Gruner Veltliner by Talisman and Fiano Carlomagno by Girelli. This is something I do quite often as it is really interesting to see if two totally different grapes can pair with one dish and it's also nice to see which tipple comes out on top with customers!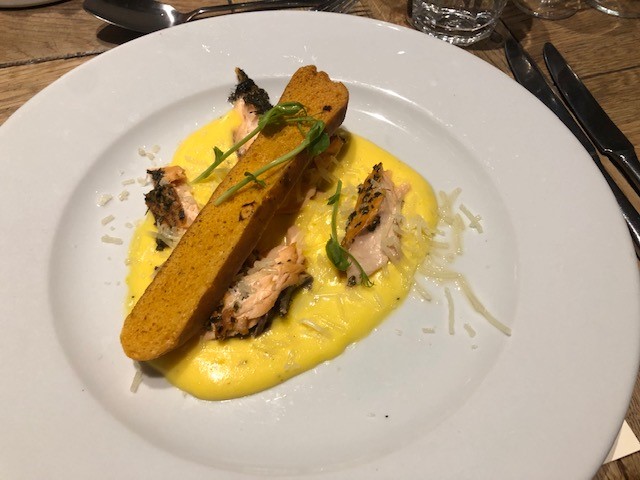 The Gruner is a little star... being from Hungary (you may have seen in previous blogs how much we are championing the cause of wines from Eastern Europe), it is very affordable and with its characteristics of citrus fruits, green herbs offset with a touch of spice and pepper it went down a treat with the Salmon. The other wine, Fiano Carlomagno from Puglia (located in the heel of Italy) with its exotically fruity nose and backbone of acidity was also well received. Personally I thought that the Gruner was the winner however the room seemed to be split over the winner... never a bad thing.
Onto the main course... Roast Goosnargh Corn Fed Chicken Breast, Bread Sauce, Cranberry & Apricot Jus, Roast Root Vegetables and Potatoes. We paired two wines again. Wildly different but both definitely (like Liverpool FC) at the top of their game! The Pinot Noir, Lautarul from Romania and the outstanding Chateau Moulin de Mallet from Bordeaux. Now chicken and reds I hear you say? What are we doing! Well, I am of the school of thought that we do need to get away from the old adage of chicken and white meats with white wine and red meats with red wine... it really does depend on the what flavours are in the dishes and the flavours in this course married so well with a red wine.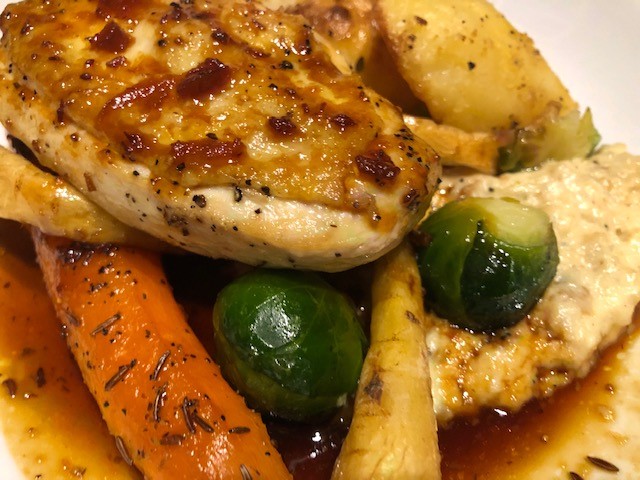 The Pinot with its black cherry, raspberry and cinnamon nuances sat really well alongside the chicken but for me the Moulin de Mallet (a blend of 80% Merlot and 20% Cabernet Franc) was outstanding and worked a treat. Now, this is produced on a rocky outcrop overlooking the Dordogne and facing the slopes of the more famous St Emilion (again Merlot based wines) and with its typical plum flavours and soft tannins I thought that it matched so well.
We had decided to serve a Port with the final course of the evening and the customers were given a choice of cheese (served with the usual crackers but also my "Wheatley" favourite – fruit loaf) or a Chocolate Pudding with Rum Sauce. So to the Port... we choose Pocas 10 yr Old Tawny! A bit like my comments about Champagne Gardet, just because it is not a brand name doesn't mean it cannot be superb, and to me this is one of the best value and extremely moreish Ports that I have ever tasted. Now I am a bit of a Port O Phile and this little tipple never ceases to amaze! Dried fruit, raisins, plum, complex full bodied... like a liquid Christmas pudd! It was a massive hit with all and a great finish to a thoroughly enjoyable evening!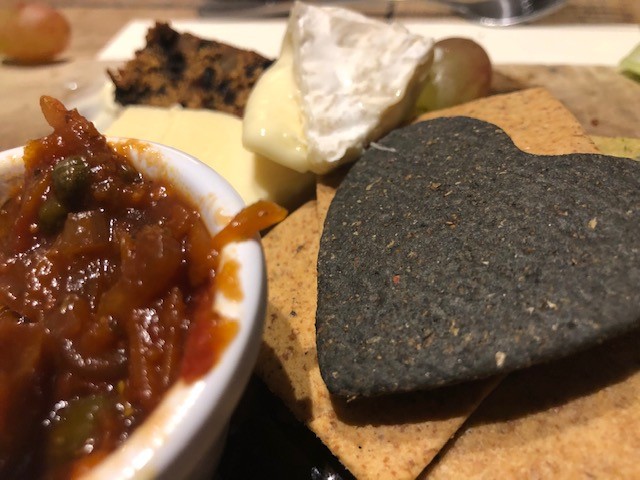 I would like to say a big thank you to all the customers that came along and helped make it such a success but most of all a big thanks to Jonathan, Emma, Stuart and Chef Tommy and his team at The Wheatley Arms.

Back to blog