Rak Jain, Regional Account Manager explores the wonderful world of Port!
I have to say as an avid Port fan I cannot commend the virtues of Port more highly.
When I think back to my early days in the trade the styles that most people were aware of were a Ruby, an LBV, or if they were feeling particularly exotic, a Tawny- in fact Port & Lemon was seen as the go to order for your Granny!
Nowadays however, good Port is no longer seen as a stuffy after dinner drink from the Victorian era but has become accessible to a whole new world and generation who appreciate its versatility. In fact my son had his first 10 year old Tawny aged 18 (honest) and loved it... so much so that as part his 21st present was a presentation decanter full of the great 10 year old Tawny by Pocas. From aged Tawny to Colheita and Vintage this style of wine has become a great source of joy for me and should be enjoyed and tried by all.
Well what is Port and what is it made from?Simply put, Port is red wine with the addition of Grape Brandy.
Port is in fact a fortified wine, arguably the greatest of all fortified wines. Furthermore Vintage Port, along with the top Bordeaux and Burgundies is one of the great iconic wines of the world.
The addition of the Brandy takes place before the wine has finished fermenting enables the wine to retain some of the natural sweetness of the grape, making it rich, round and smooth on the palate.
How did Port come about?
Well as you can tell from the plethora of British names associated with Port, Taylors, Grahams, Croft and the like, it is actually a British phenomenon not Portuguese. During wars with France in the seventeenth and eighteenth century (some things don't change!) Britain boycotted French wine and looked instead to import from the great red wine region of the Douro. However, the wines didn't survive the long sea journey involved to get the Portuguese wine to England and so it is said that a pair of brothers fortified the wine with grape brandy to stabilise it and maintain its quality. Hey presto Port was born!
The Grapes
There are over 90 different varieties of grape permitted to be grown in the Port wine region. Of these, about 30 different varieties can be found there, but only 5 are considered to be of exceptional quality. These are Touriga Nacional, Tinta Roriz, Tinta Barroca, Tinto Cao, and Touriga Franseca. White Port is made from white grapes rather than the aforementioned red grapes - Viosinho, Malvasia Fina, Gouveio, Cedaga, and Rabigato(please see below for a great tip about this undervalued and underused tipple).
So, Port is a fortified wine from the remote vineyards in Portugal's Douro Valley. It is a place where time has stood still and you will not find any of the latest wine making techniques and equipment. Instead you will find a wine industry much the way it was over a hundred years ago. Yet, in spite of it, or because of it, Vintage Port is one of the world's greatest wines.
The Douro Valley was probably the world's first demarcated wine region. It is no doubt the world's most difficult wine growing region. Demarcated in 1756, it is a region that spreads out over 618,000 acres. Of this area there are only 10 to 12% or approx 82,000 acres, of cultivated vines planted on the harsh, rugged mountains that rise up from the Douro River and its tributaries. At times the inclination increases from 35% up to 70%. Some grapes are grown as far up as 1800 feet, but the best grapes are grown on the lower elevations. There is a local saying that the best Port comes from the grapes that can hear the river flowing!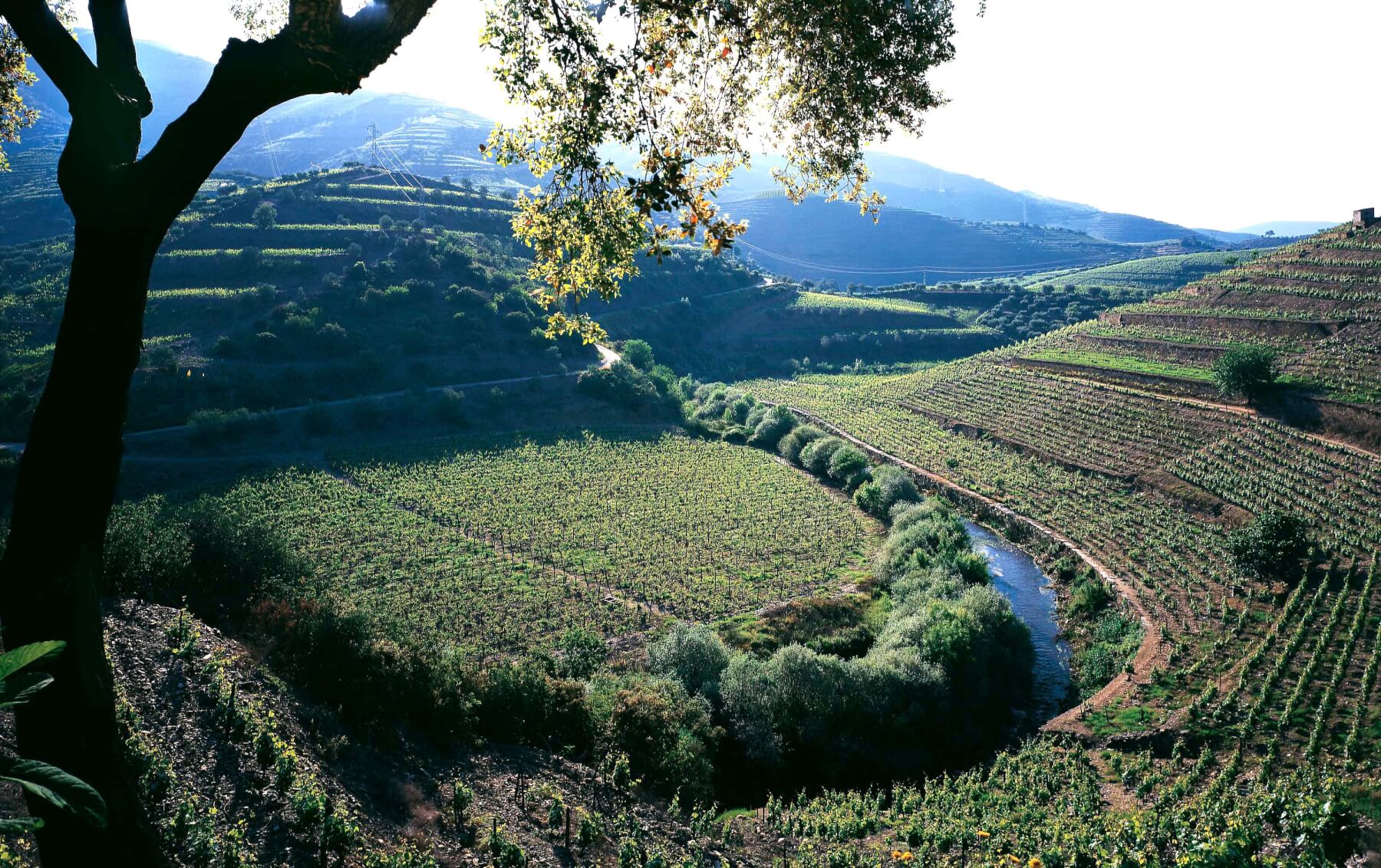 The Douro Valley

The making of the wine starts with the harvest, usually late September. This is always a very festive time and because of the steep slopes on which most vineyards are located all harvesting is done by hand - both arduous and back breaking! Once the grapes arrive at the wineries some are still pressed by bare feet (something that I have seen with my own eyes- and I did notice that they looked a bit tiddly due to the alcohol fumes given off!) and not a bad way to spend your working day. This is done in open granite receptacles known as lagers.
When the pressing is done in the lagers, the skins rise to the top and must be pressed down for several days by treading or with wooden paddles (macacos) this gives the juice a chance to extract the colour and tannin needed for the wine. Since the 1960's most of the pressing is done mechanically. After crushing the grapes are placed in closed concrete or stainless steel tanks for fermentation. The natural by-product of fermentation is carbon dioxide which acts like a percolator to keep the juice constantly churning over the skins.
At a point when about half of the grape sugar has been turned into alcohol, the juice is run off into barrels containing brandy (traditionally 1 part brandy to 4 parts wine), and the fermentation stops instantly.
During the spring following the harvest, the port is moved to the shipper's lodges, mostly in Villa Nova de Gaia. Here it left to mature for a year. At the beginning of the second year after the harvest, the careful process of blending begins. During this time the shippers will evaluate and blend wines from hundreds of bottles. It is here in the tasting room where their reputation is made. Within several months the final blend is made and it is submitted to the Instituto do Vinho do Porto for government approval. With the approval of the IVP the Port is bottled and the IVP's black and white seal of guarantee is attached to the neck.
After the IVP's approval, some shippers may publicly announce their intent to market a particular Port as a Vintage Port. To declare a vintage a shipper must have, in their opinion, an outstanding wine. Again this is serious business as their reputation is at stake. Some wait to see what some of the major shippers will do before they declare a vintage on their own.
Now let us get on with the most important bits- serving, tasting and styles.
We often serve our Port too warm, which makes it volatile and difficult to taste. Ideally it should be at around 18c. I'm not saying that you should get your cooks thermometer out - just think roomtemperature. For the good stuff get yourself a decanter- not one of those traditional square ones that you may have seen in the fabulous Abigails's party – a good (and they don't have to be expensive) round bottomed, tapered style is best. Use good size glasses and don't overfill so that you can show off the aroma with a good swirl.
With regards to decanting... good Vintage Port should be served this way. If you have laid your Port down for a while it is important to remember to let it stand upright for a good couple of hours to let any sediment go to the bottom of the bottle. When the sediment begins to appear in the neck of the bottle stop pouring and discard the rest of the Port. It is helpful to use a funnel since the sediment (crust) can easily be seen on the sides.
Now onto styles – please do note the storage recommendations. Rule of thumb, treat your better Ports as you treat a fine aged red!
Ruby Port is the most basic and least expensive style of Port. A blend from several harvests, it is full-bodied with intensely sweet, rich, youthful fruit. Bottled after two to three years in stainless steel or wood, Ruby Port is then ready to drink and does not generally improve with age.
Tawny Port is aged a few years longer than ruby (at least six years) in the cask before it is bottled. Though some tawny is simply a mixture of ruby and white ports, the best tawny Ports have acquired their pale colour- an amber brown or tawny hue- from longer wood ageing. The flavour becomes drier and nuttier from the oxidation.
Aged Tawny Port give the average age of the wines that have gone into making the blends. They are available in 10, 20, 30 and 40 year versions with a corresponding increase in price. A 20 year tawny may give you the most enjoyable experience for the price. Aged tawnies are made from high quality wines and are the by-product of a master blender.
Colheita is a tawny from a single vintage. It might be thought of as a vintage tawny. It must receive a minimum of seven years in wood, but most are aged much longer. This used to be one of the rarest of Ports but has become very fashionable and is now seen as one of the best value and most flavoursome of all Ports.
Late Bottled Vintage (LBV) is from grapes harvested in a specific year from a variety of vineyards. It is left in wood for four to six years, then fined and filtered before bottling. Although it does not have the grandeur, intensity and concentration of Vintage Port, the finest examples do boast mature, well-rounded, velvety fruit and a rich, smooth finish. Consequently it is ready to drink earlier than Vintage port.
Crusted Port is a younger style of Port wine that is bottled unfiltered, leaving a sediment (crust) to form in the bottle over time as the Port ages. It provides a full-bodied, traditional style that emulates Vintage Port, but is produced much quicker and therefore at a much cheaper price. To all extents and purposes this is a very fine non-vintage Ruby Port.
Vintage Port is the finest and most expensive of all Port styles. It accounts for about 2% of all production and is one of the most sought after wines in the world. Vintage Port comes from a single harvest of exceptional quality, as stated on the bottle, and is bottled after two to three years of cask ageing. It may take 15 to 50 years for a good Vintage Port to be ready for drinking. Each shipper must decide within two years of a harvest if that particular year will be released as a Vintage Port. This is known as "declaring the Vintage". The first Vintages were declared around 1734. The best vintages include- 2018, 2017, 2011, 2003, 1997, 1994, 1992, 1991, 1985, 1977, 1970, 1963, 1955, 1948, 1945, 1935, 1931, 1927 and 1912!
White Ports range from very dry to very sweet. The sweetest is designated as Lagrima. These are served straight up or on the rocks and make a great aperitif. In fact while on a trip to the Duoro I was served a dry white Port with tonic, mint and lemon and enjoyed it so much I served it to a gang of mates at a BBQ later that year and it went down a treat! Fed up with G&T and fancy a change? This makes a great and different alternative. Just get yourselves a decent White Port – Pocas at £11.99 is a bargain. There is also Pink Port available which you should treat in same way.
Go on, treat yourselves and get into Port. I guarantee you will love it and if drunk in moderation you won't get gout! Oh and a last tip - if you get the chance go to Porto, beautiful city, great food, obviously great wine and value for money - I recommend taking a trip on the train that trundles up the valley from Porto.

Back to blog