English Wine Week 2019 runs from 25 May to 2 June, and we are very excited about getting behind some fabulous, top English wine producers and celebrating all things English.
English Wine is no longer the small industry it once was, there are now over 400 vineyards across this green and pleasant land with the closest one to House of Townend only 7 miles away in South Cave! Many of these UK vineyards are now gaining top International recognition and awards.
So why not step into the wonderful world of English wine and try some of our favourites for yourself?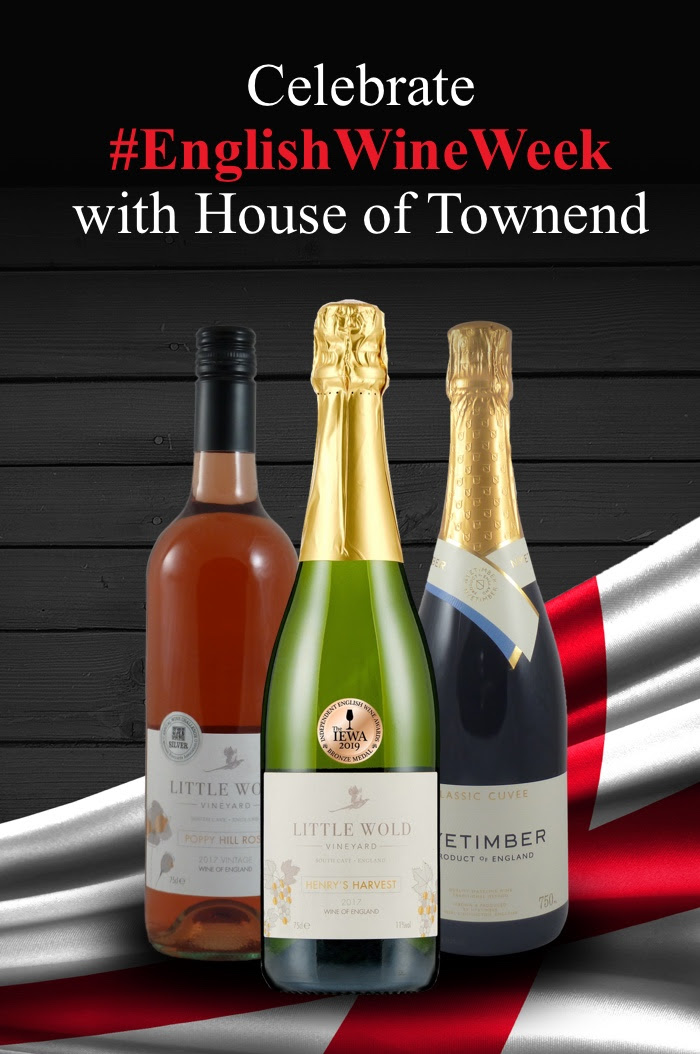 Nyetimber Classic Cuvée
For over twenty five years Nyetimber has had a single aim: to make the finest English sparkling wine, one to rival the very best in the world, including champagne. A true pioneer, Nyetimber was the first producer of English sparkling wine to exclusively grow the three celebrated grape varieties: Pinot Noir, Pinot Meunier and Chardonnay and each bottle of Nyetimber is made from one hundred percent estate-grown grapes.
A lovely pale gold with gentle, fine bubbles, it has toasty, spicy and complex aromas showing wonderful development after more than three years on lees. The palate supports these complex aromas with honey, almond, pastry and baked apple flavours. Very fine and elegant with a great combination of intensity, delicacy and length. Considered to be one of the finest sparkling wines in the world!

Bolney Estate Bolney Bubbly NV
This wonderful bottle of English bubbles is the winner of Fabulous Fizz UK, in the People's Choice Wine Awards. With delightful floral and brioche notes combined with zesty citrus fruit, honeysuckle and elderflower, this makes the perfect glass of fizz.

Little Wold Vineyards Henry's Harvesty
Award Winner at the Independent English Wine Awards, Henry's Harvest is a Brut sparkling wine that has a fresh and fruity taste. With a hint of green apple  and plum it is light and satisfying on the palate. This is a 2017 vintage wine made by the traditional  double fermentation method using our Phoenix, Seyval Blanc and Madeleine Angevine grape varieties.

Little Wold Barley Hill White
Barley Hill White is a blend of three grape varieties, Seyval Blanc, Phoenix and Madaline Angevine. Described as the dry end of medium dry, a pleasant, fruity wine (typical of English) with a lasting aftertaste of apple and plum. Awarded a bronze award at the 'MVA 2017 and 2018 Annual Wine Challenge

Little Wold Vineyards Poppy Hill Rosé
Made from the Rondo grape variety, this is a medium dry, smooth , full flavoured wine, which was awarded Silver medal at the MVA 2018 Annual Wine Challenge .

Click here to browse our full selection of English wines.

Back to blog