It was our pleasure to host a superb tasting of a range of wines from Portugal with the lovely staff at Hope Street Hotel. Originally planned for earlier this year we had to re- arrange the date and we had that many customers wanting to attend, after the success of the French Regional tasting, that we had to hold the event over 2 nights due to the high demand – I would like to think that this was down to my hosting skills but the quality of the venue and the food prepared by Mike Kenyon and Declan as well as the usual superb service provided by Matt Cooke and his lovely team probably had something to do with this!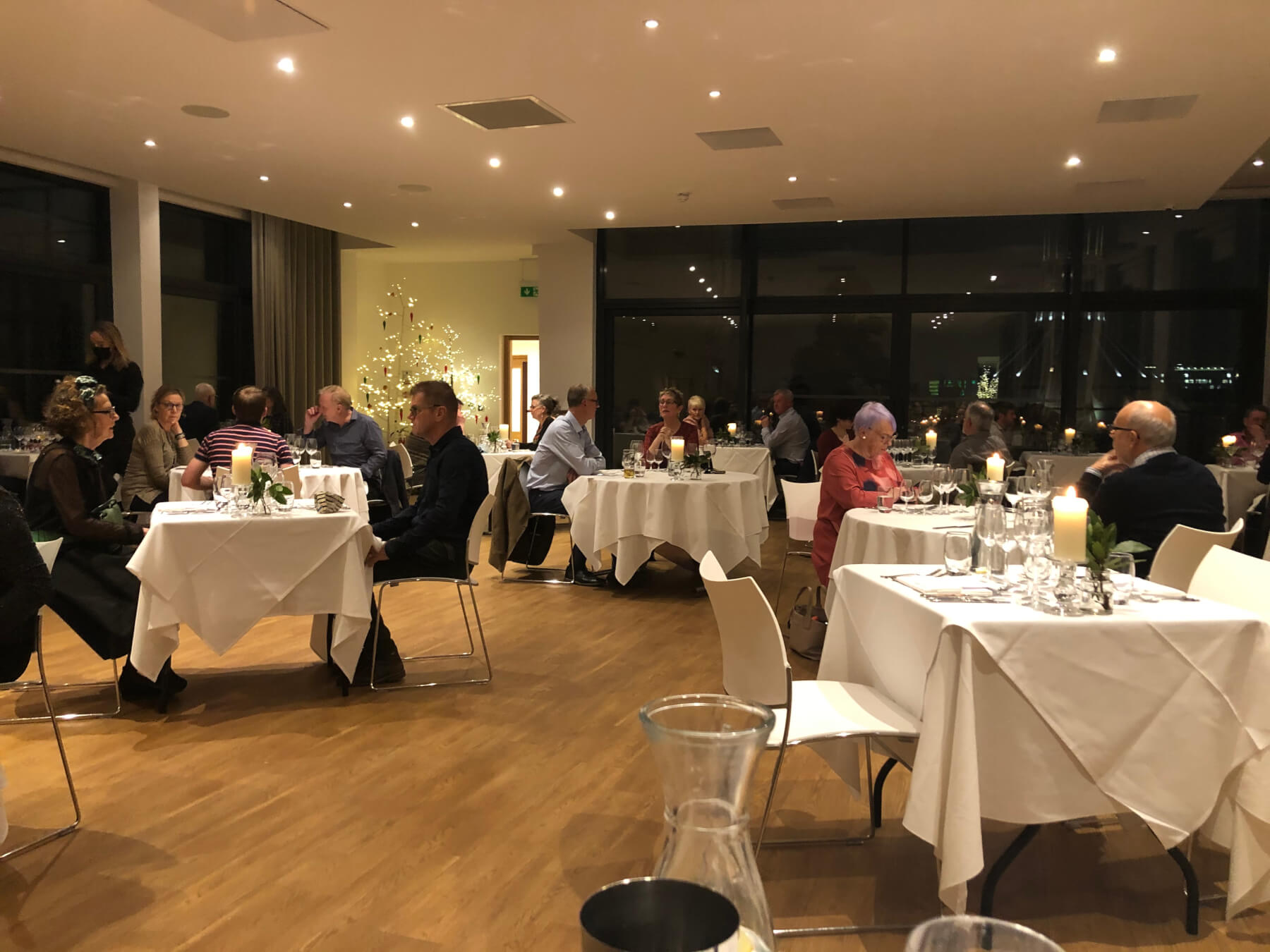 I had decided with Matt that we would show a range of wines really showcasing why Portugal is regarded as one of the jewel's in the crown of the European wine world.
It is generally thoughtt that wine has been made in Portugal since at least 2000BC when winemaking centred on the Southern coastal regions but with the influence of the ancient Greeks, Celts and Romans it spread viticulture further north to make Portugal what it is today. The Douro valley in the north was probably the world's first demarcated wine region this happened in 1756 and is a region that spreads over around 618,000 acres of which around 10-12% is used for the cultivation of vines. This is quite a rugged and harsh area that rises up from the Douro River and its tributaries. At times the inclination rises from 35% up to 70% and some grapes are grown as far up as 1800 feet, but the best grapes are grown at the lower elevations. In fact there is a local saying that the best Port comes from the grapes that can hear the river flowing!
In fact I love this country having had the pleasure to spend some time not only on holiday there but also some 'educational' visits to areas such as the Douro Valley. Once our world returns back to normal I would strongly advise taking a trip to Porto - this is a beautiful city that boasts not only some wonderful tourist spots but an amazing array of food and wine. In fact the train journey from Porto up the Douro valley is regarded as one of THE train journeys of the world.
Anyway enough of my reminiscing! Onto the wines and food... For the arrival tipple we had decided to serve a superb aperitif of White Port by Pocas & Tonic. I first discovered this when I was served this by our friends at the Pocas winery located in the heart of the Douro valley- a lovely refreshing drink that went down so well with all the diners. I would recommend serving this to friends & family but not tell them what it is and see what a positive reaction you will get.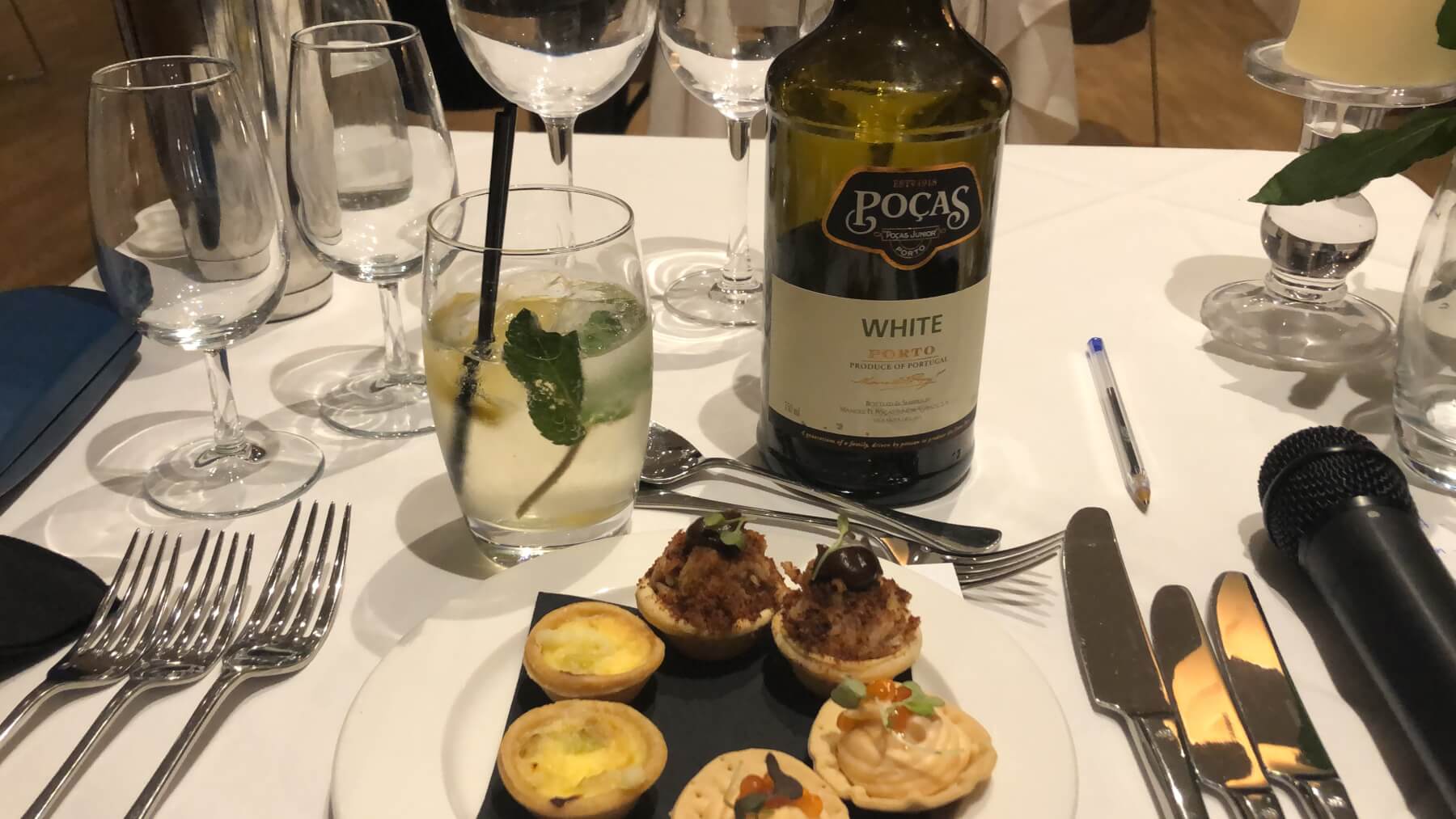 Onto the amuse bouche. Mike & Declan had prepared a super dish- panko encrusted sole, cannellini beans, sorrel butter and comfit lemon- lovely! With this I had decided to pair Vinho Verde by J.P Ramos. Now Mr Ramos (whose middle name is Portugal!) is regarded as the country's most famous winemaker and in the decades that he has consulted, he almost single handedly opened Portuguese wine making to the benefits of modern technologies with an emphasis on low yields, occasional oak ageing, and the preservation of a grape's natural fruit flavours. The fresh and elegant aromas of the wine combined with its citrus and floral notes worked particularly well with the dish. Produced in the far north of the country in the Minho region using 100% Arinto.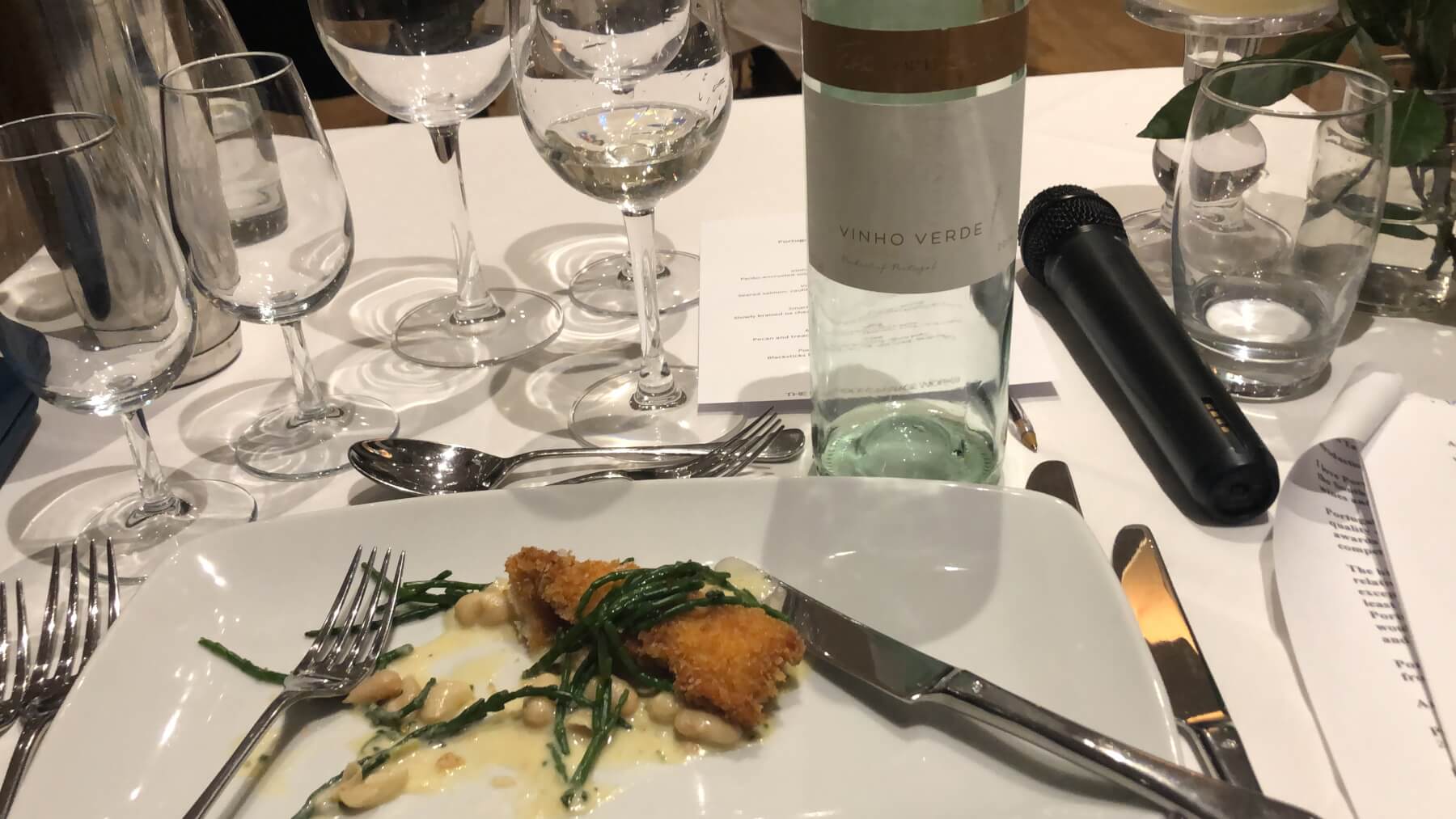 Now for the starter dish – oh my days! A beautiful seared salmon, cauliflower veloute, smoked walnut, pickled apples and truffle offering. This is another dish to add to the long line of my favourites produced by Mike & Declan. With this we paired Vale de Cavalos white a blend of Codega, Rabigato, Gouveio and Viosinho... what a beautiful wine, also vegan, this married so well that it produced a broad grin that made me look at bit crazy! Rich and creamy with a lovely minerality its combination of fruit and oak is something to behold and shows why the wines of the Douro ae now getting the recognition that they deserve. Produced by Pocas I would highly recommend trying this.
The main dish consisted of slowly braised ox cheek, bourguignon, whipped potatoes, beef dripping and carrots. Superb! And to go with this? What else but the lovely Trincadeira/Sirah, Smart Dog by J.P Ramos- a lovely wine with creamed black fruits, sweet spice and touches of liquorice and pepper. Both complemented each other so well. This wine is produced in the Alentejo south east of Lisbon.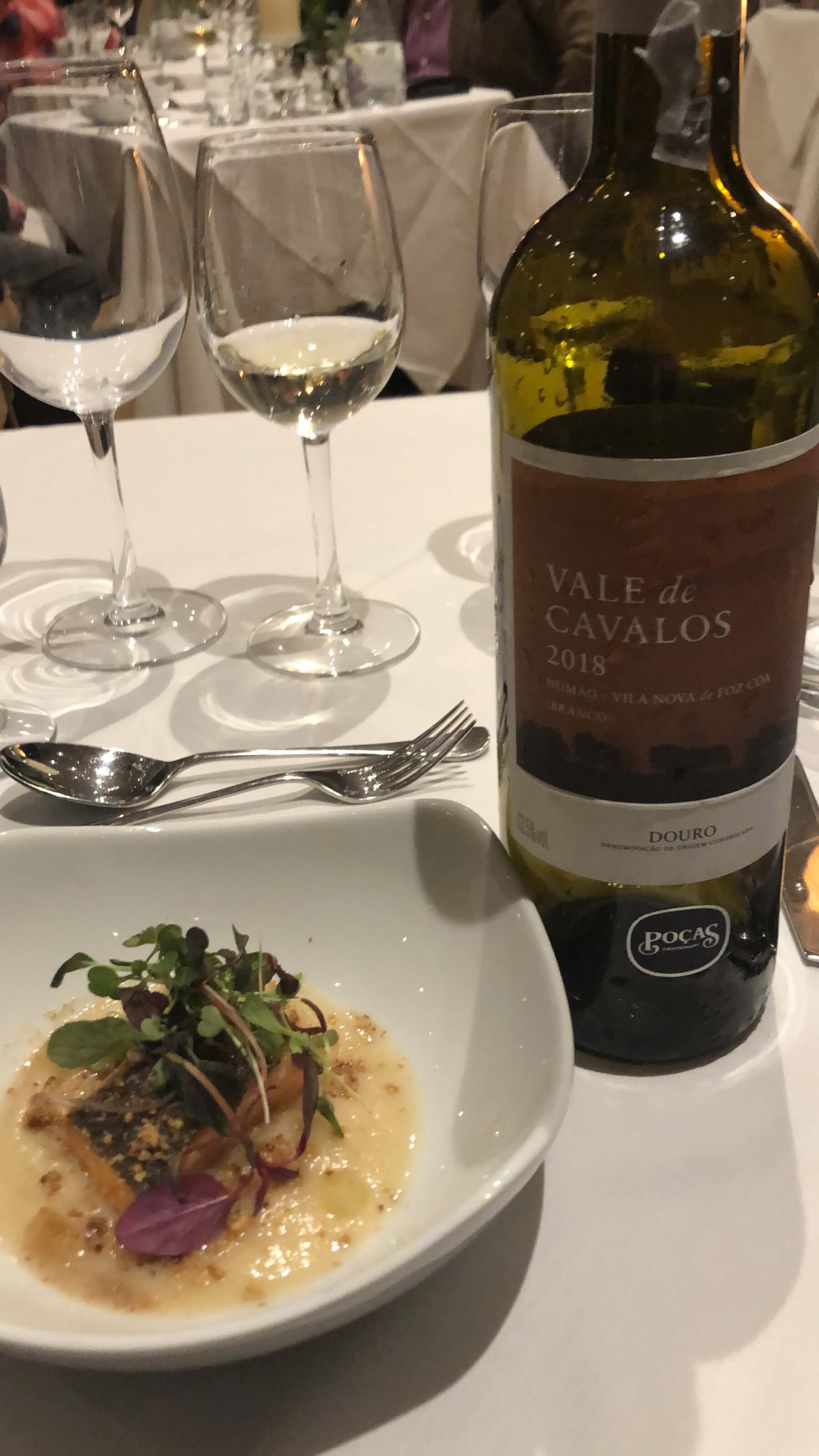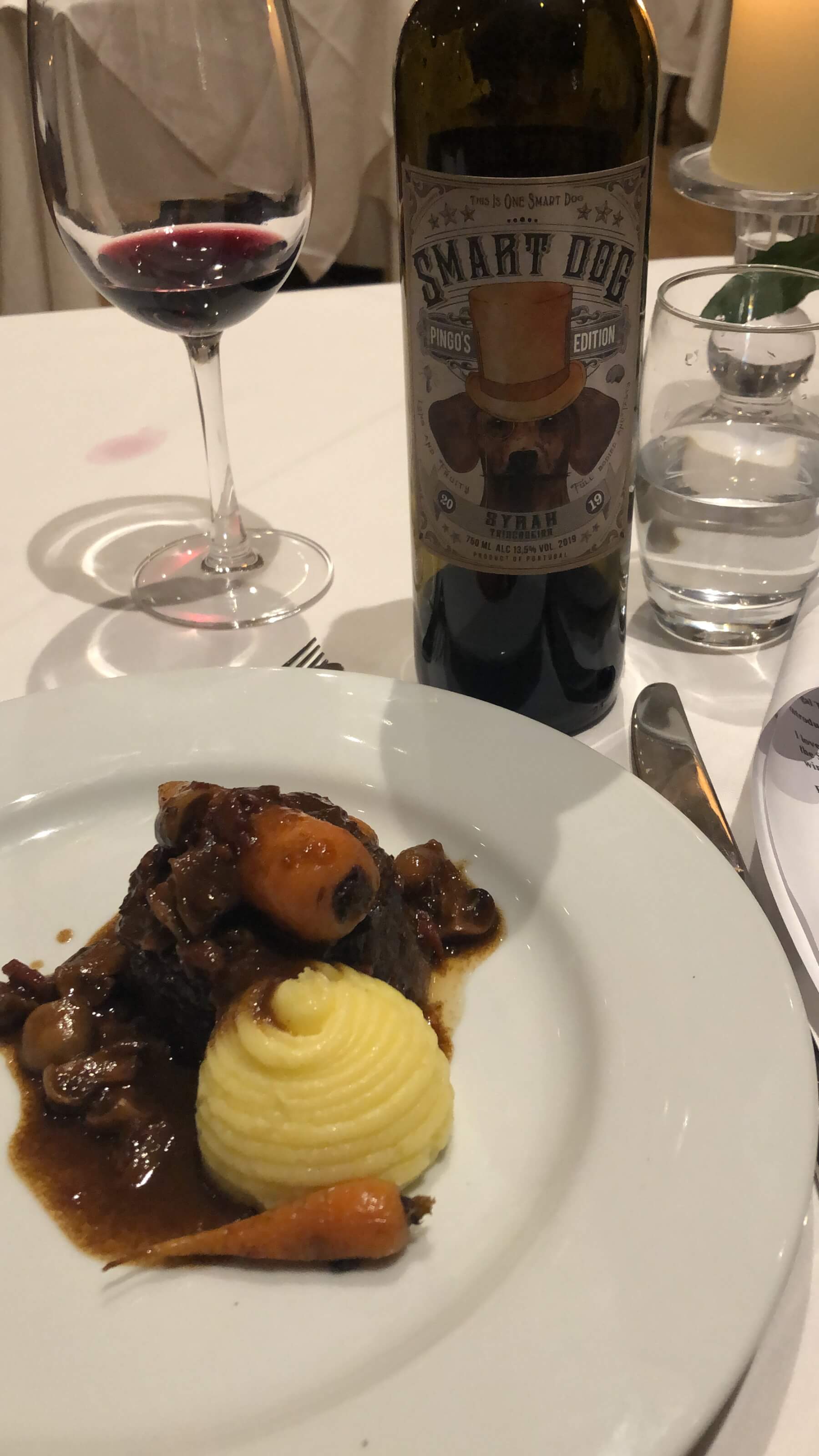 You will have noticed that the grape varieties mentioned so far are not your well known everyday ones and this is what I what I love about the world of wine, the use of indigenous grapes that are unique to the country and show the characteristics of its soil and climate.
Onto pudding – a heart stopping pecan and treacle tart with orange blossom honey and milk ice cream, in fact when I saw the size of the portion served to me on the first night I had to put a request in to have a smaller portion on the second night as my supposed diet was well and truly going out of the window! This was lovely and with it what else but a dessert wine. We served Moscatel by Pocas again from the Douro, deep in colour sweet and intense but with a balanced acidity that helped with the sweetness of the dish.
No tasting of Portuguese wines would be complete without serving a Port and we decided to go for the 10 yr old tawny by Pocas. Using Touriga Nacional, Touriga Franca, Tinta Roriz, Tinta Barroca and Tinta Coa- this is an award winning tipple. Aged Tawny Port be it a 10, 20, 30 or 40 show the average age of the wines that have gone into making the blends. Aged tawnies are made from high quality wines. This should also always be served slightly chilled and don't worry about opening a bottle and worrying about it losing its freshness over a few weeks as it will keep for 10-12 weeks! However in my household when I treat myself to this 10-12 hours is the norm for me to finish it off with a bit of help from my son! On the nose there where dried fruits and raisins with a full bodied palate to follow and a long lasting dried plum finish. We were treated to some blacksticks blue cheese, roasted fig, wild honey and lemon thyme- yummy!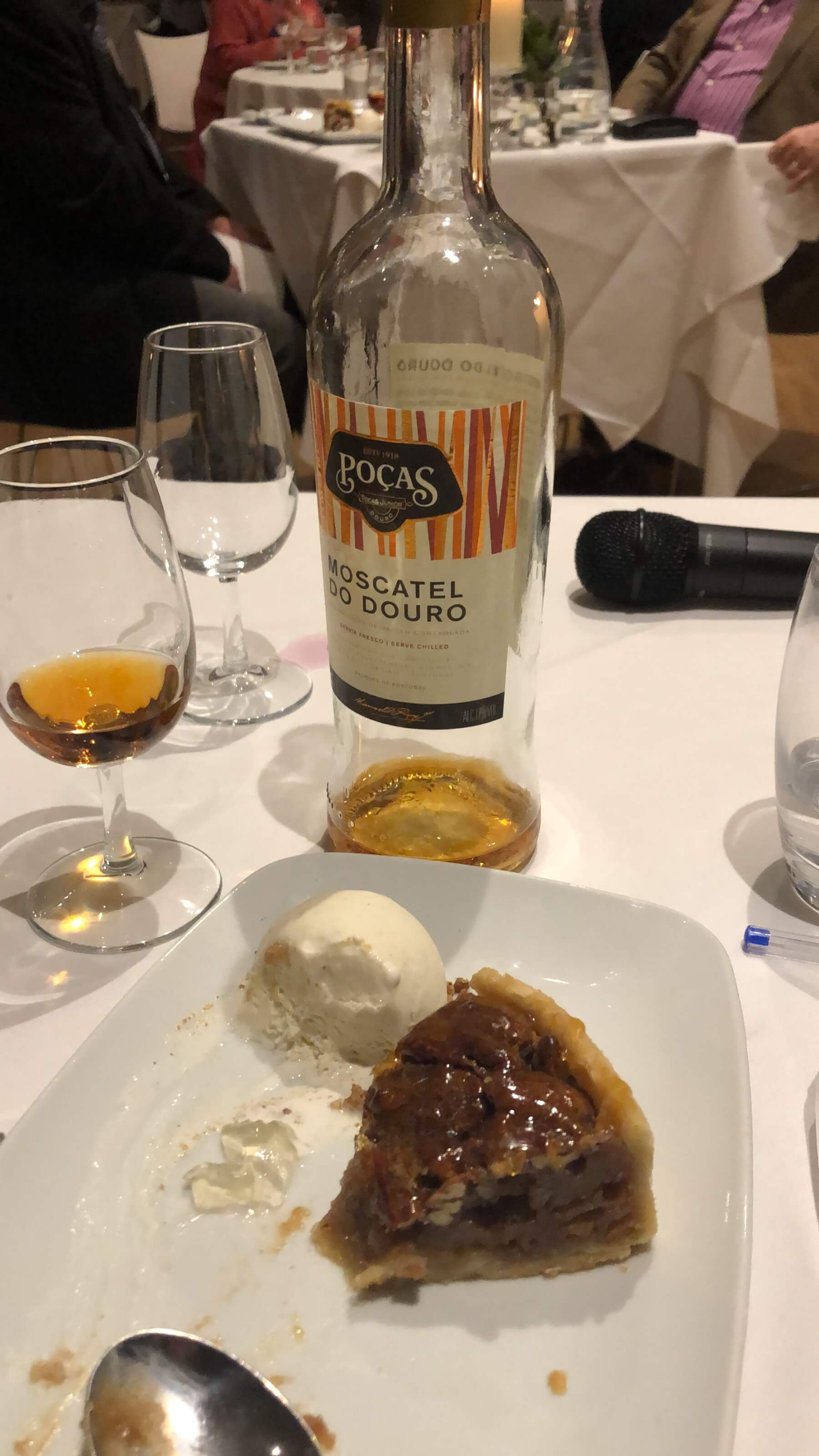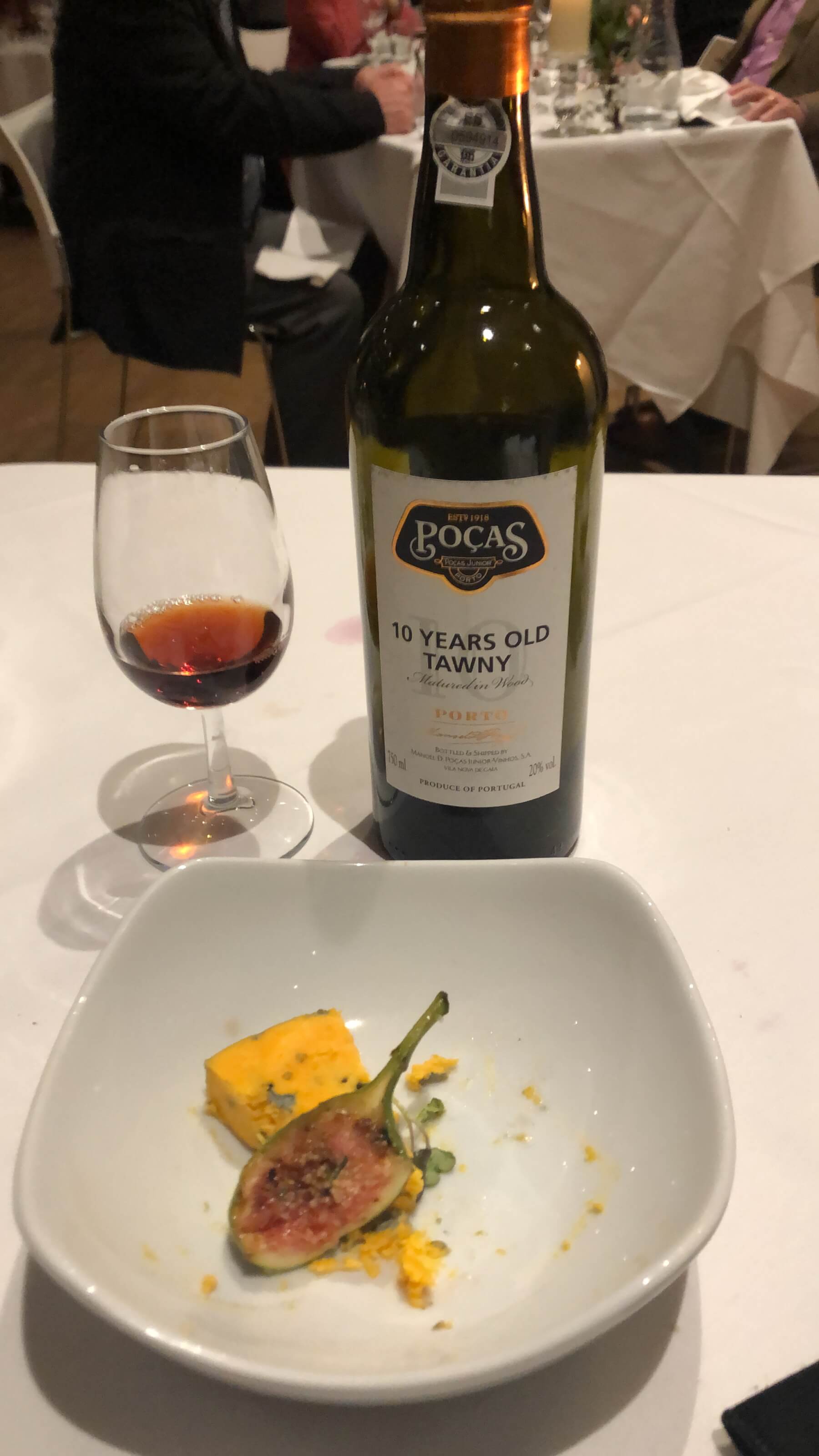 Well that's it – remember please do not stick to the same wine try different styles, regions & grapes. This will enhance your enjoyment of the world of wine.
Lastly a big thank you to all the customers that came along and a massive thanks to the front of house team of Matt, Amy, Adele, Lydia and Megan and the great Kitchen team headed by Mike Kenyon working alongside Declan.
Rak

Back to blog