As part of our Trade Services, our Regional Account Managers will work with you to create the best wine list for your establishment. We also have have a dedicated design team who will tailor your list to the style of venue, and can incorporate any logos or artwork in keeping with your other Point of Sale. Below, Rachel Bradford gives her top tips on designing a wine list.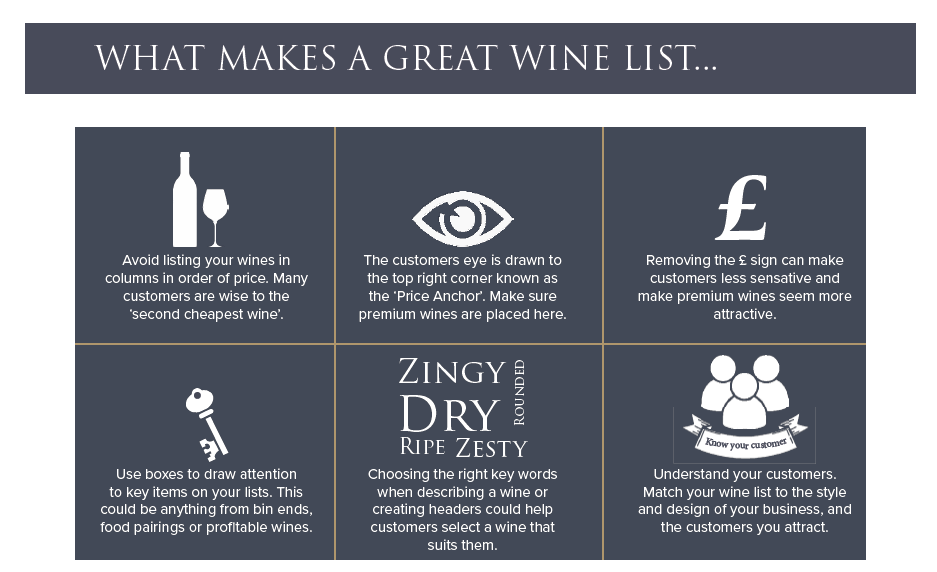 Easy to Read and Easy to Navigate
When scanning a wine list, Grape and Country are generally what customers look for first, so it's important to keep consistency here. I find the best layout is: 'Grape, Producer – Region, Country'. Wine labels can be tricky to understand, so a menu which details grape, region and country will certainly help customers and staff. (And if you're keen to use accents on the wines, try to ensure this throughout – just adds that extra professional touch.)
Keep the fonts big enough and clear enough to read. You'd be amazed how many dimly lit restaurants I've seen guest's phone flashlights go on to read the menu. Help them out with a clear, easy to read font and size.
Tasting Notes - These can vary enormously but don't feel the need to include hefty paragraphs! A three-word description can be just as helpful: Peppery, blackberries, coffee – Simple! Many people don't read tasting notes, and depending on your style of venue and food, a short tasting note can make your wine offering approachable and relaxed. That said, if you prefer longer tasting notes, try to include the unique points of interest on the wine, which your customers would like to hear about and can identify with.
Guide Your Customers' Choices
I bet your food menu isn't listed in price order? Try to avoid listing your wines in price order too. Think about how you'd like to engage your customers and which wines you'd like to direct their attention to. Using Style Sections is very effective and guides the customer to the kind of wines they like and encourages them to try something new within that section. For example: 'Light, Dry and Elegant' – you'd probably have Pinot Grigio here, but what about an Unoaked White Rioja or an Italian Fiano too. Style sections can be helpful in getting the right balance.
Another way to draw attention is to highlight key wines or place boxes around them for focus. This poses as a recommendation and your chance to highlight some of the interesting and unique wines that might otherwise be overlooked. For example: 'Owner's Choice' / 'We Recommend' / 'If you like Sauvignon Blanc, you will Love this…'
An Exciting Range
Aim to keep your range in line with you food offering. For example if you're a French restaurant, it's nice to showcase more regional French wines. This doesn't mean to say you can't have Australian Shiraz or a New Zealand Sauvignon but naturally the French wines will pair well with your French dishes and provide the full experience. Likewise if you're a Seafood based venue, offer plenty of aromatic, fresh whites and keep the red offering on the lighter side. And if your restaurant offers modern British and classic dishes, focus on seasonal tweaks to your wine list or introduce seasonal specials.
Aim to keep it varied. Your best sellers might be Sauvignon Blanc and Malbec, but you don't need 4 of each. Try and feature a few quirky, on-trend wines such as Gruner Veltliner, Albarino & Nero d'Avola. Offering a wide range by the glass is the best way to encourage customers to explore the list. And the key thing is to keep tweaking and refreshing the wines by-the-glass. This helps with stock rotation and also keeps customers engaged. Variety is the spice of life and all that…
Price Appropriately
This is the most sensitive part. Try not to under-price yourselves, otherwise it may have the opposite effect. If something is too cheap on a menu, it may end up being perceived as poorer quality. Make sure the pricing is in line with your food offering and is a fair price for the quality of the wine.
Push the Boundaries. We're seeing a real trend towards premiumisation, with people drinking less but better. Try not to limit yourselves by not offering premium wines, especially by the glass. Add one or two, and see how they do. The last thing we want to do is deny a customer of the chance to splash out. Providing you've got your entry level price correct, you should never be perceived as being too expensive. But with these premiums wines, it's often good to focus on a suitable cash margin rather than GP%. If you try to achieve the same GP% as you do with your volume lines, you'll be overpriced and might struggle to sell them.
In a similar note to above, whilst your highest volume lines will likely have the biggest mark because this is where the majority of your profits will come from, aim to price your more interesting, unique wines at a slightly lower mark up. This will ensure they represent the best value for money – another tool to help your team sell them!
Laddering – Having a steady increase of prices from your entry upwards is easier on the eye, and helps encourage up-selling. A customer might be happy to spend a couple of extra pound on a bottle but if the jump is too high, it might put them off. It's good to ensure you have wines at each price point so customers can spend an amount they are happy with.
Vegan / Organic Wines
We're seeing more and more focus and demand for wines being vegan and/or organic. There's a surprising amount of Vegan wines out there and a lot of the wines on your menu will likely be vegan. You might like to use a symbol on your menu to help your team and your customers know which to look for.
But most importantly, call on your Wine Merchant for advice and tips. Every venue is different, so it's important to review and analyse your wine sales to ensure you're getting the most out of your list. Trends and preferences change so you want to make sure your menu is in line with that and there are always new wines coming into the market.
To discuss our Trade Services in more detail, please call 01482 638888.

Back to blog