Back in May, we had a fantastic evening at Biggin Hall hosting a dinner for their guests from the Cobra Club. Fantastic food, smashing wines and some rather impressive views in the car park! Hosted by Rachel Bradford, Regional Account Manager, here is her account of the evening!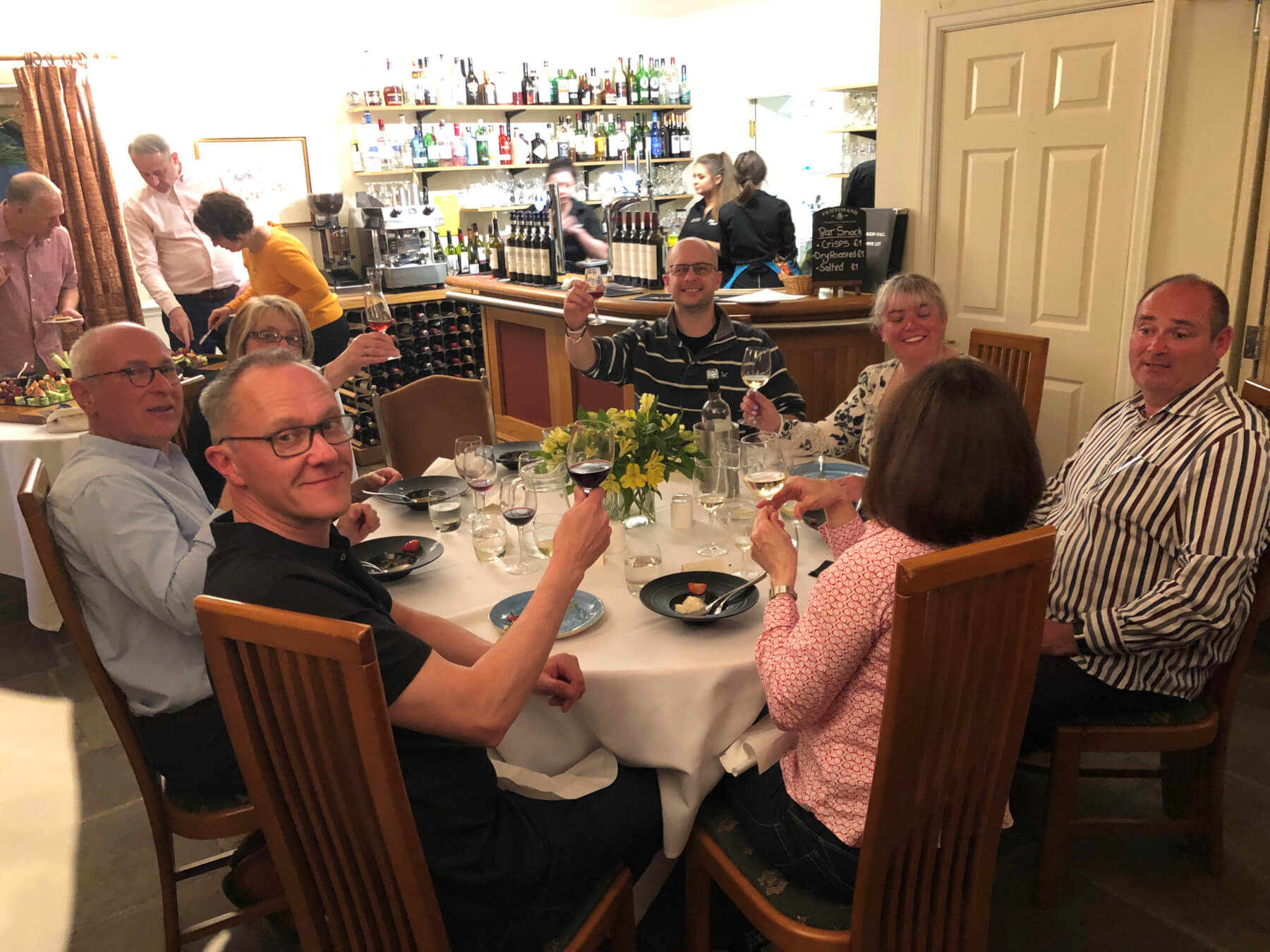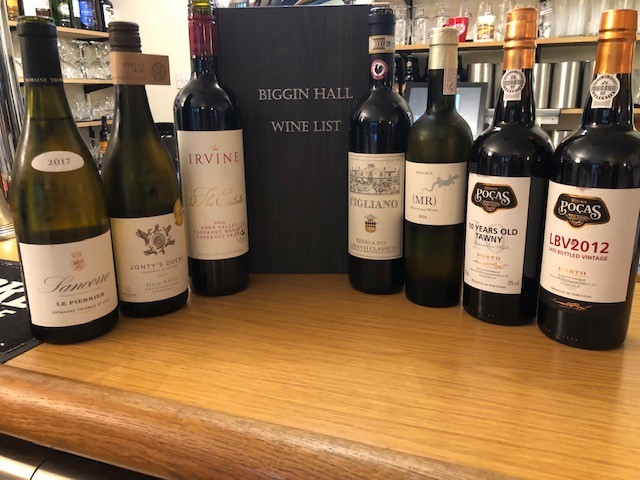 What better way to greet guests on arrival than with a glass of Gardet Brut Tradition NV, the signature style of Christophe Prieux's Champagne House. Christophe has a little more patience than many, ageing his wines for 2 to 3 years, giving the acidity chance to integrate and for the lees to impart texture and complexity. The result is a rush of stone fruits, fine acidity, a bit of richness and creaminess. Beautifully balanced and a perfect aperitif!

Smoked Mackerel, Pickled Beetroot, Sorrel Mayonnaise, Tomato Vinaigrette
To pair with the smoked mackerel, I chose an intriguing white called Jonty's Ducks, from Johnathan 'Jonty' Grieves, owner of Avondale. To say Avondale are at the forefront of modern, sustainable, premium wine making in South Africa, is an understatement (Eco-Friendly, Bio-Dynamic and Organic). Named after Jonty, and his team of natural pest controllers…their flock of ducks. Avondale pick the ducks up each morning, greeted by much excitement as the waddle up the ramp of the truck, off to roam the vineyards seeking out the snails - "The Guardians of Avondale's vines." This white is a blend of Chenin Blanc, Rousanne, Semillon and Viognier. They ferment a portion in oak barrels and age on lees for 6 months. Absolutely packed with flavour; lime, grapefruit, pineapple, honey and a deliciously toasty note on the finish – the 'wow' factor for sure.
Deep Fried Haloumi, Tomato & Chorizo Ragu, Basil Herb Oil
A Chianti Classico DOCG from the family-owned Villa del Cigliano in Tuscany was my pairing for the second choice of starter. This Villa has been in the hands of the Antinori family since 1546. A classic Tuscan Villa, their vineyards surround the estate. Focussed and quality-driven, Villa del Cigliano have nailed the combo of traditional and modern winemaking. Made from the Sangiovese grape, fruit-forward, dominated by red cherry. It's the acidity that makes it really food-friendly, a heavenly match with the tomato based Ragu.
Baked Cod Fillet, Caper, Sun Dried Tomato & Dill Butter, Samphire
I selected a Sancerre to pair with the baked cod. From the wonderful Domaine Thomas based in the Loire Valley; an iconic region for world class Sauvignon Blanc. Ginette & Jean Thomas are the 9th generation of this family-owned estate. They manage their vineyards according to bio-dynamic principles and are working hard towards organic certification. They produce fantastic aromatic Sauvignon, all hand-picked and pressed in small bunches to ensure the purest clarity of juice. Crisp, steely, distinct grassy notes and a delicious freshness – all the tell-tale signs of the best Sancerre.
Slow Cooked Beef Blade in Local Ale, Spring Onion Mash, Roasted Carrot Puree, Sautéed Pancetta
A Cabernet-Merlot blend from Irvine Estate in the Barrossa region of South Australia was matched with the superb slow cooked beef blade (the table fell silent on the first mouthful of this beef!). When we hear 'Barossa', we often think Barossa Valley floor reds; big, bold, high alcohol and super powerful. In fact, quite different. Irvine have 400 acres in some of the best areas of Eden Valley, sitting at much higher altitude and cooler-climate, producing wines of great freshness. Known as the Kings of Merlot, and winner of The Shiraz Trophy for their 2016 Shiraz, this is a hidden gem in their range. A blend of Cabernet Sauvignon, Merlot & Cabernet Franc. Silky smooth and very juicy. Blackcurrant, blackberry, hints of coffee, with a slight menthol/mint note which is classic for Aussie Cab. A real treat!
Sticky Toffee Pudding, Caramel Sauce, Salted Caramel Ice Cream
No pondering needed on choosing a pairing for the Sticky Toffee Pudding, it had to be 10 Year Old Tawny Port from Pocas. Established in 1918, Pocas are a leading producer of Tawny Port. 10 Year Old Tawny means it's a blend of oak-aged wines from various harvests, which equals an average age of 10 years. Made from the classic Port Grapes, the 5 Ts: Touriga Nacional, Touriga Franca, Tinta Roriz, Tinto Barroca and Tinta Cao. Flavours of dried fruits, raisins, woody notes and that delicious sweetness – all matched perfectly to Sticky Toffee Pudding!
Passion Fruit & Vanilla Cheesecake, Mixed Berries, Mango Coulis
A unique dessert wine from Malaga of all places, we enjoyed Telmo Rodriquez's Moscatel, a hugely talented winemaker who became bored of the international grapes and focuses on those native to Spain. He breathes life back into forgotten or unknown regions. Made from the Moscatel grape this has lovely citrus aromas, notes of orange peel, tinned peach and apricot. So whilst it's sweet, it's not sticky sweet as it's well balanced with acidity and paired with the fresh fruit character in this dessert.
Cheese Board
And for those who couldn't resist diving into the rather impressive cheeseboard at the end of the dinner, I served a Late Bottled Vintage Port by Pocas to accompany it - Full-bodied, rich, sweet red berry flavours and silky tannins. A great way to finish a meal!

Thank you to Andy and his team for organising a thoroughly enjoyable evening.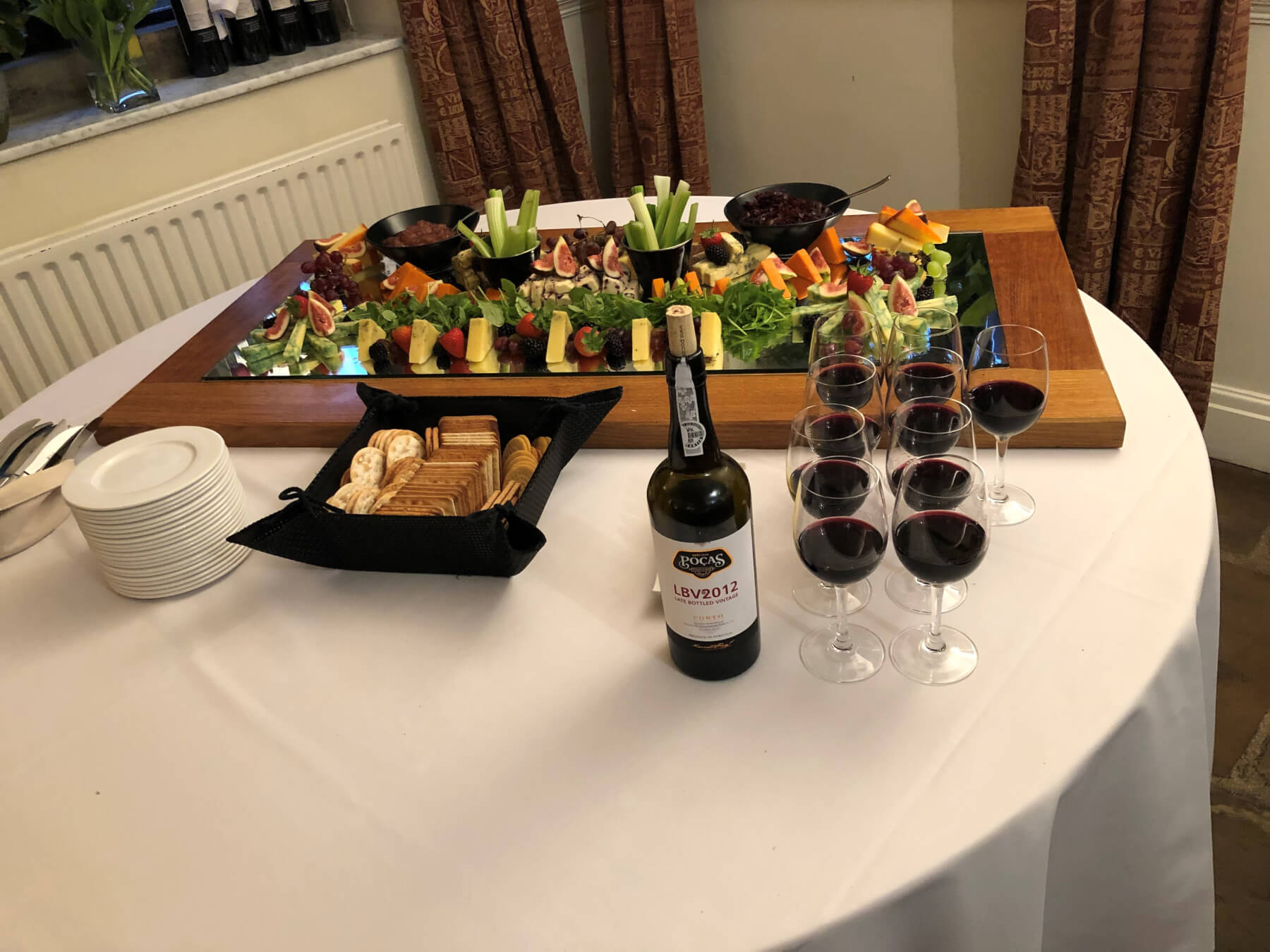 Back to blog