A 2019 YouGov survey found that among a sample of more than 2,000 adults who drank alcohol in the past 12 months, wine was the most popular alcohol type, drunk by 81% of those surveyed. So which types of wine are most popular? Join us as we count down the six most popular UK wine types.
According to the YouGov survey on the UK's favourite type of wine, Blush Rosé is the 6th most popular wine choice. Around 22% of UK drinkers choose this wine, known for its sweet, bright and floral tones. Sales statistics support the popularity of this wine in the UK: House of Townend, one of the UK's top wine merchants, places their Route 66 Boulevard Blush as their third best-selling wine. This wine is a rich, sweet and full-flavoured Rosé, and is a classic example of what makes Rosé so beloved amongst British drinkers. Google Trends shows a steady increase in interest in this term over time, showing the growing popularity of this wine variety in the UK.
Light-Bodied Red
The YouGov survey places light-bodied red as the 5th most popular wine variety – 23% of UK drinkers choose this option. House of Townend's popular light red options include products such as the Chinon La Noblaie, a light, soft and fruity red which is also organic and vegan. Google Trends shows a steady interest in this wine variety, with volume often increasing in the summer and autumn periods, as opposed to full-bodied red wines which are more popular during the colder parts of the year.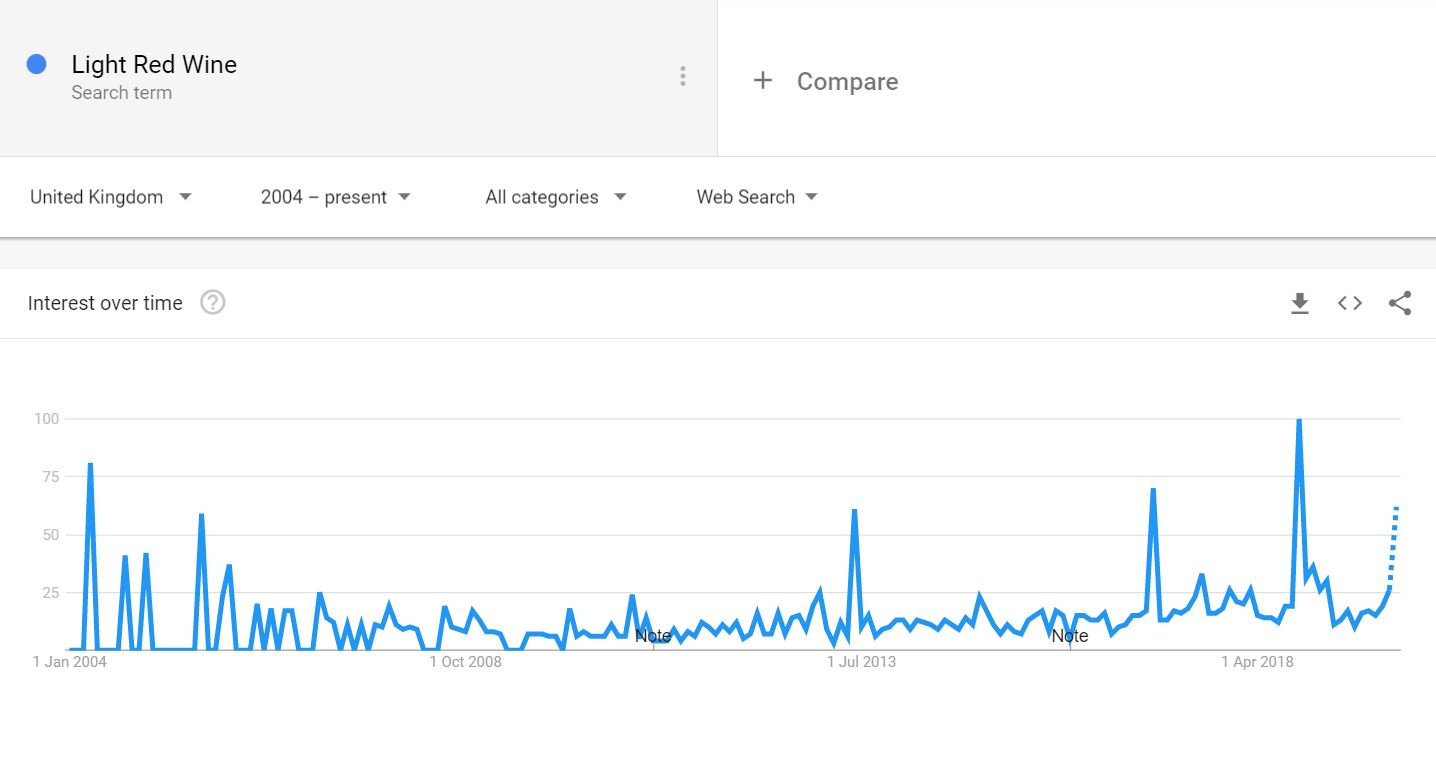 Champagne
4th on YouGov's survey was the always-popular Champagne, a popular option at celebrations and other special events. This wine has a nutty, oaty taste with a creamy texture, and is one of the pricier wine varieties on this list due to the labour-intensive traditional methods needed to make this. House of Townend's data shows that the Bollinger Special Cuvée NV, a rich and complex champagne with slight smoked notes, is their 8th best-selling product.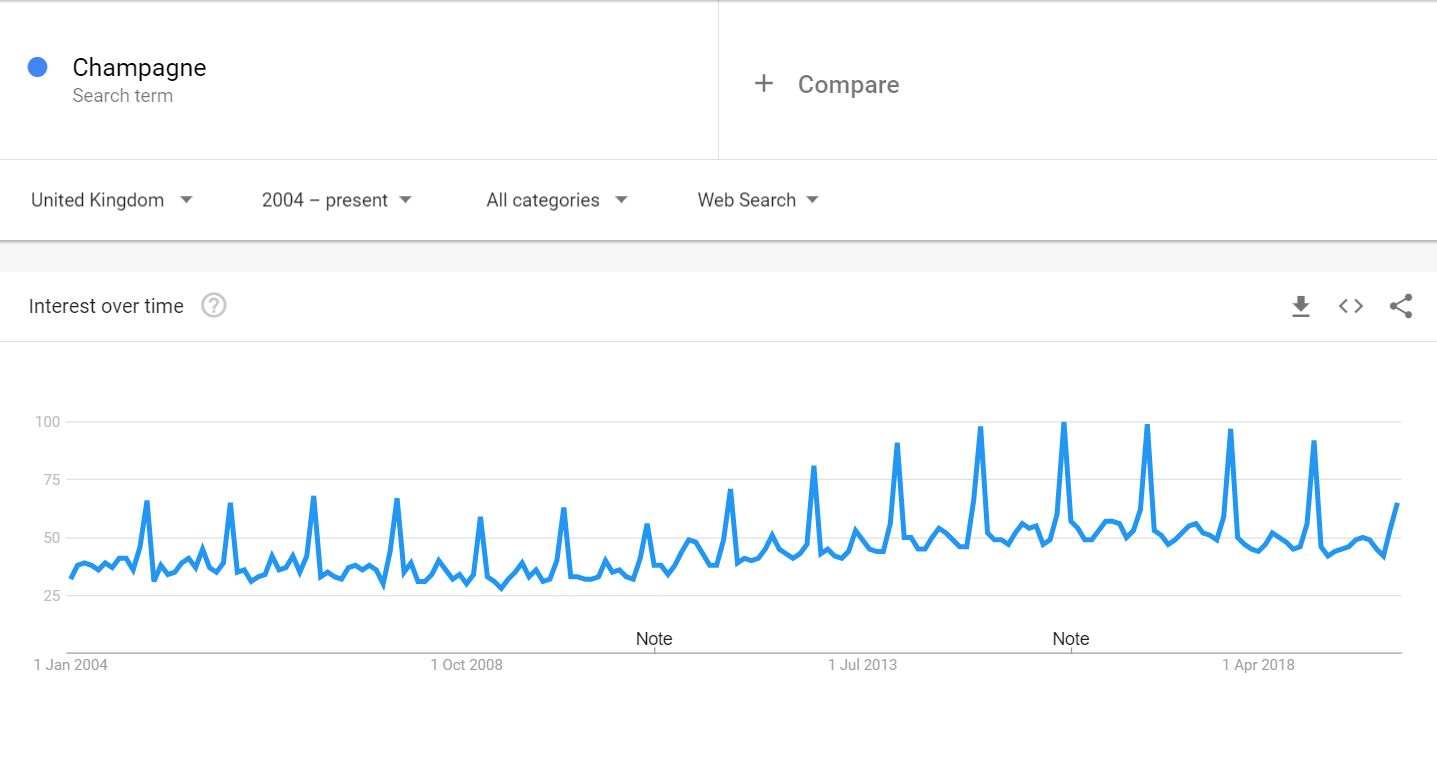 Prosecco
According to the YouGov survey, Prosecco is the 3rd most popular wine amongst UK drinkers, with 34% choosing to drink it. Known for its fruit and flower aromas and typically containing primary flavours such as pear and honeydew melon, prosecco goes perfectly with fruity appetisers and smoked salmon. Once more this is supported by our data from House of Townend; Pure Prosecco is their 4th best-selling product. Citing it as often being sold for parties or larger events, this option is also vegan/vegetarian to provide a great drinks option for all guests at an event. This wine variety has exploded in popularity in the past few years, as shown by the Google Trends data below.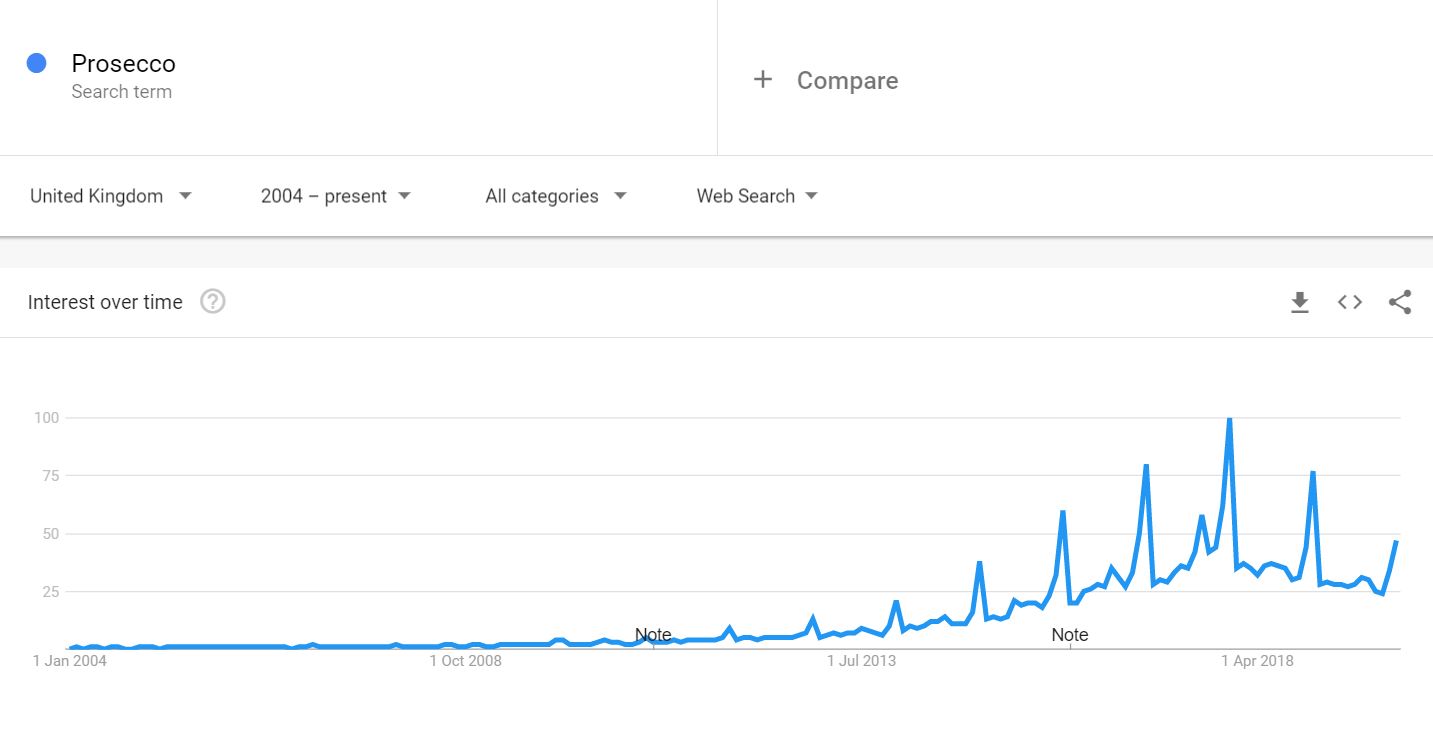 Full-Bodied Red
Full-bodied reds, such as Secondo Passo Primitivo IGT Salento, remain a popular option in the UK. This wine is the 9th best-selling product for House of Townend, and has notes of black fruit, spice and chocolate as well as being completely vegan and vegetarian. Full-bodied reds as a whole were surveyed as the UK's 2nd most popular wine variety by YouGov, popular for its pairing with slow cooked meats and tomato-heavy stews. This wine variety is most popular during the winter for its great pairing with heavier winter dishes – Google Trends shows a clear spike in searches for red wine during winter each year, with searches spiking around Christmas.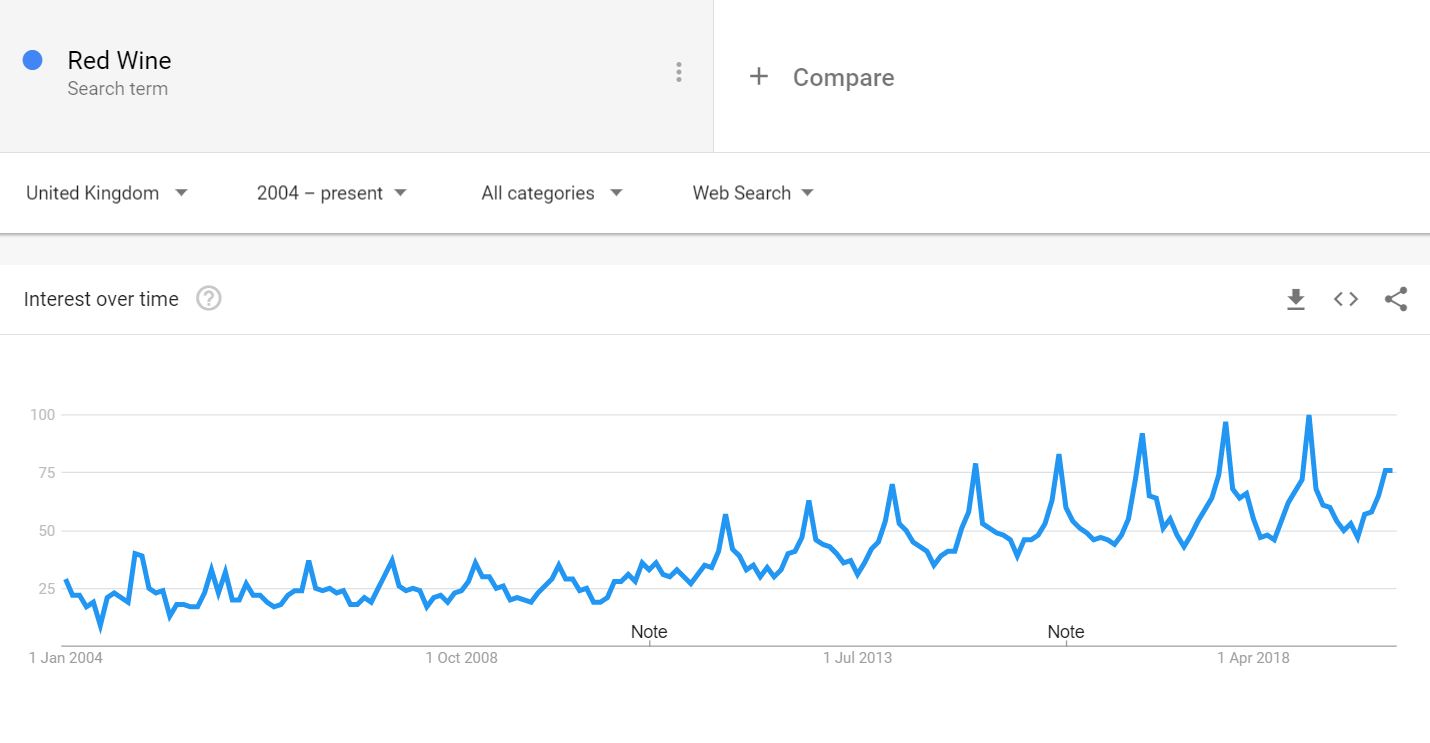 Crisp White
Both House of Townend's data and YouGov's survey place this as the most popular wine choice in the UK. 41% of alcohol drinkers drink white wine, placing it clearly in first place as the most popular wine variety. House of Townend's Kuki Marlborough Sauvignon was their best-selling product of all time, and Pure Pinot Grigio their second best-selling product. Both are excellent examples of a crisp white; dry and refreshing with zesty notes. For vegans and vegetarians, the Campo Nuevo Viura is House of Townend's 6th best-selling product, and is a crisp white wine with notes of green apple, pear and citrus. 5 of the top 7 best-selling House of Townend products are crisp whites, showing the immense popularity of this choice.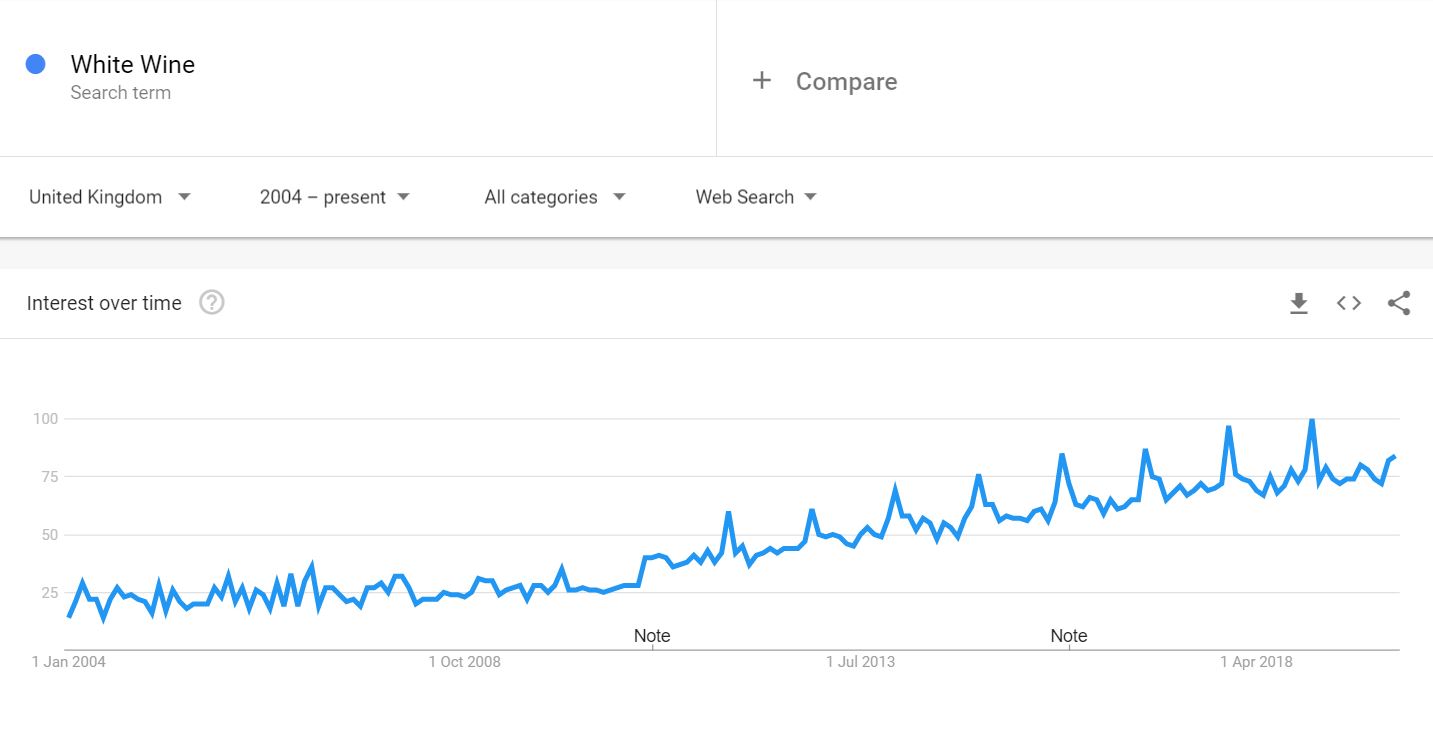 Back to blog