As with every list of Top 10's, the following list is so subjective as to be entirely indefensible – all I can say is that it is My list, and one which I am (slowly) working my way through. The criteria for inclusion (worked out, scored through, discussed, argued and debated with friends over a good lunch in the warmth and pastoral splendour of the English Lake District) was for it to be an iconic family managed estate, who have won awards, wines which you actually want to drink, affordable (perhaps) and attainable and a strong image of quality. In addition, I included in my criteria a hefty nod towards sustainability, innovation and a sense of place and history.
Here, in reverse order, are my Top 10 Wine Estates – happy to argue the merits of any of these, as long as you buy lunch!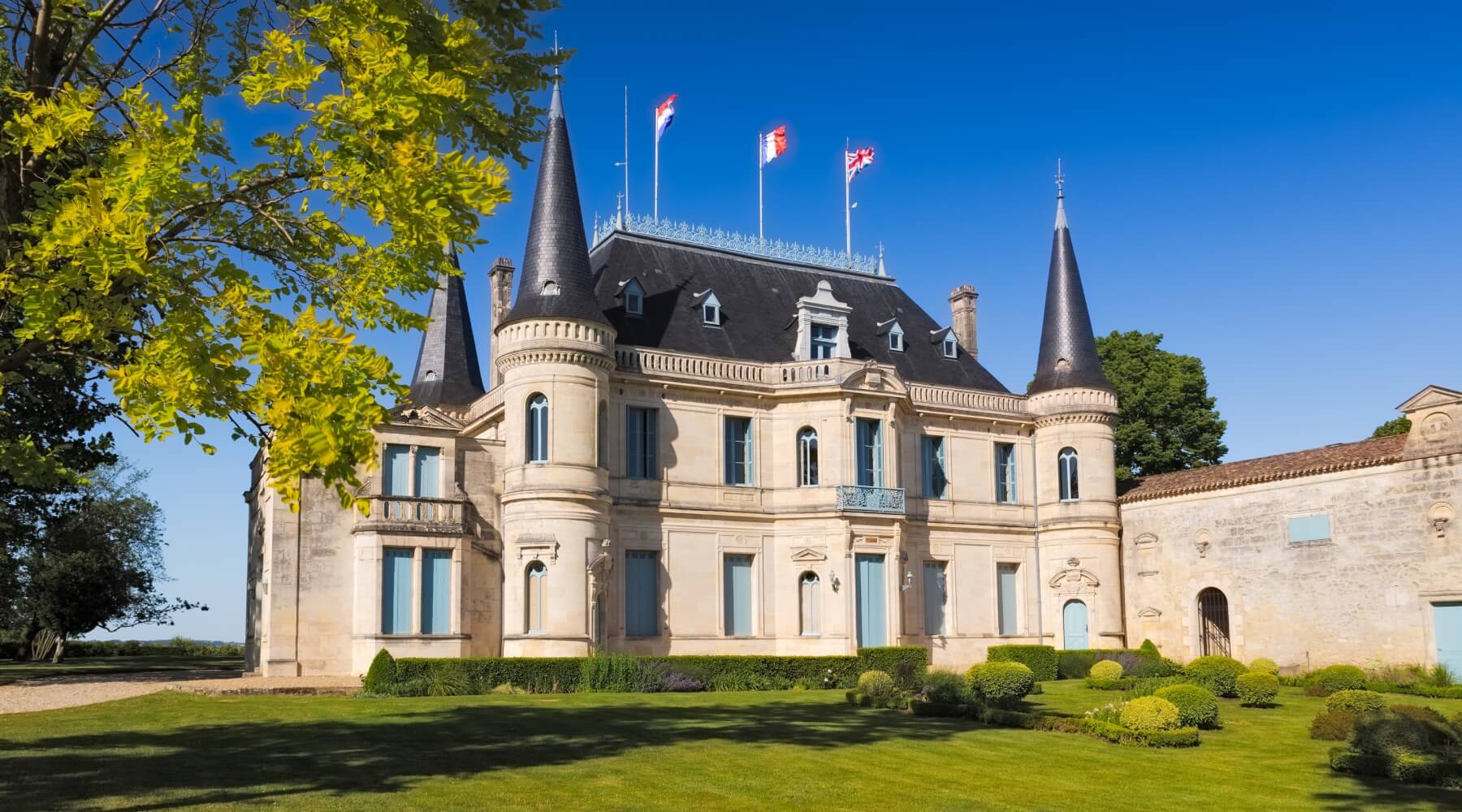 Chateau Palmer, Bordeaux

Krug Champagne. Some may get the rappers raptures, others use distinctive bottles – but Krug just keeps making what can only be described as finely tuned, properly aged, sumptuous, elegant and ethereal Champagne…A blend of many years reserve wines, numerous Grand Cru vineyards and relying on the holy trinity of Chardonnay, Pinot Noir and Meunier grapes, this is a Champagne so perfect it stops conversation. And at that point we need say no more.

Domaine Sauzet, Puligny Montrachet.
It is fair to say, some could arguably fill an entire top 10 with wines from this most famous of villages in Burgundy, but the reasons for choose Sauzet are many and varied; above all this estate typifies everything that is great about Puligny – a razor-sharp acidity, freshness, minerality in abundance and the use of bio-dynamics. This tiny, innovative yet timeless estate makes small parcels from several 'levels' across Puligny, every wine the exact benchmark for textbook Puligny, yet every wine seems to give more, exude more and tell the story of the soil, the people, the culture and the relentless focus on quality.

Chateau Palmer, 3eme Margaux, Bordeaux.
To be fair, I could have chosen any of the first, second or 3rd growths, but I chose this family run and managed estate as, to me, Chateau Palmer reflects the greatness of Bordeaux in a glass. Sitting slightly beside the road as it runs north from Bordeaux in the Margaux appellation & the fairytale image of a Bordeaux Chateau, Palmer is owned and managed by various generations of the Sichel and Mähler-Besse families. Many would place Palmer in a high second growth, or perhaps even in 1st growth status if the famed 1855 classification took place today – so why include it in my top 10 rather than those wines ranked above it currently? Simple -the character, style, pure unadulterated elegance, breathtaking power, sinew and finely tuned winemaking of the wine stands head and shoulders above its neighbours. If ever a wine could be the 'signature' of great claret, then Palmer would be my choice.

Felton Road, central Otago, New Zealand.
Whoooaa! But this is from New Zealand, and hardly anyone knows about it, let alone tried a bottle!!?? If you need to try some of the best Pinot Noir in the World then this tiny family run estate, sitting within one of the most scenic and beautiful 'wine views' in the World, nestled beside the lake that wraps around Queenstown with the stunning backdrop of The Southern Alp subverted by a majestic snowcapped Mount Cook rising above, then this is the estate, and the home of some of the World's greatest 'New World 'Pinot Noirs ever made. Sustainability is at their core, expression of fruit, power, pure adulterous, joyful, sensual pleasure in a glass is their aim. Felton Road craft wines that make memories that stay with you.

Tenuta San Guido, Tuscany.
Home of Sassicaia is how I could have titled this entry, but Tenuta San Guido make more than just 1 wine, albeit a very, very iconic one. My reasons..? the sheer excellence of the wines – plural. Tenuta San Guido sits a short horse ride from the (cooling) sea next to the Bolgheri Bird sanctuary and makes one of the most famous of all 'Super Tuscans' – Sassicaia. A beautiful estate, in a beautiful location with vineyards of Cabernet and Sangiovese that are iconic and perfectly sited – making a richly structured red wine which has won awards, scores and plaudits from press and public alike, with the result it is now sought after as an investment wine; I like Tenuta San Guida, however, as they also make wines that can be drunk happily without an ouch at the end of every credit card transaction. Try Guidalberto, or la Difese if you want to taste the 'cousin' of the Big One.

Klein Constantia, Cape Area, South Africa.
If age was our sole criteria, then this award-winning iconic winery would win hands down – its founding in 1685, nestled into the foothills of the Constantiaberg mountains, upon whose cool higher slopes Klein continue to farm organically, radiates a sense of place, history and beauty that few can match. Situated a mere 10km from the cool False Bay and covering around 200 acres, Klein Constantia make, amongst a series of great wines, one of the Worlds most iconic dessert wines – the legendary Vin de Constance. Crafted from hand picked and tiny yielding Muscat de Frontignan grapes, this sweet, concentrated and ethereal wine ranks as one of the finest dessert wines in the World and is on most wine anoraks 'bucket list'.

Domaine Serafin, Gevrey Chambertin, Burgundy.
I visit Burgundy a lot and I am continually asked if the crazy and stratospheric prices for some wines (Think DRC) is justified. When a wine can be sold for £10,000 a bottle and is not even available, except to those of us with our own banking hedgefund, then it is no longer a consumptive and agriculturally produced liquid, but merely an object of rarity to be traded as such, like diamonds, gold bars and the odd Monet. I digress…. So why choose Serafin, a boutique family run domaine, situated on the upper edge of the village as you head away from Gevrey that no one has ever heard of, except those 'in the know'. Domaine Serafin makes wines that are sumptuous, perfumed, sensual and above all delicious, yet their scent, elegance and brooding power just seem to grow and stand head and shoulder above any other domaine.

Domaine du Vieux Telegraphe, Châteauneuf-du-Pape.
Ask any fan of the Rhone what estate makes the perfect Châteauneuf-du-Pape and there will be two answers which will be a recurring feature at the top of any list:- Chateau Beaucastel and Domaine du Vieux Telegraphe. These two iconic estates share a similar approach to quality, power, sustainability, relentless pursuit of perfection and age-ability. The reason that Vieux Telegraphe heads my list of Top 10 Vineyards is not just the stunning red Châteauneuf-du-Pape, a rich, structured, brooding and powerful blend of Grenache, Syrah & Mourvèdre, but the Brunier family also make a simply magical white Châteauneuf-du-Pape, capable of lasting almost as many decades as the red, in addition to an iconic second wine, Telegramme - all from estate grown grapes, and each with their own personality and perfect attunement with the rugged and warm landscape they were hewn from.

Jordan, Alexander Valley, Sonoma.
Californian Cabernet and Chardonnay tend to be pigeon-holed by the British drinking majority into 3 categories – cheap, oaked and fruity, medium priced, fruity and oaky, and crazy priced, oaky and so thick one is incapable of drinking more than a glass before your palate is left battered and subjugated by the alcohol, tannins, fruit and oak. Jordan, however, make proper wine – a relationship borne from a European love affair that turned a corner of the cooler Alexander Valley in upper Sonoma into an oasis of perfectly-sited vineyards on cool high slopes, and where the culture of freshness, drinkability, elegance over power, and limited use of oak in both Cabernet and Chardonnay are highly reminiscent of Pauillac and Puligny-Montrachet. It is no wonder that Jordan win awards across the globe, as well as a firm public following that has resulted in the Jordan Cabernet and Chardonnay being the #1 selling premium brand of wine in US restaurants year, after year, after year.

Ridge Vineyards, Sonoma, California.
Is there a reason that two Iconic Californian wine estates made it into my top 10? Nope – Global warming is affecting the once-mighty Napa Valley to the point where I don't think they can make elegance and drinkable wines from that furnace of a valley for much longer, whilst in the neighbouring cooler Sonoma Valley, critical cooling sea breezes penetrate and give vital freshness and power but without a hurtful alcohol level. Ridge Vineyards make some of the most iconic, sustainable and age-worthy reds and white wines in the whole of California – sourced from a wide range of different vineyards spread across numerous microclimates and sub regions, each perfectly demonstrating in liquid form the essence of a grape perfectly suited to that climate and soil – Carignan, Syrah, Chardonnay, Zinfandel and Cabernet, supported by Grenache red, and white, Mourvèdre, Pinot Noir, Charbono, Merlot etc etc – in all they have around 40 grapes planted – and the finest of them all, arguably, is their Bordeaux lookalikey, the mighty, impressive and timeless Ridge Monte Bello.

Back to blog