As a wine merchant working with prestige and group clients across the UK, I am often asked to put together visits by key suppliers – the intention being to put together a series of 'days in trade' when the supplier, be it a wine estate, Champagne producer or even sometimes a spirits or minerals supplier, can meet our clients and show their wares. This sometimes involves tasting, but as often as not it is more just getting them face to face so they can discuss trade and see if that particular suppliers' products and culture 'fit' the client's needs.
Here is a brief summary of a 4 day working visit we arranged with Jordan Wines of Sonoma in California.
The timeline starts back in September 2018, when I met with Romain Bourger, the sommelier at The Vineyard at Stockcross in Berkshire (I know, I have a large carbon footprint!). We discussed Jordan Wines and I mentioned that they sometimes produced large format bottles of their award winning Cabernet. The largest, and most impressive, being a Melchior – a gargantuan bottle standing over a metre high.
In November 2018, Romain came back to me to say he was interested in discussing it… but then Christmas came and went, and soon we were in to 2019…
January 2019. I asked Jordan to confirm pricing, and if they were willing to make a bottle for the UK. It turns out they only make 8 Melchiors per year, only 6 of which were ever sold, and that none was scheduled for the UK as we were a very small market (and by small, I mean tiny!). Every bottle of Jordan can be sold 3 times over in the States… this is rare stuff.
Email count: 5
February 2019. Jordan agreed that they may look at shipping a Melchior to the UK, but that the Jordan team needed an event to open it for. We therefore needed to produce an event. Back to the Vineyard at Stockcross… who happened to have an annual event based around Californian wines, called "Uncorked". This year was going to be a new format of wine weekend featuring suppliers, live music and a Californian BBQ. This sounded ideal so back we went to Jordan with our proposal…
Email count: 12
Perfect they said, now we need to organize a few days either side of this weekend so that the Jordan team could be utilised…. but they only wished to visit the south of England and we work mainly in the North… we discussed by email what we could do.
Email count: 19
I began contacting top sommeliers in London and the SE – would they be willing to meet Jordan and taste? Certainly they all said, but when we started to get positive replies in, it became obvious that we would spend large chunks just driving to and from, wasting time and running the risk of missing opportunities.
Email count: 44
I decided the best thing was to organize a lunch in the heart of London and invite as many as feasible. The Shard seemed the obvious answer as I had just met their sommelier at Zuma in London. He agreed to hold a table as long as we could fill it. The date was decided in May 2019. More emails to sommeliers – would they be interested?
Email count: 58
I then spoke with our buyer who tentatively placed an order for a Melchior, along with a list of stock needed for both tasting and supply. Phone calls and emails flitted across the world – requests for wine lists, pens, tasting cards, Point of Sale, event merchandise. We needed to pin down vintages of Jordan Museum stock so that sommeliers (all looking for unique and bespoke top wines,) would be interested and willing to come along.
Email count: 81
June 2018. Vintages decided & orders placed!
Back to organising days in trade, we started to contact our current customer base, looking at those who would value Jordan wines. Emails and phone calls followed. We started to plan timings for a visit and flights, hotels, samples, pricing and logistics of getting Jordan team where they could be most effective.
Email count: 104
July 2018. Melchior and other wines shipped from California, date for Vineyard weekend agreed, hotel booked for the weekend and Jordan team checking final details before they book flights and hotels – where do they want to stay? What is their itinerary? POS added from California – to be shipped separately as it had missed the boat. As had some vital samples… Jordan were now also booked to do a masterclass at The Vineyard on the Sunday and extra wines were needed!
Email count: 111
August 2019. I visit Jordan on a family holiday. We spent 2 days fine tuning the event – still not agreed on the lunch at Oblix at The Shard, but rough idea of what we can do with Jordan as several customers request to see them. The Melchior should be arriving in the UK with rest of wines 1st week of August– plenty of time to settle and be ready for the big event… wouldn't it??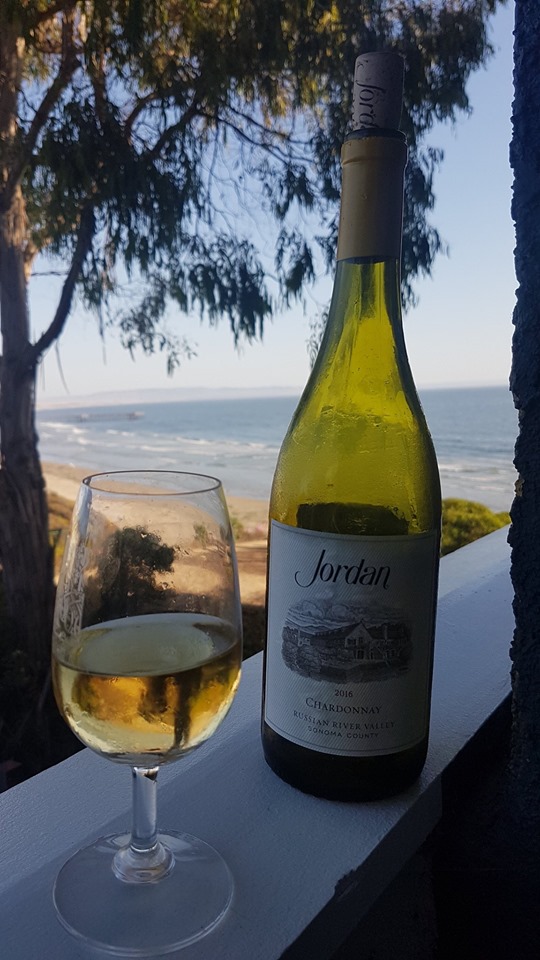 Visiting Jordan on holiday!
End August 2019. Oblix booked, wines agreed, menu agreed, logistics of visit starting to form. Jordan to arrive on the 9th of September, day in trade when they arrive (seriously jet-lagged, but they say they are happy to hit the ground running) meetings and tasting at The Stafford and then RAC Club. Thursday is a day with our Agency sales manager in the Cotswolds and outer London area, then Friday is the lunch at Oblix, Friday night at a top customer, then drive to Vineyard on Saturday, event at The Vineyard Sunday and then home. None stop!
Email count: 127
August 30th. I have phone call to say the Melchior and accompanying stock is not released by customs. There is problem with paperwork. Not with our stock but other customer's pallets within the container…
Phone calls to winery, emails to winery and Freight Company. May not be released in time!
Separately, I get a phone call from another carrier; the gas bottles used for the Melchior unique wine preservation system is not able to be shipped. Problems with it being some form of military weapon – more emails and phone calls. Help!
Sleepless night… email count 153… heartbeat…way to high. We run the risk of cancelling a years' worth of work and looking silly. And it's not even our problem.
Phone call to logistics – still no Melchior – by my reckoning the stock needs to be released by the 2nd of September to make its journey to our warehouse and then back to the Vineyard… with the gas bottles.
Email count: 156
September 1st. No Melchior & gas not arrived either... but then another phone call from a different carrier. The extra samples that Jordan had sent by air had arrived, but the paperwork wasn't correct so they were stuck near Gatwick! This was beginning to look like a comedy of errors – and none of it was due to us! The shipping companies had mislaid paperwork, Customs were moving slowly and no person was willing to see sense.
Another sleepless night – email count: 163
September 2nd. Amazing – the Melchior cleared to ship, gas cleared from FBI or some other agencies clutches, and hey presto Gatwick shipper delivers wines! We had 30 minutes to go before we would have needed to airfreight another Melchior (at a cost of thousands!!). I go to our Melton Cellars to check stock, and email all and sundry. 3 customers drop out of the Oblix lunch, 2 others confirm places. All sorted with Oblix, and we add a retail tasting onto the Friday to fill a gap in the schedule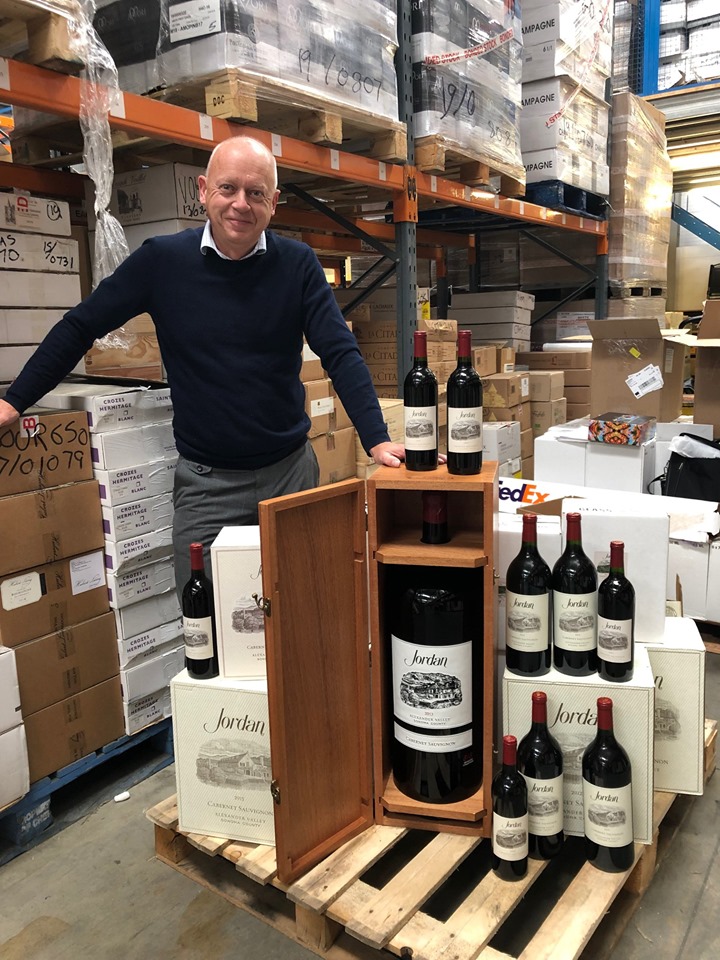 The stock arrives at Melton!
RAC club agreed, Stafford Hotel meet agreed, Hide Restaurant in Mayfair confirmed for dinner on Saturday, retail tasting agreed for Friday, Wednesday tastings agreed with retail clients in central London, final 2 people confirmed for the Oblix event (change numbers for 6th time), I sort all POS and book hotels and look at list of places I need to be, add postcodes of hotels, airports, parking spaces in London, customers. Look at Congestion charge to avoid areas of charge, check roadworks to avoid holdups… All written on several pages of A4 so that I can tick each day off as it occurs, always keeping an eye on the time so that meetings don't run over. Check samples, check equipment needed, pack a case, agree last minute meeting changes with clients and away we go!
Final email count: 178 – 70 phone calls, many hours of research, meetings, lists and time spent planning.
The Vineyard Uncorked Event was a massive success, as was the lunch at Oblix. We gained several new accounts, met many, many top sommeliers and managers, raised our profile and gave Jordan the best platform upon which to sell their wines and culture.
The first glass poured from the Melchior made it very clear that it was worth the stress!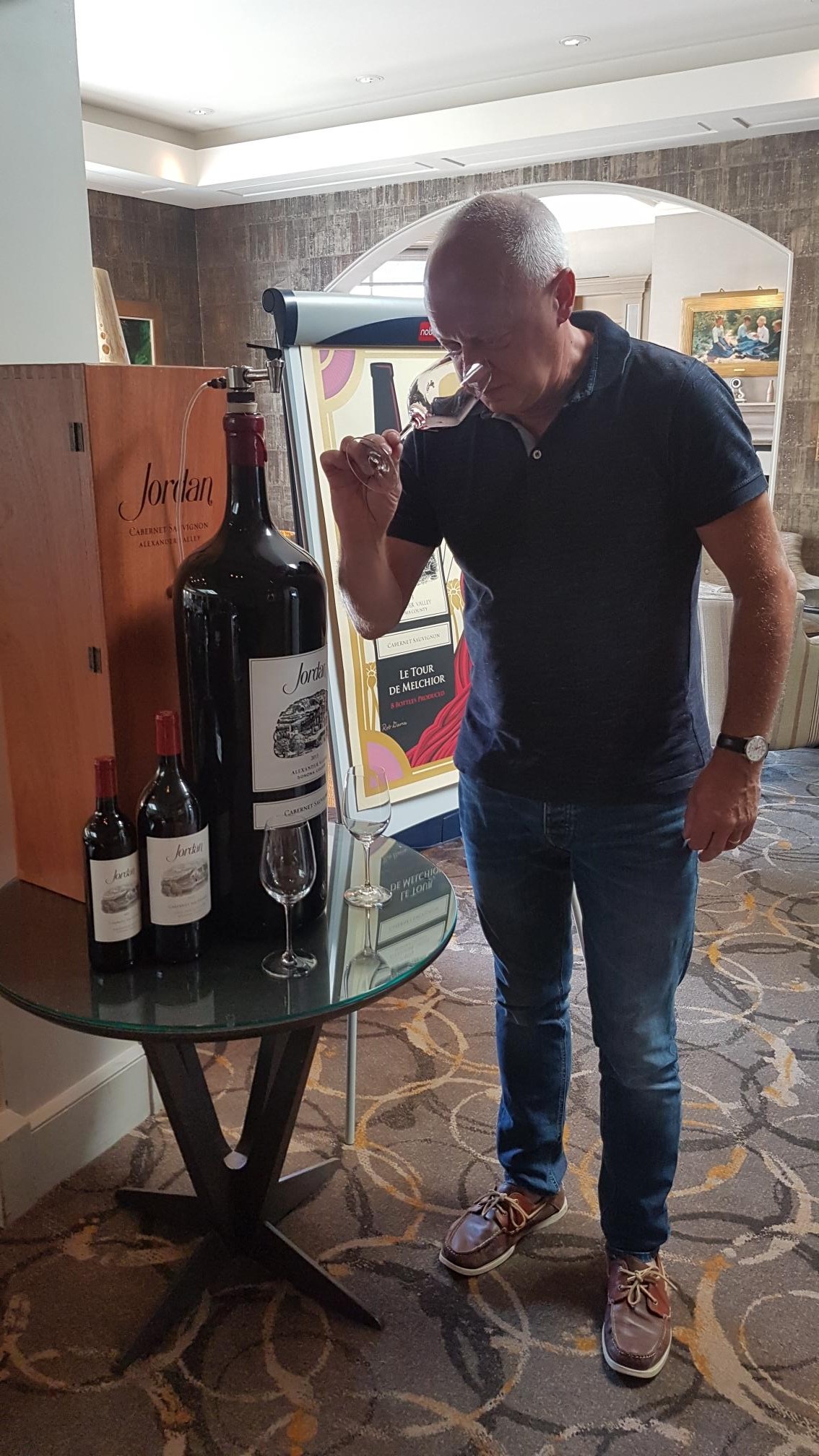 Back to blog