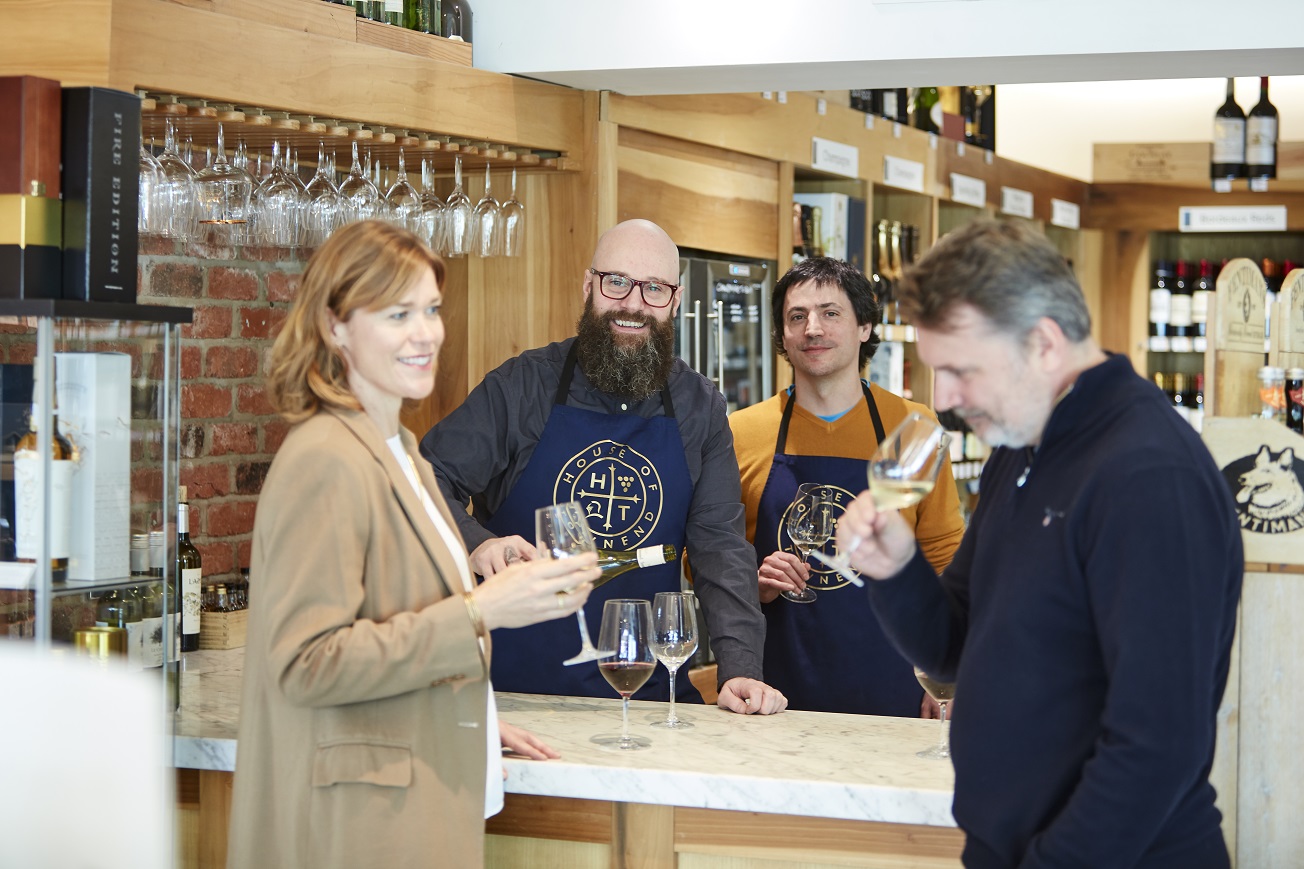 After almost 10 years at House of Townend in the Cellar Door the time has come for me hand over the reins. It was an incredibly difficult decision as I have lived and breathed the Cellar Door for so long. I remember my first day with House of Townend at our old premises on York Street in Hull; Monday 15th November 2010, a freezing cold day! After the tour round and meeting the staff we went out to see the Cellar Door. At that stage the building was still 3 months away from completion. The shop was a shell, no shelves, no tasting area, not much to speak of at all. But I felt incredibly excited. I could visualise how the shop would come together.
During the next 3 months, we worked hard towards the opening of the shop. We focused on making the range as exciting and broad as possible. We put together a calendar of events including wine tastings, and wine dinners. We saw these as key to raise exposure and market the shop to the local area. We utilised the local press and had our soft opening in mid-February. The official opening came a few weeks later with Madame Alexandra Pereyre de Nonancourt, the owner of Laurent Perrier Champagne house, as our guest of honour, and a lunch for 110 people. It was a fabulous occasion; I remember the Domaine de la Citadelle Les Artemes, 2007 tasted superbly.
Over the first few months the shop started to welcome people from the local area and the tastings were an instant success. People seemed keen to learn and they were hugely impressed with the Cellar Door itself. Since those early days our events have gone on to define a huge part of the success of the Cellar Door. As well as our own events, we have hosted a number of private tastings and dinners for some of the biggest and most important companies in Hull & the East Riding.
During my time here we have won Wine Merchant of the year for North East England four times. In 2017 we went one step further and won the Merchant of the year for the whole of the North of England. I am incredibly proud of those awards as they represent the hard work of everybody involved in our private sales team. We have always strived to be the best at what we do; sourcing incredible wines from all over the world and discovering some fabulous and unique parcels. Whilst I will not be there for the next chapter I know that the buying team will continue finding great wines.
My successor will no doubt be familiar to many of you. Alexis Teillay joins from Winteringham Fields, one of the regions most outstanding restaurants. Alexis has shaped the wine list, managed the restaurant and been a part of the team that has seen Winteringham Fields awarded a Michelin Star. His product knowledge and customer service are fantastic. But most importantly his passion and enthusiasm for great wine knows no bounds. I look forward to seeing how the shop develops moving forward under his management and I know he will be supported brilliantly by Mike & Hannah.
I obviously have many great memories from my time here and I have been fortunate to work with some great people and have developed great relationships with our customers. I thought I would pick out 6 wines that define my time at House of Townend. It was a tough choice but I picked the following.
Gardet Brut Tradition – I first tasted it in 2010 not long after I had joined. I have always championed smaller Champagne houses. I've been lucky enough to visit Gardet and had an incredible welcome from Christophe & family. If you haven't tried it yet, pick a bottle up soon and enjoy.
Kuki Sauvignon Blanc – One of our own wines and one of the most consistent Marlborough Sauvignon Blancs I have tasted during my time here. If you asked me how much I have sold I think we would be counting in container quantities rather than cases.
Chablis Domaine Testut – My wine career began in Oddbins. It was a great company and it championed new world wines brilliantly. The classic French wine range however was much smaller and not very exciting. When I tasted Testut for the first time I finally understood what Chablis was all about. It's a must with Smoked Salmon.
Rioja Vega Crianza – Rioja Vega, in my opinion, is one of the most consistent producers we have dealt with. They make fruit forward, balanced and delicious Rioja. The Crianza is a wine I have always recommended and it has a very loyal following. I also extend my thanks to Luis Marculeta for his support at tastings, dinners and for the many barrels that have adorned the Cellar Door.
Le Pigeoulet de Brunier - Made by the Brunier family this is a wine that delivers just incredible value for money. I always thought of it as a miniature Chateauneuf du Pape with lovely rich, bright red fruits. It is one of the smoothest most satisfying wines to drink.
Mendel Malbec – Whenever I recommend this wine to customers I always tell them that this is the Malbec that I judge all other Malbecs by. I stand by this statement. It is in my opinion pound for pound one of the best Malbecs I have ever tasted. Like an Iron fist in a velvet glove.
All these wines are available in the Cellar Door and on our website.
Finally, I just want to say thank you to John Townend for the opportunity to manage the Cellar Door in my own way. To Mike & Hannah for supporting me and the brilliant customers who have made the last 9 years lots of fun.
I will miss you all.
Stuart Shenton,
Head of Private Sales

Back to blog