Somerston Estate, makers of Priest Ranch wines, high above the Napa Valley, is arguably one of the future stars of the California wine business. Our Prestige Account Manager, Neil Goldie, visited them in August 2019 on a trip to the wine regions of California. Here is his overview of the trip: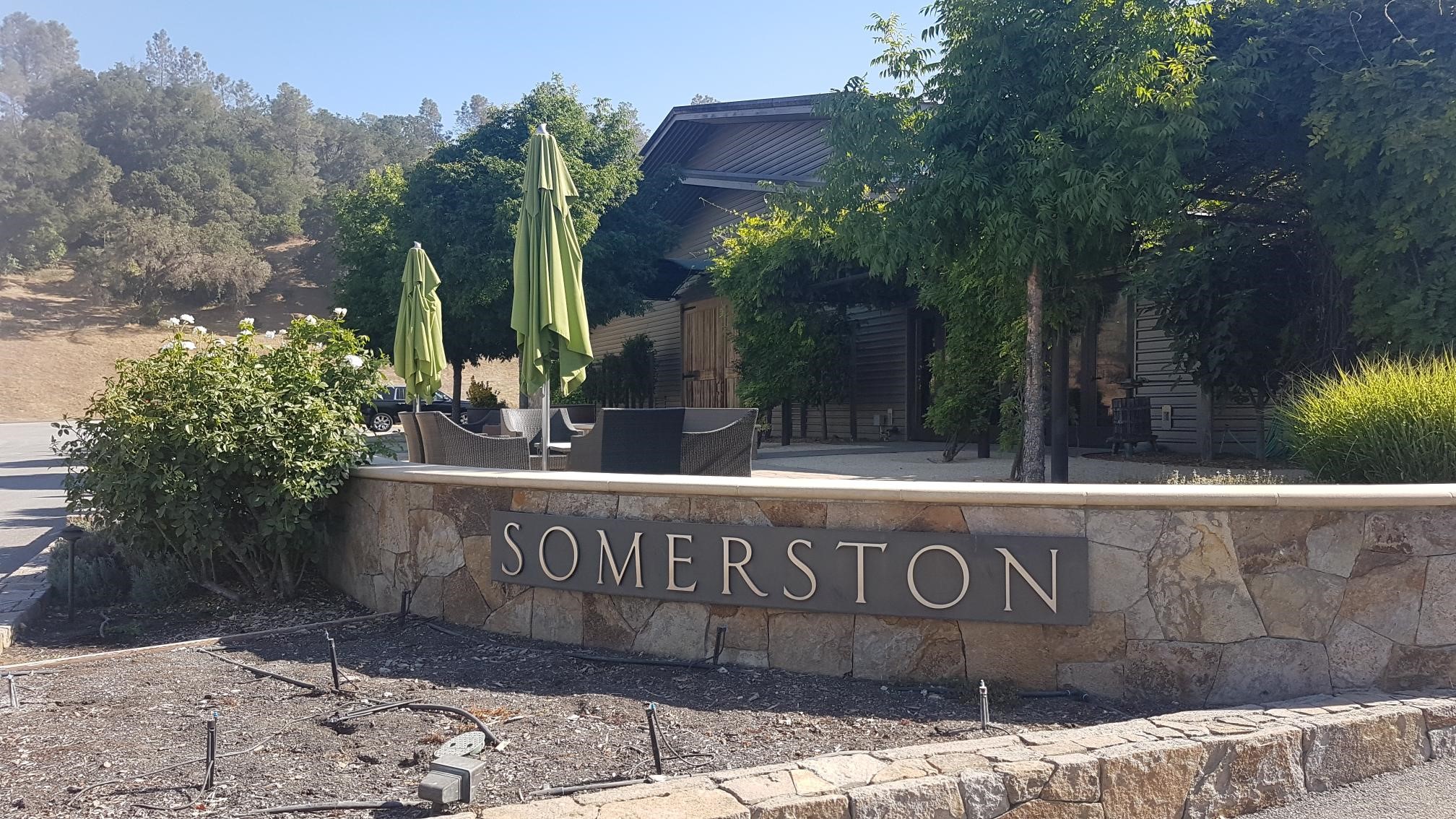 The Napa Valley is borderline a single monoculture... meaning it has become almost one single vineyard, each wine estate starting from the southern end near Napa City, all the way to its northern conclusion north of Calistoga, rolls into each other. Vineyard after vineyard stretching around 40 miles north and 2 miles wide between Highway 1 and the Silverado trail on the eastern side of the valley, containing around 150 wine estates. This is BIG winemaking in all senses: quantity, quality and price. The Napa is also warm, and getting warmer, hemmed in by mountains on both sides of the valley and with the cooler air of the San Francisco bay area only penetrating into the southern Carneros region. This gives daily temperatures around 5-10 degrees warmer than the cooler Russian River or Carneros. Napa is also now known for 'wine tourism' – the valley littered with bars, bistros, tasting rooms, restaurants, more tasting opportunities, holiday chalets, tasting rooms, trendy shopping and tasting rooms. You name it, if its got a corkscrew or vine attached to it, there will be an 'experience' around it for the city dwellers and wine tourists who now flock here throughout the year.
Somerston Estate is different. Its 1615 acres lie 9 miles up a slalom course of a road east of the Silverado trail on the eastern edge of the Napa. The road winds and twists like a demented rattlesnake up Sage Canyon Road as it ascends the Vaca mountains to an altitude of around 500 metres above sea level. Here the hidden Elder Valley opens and reveals the multiple small blocks of Somerston – where the air is significantly cooler, the valley greener and the soil is more free draining.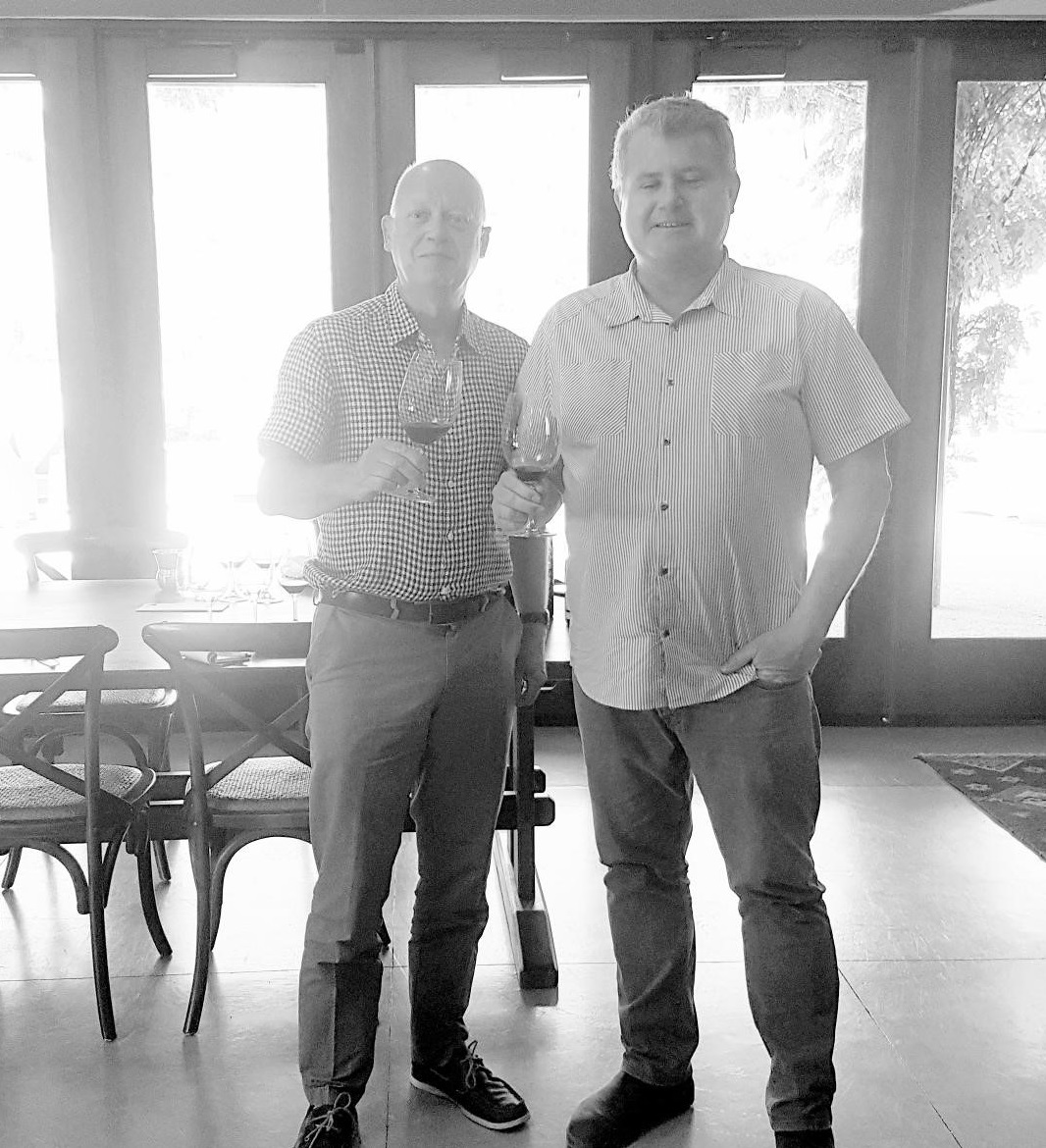 Neil Goldie & Craig Becker

Met by Craig Becker, Director of Winemaking, and in his own words, manager of all things, who immediately commandeers a 4 wheel drive buggy and shoots me off on a tour of this boutique estate. The rolling grass hills, topped with woods, outcrops of boulders and crisscrossed with animal trails are a reminder that this estate is no monoculture. The estate lies between 300 and 600 metres above Napa, its 1615 acres planted to only 230 acres of vines – the rest is land for the wildlife and some limited agriculture. There are plans to add additional plantings, but only to a maximum of 100 acres. Craig explained that they don't wish to be the biggest, just the best, and use only the best sited blocks which would be suitable only for the varieties they wish to plant. The focus is on building Somerston to be an iconic estate, with Priest Ranch the main volume label due to its commercial style. Somerston would remain the pinnacle of the wine production, becoming almost a 'super' label made only from certain blocks, of certain varietals whose performance is judged each year.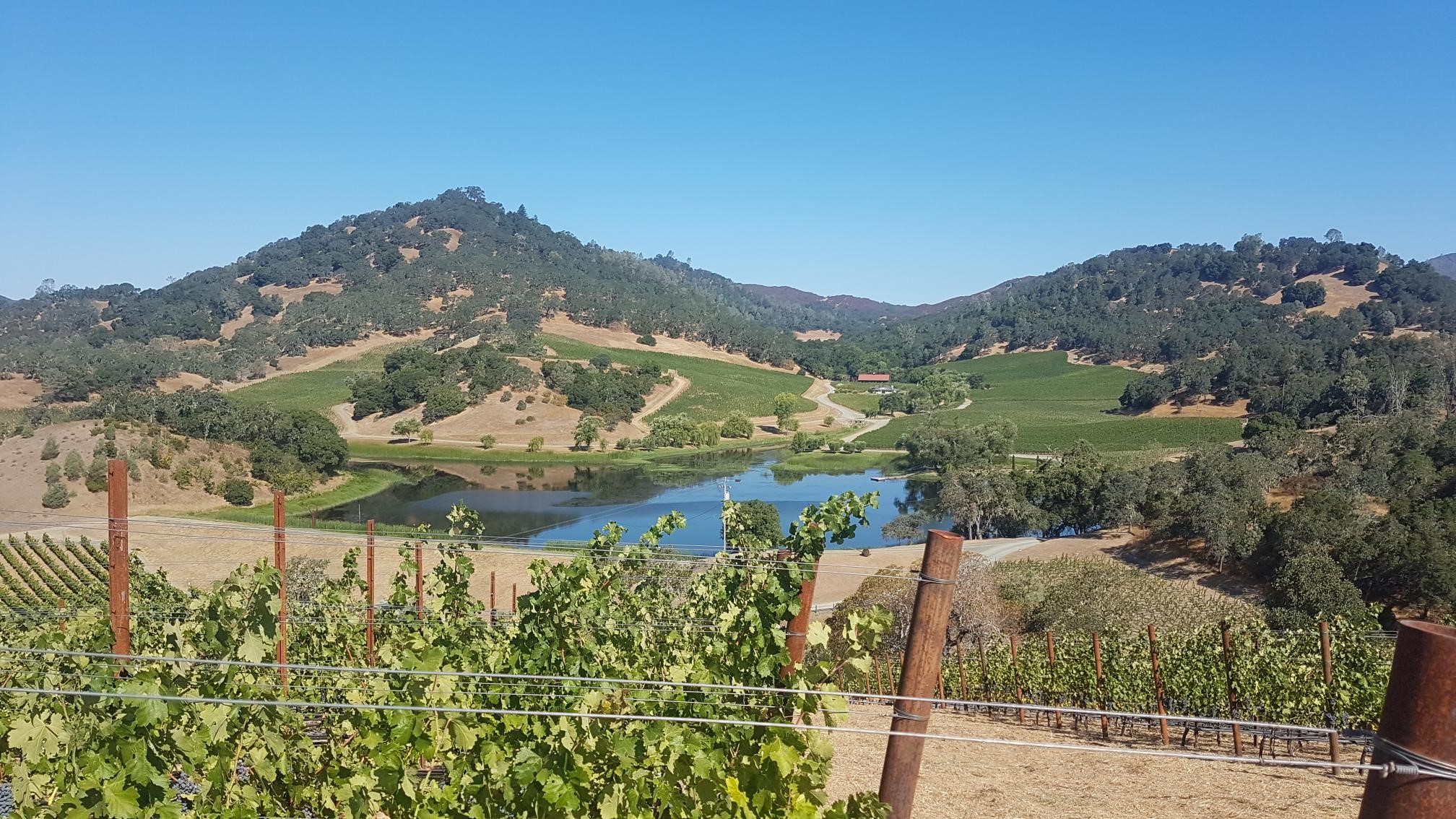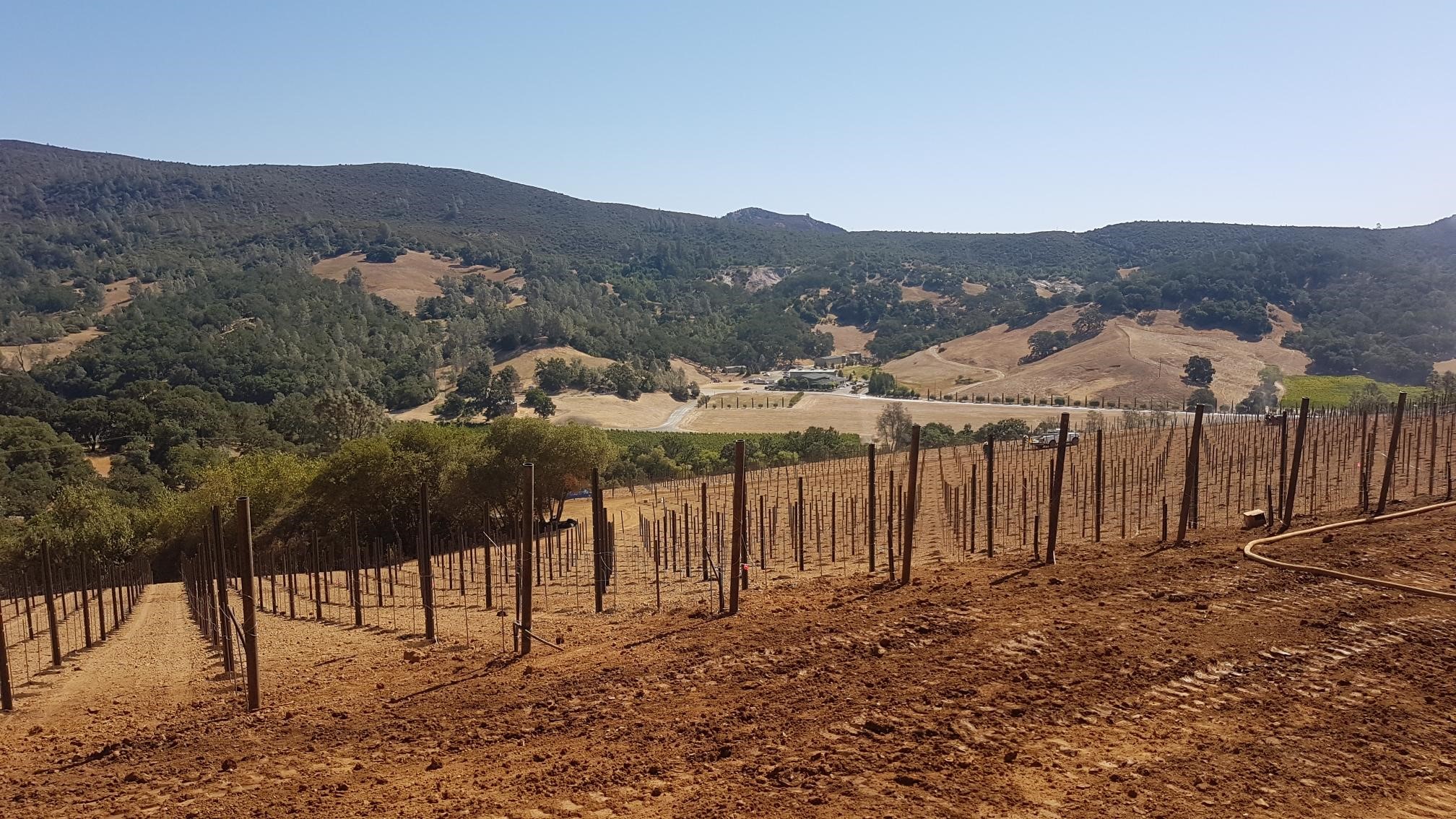 The hills around the winery remind me of Tuscany, steep in parts, rolling in others and separated according to aspect, soil, meadows, lines of trees and buttresses of rock. Ponds dot the estate, providing water for irrigation, as well as a haven for wildlife. Eagles, Coyotes, Mountain Lions and even wild boar have been spotted around the estate. It is truly a wonderfully peaceful and yet productive and balanced 'working' environment. Somerston is certified sustainable and will continue to work toward higher levels of sustainability as it strives to build quality and production.
The vines around the estate are neat, trim and sturdy – new plantings are visible for Grenache Blanc, Cabernet, Merlot and Petit Verdot. Planted in blocks throughout the estate, some separated by many hundreds of metres, the vines enjoy very free draining soils of crushed limestone, granite schist and some clay. In total Somerston has around 140 separate blocks of vines. This free draining aspect adds to the vine stress and reduces yields but gives a higher degree of grape quality. Craig explains that when he arrived in the mid 2000's the estate was working on each vine getting around 200 gallons of water per year... he has now reduced that to around 12 gallons per vine annually. The surge in quality and phenolic ripeness cannot be under-estimated, which, added to the cool climate and use of vine canopy to reduce exposure to damaging heat has meant that the wines now have elegance, freshness and a core richness and structure which many Napa producers would sell their car/art/privatejet/restaurant collections for (delete as necessary!).
So, back to the winery and a taste of the wines...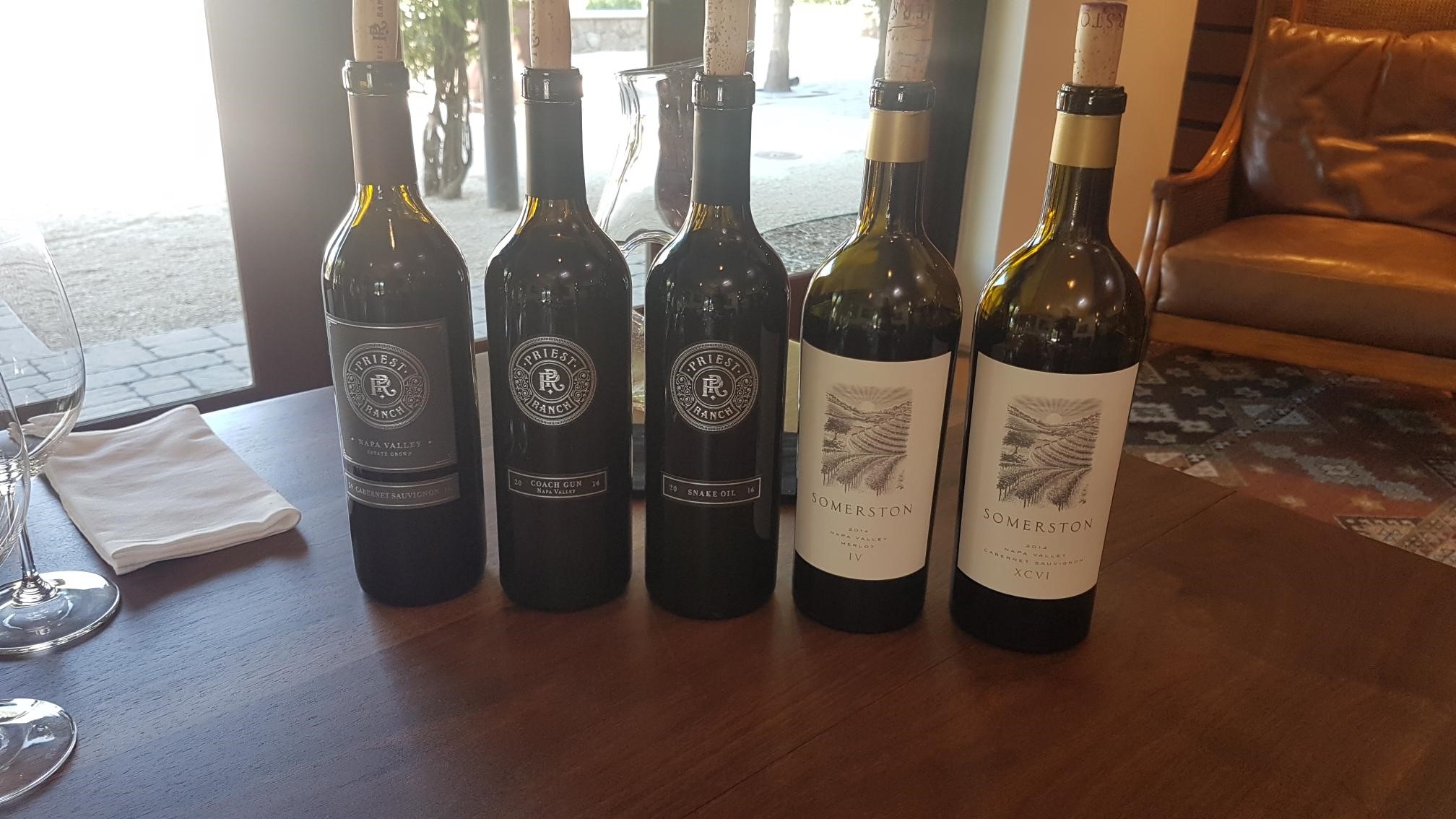 Sauvignon Blanc 2018, Priest Ranch
Very ripe, fresh, layered with intense mineral fruit, grapefruit and spikes of cut grass and lime. Intense in the mouth, zesty with citrus and liveliness – a fresh and appealing wine with a long finish.
Grenache Blanc 2017, Priest Ranch
Steely, crisp and ultra fresh – is this really grenache, a white grape known for its flabbiness and overt oxidation? This is more akin to a Chablis Grand Cru or Puligny! Crisp, steely, elegant yet balanced by notes of exotic white peach, greengages and some butteriness. Long, rich toward the finish, but still with that Burgundian steely edge. Very, very good.
Cabernet Sauvignon 2016, Priest Ranch
A worthy follow on from the Decanter magazine winner. This red is very dark, dense and ripe with immediate jammy notes of boiled blackcurrants and some spice. The oak is integrated and warming, supporting the densely packed and ripe fruit, yet cutting through all this is a lovely freshness. Bit of a star!
Cabernet Sauvignon 2016, 'Snake Oil'
Continuing the theme from founder James Joshua Priest, this is a step up from the Estate Cabernet, coming from just 3 blocks of Cabernet which have been aged in 70% new French oak. Here the dark and structured fruit is both deeply rich and black fruited, but has elements of olive, fennel and coffee notes to add to the cassis and spice. A richer, more elegant version – extremely good. Worth buying for what it will be like in 2-4 years time.
Coach Gun 2014, Priest Ranch
This is Priest's top wine – featuring 23% Cab Sauv, 20% Merlot, 19% Cab Franc, 19% Malbec and 19% Petit Verdot – aged in 60% new French oak and 40% second fill French oak for 24 months. This is much more serious, yet more sensual in the mouth. Riper, bigger, with more plum, cassis, cedar and black fruit pastille character, edged with coffee and Belgian chocolate notes. Deeply pleasurable... spice... intense... marvellous!
Cabernet Sauvignon 2014 Block XCVI, Somerston Estate
Wow! Black fruits in a dense, solid, sweeping, clamouring core... roasted, juicy with touches of graphite, cedar and spice. Intense in the mouth, yet feels lush within. Atouch of herbal 'lift' adds an extra dimension. Seriously good with ripe tannins and balancing freshness. This is arguably the best Californian red I've tried in ages!
Merlot 2014, Block IV, Somerston Estate
This is stunning. 90% Merlot with 10% Cabernet, aged in 100% French oak. A single 8 acre block of Merlot is the engine behind this monumental wine. Ripe, dense, smoky/chewy with streaks of eucalyptus, cherry, roasted plum and elegant vanilla spice. Soft, sensual, fresh and yet sumptuous – a wine that shows softness as well as grip, spice as well as mellowness, and warmth as well as freshness. Ding Dong!
So, in summary, Somerston Estate is a unique and highly focused property, whose future is secure with the knowledge, input and integrity of their founder, Allan Chapman, and their Wine Director Craig Becker. This estate, though almost 'off-radar' in many ways, is destined to become one of the best wine estates in the US. A combination of unique climate, soils and attention to detail in both winery and, more importantly, the vineyards, are already reaping rewards. In the next few years, as their knowledge of climate, micro-climate, soil, aspect, grape variety and rootstock added to their knowledge of winemaking techniques, come together in each of the individual 140 blocks of vines, there will be an endless 'palette' of tastes and textures to be able to blend wines of hand crafted brilliance.
We all look forward to that!

Back to blog