At the dinner following our annual Sales & Marketing meeting, our team get to enjoy a selection of 5 fine wines specially chosen by John Townend. Although it's very much a 'shoes on the other foot' scenario because the team taste the wines blind and try to work out what they are!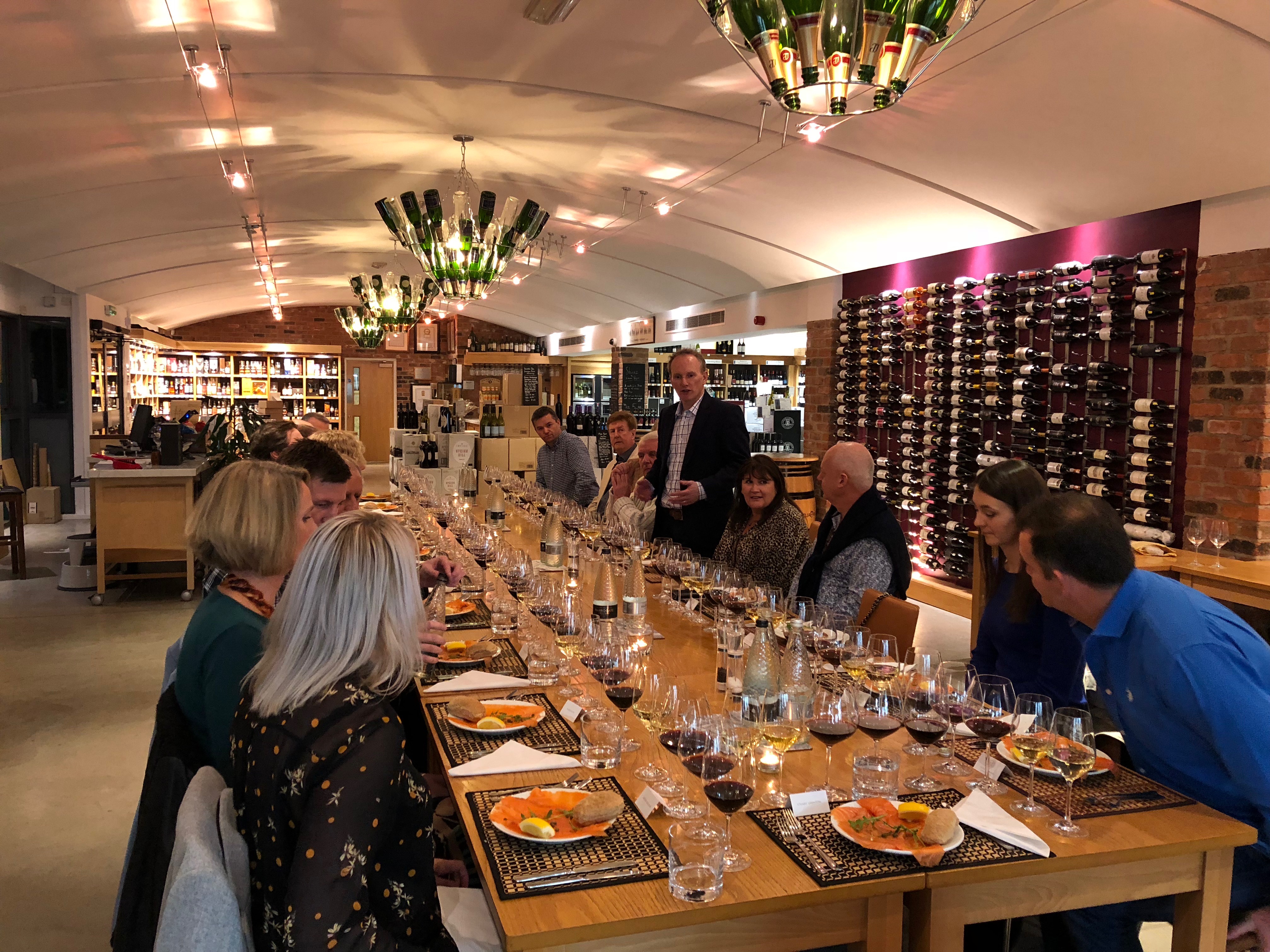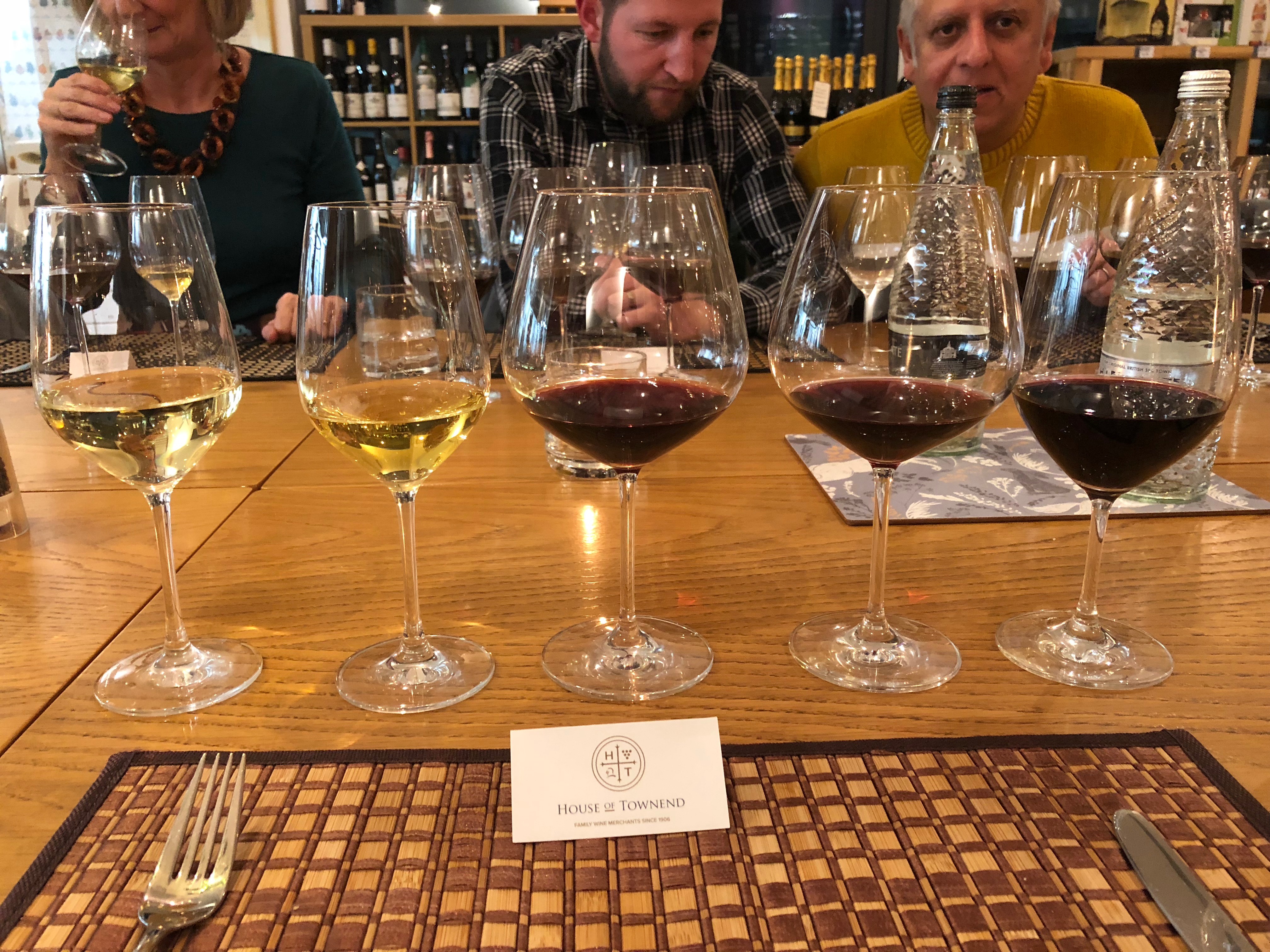 After a lot of chit chat and discussion, here are the results:

Wine 1. White Wine
Lightly coloured and initial aromas were very light and citrusy, indicating little or no oak ageing. An instant steeliness and minerality on the palate led the thinking towards Chablis because these are the classic Chablis characteristics. Additional floral notes, hint of almond nut and saline led a few to the Galicia region of Spain, perhaps Albarino. But with the unmistakable steeliness, it had to be French. A slight wet wool note indicated it might have been Pouilly Fume, something like the Ladoucette? But there was an age to the wine, not oak age, but certainly bottle age so it would more likely be Chardonnay-based which tends to age well, and so thoughts settled on Chablis 1er Cru or Grand Cru.
Answer: Chablis 1er Cru 'Vaillons' 2009, Domaine Francois Raveneau

Wine 2. White Wine
Immediately noted as deeper in colour, suggesting bottle age and oak age. Fat and rich on the palate with tropical fruits and a toasty note – surely Chardonnay, but from where? The richness and fatness initially led to New World, however it wasn't overly buttery so we were likely looking at cooler climate Chardonnay. That ruled out Australia and California. New Zealand perhaps – possibly Central Otago, such as the Bannockburn vineyards and Felton Road's wines? However there was a finesse and acidity to it and a hint of oxidisation in the background leading to thoughts of some serious bottle age. The 'struck match' note associated with barrel-fermented Chardonnay, along with the bottle age and finesse, it was more likely to be White Burgundy. It wasn't buttery enough to be a Meursault but Puligny Montrachet or Pouilly Fuisse were good possibilities. It was indeed an outstanding Puligny Montrachet – 'Beautiful old White Burgundy'.
Answer: Puligny Montrachet 2000, Domaine Leflaive

Wine 3. Red Wine
Vibrant purple/red in colour, and aromas of cherry were prominent. The stem of the glass could be seen through the wine, indicating a thin-skinned red grape. Vibrant flavours of cherry, raspberry, blueberry, black pepper, and warming tones. Definitely a Pinot Noir! A distinct jamminess ruled out any cool climate regions like Burgundy or New Zealand. The warmer tones led the thoughts toward North America, perhaps from Oregon such as Cristom Vineyard's, or Russian River Valley such as the wines of Longboard; Flying Rooster or Mystos. A medium-bodied red, good tannins, firm acidity, packed with flavour and a distinct freshness; New World Pinot Noir. It was in fact a stunning Pinot Noir from Chile!
Answer: Ocio Pinot Noir 2009, Cono Sur

Wine 4. Red Wine
Instantly noticed the tawny brown edges to the wine, indicating good age. Aromas were rustic, farmyard and earthy. Thoughts turned to aged Rioja such as Gran Reserva but the slight peppermint, menthol and herbaceous character ruled that out. The garrigue, smoky notes and hints of tobacco were a clear sign of time spent aging in oak but also the secondary flavours associated with lengthy bottle age. Perhaps a Rhone or Southern French blend? The kind of flavours of aged Cabernet, however the wine was much too light on appearance and on the palate to be Cabernet. This wine had the majority of the table stumped. And it was, after all, an aged Red Burgundy!
Answer: Echezeaux 'Les Treux' Grand Cru 2004, Domaine Jean Tardy

Wine 5. Red Wine
The richest, deepest red of the three! We could safely rule out a 3rd Pinot Noir. Initially hit with green pepper, clove and cedar wood. The green pepper and blackberry were a tell-tale sign of a Cabernet Sauvignon-based wine. Combined with the rustic notes and cedar wood, it had to be a Bordeaux. With Right Bank Bordeaux generally producing Merlot-dominant wines, softer and more plummy, bets were hedged on this wine being Left Bank which are Cabernet-dominated, and a step further to being Northern Medoc region; Pauillac or St-Estephe. A few names thrown into the ring: Ch Pichon Longueville 2eme Cru Pauillac 2005, or Ch Lynch Bages 5eme Cru Pauillac? Almost!
Answer: Ch Ducru Beaucaillou 2007 2eme Cru St-Julien – not a 'great' vintage but this is drinking superbly well now, and a nice reminder not to fixate on only the best Bordeaux vintages.
What a line up! Theme uncovered: cool climates, or cooler climate vintages (in the case of the 2009 Casablanca Valley Ocio Pinot Noir).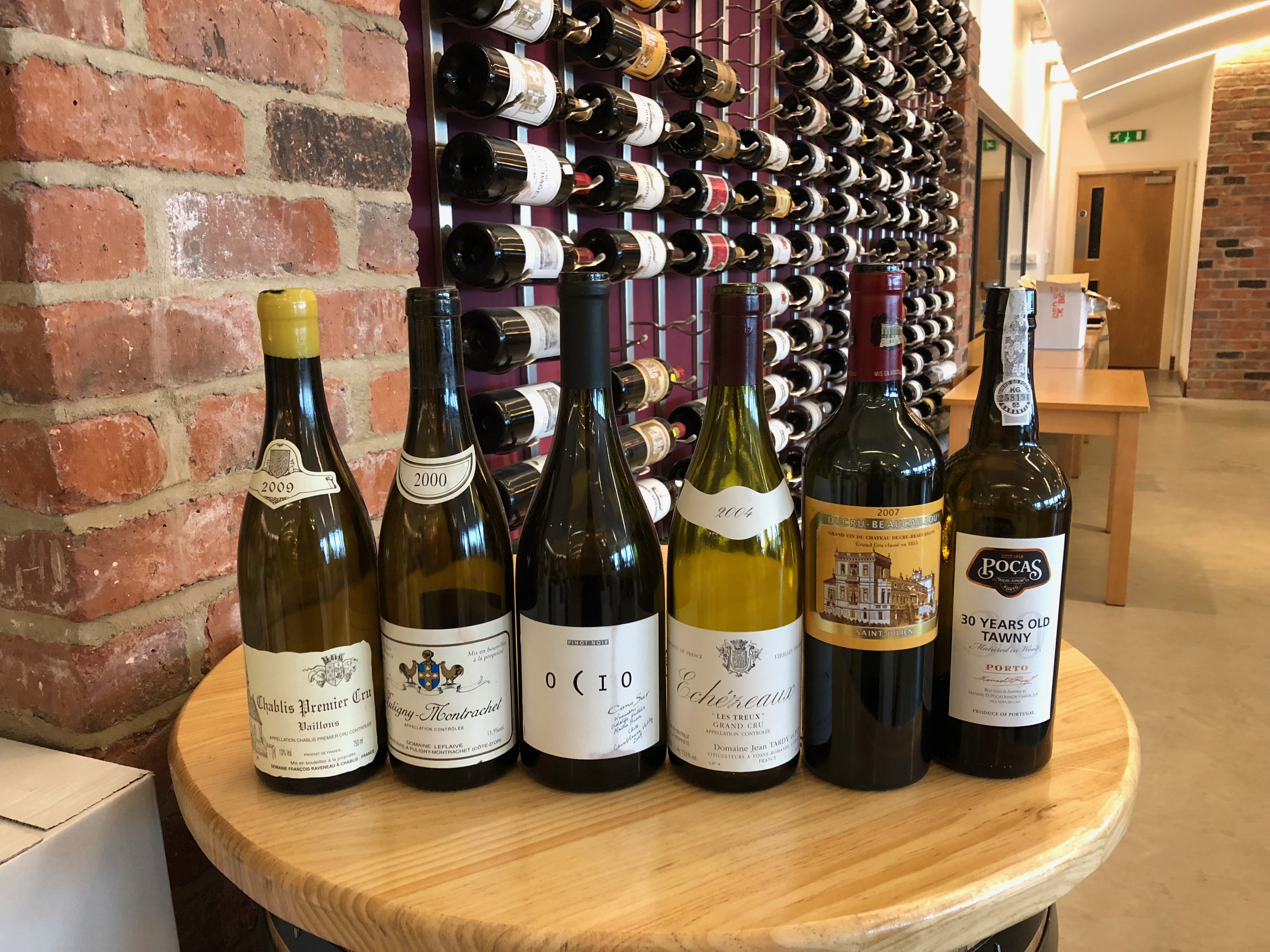 Back to blog