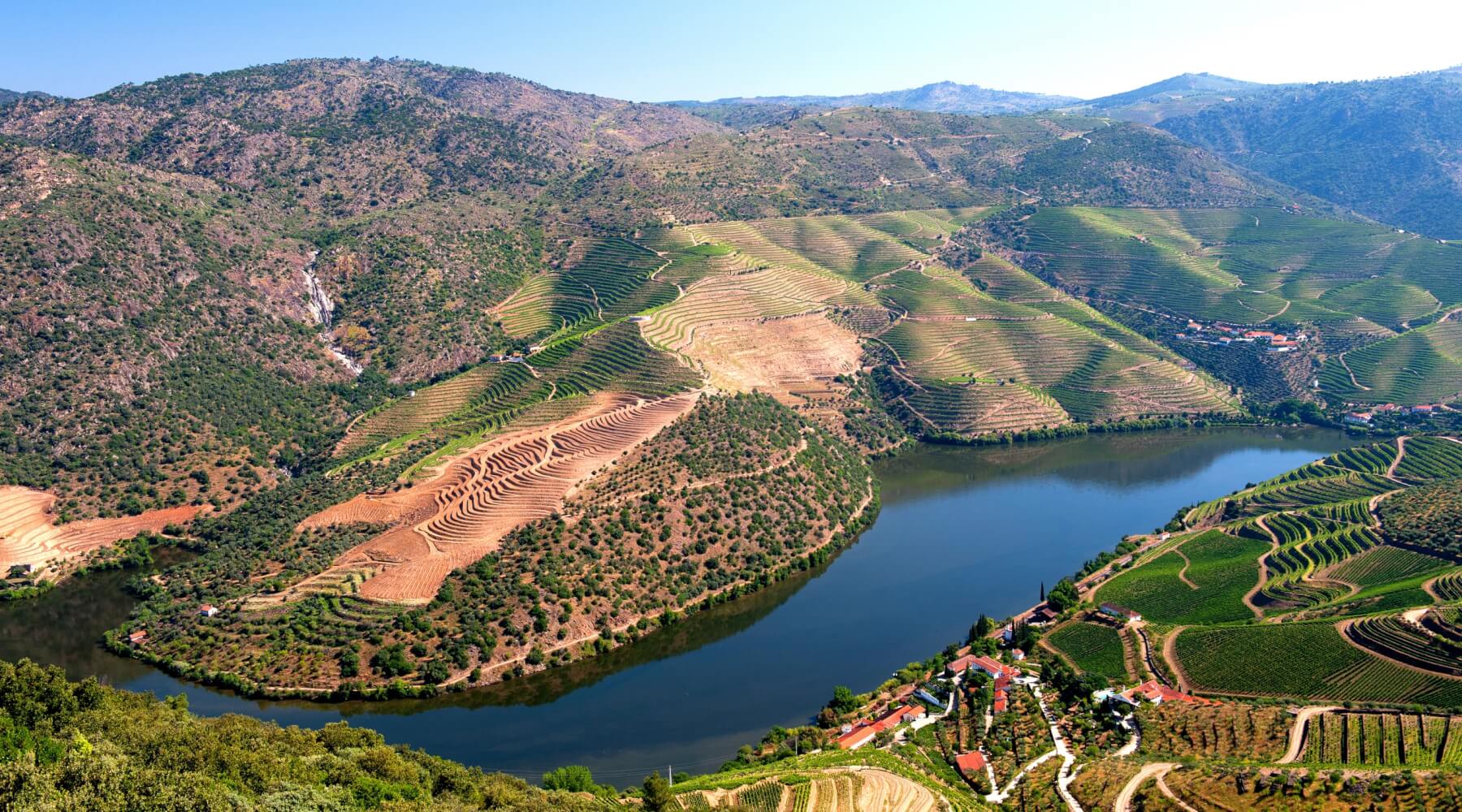 It's little wonder we're less confident selecting Portuguese wines than those of its' neighbours. Not only are we faced with a myriad of often unpronounceable indigenous varieties (more than any other country, with over 250 at last count) many of them are known by different names in different regions to further confuse us.
Exploration will pay dividends however, as Portugal's rich and varied offer of unique flavours proves to be its' trump card with a new wave of full bodied, fruit filled wines competing admirably on the world stage. Many Portuguese grape varieties don't grow anywhere else in the world, creating an abundance of wonderfully different and interesting wines, further enhanced by the trend of planting international grapes being bucked by producers.
There has historically been a great tradition of winemaking throughout the country's varied landscape and climate, with all the forementioned resulting in an exciting buzz around what Portugal has to offer - so let's explore some of our multi award-winning gems…
Vinho Verde - literally translating to 'green wine' meaning 'young wine', from Minho in the cool, hilly north-west. A traditional, unique style of white wine with low alcohol and high, refreshing acidity, often enhanced with a slight spritz. Our modern and funky example is a single varietal Loureiro from Ramos Almeirim at £9.99 and is perfect for summertime drinking.
Moving across to the north-east lies the beautiful, sparsely populated Douro Valley where the hills along the river have been worked by hand into steep terraced steps since the time of Jesus and is now deservedly a UNESCO world heritage site. Probably Portugal's best known wine region, once associated with Port production alone, it has emerged as the country's premium wine region due to the pioneering spirit of its' winemakers although it was port shippers who originally realised the potential of their grapes to make exciting unfortified wines. Due to its' hot and arid climate, wines tend to be high in tannin and flavour and so the skill of the winemakers is to maintain the fruit and freshness in the finished wines.
Some stunning examples of such skill are our Coroa d'Ouro Branco - another sunshine wine, aromatic with tropical fruit flavours and an elegant, crisp finish and its refined Tinto counterpart (awarded Highly Commended in The Wine Merchant 2022 Top 100 competition), brimming with elegant dark fruits, minerality and freshness with a spicy long finish, both a steal at £11.99.
More indigenous varieties shine through in our single vineyard Vale de Cavalos Branco and Tinto at £19.99, both of which are rich and full bodied yet polished, elegant and balanced.
Our Reserva White and Red by Manoel Pocas at £22.99 and £24.99, from grapes grown in the highest zones of the Douro to assure freshness and perfect acidity are both overflowing with enhanced complexity and concentration of blended indigenous fruit and skilful oak ageing.
Pocas Fora da Serie White Mais £39.99, a field blend of Arinto and Vinhas Velhas displays a unique and elegant profile, whilst Touriga Nacional dominates the Red Roga blend at £27.99 and is beautifully perfumed and aromatic with berry fruits and a touch of spice (another Highly Commended wine in this years' Wine Merchant competition!) and the Red Tinta Roriz, a single varietal Tinta Roriz, is by contrast, hearty, rustic and full flavoured at £34.99.
Two further 2022 Wine Merchant Top 100, Highly Commended wines to highlight from Manoel Pocas are Simbolo at £49.99. A field blend from vines ranging between 40-60 years in age, resulting in a ripe and dense wine with hints of vanilla with rich mid-palate concentration, and Fora da Série Orange Wine, £27.99 produced from 100% Arinto grapes, their skin maceration creating aromas of acacia, orange peel, peach and sultana leading to a complex yet refreshing palate with a long, harmonious finish; both delicious in their own unique way.
The Douro Superior region is the furthest inland, sharing its' border with that of Portugal. The drier, warmer climate here gives the wines an extra volume and aromatic component that sets them apart from other subregions. Our stunning and highly acclaimed example is Branco da Ribeira by Manoel Poças at £49.99, produced from 70% Arinto and 30% Cόdega hand selected and harvested grapes from vines aged between 20-40 years old.
Slightly further south is the region of Dao, its granite slopes protected by pine forests and high mountains. Once dominated by co-operative wineries, the area now boasts a new wave of dynamic small producers making approachable, elegant wines. Dao Gandarada Tinto at £10.99 is rich, rounded and full-bodied with a core of jammy red fruit. Produced by Boas Quintas whose philosophy is held on diversity, therefore defending the nature and identity of each wine, this presents an authentic example of a Touriga Nacional dominated blend.
Travelling deeper south still we find Tejo, formerly called Ribatejo, which lies either side of the River Tagus, a region renowned for its' good, everyday drinking wines such as our Terra de Lobos Branco and Tinto, both priced at £7.99. Produced by the infamous João Portugal Ramos from carefully selected vineyards within Tejo, the white is a blend of 70% Fernão Pires and 30% Sauvignon Blanc and is light and perfumed with notes of apricot and a steely crisp lime acidity; the red has soft red fruit flavours with a touch of spice and mature baked fruit, a blend of Castelão, Trincadeira, Cabernet Sauvignon.
Also from JP Ramos we have Smart Dog Syrah at £9.99. This time from Alentejo province, a vast area stretching south from the Tagus to the Algarve and east to the border with Spain, where the challengingly hot summers and droughts mean this dynamic region is often referred to as Portugal's 'New World'. This clever blend of Trincadeira and Syrah results in a wine filled with jammy sweet fruit, a touch of liquorice, pepper and sweet spice finished with rounded, soft tannins.
So having explored Portugal's extensive and varied regions of production and vast array of unique indigenous grape varieties, focussing on specific examples from each, we have illustrated the great diversity of wines available to us and highlighted their incredibly distinct personalities. Even if you don't recognise the varietal on the label, be assured, it's probably a good thing. There is an exciting world of Portuguese wine out there to delve into, with price points ranging right through from everyday drinking to weekend, special occasion, and fine wines. So, what are you waiting for, just go for it - saúde!
Alison Gregson
Regional Account Manager


Back to blog