Last month we welcomed Phil Taylor to our On Trade sales team. Phil will be developing sales with the restaurant and hotel sector and brings with him a wealth of knowledge, having run his own restaurants in Tadcaster before spending seven years in the Wine Trade. We asked him to tell us about his first month as part of the House of Townend team.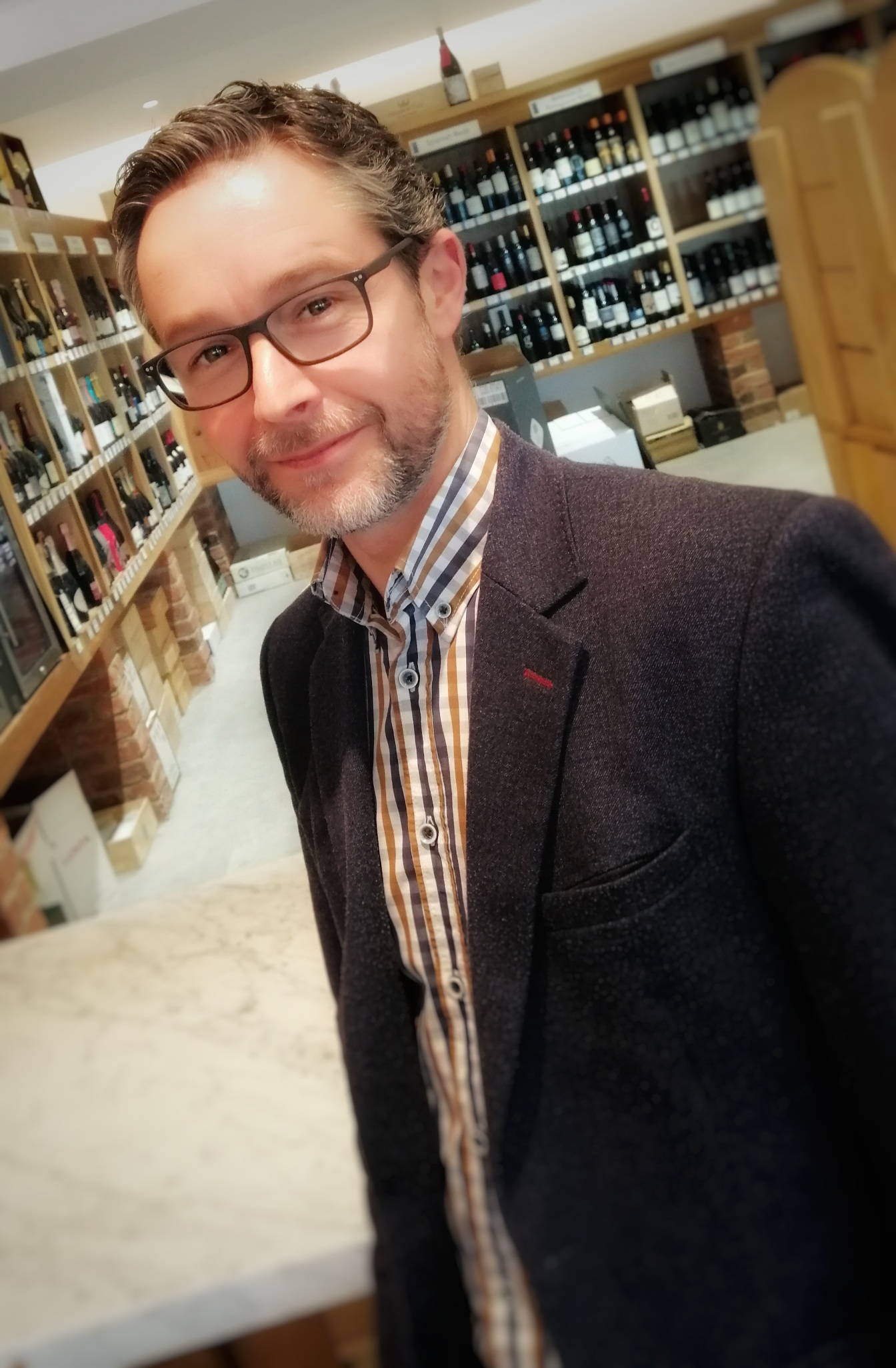 Starting any new job is usually filled with equal measures of excitement and apprehension, my first day at House of Townend was no different!
My first two days of induction were all about meeting the team at HQ in Melton, East Yorkshire. I arrived early, in fact so early that the Cellar Door entrance wasn't open… side door it is then I thought! Luckily for me someone else was arriving at the same time so the embarrassment of trying to gain access via the key coded door was not required! David Archibald, Sales Director, promptly ran through the order for my two days ahead and I was then introduced to everybody in the offices prior to spending a little more time in each of the departments.
Everything on the itinerary had a strict time slot and I was to move around the building according to my schedule. I observed a potential challenge straight away… all the office doors look the same! It resulted in a lot of asking for directions and knocking and hoping for the best, but everyone was so helpful and informative that my time spent with them went really quickly.
After meeting the team, it was time to crack on! On my first morning, we welcomed customers for a tour, tasting and a fantastic lunch that the guys in the Cellar Door seemed to produce just when required! This was a great start, enabling me to listen, learn and taste… perfect!
The afternoon consisted of tasting the core agency wines with Stuart & Mike from the Cellar Door which were well received and stunningly good.
The evening was spent having dinner with my new MD, John along with Neil Goldie and David Archibald. A fantastic dinner with fantastic wines – the glass of Gardet Champagne simply delicious!
My second day involved more induction time around the office, a light lunch with the company directors and more tasting - this time a range of samples from potential new listings.
It was great to catch up with Alan Whitehead, Non-Executive Director, as it was he that contacted me some 4 years earlier. We met at Hazelwood Castle, near Tadcaster and at that point I was not confident of a change in my career and Alan declared "we'll talk again, I'm sure" and gave me his business card. Fast forward 3 years, I find Alan's business card, "I've retired Phil but I'll give your number to David Archibald and ask him to call you" – and he did. David & I met but unfortunately the time was not right for House of Townend. Fast forward another year to Jan 2019 and I get a call from David - "shall we meet for a coffee & a catch up?" Isn't it strange how thing can work out!
My next two weeks were short (as they fell either side of Easter Bank Holiday). I was to spend time doing handovers with Wendy Mountain, a stalwart of the Champagne/wine/drinks industry… soon a common theme would be apparent!
We met in a Hotel car park, I offered my hand out for the usual professional hand shake, and Wendy opens her arms and gives me a huge hug, just like old friends. Wendy and I embarked on a tight agenda of meeting as many customers as possible in the allotted time frame before her departure.
We arrive at our first of many appointments. 30 seconds into the meeting after Wendy declares "as you know, I'm leaving at the end of the month", Wendy and the customer are both in tears and I'm left in the middle not knowing what to do with myself! Eventually they both pull themselves together and the customer announces to me… "You've big shoes to fill".
Spending time out on the road with Wendy was a real pleasure, she's a million miles an hour having three conversations at a time with me, with the occasional "oops I've just gone the wrong way" thrown in. She knows all her customers really well and they all love her… vouchers, flowers, "you must come over with your husband" offers all came her way. Me? I just kept on getting "nice to meet you Phil but you've big shoes to fill!"
Next up was a trip to Rioja Vega. It was an educational tour of the vineyards, winery, bottling plant and cellars and as you'd expect, a tasting of their range, then a lazy late lunch. We even managed to fit in a sales meeting there… how cool is that? My first sales meeting in Rioja!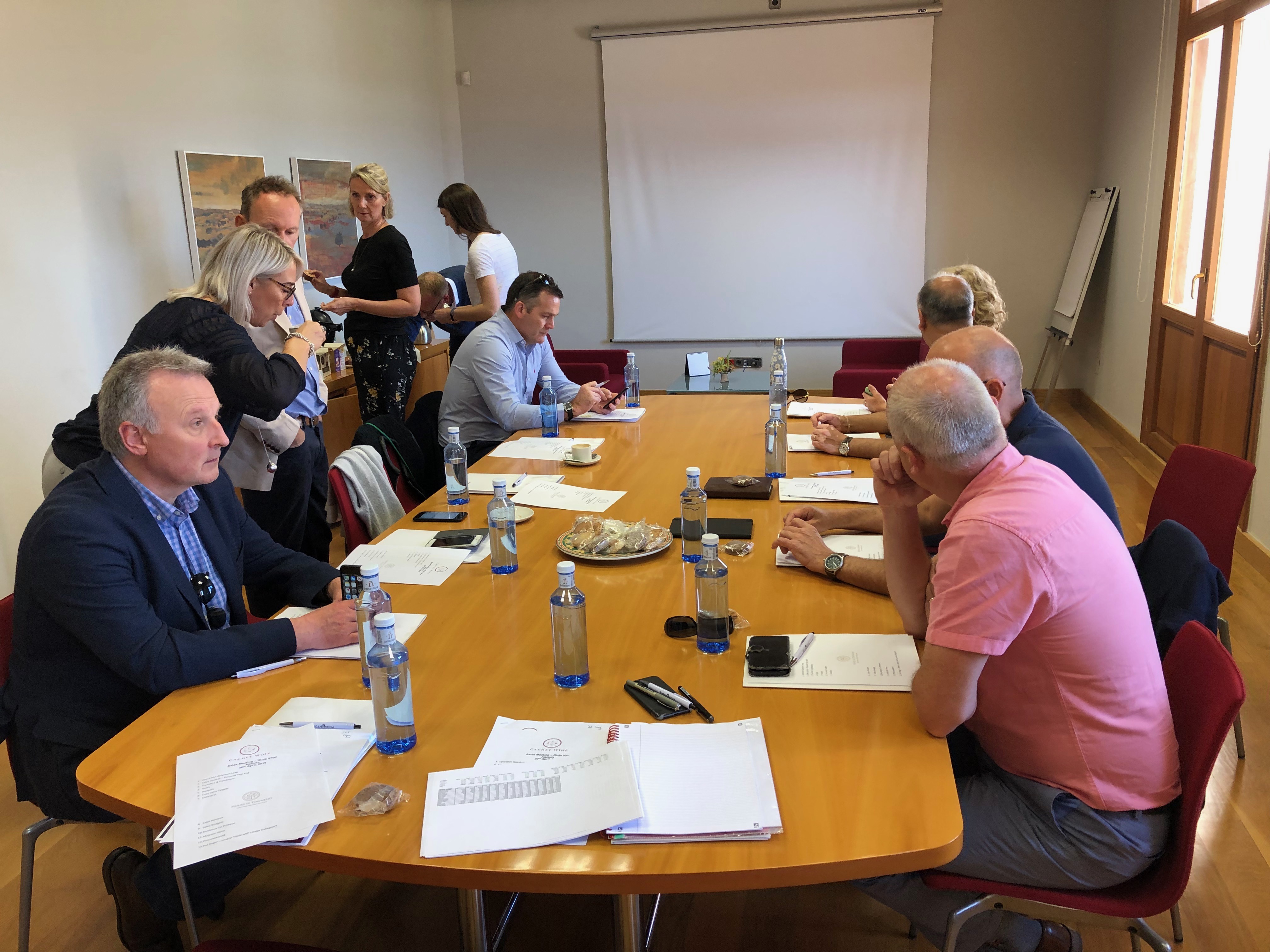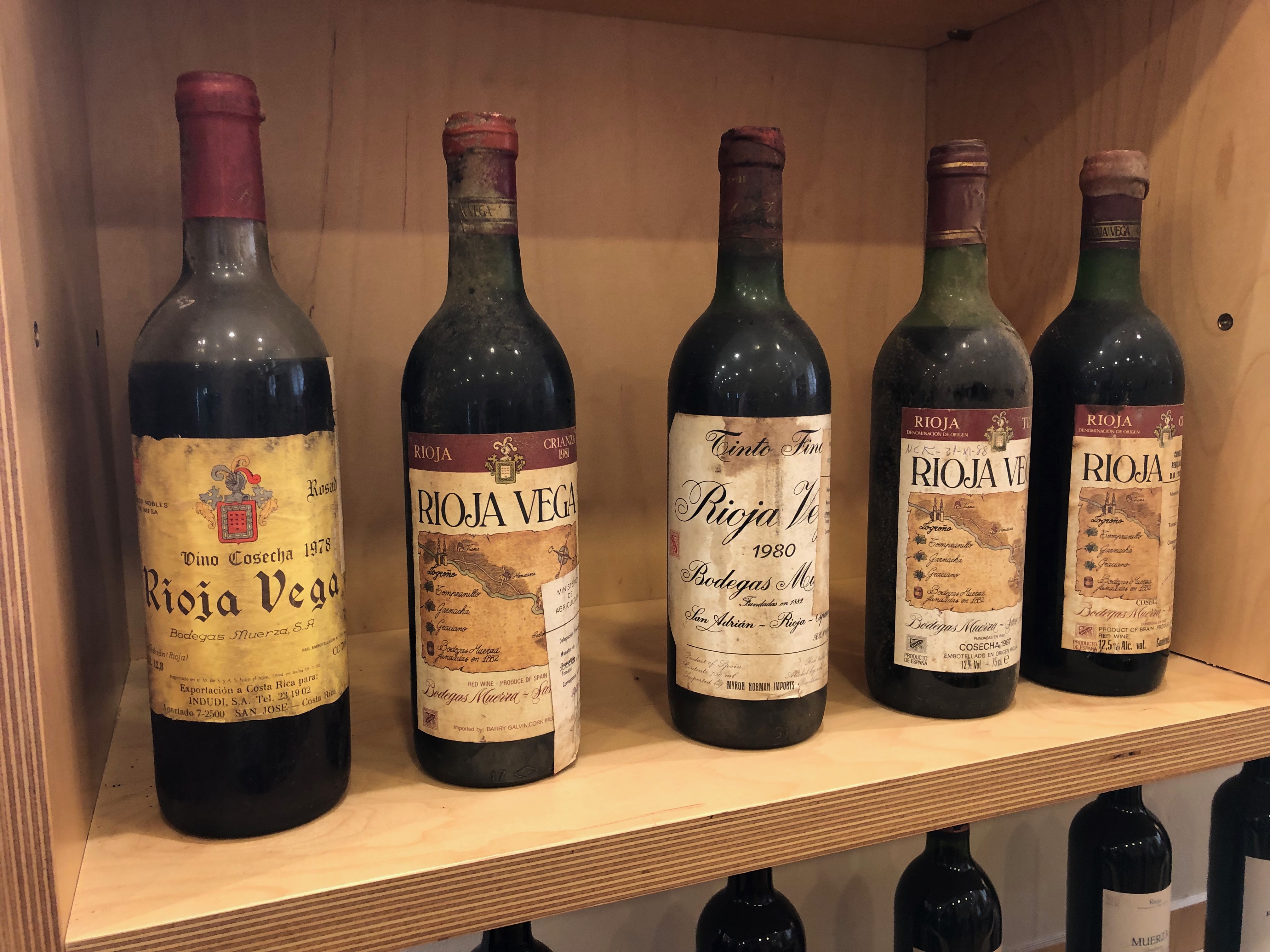 Our host for the duration of the trip was Luis Marculeta. What a guy! He looked after everything. We did a Tapas trail on our first evening, followed by a late dinner on our second evening which included the biggest and tastiest of all steaks - the T-Bone, cooked to perfection! Especially memorable for me was visiting the well-known Soriano Bar, specialising in griddled mushrooms on a skewer with a prawn on top over a small chunk of bread which did a great job of catching all those lovely garlicy cooking juices… yum!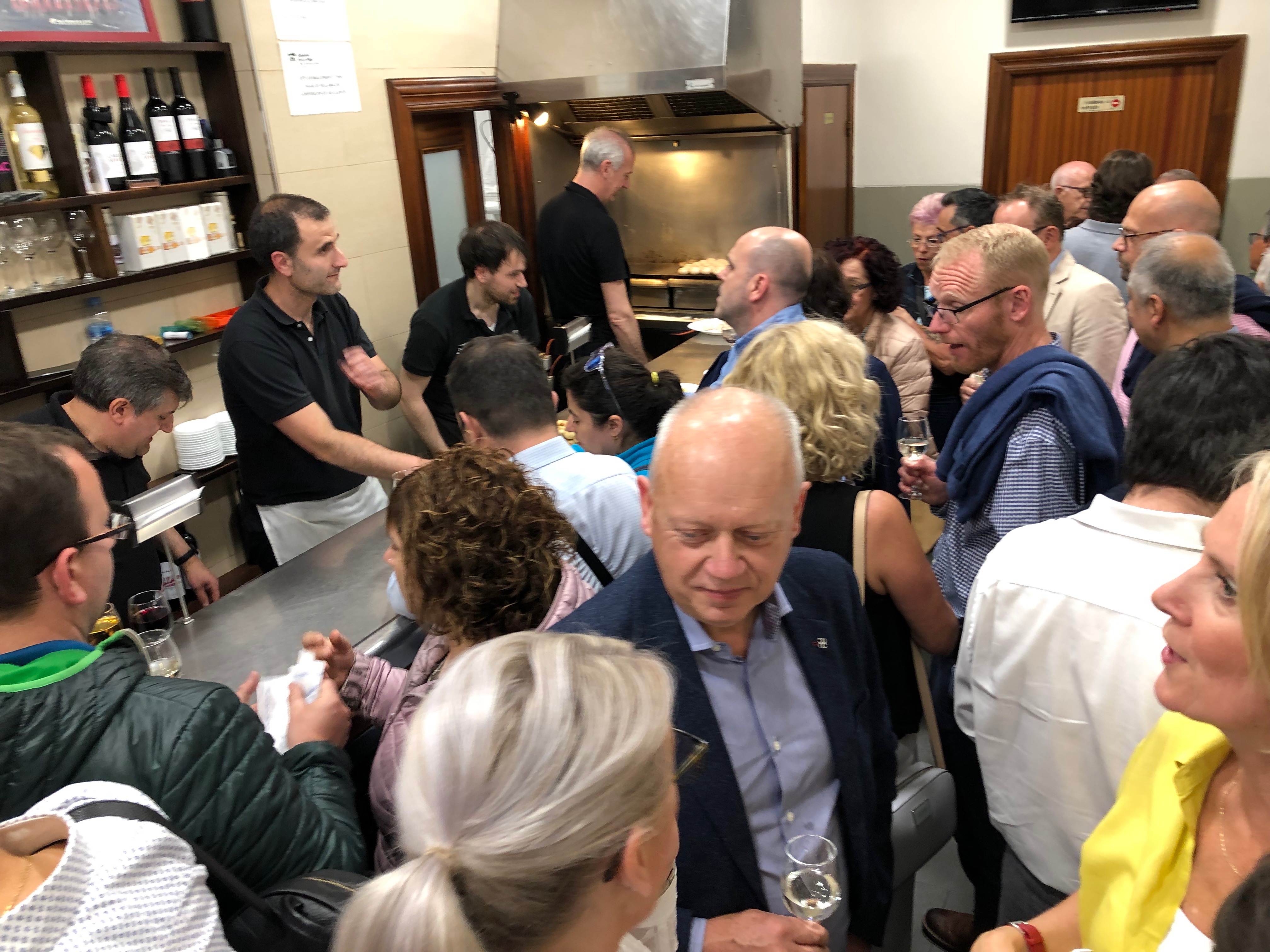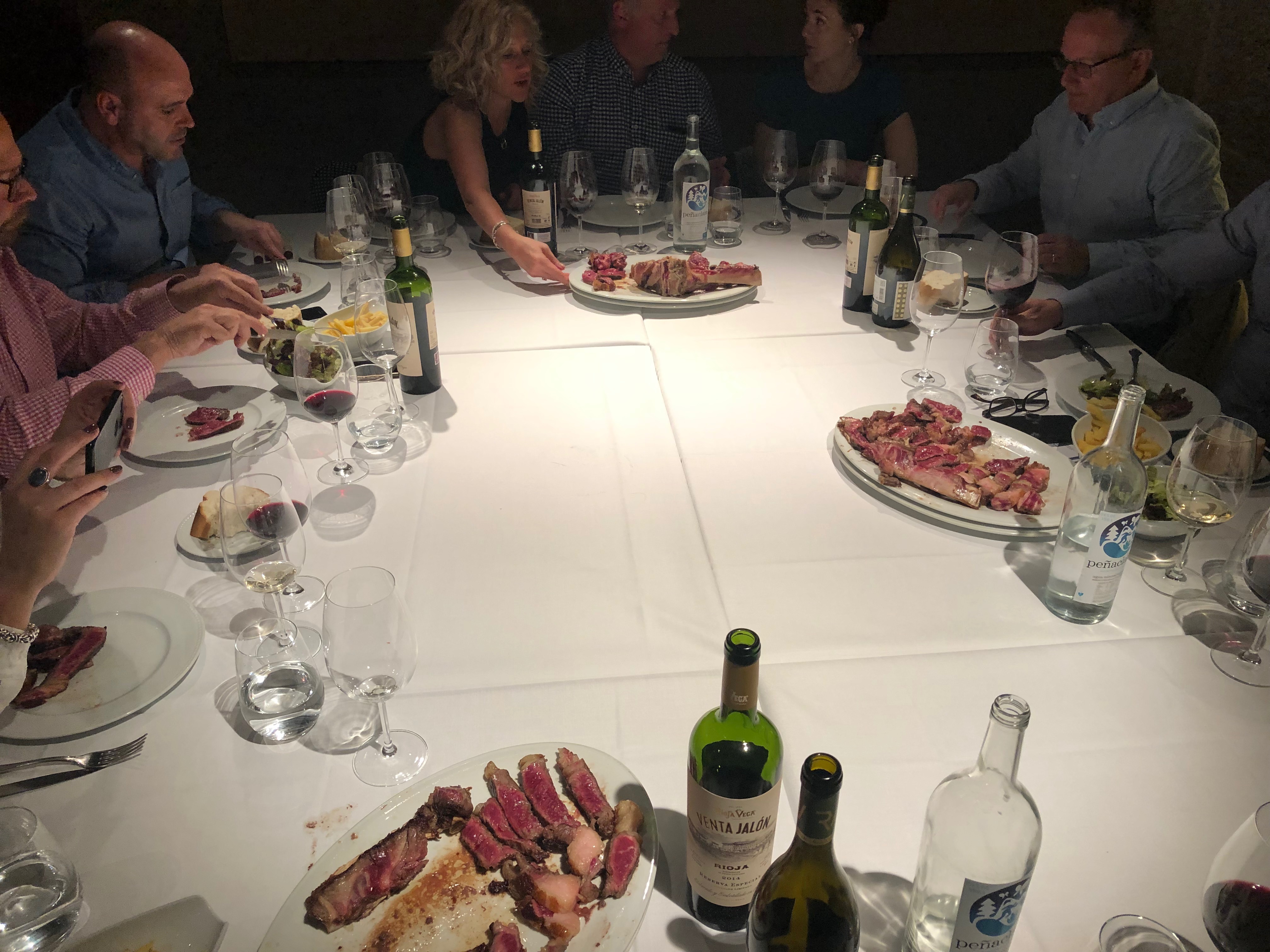 No sooner had I unpacked my bags after arriving back from Rioja, and I was off again. This time down to Melton HQ to help David & John welcome another customer. After a quick brief David announced we'd be pitching in the boardroom and I'd be covering the "why choose House of Townend?" part of the presentation… talk about throwing me in at the deep end! A warehouse tour, tasting & lunch was to follow.
Soon after I welcomed more customers opening a new site requiring a small tasting/training session on their new wine list, they arrived early, luckily for me the Cellar Door team had everything set up and ready, phew I think we just pulled it off!
So that was my first few weeks – hectic but great! I'm really excited to begin my journey at House of Townend and hopefully one day I can fill the big shoes that Wendy has left behind.

Back to blog