Last month John our Managing Director, Neil our Director of Prestige Accounts, and David our Sales Director, visited Burgundy to taste the 2017 Burgundy En Primeur barrel samples. Below is Neil's account of the trip...
"Firstly, apologies for the grammatically horrendous French. Le Blog du Burgundy would make any French scholar weep. Blame my French teacher (sorry Mr Dan), blame Brexit… You could even blame the old lady who lived in a shoe, except she moved to a semi because her new neighbours adored le Piat d'or.
Here within is the brief, and hopefully charismatic, report on our foray into the depths of Burgundy. Travelling from the north to the south, sideways, back up and straight back down again, we travelled the length and breadth of this majestic wine region during our annual pilgrimage to visit suppliers and friends and taste the outstanding 2017 vintage in barrel.
Saturday/ Sunday
The long haul down to Burgundy…
Dave and John left from sunny Yorkshire to drive to Folkestone, whilst I got to the Tunnel late on the Saturday evening, ahead of them. I cannot tell a lie… I did have a very large glass of wine with a friend and we shared stories of vintages past. I also delivered his children a massive bag of Lego. Who said Denmark doesn't export…!
On the sunny Sunday we departed from Calais Channel Tunnel and headed south, though pristine country and the battlefields of various wars, all the way to Beaune. Night had fallen as we drove into the hotel car park. A quick freshen up and straight to dinner. Talk of the vintage was hazy. Was it reds, or whites that had garnered positive press reviews? The advance press reports and climate reports hinted at a good vintage but no one could spot the vinous winner between red or white wines at this stage. It was going to be close result we thought…
Monday
What is THAT NOISE??! Ah yes… Alarm clock! It blinked 6am.
Breakfast and into the car for the first visit of the week. What was that line from Apocalypse Now? "I love the smell of Pinot in the morning!" 9am, first glass of Pinot Noir poured…
Visit 1 was to Domaine Grivot in Vosne Romanee, a beautiful estate run by Etienne Grivot and his daughter Mathilde. In his warmer than outside cellar, we tasted through his fragrant and complex Nuits, Vosne Romanee and Village 2017 wines including a wonderfully soft and supple Bourgogne Pinot Noir. The best wines were Clos Vougeot Grand cru and ALL his Vosne Romanee 1er cru, including an outstanding 1er Cru Aux Brulee. It is a testament to Etienne and Mathilde that the wines were so soft and supple, yet full of life, vigour and energy; energy is a word that Etiene uses a lot and it's easy to see why.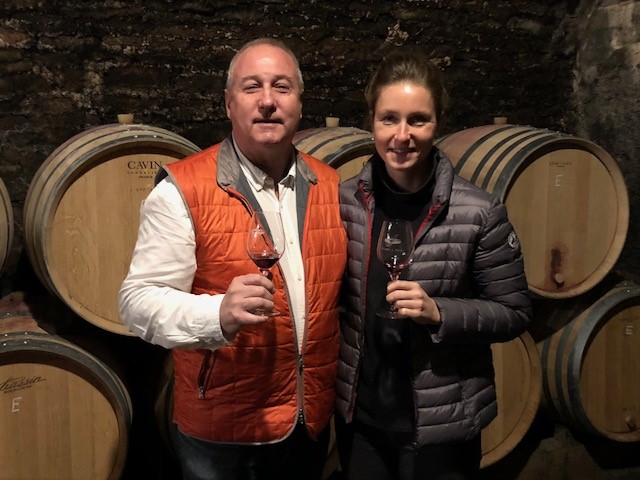 Next we travelled to Domaine Serafin in nearby Gevrey Chambertin for our second visit of the day. This small domaine, run now by Christian's daughter Karine and niece Frederique, is one of the best estates in the appellation, alongside Rousseau. Powerful flavours dominate with a heavy influence of oak and rich, powerful fruit. Top wines were the straight Village Gevrey, a wonderfully fragrant and exotic Gevrey 1er Cru Fonteney, and a simply blissful Chambolle Musigny.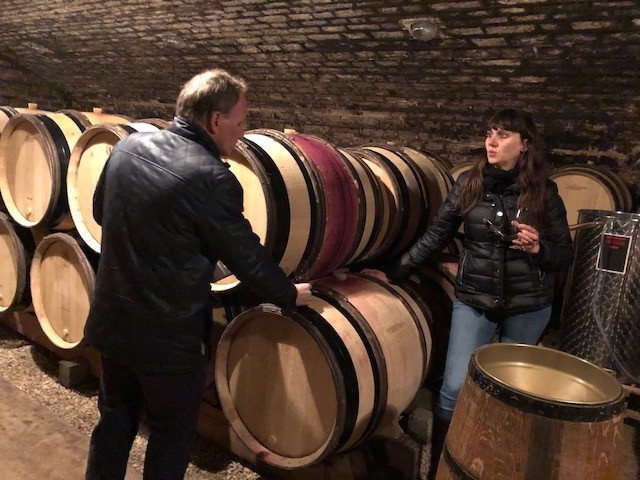 At this early stage the reds were ahead. But we hadn't tried any whites…yet.
And so from the north we sped south to Volnay and to the delights of Michel Lafarge's estate in the back roads of this famous village. Its grey and honey stone walls, hemming in narrow and unforgiving lanes, hold many of Burgundy's top names. It is a joy to see their names on the brass plates as you walk down between the history-washed walls.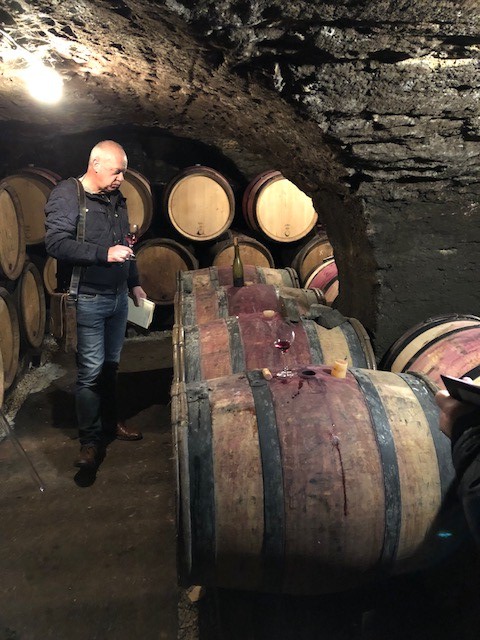 Lafarge is a 'proper' cellar, accessed by a rickety old lift that transports you from daylight to the gloom and cool, heady smell of an ancient Burgundy cellar; hung with black mould, its curved ceilings testament to a hundred years of wine making and history, this place reeks of pedigree and history. The professorial Frederick Lafarge dispenses samples of pure red bliss into our glasses, as well as rapid fire French. From his pungently crisp Aligote, through a rich Meursault, to his powerful yet supple Volnay and even more brooding Volnay 1er Cru's, this is an estate that captures both imagination and heart.
The next visit of the day was onto Nuits St Georges and our annual visit to Alban at Domaine Machard de Gramont. For many years this small family domaine, situated just off the main road that takes you from north to south, has provided House of Townend with some of our greatest bargains and drinkable Burgundies. As ever the wild haired and laid-back Alban met us and took us into his narrow, well stocked cellar. The rows of new oak barrels were as impressive as ever, as was his range of superbly approachable and drinkable Burgundy. This is a man who understands exactly what the market wants and is more than happy to make his wines accordingly. From a wonderfully rich and complex WHITE Nuits St Georges (told you so!) to a deliciously fine Puligny Montrachet, to blockbuster reds from single vineyards in Beaune, onto fine 1er crus from the likes of Nuits St Georges and a mightily impressive Chorey les Beaune that offered such immediate joy when drinking it; beautifully lush, fragrant and approachable in every sense! As John said, you could dive into the barrel and just drink it, such was the purity and lush, easy fruit.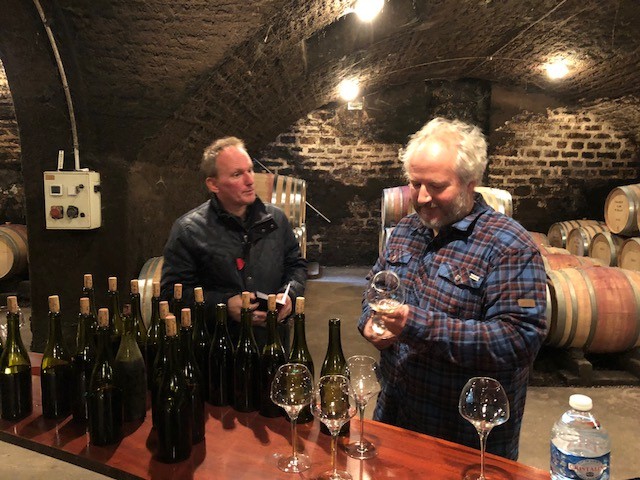 Visit 5 was to Hubert Lamy, St Aubin. We always arrive here when it is dark, driving up from Chassagne on headlights.
This highly acclaimed domaine makes arguably the finest St Aubin. We would go as far as to say that the energetic and youthful Olivier Lamy makes some of the most expressive and richly complex white burgundies outside of Puligny and Chassagne. His cellars, down two flights of winding stairs, is full of large oak barrels (his philosophy is to use less new oak and larger barrels giving less obvious wood contact).
His 2017 wines are sublime; crisp, citrus-laden, with buttery edges and roundness, almost bordering on fatness, yet underpinning them all is this razor sharp, almost linear quality. They are poised, complex and ultra fresh.
Highlights for us were the 'entry' Bourgogne Chardonnay les Chataigniers, with its hint of tropical fruit, and lush qualities through a fabulous St Aubin 'La Princee'; this wine expressive with an emphasis of dessert apple, spice and vibrant freshness. I began to star the following wines, St Aubin 1er cru 'Clos du Meix', 1er cru Frionnes, and a stupendous 1er cru En Remilly (2 stars).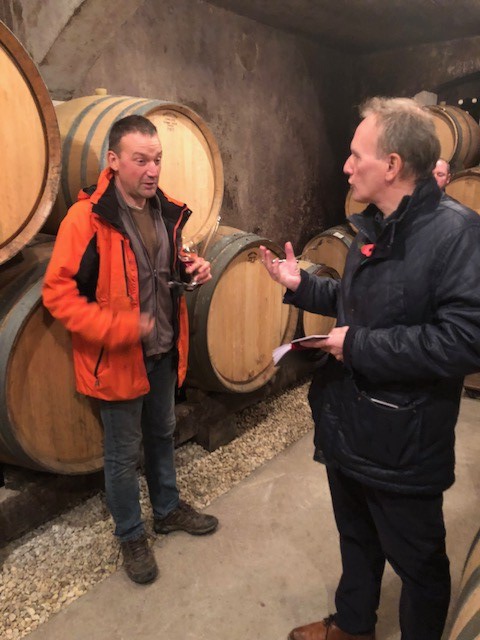 All in all a good and impressive first day. The sun shone for less than 5 minutes. For almost all the time we were in dank, foggy and cold conditions… who says that wine tasting in Burgundy is glamorous?! On the wine front, at this moment, the reds are looking good to very good. As each vigneron said when asked, this was a 'normal' vintage, similar to 2010 and 2014, with a little bit of 2009 thrown in!
Tuesday
Another 6am start… that alarm was going to be a tough slave master!
Into a cold car and down the autoroute to the Chalonnaise, where we visited the lovely and steadfast Château du Chamilly. Met by the bearded and 'surfer dude' Arnaud, son of the owner, who explained his new vineyard holdings and the past year in detail. He is such a hands on man, his passion for the region, and its wines, coming through clearly.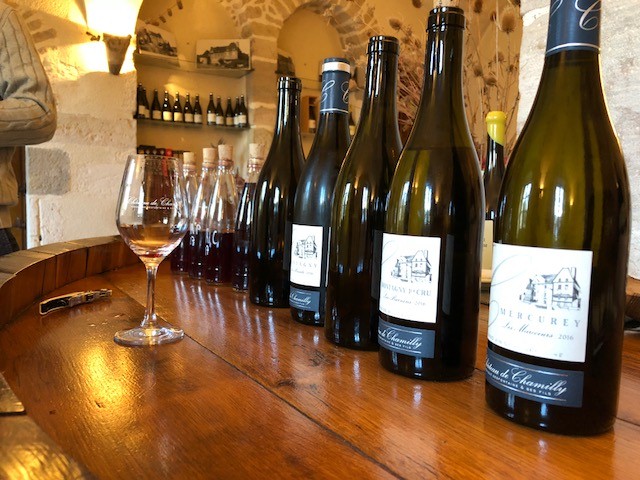 We started with his reds as this region is capable of making great reds for early drinking. I liked his Mercury Clos de la Perrieres; 30-40% whole bunch fermented, with a little oak to soften and sweeten the finish. The next wine, a Mercurey 1er Cru Puillets rouge, was a considerable step up, offering softer, more complex, more fragrant red fruits and a fleshier structure. Great length too.
Onto the whites which were very much the 'main course' here. A crisp, apple scented and razor sharp Aligote – zippier than Zippy and Bungle combined. Fresh, mineral slaked and poised. A great wee wine.
Montagny is what this estate is known for and with the following wines we were starting to score highly. A soft yet ripe Montagny Les Boisset, followed by a rich and complex Montagny Reculerons, then a fuller and creamier 1er Cru Burinins.
As ever, Arnaud, and Château du Chamilly did not disappoint. The wines were fine, quite opulent but showing the citrus and freshness that is so vital in a warm vintage.
Visit 2 of the day was to Bachelet-Monnot in Dezize-lès-Maranges.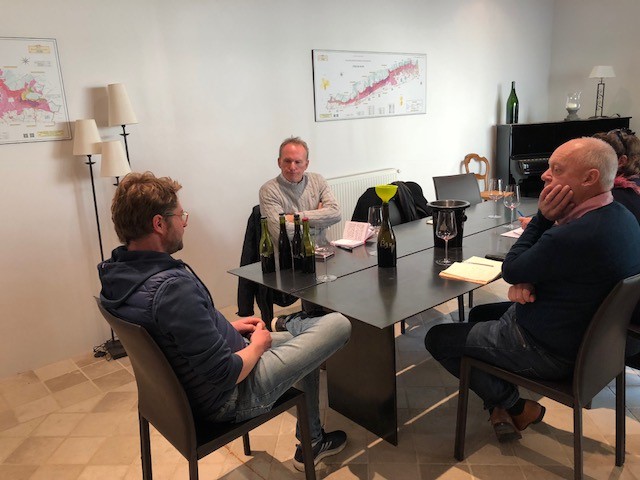 We travelled to this small, wonderfully beautiful village, high above the rolling enclaves of 'BIG NAMES', where steep slopes hint at hard work, and the russets, golds and wind stripped vines spoke of this beautiful region and its 'end of season' time.
The young Alex and Marc Bachelet-Monnot met us at their pristine winery and poured us their 2017's. First up was a ripe and perfumed Bourgogne Pinot Noir, followed by a Maranges 1er Cru Fuissiere. A hard vineyard to work with explained Marc; the slopes were steep and the soil heavy with a thin crust and then straight into rock. This explains the richness, opulence and impressive structure of this fine red. Next was an equally impressive 1er Cru Clos de la Boutiere 2017 red; full of sweet cherry fruit and fleshy centre, yet showing nice freshness. I liked it a lot.
For me, however, the wines of Bachelet-Monnot are synonymous with Puligny Montrachet, and their small 2 ha holdings, spread over 7 parcels, show a delicious and poised quality. Notes of crème anglais, buttered apple, cereal and a streak of rich honey are balanced by freshness, acidity, minerality and steel. Both the Villages and 1er cru Folatieres were my top scorers.
Visit 3 was to Jean Chavy. This was a new estate for me although John had been here before (he gets to all the nice places). A small estate with holdings in several 1er cru's, including the stellar, Clavaillon, the affable Jean Chavy met us outside his pristine stone cellars and drew barrel samples of several wines.
His wines were quite different from Bachelet- Monnot, being a leaner, tauter style, rounded out by oak, but showing a more energetic and lean quality that made them delicious from the barrel. It took a lot of effort not to swallow; these wines really are very good! Top scores went to his Clavaillon (of course!), but I did like his Bourgogne Chardonnay 2017. I may be pushing on an open door with this thought… these wines offer a bargain entry into the world of classic wines. To a Scotsman such as I, (and a student life lived in Aberdeen), I like the idea of drinking wines that are a fraction of the price of the main wine, but offer almost as much quality and flavour. I feel a campaign coming on….
"Bourgogne Pinot and Chardonnay from top producers really ROCK!"
Hmmm… maybe not quite catchy enough. What do you think??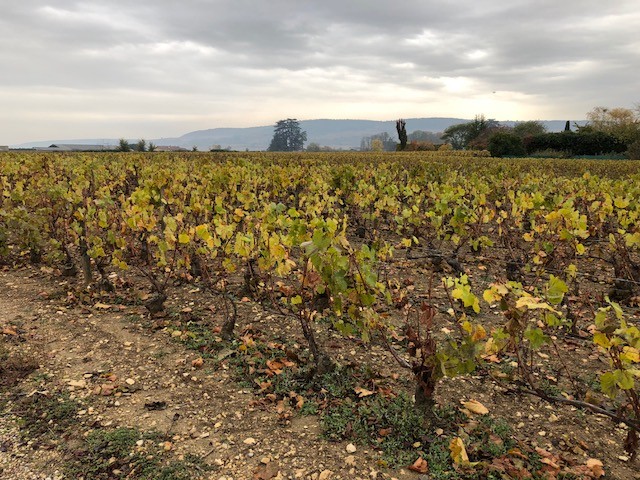 Time for visit 4 of the day. As we were in Puligny, we may as well pop into Domaine Sauzet! This small, hidden gem of a domaine, run for several years by the formidable Gerard Boudot, is now run with his son in law, Benoit Riffault. The style of Sauzet is classic Puligny; lean, taut, energetic, dynamic, limpid and full of freshness and depth. This is always a high point for our week in Burgundy. House of Townend are lucky to ship so many of the top names in each appellation, and Sauzet is very much on the very top step of Puligny.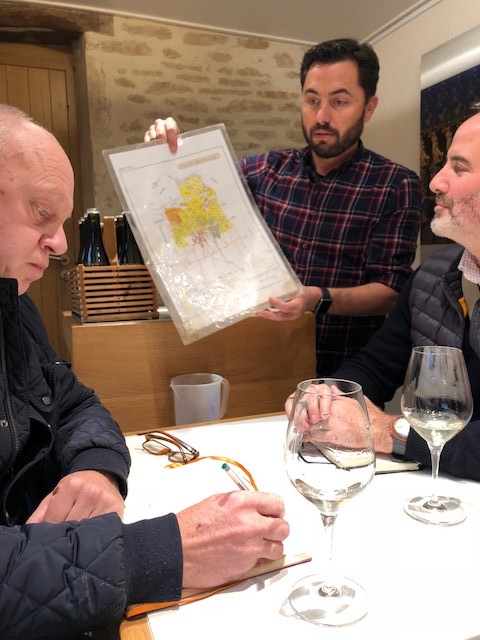 In the new, smart, stone walled tasting room we sat and scribbled notes as Benoit took us through the 2017 vintage. His smiles said it all… this was a very, very good vintage! As ever, it was hard to fault a single wine. From his 'basic' Bourgogne Chardonnay 'Tufera', through the village Puligny, and into the selection of 1er cru's such as Champ Canet (big and ripe), Combettes, (even richer, due to its stoney soil, with hints of honeycomb), Les Perrieres (a high score; bitingly delicious with white peach and intense finish). We ended the tasting with Sauzet's Batard Montrachet… small yields gave a monumental wine! Exotic, rich yet completely understated, and a heavenly Chevalier- Montrachet. This was my highest score of the day. My notes just said 'WOW!'
Visit 5 (yeah – we really do work that hard!) was to Domaine Voillot in Volnay which has been a stalwart of the House of Townend lists for several years. The mighty Jean-Pierre Charlot has always met us with a smile and an immediate discussion of rugby. When you see the size of his arms and mass, you understand that his appearance in a ruck would prove more than meaningful to any side!
The last few years for this artisan domaine in Volnay have been fraught. Severe frosts and hail have annually devastated the vineyards, so carefully tended over the year. His annual production in 2009 was 200 barrels, and in 2017 he made 210 barrels. In between those dates it fell to an average of 102 barrels, and in years such as 2016 he made just over 70. How this giant of a man could continue to smile was beyond us.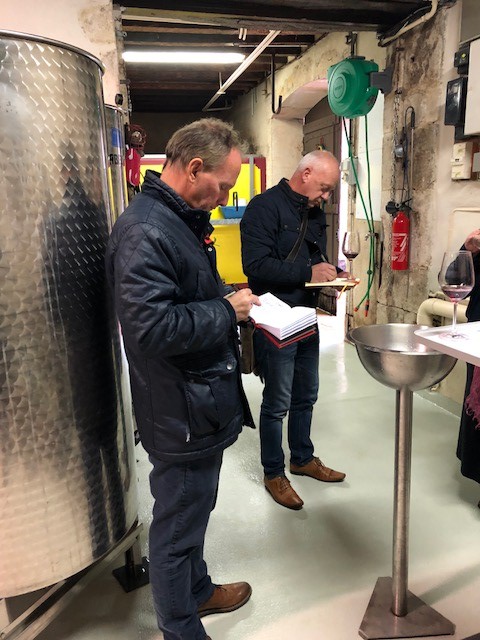 The dark and perfumed scent of Pinot getting poured into glasses is always exciting, and at this domaine, the excitement was tangible. The 'straight' Bourgogne Pinot Noir was delicious; lush and open. The Volnay Villages, as always, big, ripe and delicious with notes of cherry and parma violet. Voillot scores highly with holdings in several 1er cru's, and his 1er cru Friemets is a wine I have bought several times for home. I love its streak of jammy sweetness that doesn't mask the tightness and energy of the wine. The 1er Crus of 'Epenottes' and 'Rugiens' were my top scores, invitingly richer, more sweet-edged and smoky with warmth and generosity aplenty.
Visit 6: Rousseau, Gevrey Chambertin. Normally we are met by the gravel-voiced Frederique, but we entered the winter dark stone courtyard in the cold mist and rain of that November evening to be met by Eris Rousseau, the main man. This was a very pleasant surprise!
Rousseau is THE grower in Gevrey. His wines are masterpieces; monument to how great the fickle Pinot Noir grape can be when looked after and planted in the right place. The wines have taken on a legendary status recently, commanding prices at auction that put it into Millionaire territory… enough said about the 'Auction scene'!
The tightly packed and large barrel room in Rousseau showed breadth, quality and above all, a hauntingly perfect balance of fruit, freshness, structure and poise. We started with the Gevrey-Chambertin, made from 40yo vines which offered sweet red fruits, spice, oak, structure, freshness and an almost decadent quality. I had to remind myself that this was Eric's 'entry-level' Gevrey!
The Charme Chambertin came next, followed by the Ruchottes Chambertin, then a Gevrey Chambertin from the prized 1er Cru of 'Clos St Jaques'. All were scores of 2 and 3 stars. Top red of the day came from a mighty Chambertin 2017; deeply opulent, silky smooth, rounded, decadent, and utterly 'fall in love with.'
Wednesday
I will say not a word against my alarm. The annoying bleep came just a few hours after the funfair outside the window had fallen silent, and the Murder of crows that circle Beaune of a winter's morning had decided to partake of their choral practice. I looked it up – a Sleuth of bears and a Murder of crows… strange what pops into Google when you want to shoot crows.
First visit of the day was to Domaine Camus Bruchon in the neat and picture-perfect village of Savigny les Beaune. This small domaine, just 9ha in total, has likewise to Voillot, suffered greatly in recent years. 2016 would be a bad memory. In 2017, retrospectively, the sun shone and they had a very good year. Guillaume Camus held forth with his vintage report and the growing season in 2017, and his demeanour was warm and generous… similar to the whole year it seemed.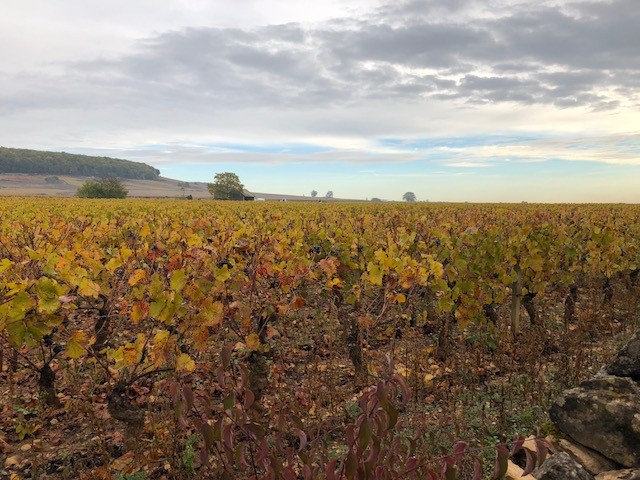 A wonderfully fragrant Bourgogne Pinot set the scene; sweet, light, fragrant and not at all bad. In fact, it was bloody good with nice freshness and balance. The wines from Savigny stood out for me, especially the Savigny les Beaune 'Cuvee Reine Joly'; a blend of 4 parcels planted from 1930 by Guillaume's Grandmother whose name adorns the wine. A serious wine, ripe, concentrated and structured with firmness as well as depth.
Also well scored was a suberb Savigny Les Beaune 1er Cru Les Lavieres, and an equally grand and sturdy 1er Cru Narbontons. Both wines escalated by the use of more new oak than previous vintages.
Visit 2 of the day was Tollot Beaut.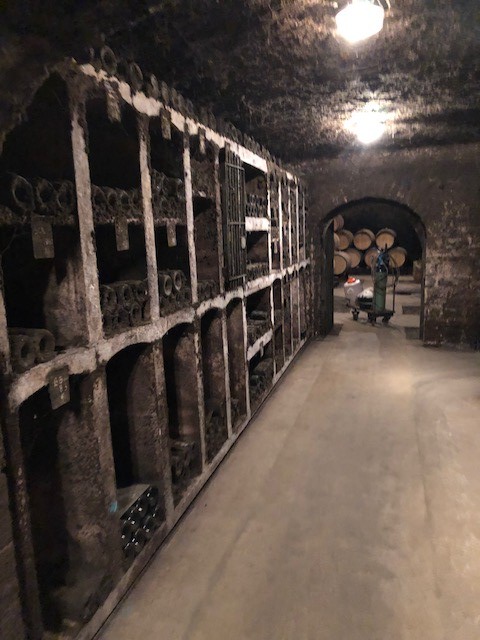 Down the lane, across the main road, a few yards further, some twisty stuff, patch of scrub and then we were at this small domaine in the centre of the village of Chorey itself. As ever, the intelligent and thoughtful Nathalie met us (actually a bit of a squeeze as it seemed she had booked most of the UK wine trade to taste at one go). She proudly stated that she had 250% more wine than in 2016 vintage… her smile said it all! To her, vintage 2017 was more like 2009; unusual, but her nod towards that fat, ripe and warm vintage was born out with the samples she drew from barrel.
Her white Bourgogne Blanc was delicious, as was the mighty Corton Charlemagne, but the reds had my attention from the off. Sweet-edged, fragrant with a developing perfume and rounded style. No sharp edges, no green acids - these reds were just lush, structured and open, but each had their own style and fingerprint. Top wines (and there were lots to choose from) were a lovely Beaune Clos du Roi and even lovelier Beaune Clos du Greves, but the reds of Aloxe Corton, especially the 1er cru's were wonderful. Lush, complex and totally captivating.
A short hop, skip, and a jump took us to Domaine Michelot, our third visit of the day. Nestled at the very edge of the village of Meursault, enclosed by a stone wall and home to a 6th generation family. Met by the young Nicolai, and soon joined by Jean Francois Mestre himself, we discussed the vintage and the weather at length. These, after all, are farmers in the true sense.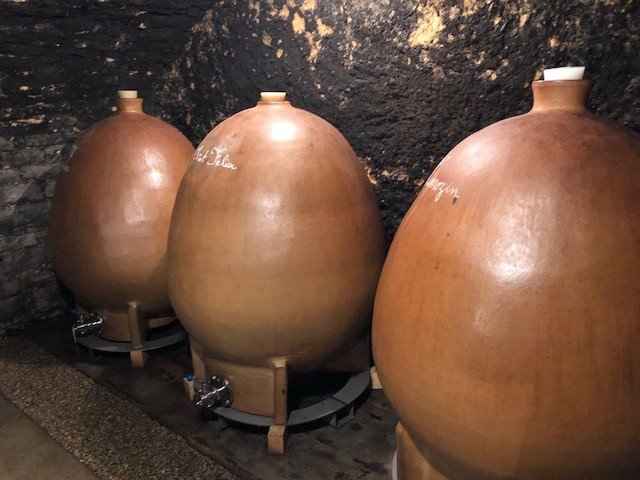 I have been to Michelot many times, but you could sense, from the very first taste, that 2017 was something quite special. A profound Meursault Villages followed a lovely and fulsome Bourgogne Chardonnay. 2 stars already. The single plot 'Clos st Felix' followed, then we hesitated. And tasted again. This was an amazing wine! Profoundly rich, lean and taut all at the same time. Delicate, complex, full of tropical fruits, cereal, integrated oak, cream, honey, roasted nuts… we scribbled to try and catch each flavour as they burst across our palates. If there is one wine to buy in 2017 this is it!
It got better... Meursault 1er cru Charme was monumental, as was the 1er cru of Genevrieres and finally 1er cru Perrieres. Each wine rose and then rose again in the glass. The nose intoxicating, the palate structured and decadent.
Visit 4 was Domaine Amiot, Chassagne-Montrachet.
I do love Chassagne. In fact I loooovvvveeee Chassagne!
I really like the wines of Guy Amiot.
Met, as always, by the genteel and humourous Fabrice, we tasted in the warm tasting room attached to his office in sight of the vines of the 1er Cru Caillerets.
A lovely Bourgogne Blanc 2017, made from 3 plots of vines and 70% tank fermented, with 30% aged in used oak; ripe, expressive, focused and refined. I ticked it as a buy!
The Chassagne Villages was, as ever, rich and delicious, with 20% new oak and from vines that average 50 years old. Who needs to go further than that, quality-wise?
Fabrice then poured a wonderfully fat and succulent 1er Cru Macharelles from a cool climate and clay on limestone soil. Notes of pineapple, honey and crème anglaise.
Then he poured a focused and tighter 1er Cru from Vergers – again refined, but with this wine there was more energy and a robust quality that made it stand out, which gave way to a deeper, more opulent character as it developed in the glass. Great minerality and texture.
He then aced that with a fat, big, decadent and openly lush 1er Cru Caillerets. I fell in love with its sweet oak veneer, trace of minerality and dollops of honeycomb, roast nut, clove and tropical fruit.
Our smiles said it all. Scribbles made on paper do not give justice to these wines… they were arguably the best of the week so far.
I won't describe his Puligny 1er cru Demoiselles, or Le Montrachet. Needless to say they were good. I mean very, very, very, very good!!
Our final visit on Wednesday was to Caves de Buxy. This was our second year to this famous, and large Caves cooperative. We came last year, drawn by the fact that not only did they have some wines, but also my days from Oddbins meant I knew of their quality and breadth of appellations.
I wanted to taste their Cremant, but alas, it was just a little too sweet. We had asked for samples to be ready (which they mainly were) and tried a nicely crisp and pungent Sauvignon de St Bris, before we moved to the Chardonnay's. The main wines we tried were the Montagny's Macon Aze and Coteaux de Bourgogne reds. All ticked a box.
We drove back in the sluicing rain. A good dinner called for, and a good bottle of wine. Our deliberations and discussion as to the merits of whether it was a red vintage, or a white vintage swayed back and forth in the car… then took a strange turn.
We had made notes. It seemed we were 52% whites and 48% reds in favour – so close and yet still a democratic vote… does that percentage ring an alarm bell somewhere? Do you remember a certain day 3 years ago when we voted for something? Something to do with Europe… mmm, sure I've heard someone mention Brexit at some point in the last couple of years (I stress the 'some').
52% in favour of white, 48% in favour of reds and no Boris Johnson. Anyway, we will probably change our minds in a couple of year's time!
Thursday
No alarm needed… crows a plenty, and no firearm.
First visit of the day was to Domaine Luquet in the beautifully situated stone village of Pouilly Fuisse, nestled in a fold in the rolling golden vineyards, with the mighty rock of Solutre in the distance. We had time, so stopped for some pics (Twitter and digital marketing are new concepts to us in the last 5 years!).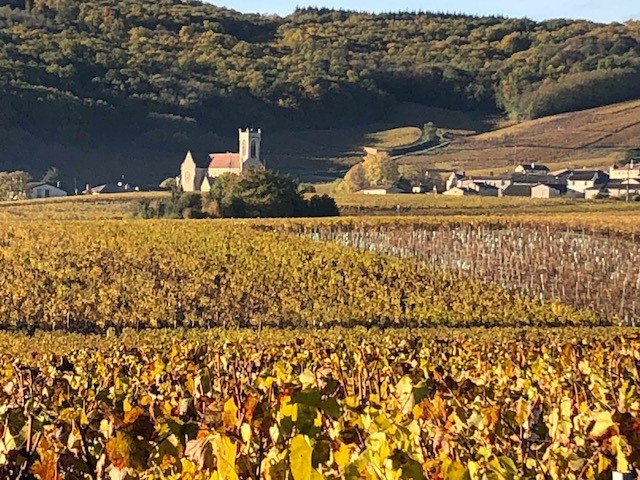 Met by Patrick Luquet, he proudly showed us the new additions to his cellars and tasting rooms. His domaine sits beside the steadfast church, surrounded by vines and under the lee of the steep slopes that next year will hold the appellation, 1er Cru. We await the wines with interest… and the prices!
As always, Patricks' wines shone. A clean, fresh and complex St Veran showed high quality, even with this lowly appellation, often over looked but capable of great poise, then swiftly onto his Pouilly Fuisse 'Au Bourg', from the very same vineyard that surrounds the church, temptingly close through the window a few scant meters away. The sheltered site gives richer fruit, warmer, and more rounded. It showed so well. His Pouilly Fuisse 'Terroir's, from down the valley, was riper, more lush and seemed to lack the real zip of the Au Bourg. A great wine, but perhaps in this year, as in most, the Big Church wine had it.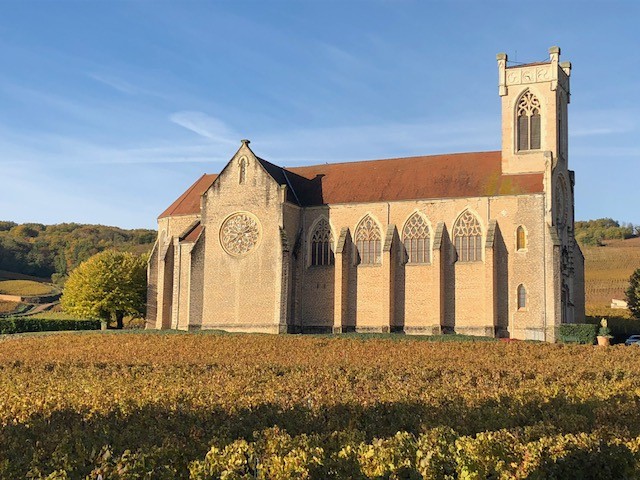 On to Domaine Olivier Merlin in the Maconnais for visit 2 of the day, the small family run domaine started in 1995 by Oliver and his charming wife Corinne. This estate was visited annually by House of Townend until, eventually, we wore him down and he allowed us to have a small allocation. Leap forward several years and this estate is now the cornerstone of our southern Burgundy section!
Farmed organically, some ploughing by hand (actually horse), and an ethos of only making wines of purity and typicity. We do like the wines of Oliver Merlin.
His Macon Blanc La Roche Vineuse (the village of La Roche Vineuse is the epicentre of Maconnais) was a finely tuned, ripe and floral Macon blanc, showing good buttery fruit and nice energy. Also good was the Vieilles Vignes Macon La Roche Blanc, made from vines that age an average of 70 years old, and fermented and aged in 100% oak, and then aged in tank; rich, sturdy, lush and marked by notes of citrus butter, minerals and spice. Really lovely. I also liked some new wines we tried this year. A lovely rich and structured St Veran, as well as a good and crisp Pouilly Fuisse. The best wine was, as always, the rich, firm, profoundly deep and hedonistic Moulin a Vent from THE best site on the hill, 'La Rochelle'. Farmed and ploughed by hand, the yields are tiny, but the wine stands alongside other great red wines of Burgundy. This was no ordinary Moulin a Vent, far from it.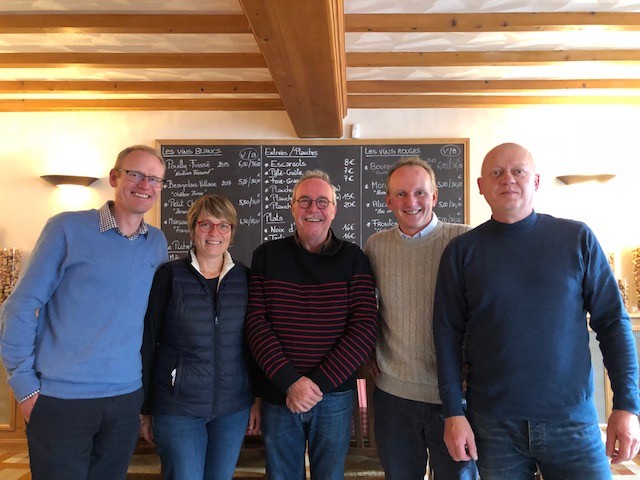 Lunch with both Oliver and Corinne at a local restaurant was a fitting, and relaxing end to a great day in the south. From here we were to drive north to Chablis for meetings and tastings with the young and studious Cyril Testut at Domaine Testut in Chablis itself.
We arrived in the sleepy wee town of Chablis as the afternoon gloom fell. We booked into the hotel, freshened up and then walked the short distance to Domaine Testut, nestled, as it was, on a corner by the river, hidden from view by a large wall and looking for all and sundry a normal small house.
The young Cyril Testut took this 13Ha domaine over from his father, Philippe, in 1998 and now farms mainly organically. The pristine steel tanks, spotless winery and cellars as well as his knowledge of every plot of old vines show his attention to every aspect of the wine making.
We started first with the 2018's in tank. As ever they were precise, fresh, ultra-crisp and showing tremendous depth and harmony. There was fruit aplenty, but the linear quality of the wines at this very early stage showed through in spades.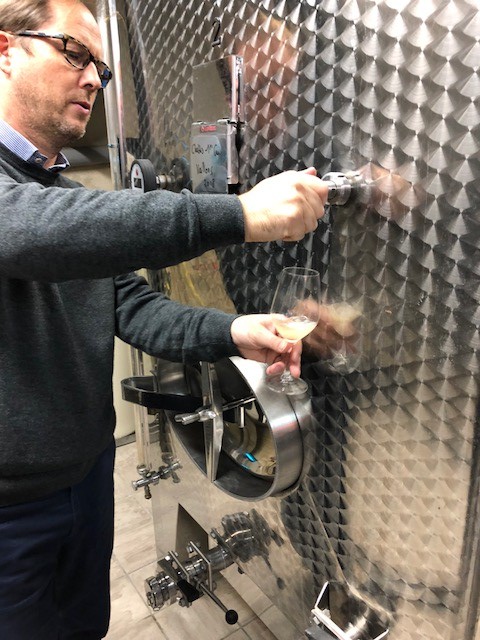 Next we tried the 2017's. As always the 1er cru's of Montée de Tonnerre stood out; much more fleshy and deliciously rounded, whilst even his 'basic' Chablis 2017 was showing a lovely nutty character and hints of grapefruit with a typical 'tightness'.
We carried on with the Grand Cru of Grenouilles. A big wine in all senses, it will age for many, many years for those lucky enough to get a few cases. A sleeper I think!
After the tasting we were invited to eat with Cyril, but first would we like to have a vertical tasting of 1er Cru and Grand cru wines… urm is da Pope a 'CATLIC'?!
We travelled through vintages 2010 – 2017 in 1er cru Montée de Tonnerre with each wine showing the purity of flavor, precise acidity and freshness, yet the steely backbone and ''flesh' of each vintage. The wines were so moreish, it was hard to taste them in such a casual setting. The Grand Cru Grenouilles flight was between 2014 and 2017. Again, these wines showed Testut's ability to use the older vines, magnificent exposure and the vintage itself to pack both flavour, richness and yet steely freshness and minerality into every nuance of flavour. These are monumental wines that fully express the appellation and the smaller yields that Cyril takes from the exposed vineyards.
Following such a great tasting, it was only fitting that we eat with Cyril in his comfortable house, eating a very typical Chablisienne meal of local dishes, including Tete de Fromage and Andouillette, pared with Grand Cru 2015 Grenouilles… memories indeed!
Cyril Testut is not only a great wine maker, but a very hospitable host who channels his knowledge and passion for the Chablis region into his wines. His uniquely placed vineyards, including a 7ha plot of Chablis AOC on the Grand Cru Hill itself, are arguably THE best places to grow Chardonnay vines and this shows in the quality of every wine he presented to us.
Friday
Our final visit of the week was to the estate of Daniel Dampt on the outskirts of Chablis itself. This 26ha estate, run now by the affable Vincent Dampt, has been a regular supplier to us for many years. The wines of Dampt show more richness and a rounder, more 'New World' style (no slur intended – quite the opposite). The new tasting room at Dampt, built 2 years ago, was an elevated tower with sweeping views across the 1er cru of Côte de Léchet, as well as looking toward the Grand Cru Hill and the gentle slopes of golden, russet flaked vine that stretched as far as the eye could see. A beautiful sight on the sunny morning!
We tasted a near perfect Petit Chablis 2017, as well as a richer, more poised Chablis AC, then we were into the 1er cru of Beauroy, Lechet and Vaillons, as well as an outstanding 1er cru Fourchaume from a 1ha holding spread across 4 individual blocks.
The Léchet stood out, as it does annually, as this smaller valley is well exposed to the extra heat it can summate, and in 2017 this showed in a real honeyed richness that added almost a touch of tangerine and grapefruit to the steely backbone. Great wine!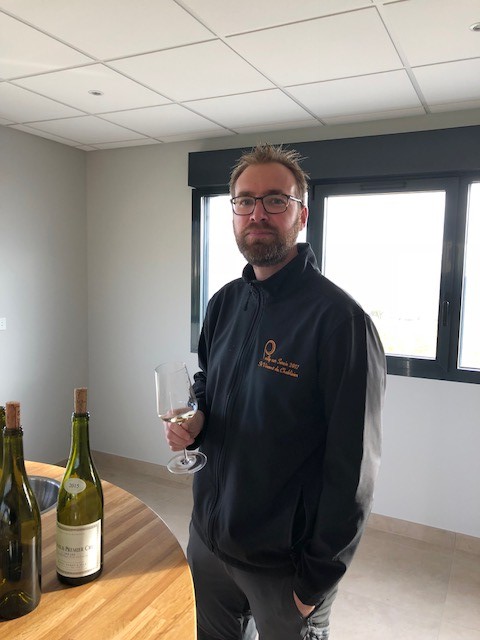 Handshakes done, we were back in the car and heading up north toward the Channel. It had been a busy week… some 25 estates visited, over 250 wines tasted and many, many discussions.
Was it a white vintage or a red vintage? We will leave that to history. Needless to say Brexit featured in just about every discussion we had with growers, makers, fellow wine tasters, and colleagues.
Time will tell, but it is worth remembering that the £2.16 duty that the UK government puts on every bottle of wine purchased in the UK (rising by another 7p in early 2019) would swamp any tariff increase imposed if we reverted to WTO rules. If memory, and my history, serves me right, the duty on alcohol was introduced to deter excessive drinking (of mainly cheap nasty stuff), as well as instigating a licensing system for the Government, and to help pay for wars against the French. The duty on a bottle of Romanée Conti at £10,000 a bottle is, therefore, the same as a bottle of Gallo White Grenache at £5.
Perhaps now we need to declare war, or scrap the government, or perhaps, just perhaps, drink better wines?!"

Back to blog