This week we hosted our new and exclusive wine agency, Jordan Wine Estates of California, to the UK for 4 days of meeting customers, tasting wines and hosting events throughout our sales areas.
Jordan, who have been absent from the UK market for several years, are one of California's top wine estates. Founded in 1972 by John and Sally Jordan and based in Alexander Valley, Sonoma, the wines of Jordan are inspired by the great wine estates of France. Their commitment to the very highest quality make a seamless connection between food and wine. This connection is the very heart of this famous wine estate - the result of which makes Jordan Cabernet Sauvignon and Chardonnay two of California's most awarded and sought after wines in both restaurants and wine shops. In securing the agency for Jordan in the UK, House of Townend wish to show that not all New World wines need to rely on power and ripeness. Elegance and balance are words which, whilst rare in California, can be easily used for both the classic wines of France and the estate wines of Jordan.
So, how to start a blog about Jordan and House of Townend and 4 days of meeting, eating and travelling…? Prestige Account Director, Neil Goldie has written an overview of their visit.
Tuesday

The start was, in itself, totally surreal. I met the 2 members of the Jordan team, Brad Butcher – Sales Director, and Ashley Cesario (Eastern States and Canada – the UK is obviously East) at Brough railway station on the outskirts of Hull on Tuesday afternoon. Brad initially walked to the driver's door of my car, at which point I reminded him that we in the UK have adopted a different driving side than those in 'other shores'! Safely delivered to our smart Cellars in Melton, we had a quick tour of our Bonded premises, Head Office and Cellar Door shop (where that night's wine dinner was being held) and then on to the hotel to freshen up.
Dinner at the Cellar Door, was hosted by Stuart Shenton our Head of Private Sales. A great evening of simple food and outstanding wines, with each wine introduced by Brad and Ashley (both of whom showed no impact of jet lag…as yet!). Brad had sent across a few bottles of different vintages (2005, 2006 and 2007 Cabernet) to add to the current vintages of 2013 Cabernet and 2015 Chardonnay that we already list. To this already fabulous lineup, we added stock from the rare vertical packs of Cabernet that we purchased at the start of the year. Therefore the tasting lineup showed 2015 Chardonnay, then a 7 vintage strong lineup of Cabernet, 2002 – 2007 inclusive and the 2013 at the end. It was a chance to taste the development of a wine that has been likened more to a great Pauillac or St Julien than a Californian red.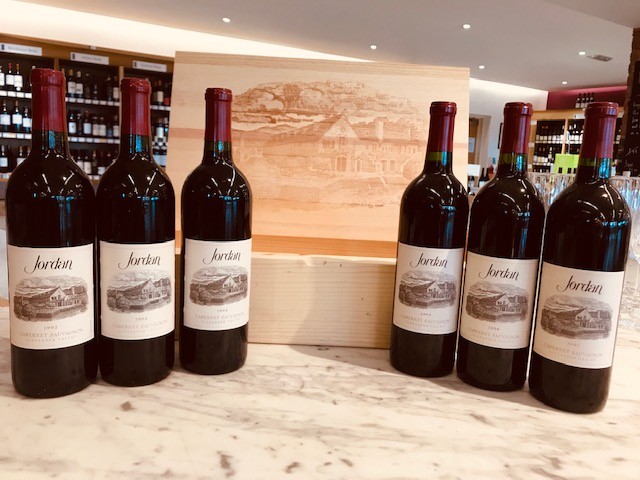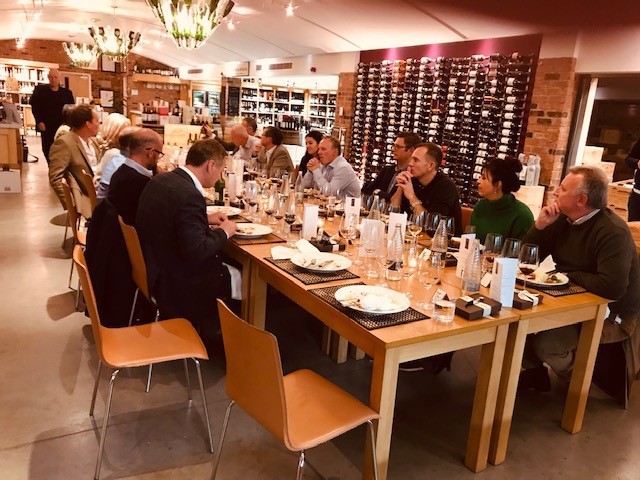 2002, Jordan Cabernet – deep purple/blood red. Soft appealing nose, crushed black fruits, cedar, eucalyptus, citrus peel and mocha – balancing vibrant acidity and long evenly textured palate – sumptuous but not overtly jammy. Sweet edged, soft and yet with a powerful force of 'terroir' that holds the wine together.
2003, Jordan Cabernet – deep purple, red edges, black interior. Richer than the 02, more powerful with sweeter edged fruit and a hint of cherry jam and spice – long, savoury and complete.
2004, Jordan Cabernet – Wow… leaps from the glass, all mocha edged, sweet and spicy with notes of creamed black fruits, vanilla and spice. Long, rounded and opening. Balanced, classically (Pauillac… Pontet Canet) poised and with a greater degree of depth and sweet fruit.
2005, Jordan Cabernet – it just gets better and better! Long, rounded deep and complex with notes of sweet stewed black fruits, hint of cherry and raspberry, earthy at first then it is layered with notes of coffee and spice. Long, deliciously rounded and generous.
2006 – Jordan Cabernet – darker, denser and more rigid with a brooding sense of power that pervades the wine throughout. Stewed black fruits, black currant and green leaf aromas, tobacco and cedar. A touch of ironstone adds structure. Powerful… one for keeping.
2007 – Jordan Cabernet – Yeeeeaaah!!! Big, lush and creamy. Nicely developing style with focus and energy. Layers of blackcurrant, cherry and spice, encased in softening tannins and freshness. Long, powerful and elegant throughout… Lafite anyone…?
Dinner ended with a chat involving all guests about what Jordan stands for and the state of both California wine and the UK wine market… we also glossed over Brexit, the state of English football, the difference between American football and Rugby and a certain Mr Trump (I have heard of him… somewhere?)

Wednesday

An early start for all concerned as we met at our Melton HQ to piece together sales strategies, allocations (every bottle of Jordan could be sold 3 times over due to strong domestic demand) and where Jordan wanted to position themselves in the UK market… all normal stuff. We also chatted about En Primeur offerings, marketing and suchlike.
Wednesday lunch was a unique event held at Roots in Marygate, York. This was the brand new venture for Tommy and James Banks of the Michelin starred Black Swan at Oldstead. Roots opened just 12 days previously and we were the first party to use their private dining space – so much so that the large round oak table, just big enough for our 14 guests, was delivered to the restaurant just a few hours before! Beautifully set for 14 places and with James, Tom and their team looking after us wonderfully, we thoroughly enjoyed course after course of their amazing meal – never before has Kale been so tasty, or Beetroot, or Spruce, or Yoghurt… Tommy Banks' Kale dish could convert even the most fickle of 6 year olds to eat the green leaf!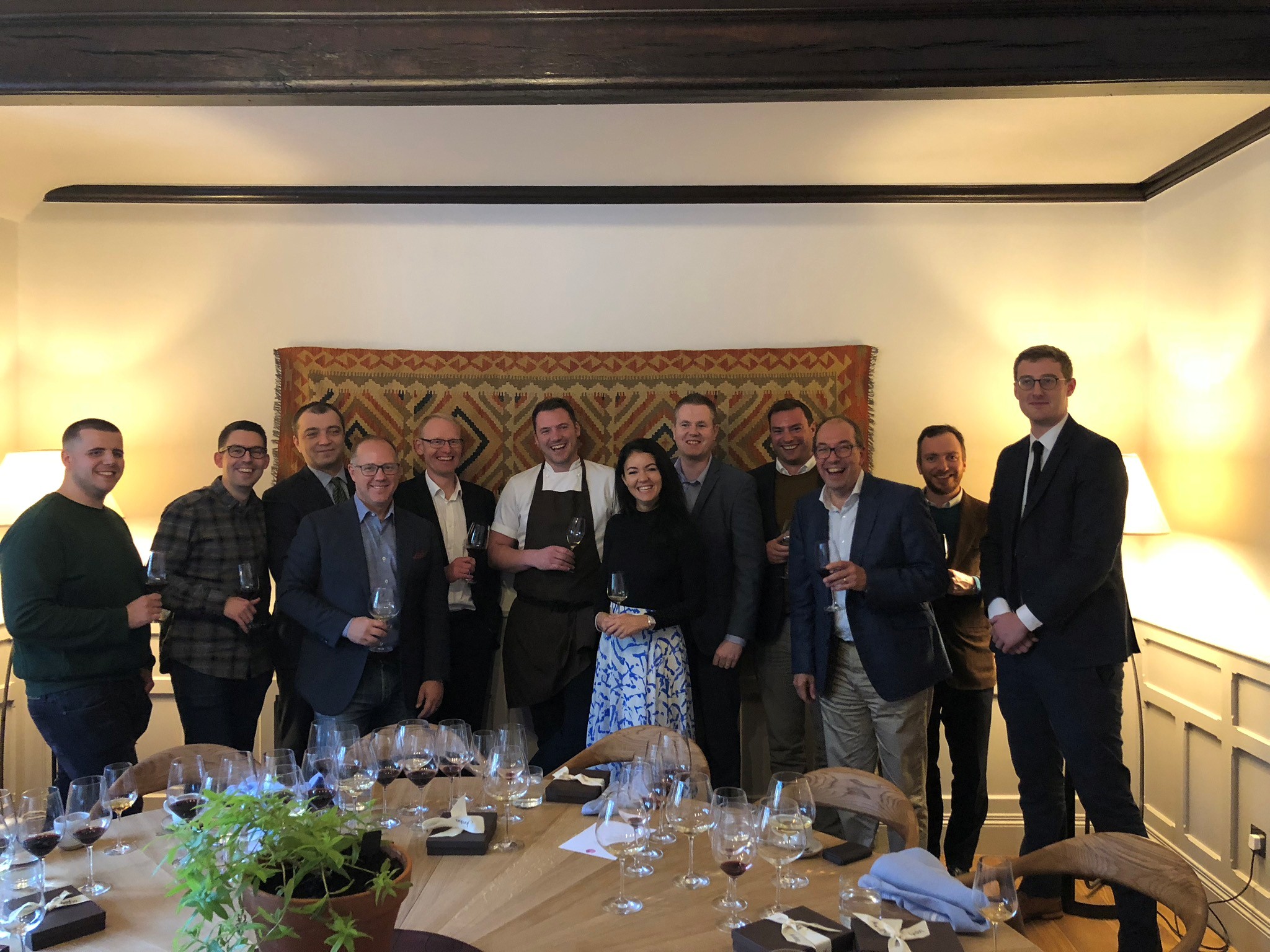 Wine wise, all around the table enjoyed the 2015 Jordan Chardonnay. With its precise citrus balance and layers of complex minerality, it held many of the dishes very well. With 4 months in Oak, the lightest of lees stirring and time in bottle, the Chardonnay had a perfect ripeness and richness and presented well alongside the incredible yet delicate flavours that were launched from the kitchen in ever increasing numbers.
Brad decided that if we were to truly understand how close the Jordan Chardonnay was to great white Burgundy, then we needed to taste and compare. A bottle of Domaine Carillon Puligny Montrachet 2015 was dutifully found by James and we tasted. The outcome? Not much difference at all. Both wines displayed equal citrus, minerality and oak, with a degree more tropicality offered by the Jordan whilst the Puligny displayed a tad more creaminess.
The 4 vintages of Cabernet (2005, 2006, 2007 and 2013 ) were all decanted and poured with each sip revealing more expressive and precise black fruit flavours. A real treat with the ox cheek and lamb, as well as the beetroot (cooked in beef fat for several hours… truly delicious!). The noise around the table bore testament to everyone having a great time with discussions of food, wine, hospitality, prices, Brexit and Donald Trump (sound familiar) flying between and across each guest. The level of noise increased as the level in the glasses dropped. Always a good sign in my book! It is not without note that Jordan's website links wine with hospitality and good food. At Roots that lunchtime we had all 3 elements… in spades, diamonds and Trumps (him again…).
Brad decided (he likes deciding things) to try the mighty Chateau Lagrange 2009 3eme St Julien against the Jordan Cabernets assembled vintages. Again, not much difference between the 5 reds, the Lagrange having a little more meat and substance than the 05 and 07 Jordan's, though the 06 Jordan seemed more brooding than the Bordeaux. I am splitting hairs… I would have happily have drunk any of those 5 reds with pleasure!
Oh, and Brad decided to choose a little 'sweetie' for afters. He is a very kind man. Thank you!
We ventured from Roots to our hotel in York and I had a chance to show Brad and Ashley the delights of York… narrow cobbled streets, a (closed) Minster, and the charm of a comfy pub that just happened to have a few gins! All I can divulge from the evening is that Brad can dance, Ashley likes Espresso Martinis, I don't like Espresso Martinis, and no one understands the appeal of Doner Kebabs. Bed at 1am, emails until 2am…
Thursday

Emails to go through from 6am before a big day. Out early and into the car for the drive to Nottingham where we were presenting to Laurent Richet, Sommelier at 2 star Restaurant Sat Bains.
Approached by a quaint lane near to Boots head quarters, we were met by Laurent and his team, Jean Baptiste and Quentin. The wines (under Coravin) showed well with the Cabernet 2006 starting to soften and the 2005 seeming more sumptuous. Whilst at Sats, the great man himself gave up some of his valuable time and we had a tour of the pristine herb and veg garden, as well as the rooms, private chefs table and kitchen.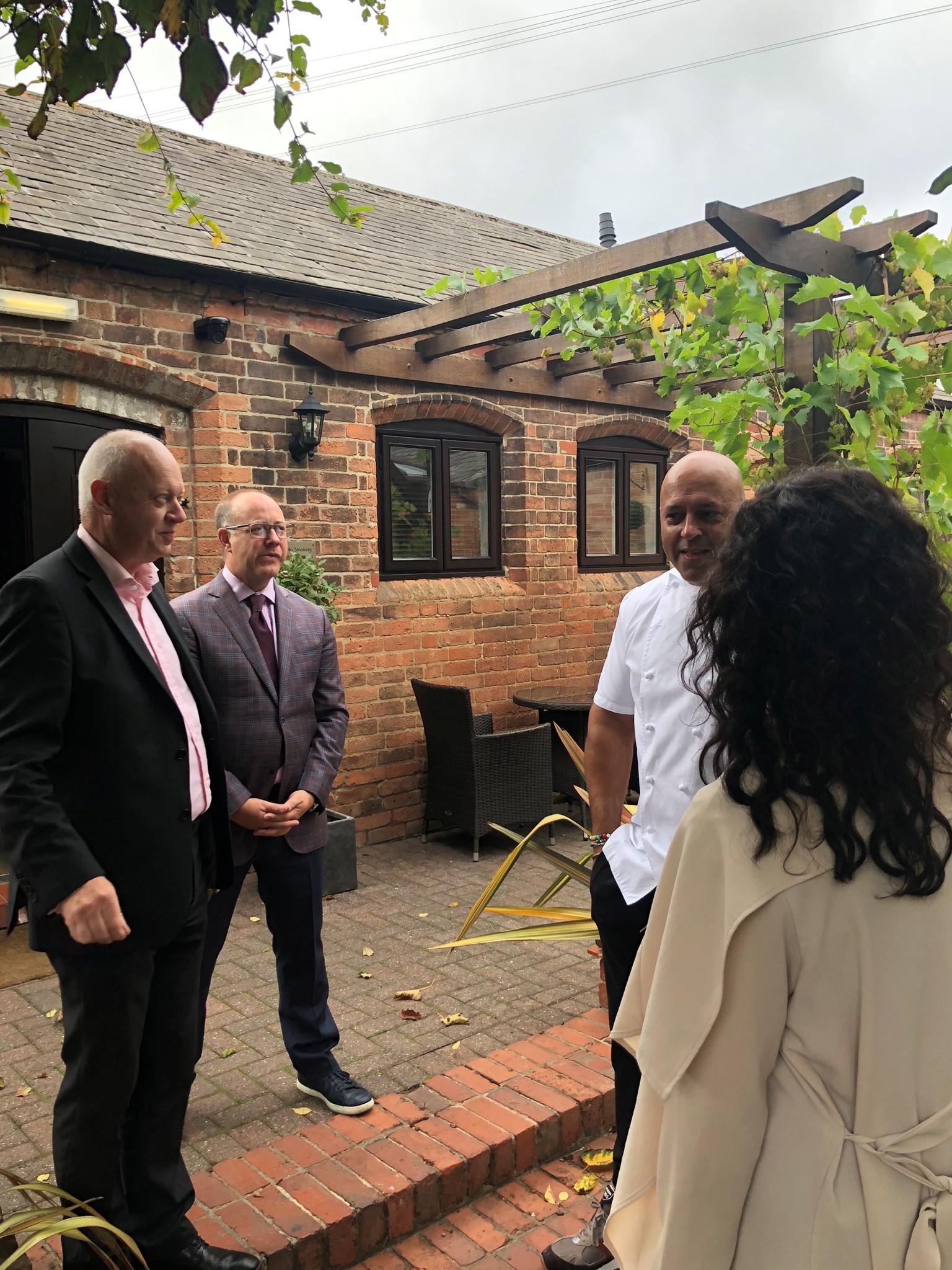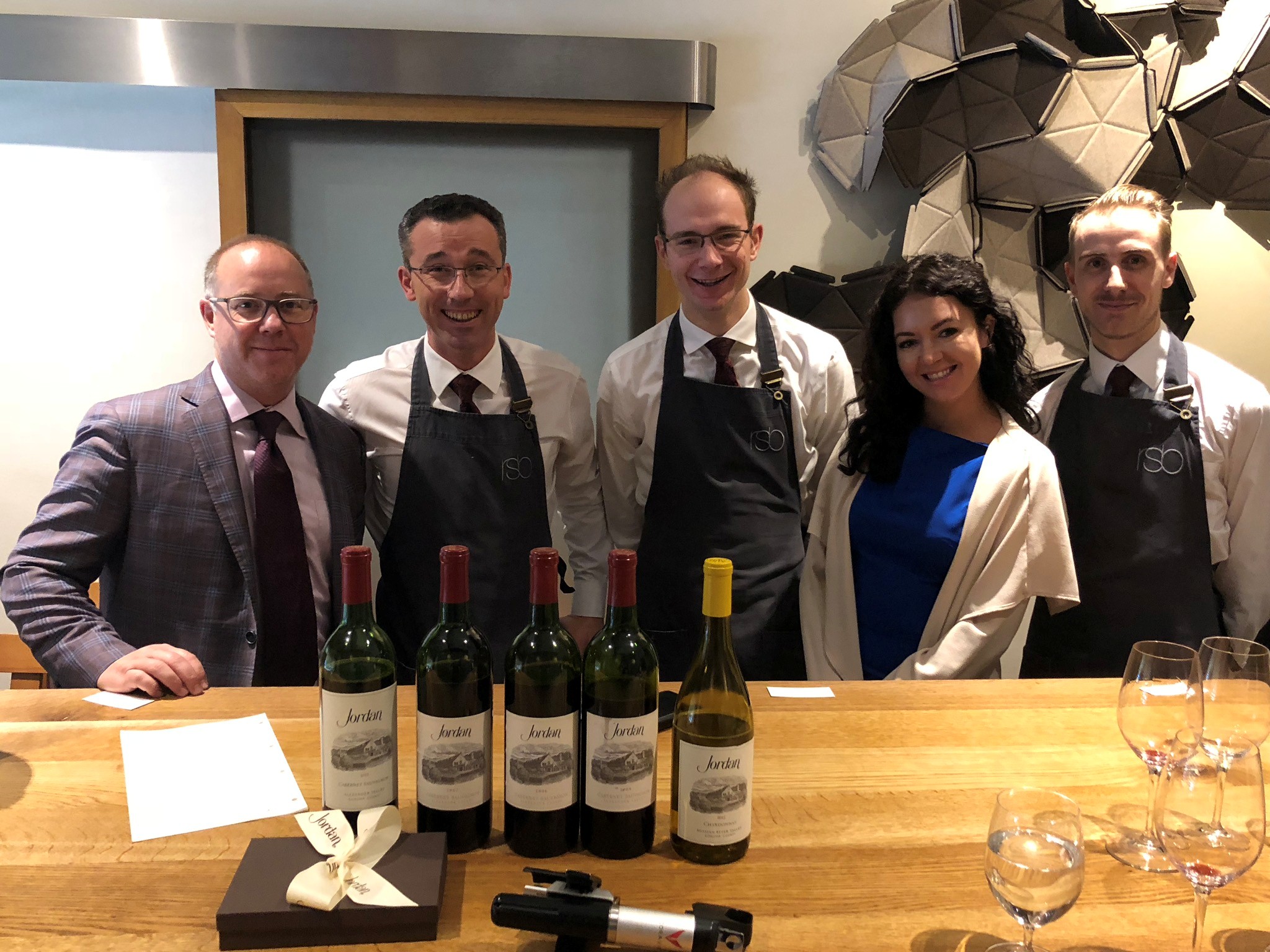 The 2019 Michelin results had just been released and Sat once again was awarded 2 stars… A fabulous result and a testament to the hard graft, humour, professionalism and dedication that he and his whole team exhibit every day. Laurent has been happy to support Jordan and now lists both Chardonnay and the Cabernet.
From Nottingham it was down to Simpsons in Edgbaston, Birmingham. A 1 star Michelin restaurant in leafy Georgian splendor that we have supplied for many years. Run by the likable and highly talented Andreas Antona, this great restaurant has been at the top of its game consistently for many, many years. In the absence of Giacomo, the knowledgeable Italian Sommelier on a rare day away, we enjoyed a lovely lunch and left behind a sample of the 2007 Jordan Cabernet. Positive news came the next day… another score for Jordan!
A drive through the backyards of Birmingham to the Cotswolds was done in mainly silence as jet lag and the warm sun kicked in, though Ashley seemed keen to know the contents of every field – perhaps it is her background in farming, but my knowledge of sugar beet, wheat and cover crops was soon found to be lacking!
We decamped at Russell's restaurant, slap bang in the centre of Broadway, arguably England's prettiest village. We tasted with Andrew; owner and lover of wine. Whilst he had succumbed to a 'sober-October', he gave in momentarily (purely for research!) and tasted the few vintages we had – his momentary slide into 'research' was rewarded with massive thumbs up at the quality of the Jordan 2005 and 2006. Jordan scores again!
To Cotswolds House Hotel in Chipping Campden next, for a tasting, dinner and overnight stay. Chipping Campden is arguably England's prettiest village (sound familiar…?) and a lovely village to wander around for those with time. Alas we had organized a tasting and chat with James Brown, the Deputy at CHH and a fellow lover of wine. As a dedicated lover of all things vinous and European, we knew that Jordan would need to shine. We need not have worried… both Chardonnay and Cabernet stole the show. The wines were just getting better and better as time allowed them to open.
Dinner was in CHH's wonderful Fig Restaurant - a worthy 3 rosettes, borderline Michelin. Food was great, company greater, and we learned that rabbits should never be named Roast. We left the room with James having listed both Jordan's. To bed, and again to emails…
Friday

Up at 5.50am to finish emails before breakfast and into the car for the drive to the Vineyard at Stockcross in Berkshire. This wonderful relais and Chateau property has been called 'The Temple of Californian Wine' in the UK, and rightly so. Its list overseen by the personable and knowledgeable Romain Bourger, this hotel lists around 3,000 bins, with a very strong Californian list.
Brad and Ashley introduced Jordan wines to Romain and he loved the balance, poise and energy of the Chardonnay and Cabernet. We spoke widely, covering trade, vintages, soils, styles and history. A wonderful morning in the company of one of the UK's top wine teams.
From The Vineyard, a short hop across to Cliveden House, part of the Iconic Hotels group, where we were met by Sean Arthur. Supported and overseen by the Wine Director at Chewton Glen, their sister hotel, this property boast a long and illustrious (if not downright infamous) history – Dukes of Sutherland, Prince of Wales (old ones), The Astor Family, Winston Churchill, The Profumo scandal and more recently hosting royalty (shhhhhhh!). Brad and Ashley were amazed by the house, the gardens, the splendor and yet the intimacy of this great property. It seemed to encapsulate the level at which both Jordan and House of Townend mutually operate – and we were very glad to be able to showcase their wines at this level.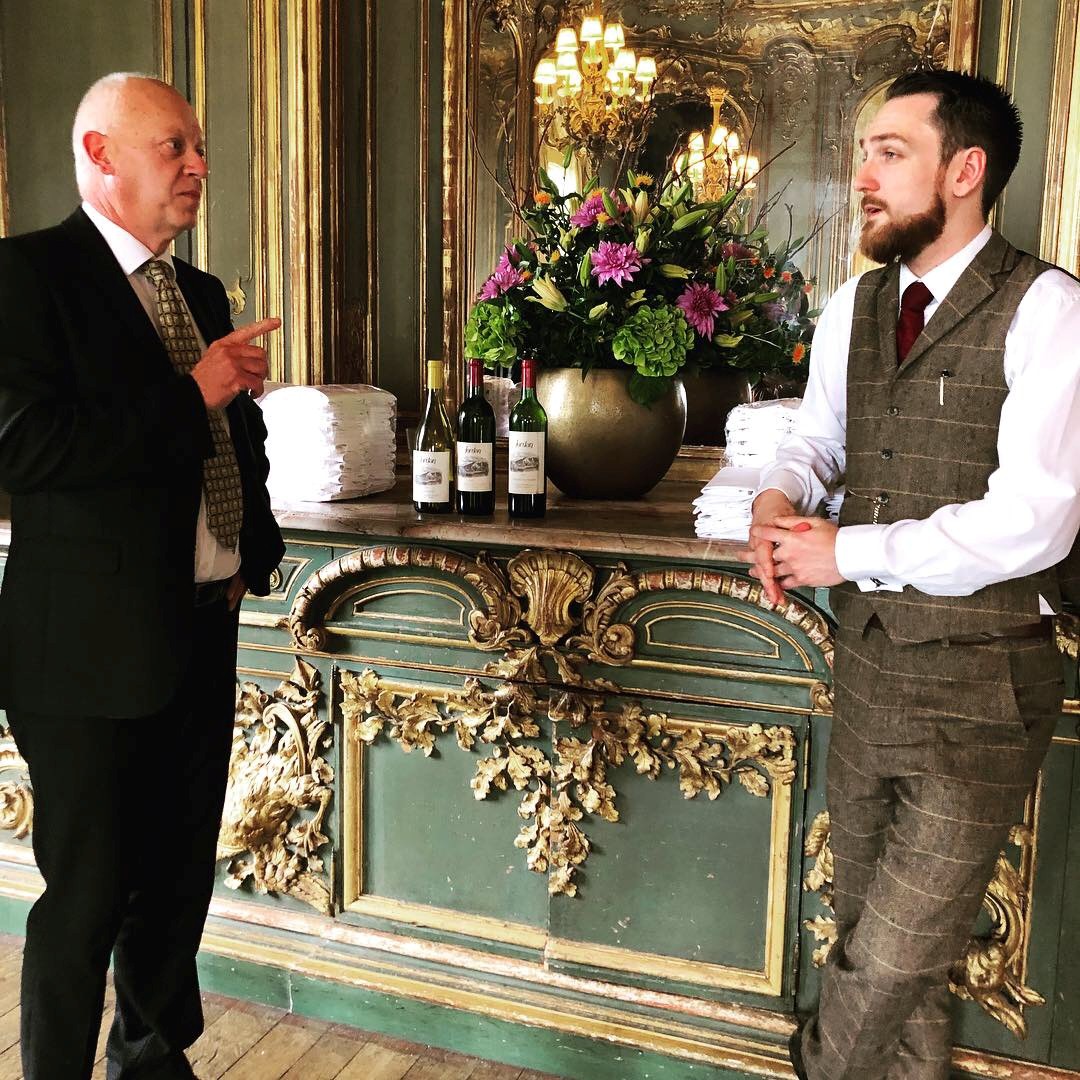 Tasting and discussion with Sean over, then a brief lunch at the intimate and yet gorgeous Astor Grill, we arranged cars for the Jordan team to their various airports and stations, and I turned the car around and headed north for the 6 hour drive back to the Lake District.
4 days… many, many tastings, lots of good food, great and memorable wines and wonderfully different properties and winelists. However, what made the highlights for me were the people. The people we speak to on a daily basis (some companies call them customers, but in our 4 days we met only wine lovers, people passionate about food, wine and hospitality) and those people gave freely of that wonderful energy that comes from having a passion and drive to be the best. Brad, Ashley and I laughed, chatted, discussed, informed and shared stories – before wines, over wines, between guests, with food, without and sometimes even in the car.
4 days… 780 miles, 6 Michelin stars, 8 wines, many laughs, many stories and some new friends.
Jordan Winery: An eye on France, a heart in California… (By the way, Brad – that's my catchphrase and I'm trade marking it!)

Back to blog