Last week Regional Account Manager, Rak Jain, held a Wine Dinner at The London Carriage Works at Hope Street Hotel in Liverpool with a focus on tasting the wines of The Languedoc.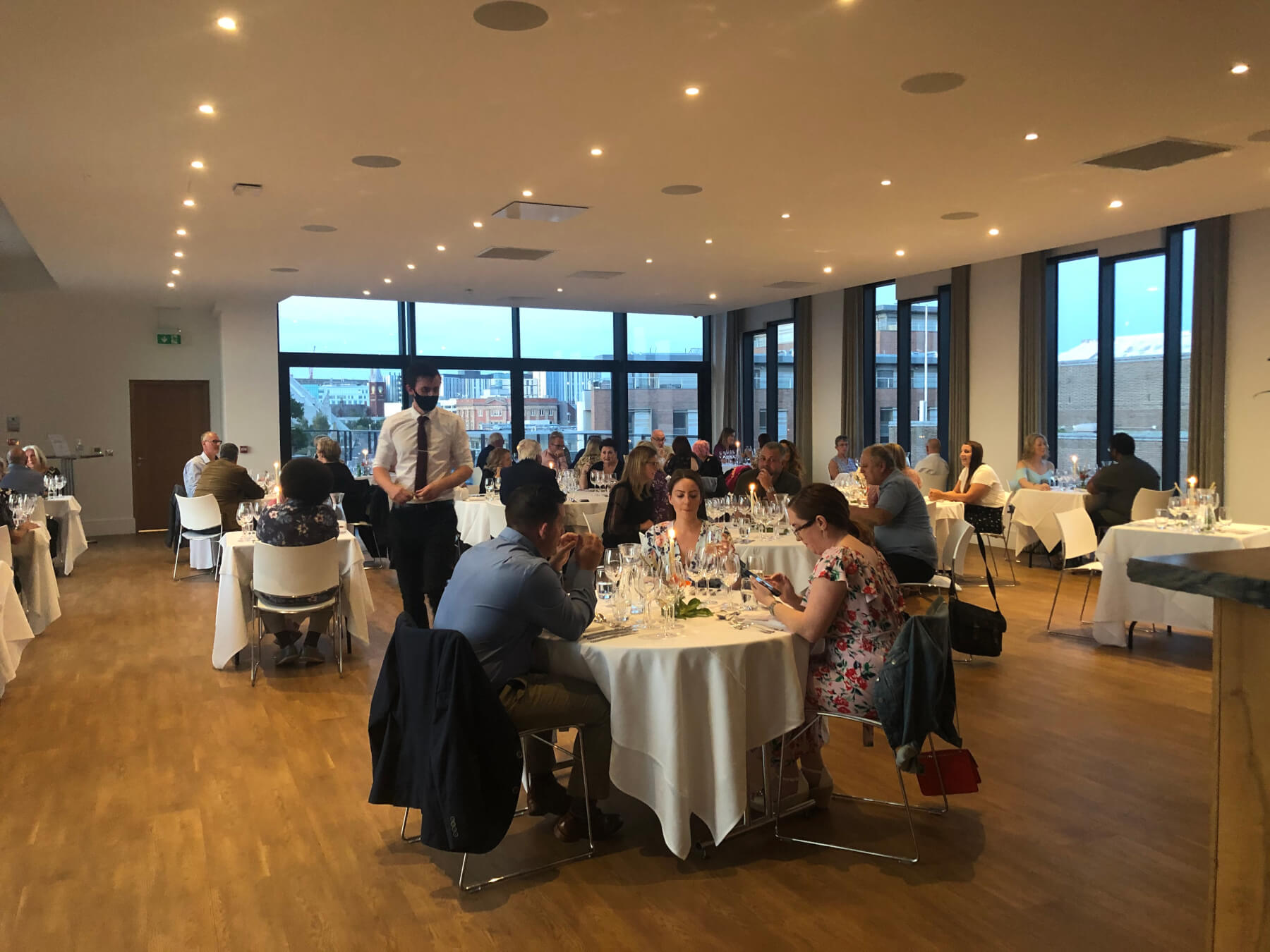 It was great to be able to help host a wine dinner at the The London Carriage Works at the Hope Street Hotel in Liverpool last week. The event took place on their amazing 5th Floor 2 with its panoramic views of a great city!
Being able to host this event in these troubled times did really help take some of the worries that we all face away. The staff, led by Matt Cooke, provided a safe and socially distanced environment that was a credit to them all.
I had decided with Matt that to showcase the wines of Southern France and in particular two of our favourite producers... the wonderful Xavier Roger and the amazing Marilyn Lasserre (Les Argelieres Range).
The region of Southern France is in facts the country's largest wine producing area dominated by over 300,000 hectares of vineyards stretching from the Rhone Valley in the east to the Spanish border in the southwest. Common white grapes include the usual suspects of Chardonnay and Sauvignon and Viognier but also some of the lesser known varietals of Picpoul, Marsanne, Rousanne and even Vermentino! Whilst amongst the reds besides Cabernet Sauvignon and Merlot we can find grapes such as Cabernet Franc, Pinot Noir, Grenache and Mouvedre to name but a few.
In previous decades this region has suffered from a reputation of producing quantity over the expense of quality but not anymore! It was in the 1980's that a new and vigorous focus began to emerge – I myself think that this may have had a tiny bit to do with losing sales to the offerings of the New World at that time with the arrival of large quantities of wines from the likes of Australia, New Zealand and South America... but who am I to have such a thought?
The emergence of many of these wines on to the lists of many a fine restaurant and the fact that they are seen as good value bets for your enjoyment is a testament to the soaring rise in quality of this area. Anyway on to what was on offer for the night!
I had decided to serve our newly listed Vermentino, Coquille de Mer by Xavier Roger. Now the traditional home of this grape is actually Italy, in particular Sardinia, Liguria and Piedmont, however it is now being grown in increasing amounts in the Languedoc and for good reason. This light skinned variety produces citrus, apricot and gentle floral aromas. The evidence on the palate of ripe peach and tropical notes are a joy to behold! Please do try this – it was my wife's go to Lockdown wine! This was served with very tasty canapes produced by the amazing kitchen headed by Mike Kenyon ably assisted by Declan and Dimitri.
For our Amuse Bouche we were treated to the lightest Chicken Liver parfait that I have ever had the joy of sampling – as I always say these events are hard work for me – but hey it's a dirty job but someone has to taste all the food and wines to write this! The parfait was accompanied by pickled fig, burnt orange & brioche - blooming lovely! Wine wise I had decided that Xavier's blend of 70% Marsanne and 30% Viognier would be worth a go and judging by the reaction of the guests I had got it right (well there is always a first time)!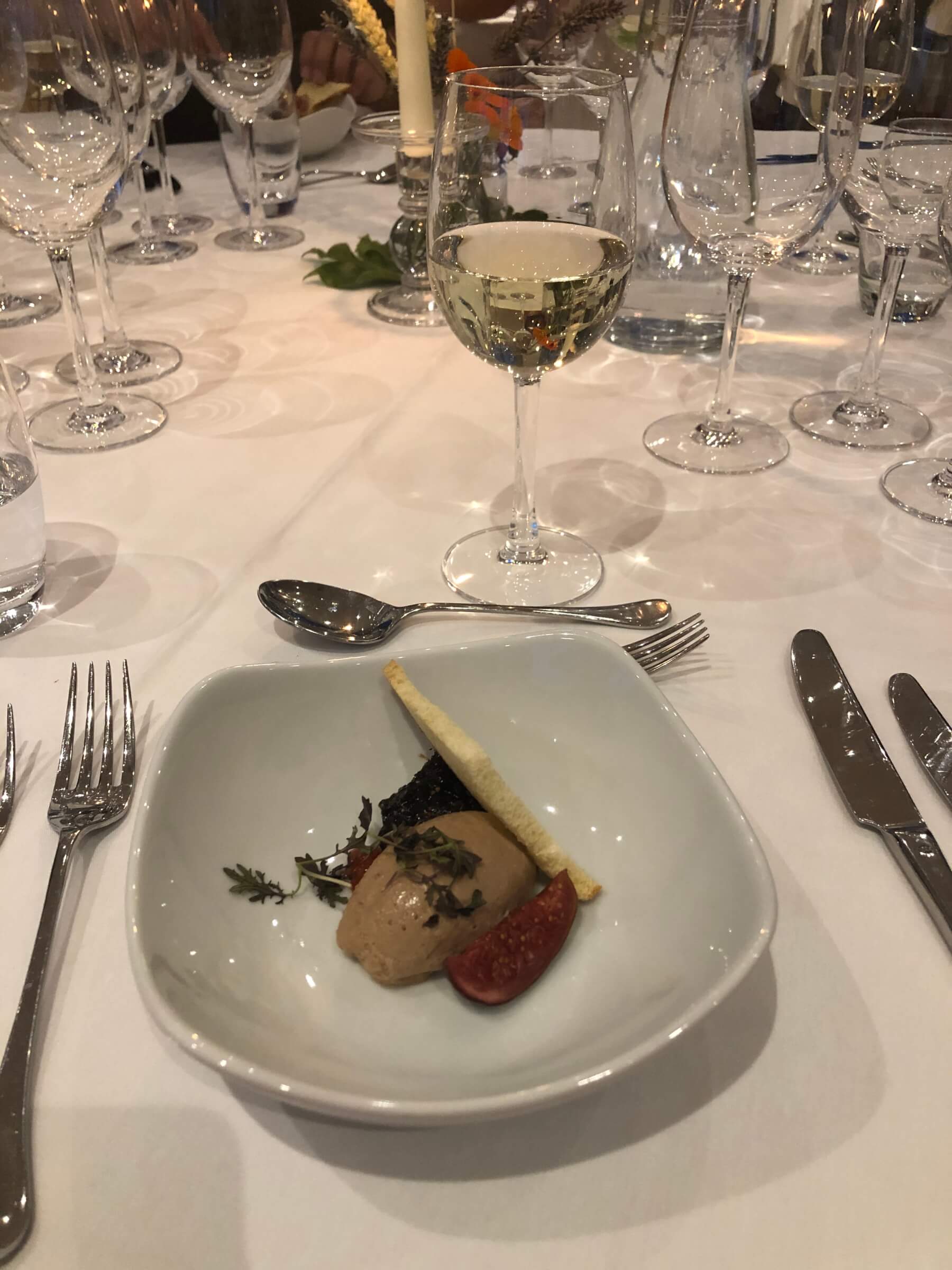 Moving on to the starter, I had decided to show the Oak Aged Chardonnay, Les Argelieres by Marilyn Lasserre. We like to think that she has brought a somewhat feminine touch to wine making in the region and judging by the continuous plaudits that her wines receive her skills are rightly lauded. This is a wine that is so unlike those overly oaked wines from down under that seemed to be the rage for a while. It has such a delicate balance of vanilla and buttery notes with a finish and palate that is fresh and smooth. With this Mike had produced an amazing pan seared sea bass, smoked garlic, cauliflower, green apple and walnut dish. This was a perfect match with the wine... nice one Mike!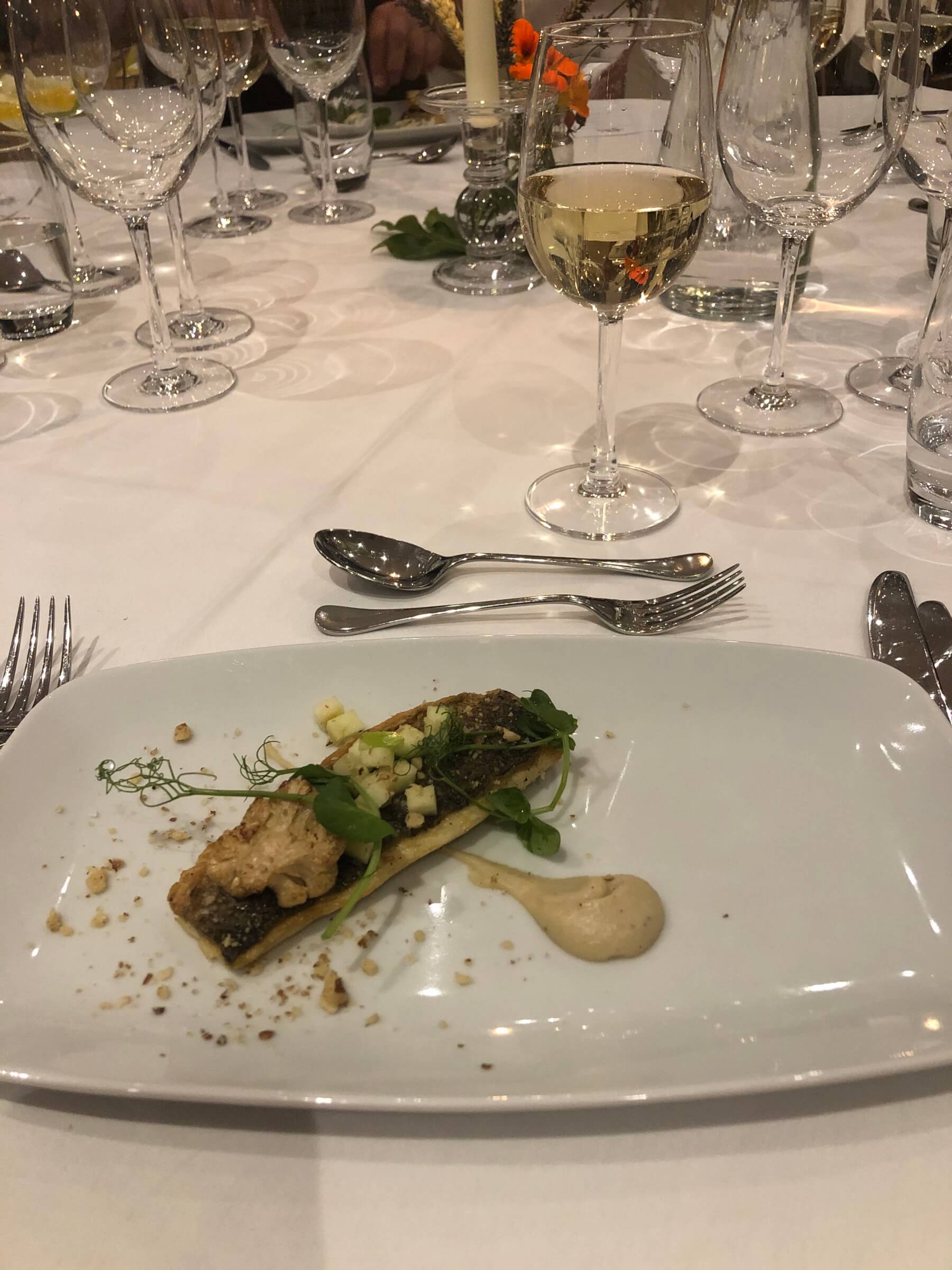 On to the main dish of poached and roasted duck breast, duck leg bolognaise, fondant potato and carrot. I had decide to be a bit quirky and serve two different grapes with this dish both from Marilyn- her stunning Pinot Noir and the Cabernet Franc. Now Pinot Noir is more famed as the red grape of Burgundy however when grown in Southern France it gives of such a warmth and Marilyn has managed to produce a distinctly fruity and elegant wine that has a touch of smokiness with cherry and raspberry notes. This grape is actually 1000 years older than Cabernet Sauvignon apparently - how they work this out heaven knows! Cabernet Franc is normally associated with the blended wines of Bordeaux and is not a grape that is made as a single varietal, however when this is done well - wow! Dark purple in colour and with blackcurrant and green pepper aromas this is a medium-bodied and smooth delight. When I asked for a show of hands of who preferred which wine with the duck It was great to see a split room... this is what I love when tasting two totally different wines with the same dish and shows that we don't all have the same tastes. Wouldn't life be that much more boring if we all liked the same thing.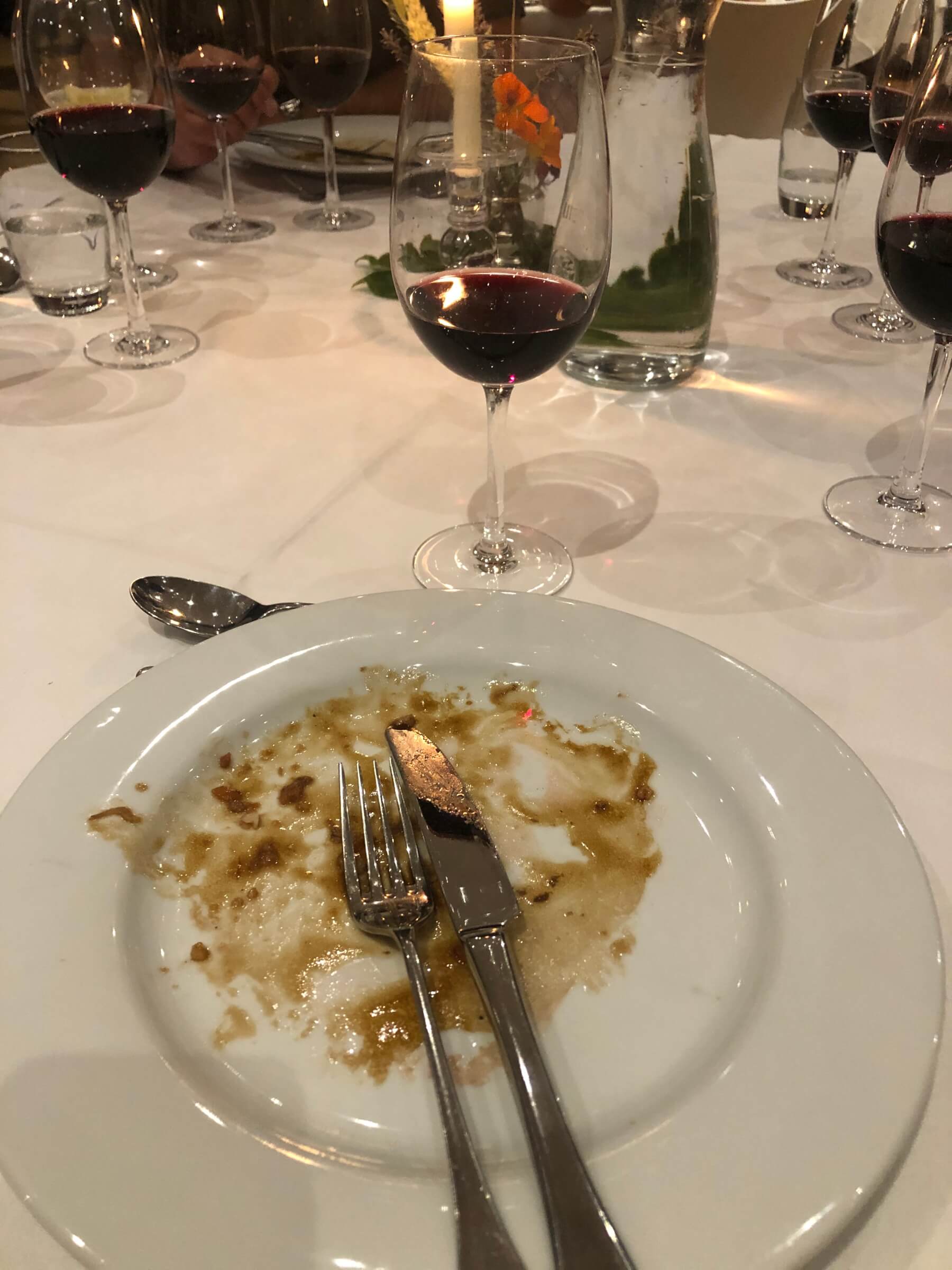 As you can see from the pictures the duck went down really well. I had asked my wife to take these of the dishes but she was too engrossed in enjoying the duck to remember so a photo of an empty plate will have to do!
Lastly, we finished off not with a traditional sweet dessert wine, but a lovely Rose by Xavier to go with Mike's pudding of Lemon posset, strawberries, and white balsamic and almond shortbread. The Granbeau Rose is a blend of Grenache, Cinsault and Syrah with lovely red berry aromas and lively well-balanced fruity flavours. Sometimes to me having a particularly sweet dessert wine with a sweet pud can be a bit much so having something with that is fresh and fruity can work and so it proved!
A big thank you to all the customers that came along and a massive thanks to the front of house team of Matt, Amy, Adele, Lydia and Megan and the great Kitchen team headed by Mike Kenyon.
Rak.

Back to blog