Considered a small wine producer in terms of volume, wine from New Zealand is known for being some of the best quality in the world. Whilst the country is best known for wines from the iconic Marlborough region, other great winemaking regions within New Zealand are undoubtedly catching up. Regional Account Manager and resident Kiwi, Jamie Connolly, has created a series of blogs to talk us through some of New Zealand's wine regions.

As House of Townend's token Kiwi, I have the pleasure of introducing our New Zealand wine range through a series of articles that will explore some of the countries' most famous wine regions.
I thought it apt to start down under in, not only New Zealand's most scenic wine region, but also the world's southernmost wine producing region; Central Otago (more affectionately known as Central).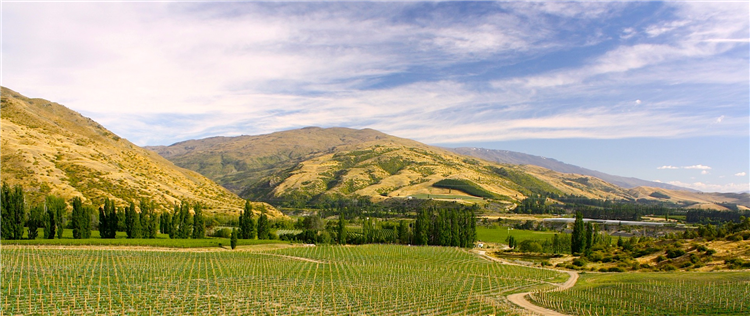 Pictured: Domain Road Vineyard

Location:
Central Otago is located in the inland part of the Otago region in the South Island of New Zealand. Although not official, there are four main sub regions that make up the Central region;

- Cromwell Basin - which includes Bendigo, Pisa, Lowburn and Bannockburn in the south
- Gibbston – the closet vineyards to Queenstown
- Alexandra - the gold rush capital
- Wanaka - where vineyards edge the lake with a backdrop of majestic snow-capped peaks

Conditions:
Central is New Zealand's only true 'continental' region with greater extremes of daily and seasonal temperatures; summers are hot and dry, whilst winters are crisp and snowy. Heavy mineral deposits in silt loams set the soil structures apart from those in other New Zealand regions. These conditions are similar to some of the most prestigious wine-producing areas in the world… the likes of Burgundy & Rhone Valley in France, and Willamette Valley in Oregon, USA.

Grape Varieties:
Pinot Noir is the hero of Central having proven itself in this challenging terrior, and takes up almost three-quarters of the regions' vineyard area. The typical Central Pinot Noir is intense and deeply coloured, with flavours of plum, sweet spice and bramble. Along with Pinot Noir, Central also makes some highly regarded examples of Chardonnay, Riesling and Pinot Gris, as well as some sparkling wines made in a Traditional Method style.

House of Townend Recommends
I have chosen to features wines from the fabulous Domain Road Vineyard – very much the new star of Central Otago.
Located in Bannockburn, which is home to some of the most significant vineyards and wineries in the region, Domain Road Vineyard produce multi-award winning wines. The grapes grow on the upper Bannockburn terraces, above the Kawarau River, in a high altitude setting, surrounded by scenic mountain ranges.
Domain Road Vineyard owners, Graeme and Gillian Crosbie's, wine-making philosophy is simple: Careful and considered hands-on care.
The environmental devastation created by the early gold miners, who literally washed away entire hillsides while sluicing for gold, has inadvertently been a godsend for growing grapes. It left behind good quality loam over free-draining schist gravel and pipeclay, popular with the early miners for making tobacco pipes. Both of these along with the extreme regional climate make for excellent wine-producing grapes.
Predominantly planted with Pinot Noir grapes, the vineyards also contain blocks of Sauvignon Blanc, Pinot Gris, and Riesling varieties.
Using traditional, low-intervention practices, Peter Bartle (winemaker) and Fiona Johnman (vineyard manager) bring out the distinctive character of the fruit, resulting in elegantly structured flavours showing refinement and restraint.
Click here to browse our range of wines from Domain Road.

Next stop: six hours north to Canterbury and Waipara Valley. To be continued…

Back to blog