As many will know, Burgundy, the wine producing region of Bourgogne, is very close to my heart! Over the past year, life has been put on hold, and of all the buying trips that sprinkle my calendar in a normal year, it is my visits to this fascinating region that I have missed the most.
It hasn't stopped us talking to our growers of course. Rather than tasting from barrel, our growers have kindly been sending us samples for us to taste and discuss over Zoom! Not quite the same, but it has enabled us to carry on, as we wait for the green light to travel once more.
My love affair with Burgundy began back in 1985, when I spent four months in the region working for one of our suppliers. My weekends were spent cycling down the narrow roads of the Côte d'Or, the Route des Grand Crus, and through the sleepy villages of Volnay, Puligny-Montrachet and Meursault. With the vines of Bâtard-Montrachet on my left and Montrachet to my right, I felt as if I was in heaven. The wines, the geography, the people, the food, the climate, the views, the turmoil, the difficulties and the pure joy of growing grapes in this landscape, the knowledge that is acquired year on year, vintage by vintage … the sense of history of a millennia of previous vintages, the promise of a thousand more to come. Burgundy is embodied in the wine – a glass of pale rimmed Pinot Noir which can evoke such primeval feelings at first smell, the richness, glycerine and the fresh balance of a glass of limpid Chardonnay.
Over the next month, in both our Cellar Door here in Melton, and on our increasingly lauded web-site, we will be focusing on the wonderful wines of Burgundy! Our range is wide and we offer some great wines from talented winemakers, from the vast array of appellations that make up this fascinating wine producing region. As well as boasting some of the most famous names in the world of wine, the Bourgogne region is also the home to some of the best kept secrets, offering a wonderful diversity, that rewards handsomely the intrepid wine lover. Please have a browse, but to help you on your way, let me introduce a few of them to you. You have a wonderful month ahead of you!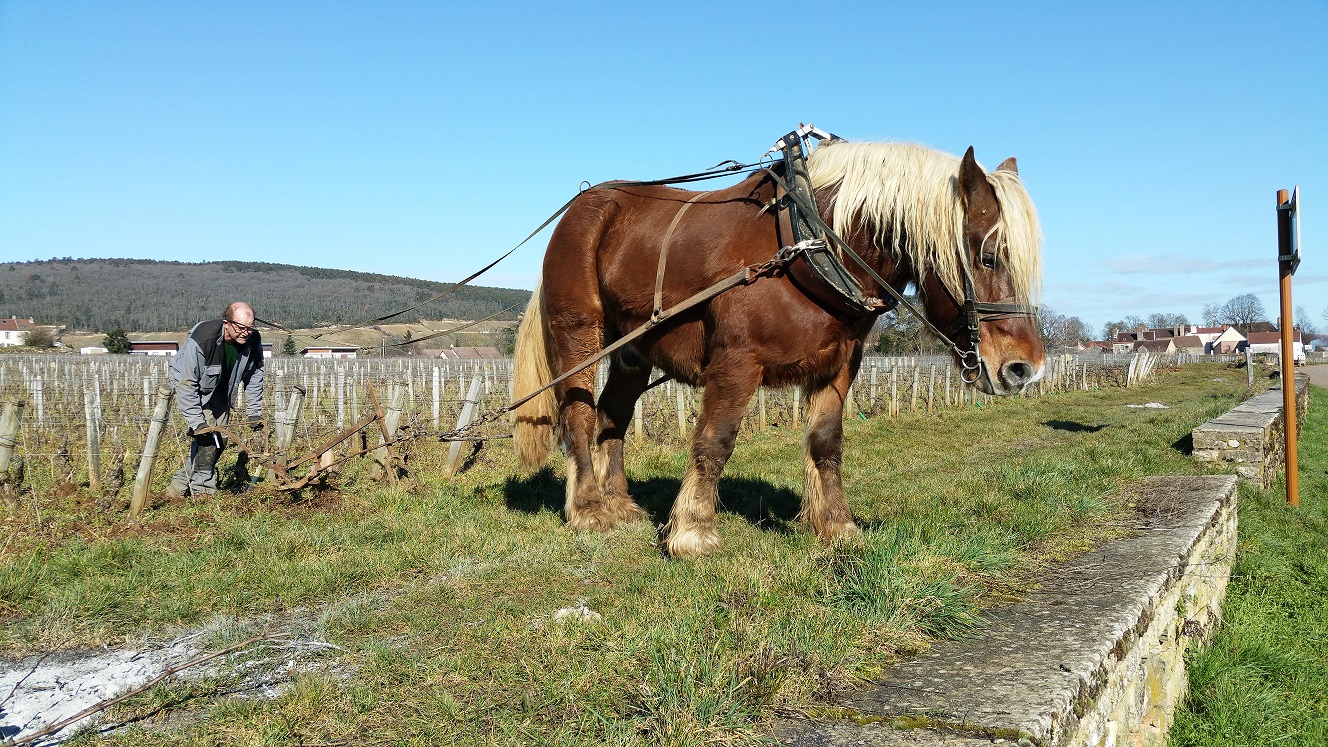 White Wines
Bourgogne Côte Chalonnaise 2019, Buissonnier, Cave de Buxy
A very fine and attractive Chardonnay produced from a blend of vineyard parcels scattered across the Côte Chalonnaise and around Buxy itself, offering subtle, creamy notes of cereal, peach, apple skin and a touch of wet stones. This is so stylish, and an excellent introduction to southern white Burgundy.
Bourgogne Côte d'Or 2018, Domaine Mestre-Michelot
This wine is produced from 4 ha of vines that are made up of 10 parcels, a stone's throw from the appellation of Meursault. It is vinified in 500lt barrel, only 2-3% new oak, and aged for one year before spending 6 months in stainless steel tanks before bottling. An expressive honeyed bouquet, the palate is rich and succulent with butter and honey notes and there is a delicious citrus tang that gives balance to such a rich palate. A baby Meursault!
Auxey-Duresses 2018, Domaine Denis Carré
Situated in a side valley near the Côte de Beaune, this appellation is the place to look in hot years such as 2018, given its cooler location. Purchased in 2012, their 0.26 ha plot is situated adjacent the Meursault appellation. Aged in 25% new oak, this is a cracking wine, tight, stoney minerality and impressively complex. The palate is rich and buttery with a delicious infusion of toasted oak. It may not be the star appellation but it deserves its place at the top table!
Santenay 'Sous la Roche' 2019, Domaine Bachey-Legros
Brothers, Samuel and Lénaïc are producing stunning wines, equipped with some superb old vineyards. This full bodied white Burgundy is creamy in texture with carefully integrated oak, freshness and a minerality that you would hope for in a wine that carries such a name.
Montagny 'Les Reculerons' 2016 Château de Chamilly
This is a super, and also very impressive property run by Arnaud Desfontaine and his brother Xavier. The vineyards are perfectly positioned on a grey clay with rock subsoil and a south eastern exposure, producing perfect Chardonnay grapes. Fermented in stainless steel, there is no oak aging at all. A very pure and precise wine, oozing rich, clean, ripe pineapple flavours. It is balanced by an appealing freshness with a lingering hint of gunflint, followed by a delicious lingering finish. There is something Chablis-esque about this wine.
Rully 'Montagne La Folie' 2018, Domaine Claudie Jobard
Produced from grapes grown on a steep lying, pebble filled vineyard, just to the north of village of Rully, this impressive wine is aged in barrel, 20% of which were new. Intense, fruit filled with wild flowers and a touch of honey which gives added weight, there is a twist of tropical fruit acidity giving perfect balance.
Saint-Veran 'Vers le Mont' 2019, Domaine Luquet
This 26ha family domaine is situated in the centre of the village of Fuissé. Patrick Luquet uses no oak ageing at all in the winemaking process whatsoever, producing wines that express both fruit and terroir with no interfering dimensions. As he says "We really appreciate our terroir". Produced from vines aged between 35 and 40 years old, planted in the villages of Chasselas and Solutré-Pouilly, this is a cracking little wine that punches well above its appellation – pure unadulterated Chardonnay fruits, with a beautiful streak of minerality!
Mâcon Azé 2018/19, Jules Richard
This wine exudes a soft, balanced and very approachable style, almost creamy in texture – open, rounded and yet with a surprising degree of finesse. A favourite 'Wednesday night' bottle!
Mâcon Lugny 2019, Louis Latour
The village of Lugny is located high up in the South of the Mâconnais region, with its limestone soils and warm climate perfect for the production of the Chardonnay grape. A beautiful crispy wine with a melange of honey, acacia, white fruits and fresh acidity – lip-smacking!
Mâcon La Roche Vineuse 2017, Olivier Merlin
Oliver Merlin makes wines for drinking – this is seen in the fact that it took several years of badgering before we were able to secure a small allocation. Each year we go back and try and get more. The estate is organically farmed and demand outstrips supply from so many top restaurants in France. Oliver is a magician – pure and simple. This wine is ripe, focused and leans with a hefty angle toward higher priced wines such as Meursault or Pouilly Fuissé in style. Lovely oak integration, balance and rounded, creamy mouthfeel with a touch of peach and citrus. Lean and linear. Brilliant value!
Mâcon La Roche Vineuse Vieilles Vignes 2017, Olivier Merlin
Produced from 3ha of vineyards split into four separate parcels planted in 1922, 1932, 1949 and 1951 that average 60 years of age. 100% barrel fermented, 10% of which is new, and aged for a further one year in barrel. Beautiful viscosity and succulent ripe fruits. There are layers of buttered apple and pear, melon and almond nut, with minerality and a highly appealing lime acidity. Spice, clove and buttered apple finish the wine off nicely. A classic! Almost Cote d'Or in style. A bargain with a capital B!

Red wines
Aloxe-Corton 2014, Domaine Tollot-Beaut
Produced from four separate parcels totalling 2ha. Punchy ,rich with bags of black fruits, the palate is broadly structured with chunky, ripe cassis fruit balanced by a fresh acidity. This wine captures the characteristics of the Aloxe appellation beautifully.
Beaune Les Epenottes 2018, Domaine Machard de Gramont
This finely situated plot of only 0.3ha touches the Pommard 1er Cru Epenots at the southern limit of the appellation. Fermented and aged in a mixture of both French, American and Hungarian oak of which 25% is new. This wine is always good, but in 2018 the energetic Alban has surpassed himself. This Pinot shows a rich, brooding style, with a core of hedonistic, sweet-edged and forward black fruits, seductive texture and a nose that not only seduces but wraps you in a thickening weight of power, sweet oak, weight, boiled cherry, plum and mulling spice.
Bourgogne Côte Chalonnaise 2019, Buissonnier, Cave de Buxy
Produced from south and south east facing vineyards with very stony soils packed with limestone. An excellent red Burgundy for those who like their Pinots to show simple fruit, easy tannins and a nicely textured, elegant finish.
Bourgogne Hautes Cotes de Beaune 2019, Domaine Machard de Gramont
Produced from vineyards just outside the boundary with Pommard, this is a really interesting wine. 3 parcels, the oldest of which are planted with 70 year old vines, are very well positioned and enjoy all day sunshine. Alban adds 4% Pinot Beurot (an ancient Burgundian grape similar to Pinot Gris) to the wine to enhance the aromatics. There is no new oak used in the production of this wine. So seductive and pure, this is simply beautiful!
Côteaux Bourguignons 2016, Domaine Jean Grivot
Etienne Grivot succeeded his father, Jean, in 1987 and today presides over 15 hectares of vines spread across Nuits-Saint-Georges, Vosne-Romanée, Vougeot and Echézeaux. Etienne has some great raw materials to work with. This wine is produced from 65 year old Gamay vines situated in Flagey- Echezeaux. Always a fascinating wine, this is as far away from Beaujolais you can get! The grapes were 100% de-stemmed prior to fermentation.
Chorey-Lès-Beaune 2018, Domaine Machard de Gramont
Produced from vineyards to the west of the village of Chorey, this wine is aged in older barrels. Aged in 20% new French oak. Sweet cherry fruits and ripe succulent tannins. As Alban says, "What is the point in waiting!". This wine encapsulates all that is great at village level in Burgundy – offering ripe forward yet elegant perfumed black fruits, a touch of 'opulence' in the mid palate that sweetens and draws through the mouth like a vinous thread, yet behind the sweetness there is structure a plenty, with a well-balanced and slightly 'meaty' finish.
Côte de Beaune Villages 2018, Louis Latour
The Côte de Beaune Villages is exclusive to 16 villages in the Côte de Beaune, from which this illustrious house carefully selects its grapes. Aged for 12 months in stainless steel tank and oak barrels, this is a delicious and alluring wine, filled with blackcurrant fruits, a touch of moka, roasted notes and a succulent finish.
Irancy 2017, Domaine Mauperthuis
Irancy is situated in the Grand Auxerrois region and stands on the right bank of the Yonne river, some 15 kilometres South of Auxerre and South-West of Chablis. It is a typial wine-growing village of the district. The slopes are for the most part composed of Kimmeridgian marls with an admixture of brown limestone soils and the Pinot Noir grape flourishes at altitudes of 130 - 250 metres. Domaine Mauperthuis is run by Laurent and Marie-Noelle Ternynck who have produced this lovely red wine, a blend of 90% Pinot Noir and 10% César grapes. Rich in tannins, lively in colour, the César is a noble grape which lends the wine an interesting personality.
Mâcon La Roche Vineuse 2014, Olivier Merlin
Produced from old Gamay vines planted back in 1932! This is Gamay at its very best, produced by one of the stars from the region's wealth of talented winemakers. An interesting wine with bags of personality that epitomises the diversity of Burgundy.
Maranges 1er Cru La Boutière 2017, Domaine Bachelet-Monnot
Produced from a single 1.5ha plot of 80 year old vines, the soils are very deep. As Marc says, "the vineyard has everything; it is easy to make great wine here." Rich and ripe, filled with strawberry and raspberry fruits, a touch of vanilla from the 25% oak ageing, and fi ne tannins. This is a very precise wine with a lovely ripe underbelly.
Marsannay 'Les Longerois' 2010, Domaine Denis Mortet
The youthful Arnaud Mortet took over this estate in 2006 and it hasn't looked back since. The lightness of touch, the perfect balance, the integration of oak, fruit, acidity and perfume all embody what Arnaud tried to achieve with each vintage. Marsannay is a lesser appellation, yet with Annaud's believe and work in the vineyard this 'simple and angular' red wine takes on depth, richness and complex red fruit characters that grow and demand attention. At first smell it invokes a great Gevrey Chambertin with a nuance of Romanée and a little more earthiness that appeals from its sloping clay soil. The wine opens to reveal more black fruit, stewed cherry, integrated vanilla oak (not much…just enough ) and lightly balancing freshness and softening tannins. The wine is rounded, almost creamy with robust, generous warming edges that expand in the glass… a very, very good wine.
Savigny-Lès-Beaune 2013, Domaine Camus-Bruchon
Produced from the Grands Liards vineyard, fermented in tank and aged for 18 months in 2nd and 3rd fill barrels. The bouquet is very aromatic with rich cherry and wild hedgerow. The palate is succulent and fruity with overtones of hedgerow and finely tuned tannins.
Savigny-Lès-Beaune 2014, Domaine Ecard
Produced from 45 year old vines this wine boasts a delicious mouthful of crushed red fruit. The grapes are 100% de-stemmed ensuring a beautiful rich intensity. Aged in oak barrels(no new oak) for 11 months. Very moreish and succulent and I struggle to find a better midweek red Burgundy!
Click here to see all of wines from Burgundy.
Click here to see our Burgundy 2019 En Primeur wines.
I have also put together a mixed case of 6 bottles of Burgundy from the lesser known areas of this great region, "Hidden Gems", that will open your eyes to the diversity and quality of one of the world's greatest wine producing regions. Please click here.
To learn more about the wines of Bourgogne from the BIBV website please click here.

John Townend
Managing Director

Back to blog