After this week's exciting Decanter Retailer Awards Burgundy of the Year Specialist win, our Director and Burgundy fanatic, Neil Goldie, has selected his top Burgundy star wines from the last year 10 years: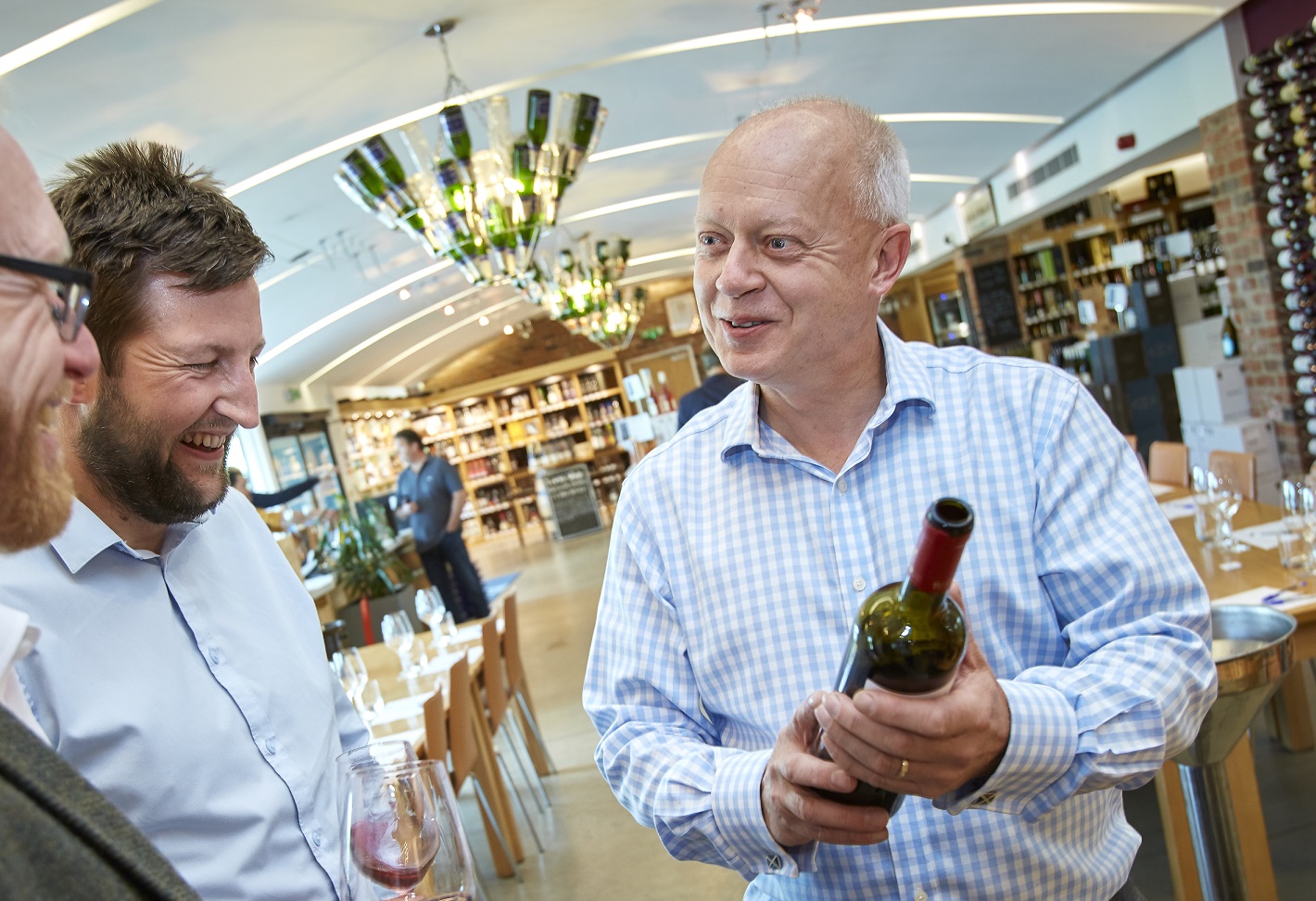 Neil Goldie
A trip down memory lane may be what some people would call this, others may think it is merely the ramblings of a wine anorak (hands up – I qualify!)
Burgundy is (I know that some editors would insist on the word 'arguably' being entered here, but as this is my blog, I can do what I want) and will remain, THE finest region in the world for making Chardonnay and Pinot Noir. Without question, this region in France contains some of the most evocative names – Chambertin, Nuits St George, Puligny Montrachet, Meursault – these village names flow off the tongue like a liquid intoxicant, more akin to sensual Ketamine than mere bricks, earth and vines.
When asked to select my top wines from the last 10 years, in an unashamed blog to highlight our recent award (Decanter Retailer Awards Burgundy Specialist of the Year), it was suggested that I nominate all the top scorers, the standouts, the 3 starred wines that made me and the tasting team all go 'Ooooohhh' and reach for the Thesaurus. You know the wines that will grab the headlines, the sommeliers attention and the bottles that we all wish we had in our collections as they appreciate in price and rarity. Pound signs are almost always a reflection of top wines, whichever wine region you look at in the World today (sadly).
Rarity of top wines and rising prices aside, what, I question (and others ask me), is so good about Burgundy? What is the secret essence of this long, thin agricultural region in central eastern France, with its unrivalled collection of warm-stoned villages and serried rows of vines that makes it such a focus for wine lovers and drinkers? What makes me want to go back there every year and taste…and taste… and taste?
I have just answered my own question I think. The answer is all of the above and more. The wines, the geography, the people, the food, the climate, the views, the turmoil, the difficulties and the pure joy of growing grapes in this landscape, the knowledge that is acquired year on year, vintage by vintage…the sense of history of a millennia of previous vintages, the promise of a thousand more to come. Burgundy is embodied in the wine – a glass of pale rimmed Pinot Noir which can evoke such primeval feelings at first smell, the richness, glycerine and fresh balance of a glass of limpid Chardonnay.
So…here are my choices. You will note there is no Puligny, no Chambertin, no Batard nor Vosne-Romanee - no Rockstar wines with hefty price tags. In short, I have passed over those big hitters and top scorers in favour of wines that I buy regularly for me… a wine drinker and wine lovers' perspective entirely. I have looked through all my notebooks (all 10 of them, packed with squiggles, wine stains and indecipherable memories) and have chosen 8 wines which I believe embody everything that is great about this wonderful, evocative, romantic and beautiful region. These are not the sexy ones, but they are the ones I would choose to show to anyone who wants to understand what Burgundy is all about…
So…here's to Burgundy – and here's to all those growers and makers and owners who, through all their hard work, graft, passion and patience, led us to be able to list their wines – in turn winning us Burgundy Specialist of the Year at the Prestigious Decanter Retailer Awards.
Whites
Macon la Roche Vineuse 2016, Oliver Merlin
Oliver Merlin is a magician – pure and simple. This wine is ripe, focused and leans with a hefty angle toward higher priced wines such as Meursault or Fuissé in style. Lovely oak integration, balance and rounded, creamy mouthfeel with a touch of peach and citrus. Lean and linear. Brilliant value!
Oliver Merlin makes wines for drinking – this is seen in the fact that it took several years of badgering before we were able to secure a small allocation. Each year we go back and try and get more. The estate is organically farmed and demand outstrips supply from so many top restaurants in France.
I buy this every year – with 3-4 years bottle age it develops nuances and complex characters that make it one of my annual bargains.

Chassagne Montrachet 1er Cru 'Les Caillerets' 2013, Domaine Guy Amiot
A top wine in all senses – the multi-textured Fabrice Amiot is a wonderfully warm, knowledgeable and passionate host and maker at this award-winning estate. This Chassagne has it all – showing maturity, richness, balance and depth – a stunning wine that simply grows and grows in the glass. Oak is in abundance, but mirrored by a razor-sharp acidity and minerality that holds this wine like a finely edged masterpiece. Utterly delicious.
The Caillerets is from a stony vineyard where the topsoil is merely inches from the hard limestone and rock – the 80yo vines struggle which pulls the yield down and concentrates the juice – making this a powerful wine in most years, but in 2013 it was lifted even more so by the warm vintage

Meursault 'Clos St Felix' 2014, Domaine Michelot
This small walled vineyard sits in front of the winery - its warm stone shelter adds a half degree on average to the temperature and enables the Chardonnay grapes to come into the crusher with more glycerine, sugar, richness and thicker skins. The 2014 Clos St Felix stood out for me due to its power and perfect poise. Like all Meursault it was rich and heady and honeyed, but this wine had more – more minerality, more power, more acidity, more layers of complex oatmeal, oak, cream and tropical fruit…as such its finish went on and on. It was my White Wine of the Vintage.

St Aubin 1er cru 'Clos de Meix' 2016, Hubert Lamy
This vineyard is always the last to visit on a Monday in November – it is always cold, pitch dark, wet and unsuited to tasting great wines as the palate is jaded by 6pm. However, Lamy is also a standout grower for me – this small side valley is around the corner from the fabled Montrachet and Batard hill, the vineyards of St Aubin and Lamy in particular abut onto these Rockstar vineyards. This wonderful 2016 showed just how good this under-rated (by those who judge by pound notes) appellation is. This wine stood out head and shoulders – nervous, almost edgy with a thrilling linear quality – poised to perfection with a core of ripe white peach, baked apple and cereal, layers of creamy fruit, freshness and complexity…with unbelievable length in the mouth. As always it was less about power and grip and more about the sheer elegance and focus of the fruit and acid in perfect balance.

Reds
Volnay 1er cru 'Champans' 2012, Joseph Voillot
There are Volnays, and then there is Voillot. This small estate sits across from the main bedraggled square in Volnay as it stands proud on a vine clad slope looking down toward the main road. This is wine country – unsullied by big banners and colourful Degustation signs pointing to the negociants.
Voillot makes 'proper' Volnay – rich, bursting with jammy purple fruit and gripping tannins, but as the years go by this youthful grip and awkwardness gives way to breathtaking sensuality and a velvet-like quality that wraps around the red fruits, oak and softening tannins to make a wine that can be as good as the Richebourg and Echezeaux of the Nuits.
The Champans 2012 is such a wine – still youthful in many ways but showing a tremendous richness and balance of interlaced red and black fruits, sweetness, smoky, almost brooding earthiness and yet as it opens it reveals ripeness, elegance and power – but not in the alcoholic 'hit me with your rythmn stick' kind of way, this is more about persistence and building a beguiling sensuality that is layered and reveals gradually rather than all at once.

Savigny les Beaune 'Champs Chevrey' 2011, Tollot Beaut
First tasted with owner Nathalie Tollot Beaut in her cellars in 2012, this is everything a great red Burgundy should be – powerful yet light-touched, elegant yet forceful, fruit-driven yet balanced by layers of herbal vegetation, earthy yet ripe, sweet in fruit yet dry in acidity … rounded yet fresh, I could go on… this Pinot Noir shows the profound balance and complexity of great red Burgundy from a top estate, but without raising its voice or punching you with oak and alcohol. I have tasted it several times, and believe me, the last glass comes too quickly and always, without fail, you have to ask if a wine can ever be so satisfying again.
Savigny is not seen to be a serious red Burgundy, but under this family domaine, it is easy to see why wine drinkers and wine lovers flock to buy her wine year on year. A seriously good Pinot Noir.

Bourgogne Pinot Noir 'Pinot Fin' 2013, Domaine Arnoux-Lachaux
Tasted at the cellars in 2014, I can honestly hold this red wine up as a shining example of what Burgundy is all about. A very simple red wine, the most lowly of the appellations – in the case of the big negociants (mixers and blenders of wine to achieve sales volumes rather than embody the quality of the region) this would be tart, light and missing everything…a disappointing Pinot Noir that would (and I know this from personal experience ) make drinkers question why Burgundy was seen as the home of great wine.
Arnoux is a great estate, with a tradition of making firm, rich and powerful red wines as their vineyards encapsulate Nuits St George and Romanée. They make great wines across all appellations and that is what is important – not the area, not the vineyard, but more the grower and the maker. This 'simple' Bourgogne Pinot is arguably (that word again) better than many estates Nuits St George. It has a smoky, ripe and firm style, interspiked with touches of blueberry, cherry and kirsch, folded in sweet elegant oak and soft tannins. The finish is long, almost with a touch of menthol (limestone soil) and the balance is almost ethereal. As good as it gets from 'simple' Bourgogne Pinot.
Marsannay Les Longeroies 2009, Denis Mortet
The youthful Arnaud Mortet took over this estate in 2006 and it hasn't looked back since. The lightness of touch, the perfect balance, the integration of oak, fruit, acidity and perfume all embody what Arnaud tried to achieve with each vintage.
Marsannay is a lesser appellation, yet with Annaud's believe and work in the vineyard this 'simple and angular' red wine takes on depth, richness and complex red fruit characters that grow and demand attention. At first smell it invokes a great Gevrey Chambertin with a nuance of Romanée and a little more earthiness that appeals from its sloping clay soil. The wine opens to reveal more black fruit, stewed cherry, integrated vanilla oak (not much…just enough ) and lightly balancing freshness and softening tannins. The wine is rounded, almost creamy with robust, generous warming edges that expand in the glass… a very, very good wine.


Back to blog