Last month Neil our Director of Prestige Accounts, and John our Managing Director, visited Burgundy to taste the 2016 Burgundy En Primeur barrel samples. Below is Neil's account of the trip...
"The Vintage in Burgundy during 2016 was unique for many reasons, not withstanding a period of less than 1 hour between 7.45am and 8.45 am on the 28th of April when a sharp drop in temperature caused ice to form on the fragile and delicate buds of the serried rows of both Chardonnay and Pinot Noir in the heartland of Burgundy; this frost, centered around the picturesque and romantic stone villages of Meursault, Volnay, Pommard, Santenay, Chorey and as far up as Nuits St Georges and Gevrey Chambertin. Whilst of concern, this frost was not the real killer in the Cote d'Or in 2016 – it was the small fact that the sun came out at 7.45 and its damaging light was then magnified by the ice crystals on the buds, magnifying the suns intense rays and 'burning' the buds. Where a patch of cloud obscured the sun that morning then those vineyards lying in the shade escaped almost unscathed, but even this was sporadic and could not be explained; parts of some vineyards were untouched by the intense ''killer ray' and frost whilst others in the next row burnt completely. It was a climatic lottery, and one that was unheard of in Burgundy by the modern generation.
And so to work…
John and I travelled down on the Sunday, sharing the driving and going through the Sunday papers. A topic of discussion was the low global yields for grapes in 2017 – this is a major issue and one we all know will have ramifications for all wine lists across all suppliers. Simple supply and demand…
Monday
Ahhh, the bright blue sky and crystal clear sunlight poured through the window in downtown Beaune…
Nope! Dull grey skies, honking horns from the traffic, the sound of the bin lorry getting backed into the waste unit under my window and a cold wind blowing across the carpark. Welcome to Burgundy 2017!
First stop was Luquet to the south – the gorgeous stone village of Pouilly Fuisse. Luquet has been making first class Pouilly for many years and the 2016's showed enormous purity of fruit and style. The first taste of any new vintage is a major thing – the talking, discussing and analysing data, reports and forums all goes into a mix in your head and then that first taste of limpid, clear wine fresh from the tank both clarifies or dispels in equal measure. Luquet on that chilly November morning confirmed what I thought – this was a very good vintage. Cracking St Veran, complex Pouilly with both purity, freshness and well developed minerality. He lost just 10% of his annual harvest - he was lucky!
The next visit remains one of my favourites in the south – Oliver Merlin, based in La Roche Vineuse. As one of the top growers in the region I always look forward to his complex and quite simply delicious whites and in the reds his stunning single plot Moulin a Vent "La Rochelle". I always score with 1 star for very good, 2 stars – a fabulous wine regardless of price, and 3 stars – my version of a 'Ten from Len'!
Merlin scored pretty much all 1 stars, rare in my book with a 2 star for his Moulin a Vent 'La Rochelle' 2016. The whites were delicious with balanced acidity, fresh dessert apple characters and good length – the reds were all very fine, with a monumental Moulin a Vent which showed more like a great Nuits st George than humble Beaujolais.
Caves de Buxy was next – a new visit this year and organised with a view to looking at some entry level reds and whites (if that isn't a paradox from Burgundy!). A good solid tasting and showing a few (pleasant) surprises. A visit to a Caves Co-op is a good leveller in any vintage, especially so in a year of climatic problems – you have to be good to make tasty wines in those years. It was also good to hear from the 'grape agent' for so many smaller growers – it seems the average loss was around 20% across the whole region.
No time for rest or a long lunch – straight back into the car to make the dash back up to Chassagne Montrachet and the gorgeous warm stone cellars of Amiot. Greeted by the youthful and hospitable Fabrice, we were soon discussing issues regarding loss of grapes – in some case 100% were lost, in others more than 60% - in just a faint few the loss was only (only) 10%. He was still smiling… so far.
He showed a weighty, rich and complex Chassagne Villages – the reduction in harvest giving greater weight and depth to an already fulsome Chardonnay. Is there was a case of a silver lining then you have to grasp at such faint upsides – the downsides of the 2016 harvest will be with us for a while yet. Fabrice continued with a superlative Vergers 1er cru (1 star) and an absolute stonking Caillerets 1er cru (a further 2 star) – whilst his Puligny 1er cru Demoisselles was awarded a 2 star, bordering on 3. This is a seriously great estate.
Last visit of the day was (in darkness and a chilly darkness it was too) to Hubert Lamy. Lamy's wines need little introduction, but needless to say the conversation was more on quantity than quality (his quality goes without question). Yield reductions of 30 - 40% in many cases – with a narrow band that survived along the top part of many vineyards. GREAT St Aubin, with a stunning 1er cru En Remilly, 1er cru Frionnes and a staggeringly good 1er cru Clos de Meix – some 2 stars, almost all of Lamy garnered a star.
And so to Beaune; tired and mouth coated with tannins, acidity (gums hurting), and shirt spotted with red wine – another tasting day finished! Got back to hotel at 7.30, refreshed and revitalised by shower and shave and back out for well earned dinner by 8pm – phew! And for those who think this is a holiday, back to hotel at 11pm, laptop opened and emails started… went to sleep to sound of boy Racers' dans le BigMac'.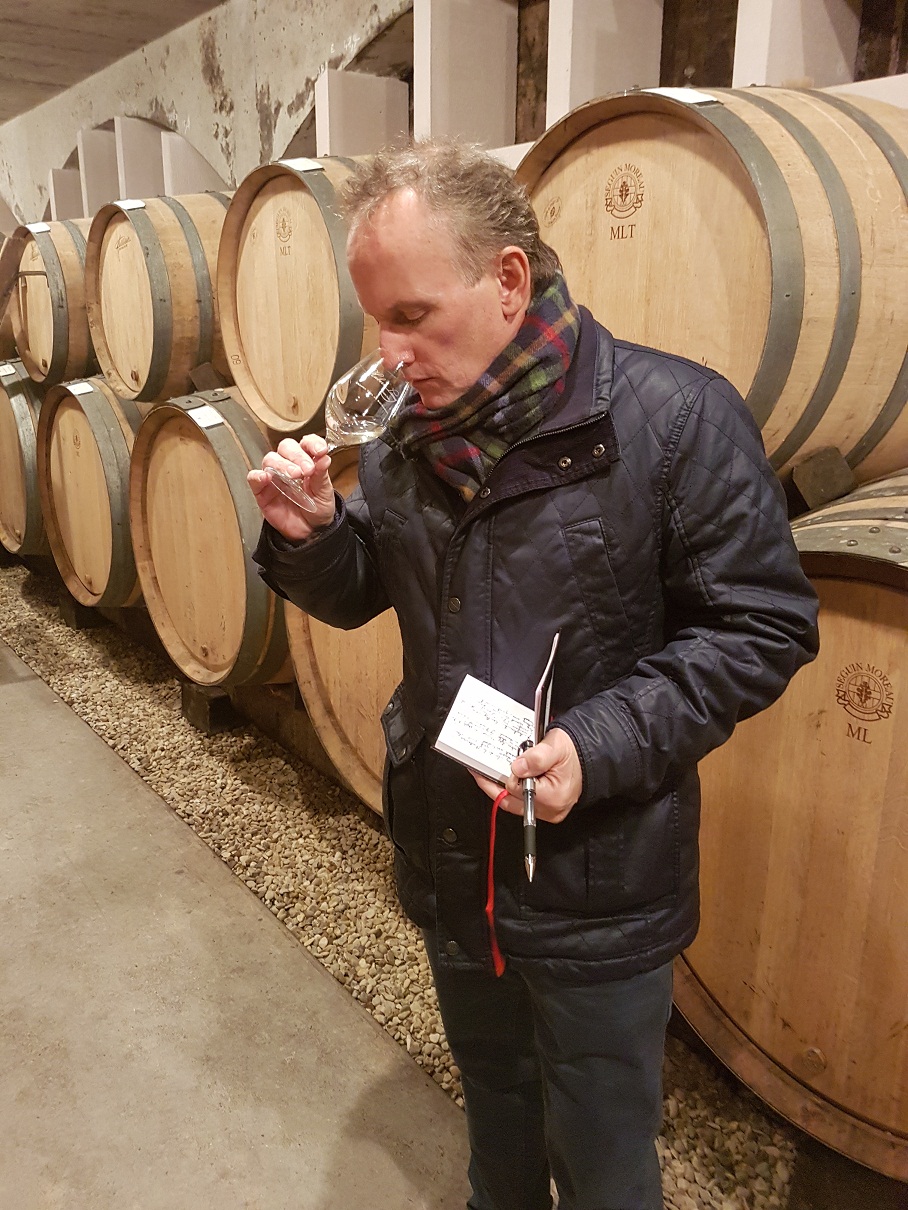 Tuesday
Ah yes, the blue sky and burning heat of Burgundy in November, throw back the curtains to reveal serried rows of grape clustered Burgundy vines…
Nope, more mist, drizzle and grey parking lots.
First stop of the day was a new domaine for us – Domaine Chanson in the heart of Beaune. This wonderfully evocative estate was where John spent his youth (a long time ago) on a 'stage'. A brief tour of the thick stone cellars, buried within the fortress that forms part of the bastion and walls and then to taste in the beautiful house itself.
The wines were commercial, but offered good fruit and structure throughout – almost all seemed remarkably upfront and ready for drinking, from the Chorey les Beaune to the top Corton and Chablis Grand Cru (though I loved the Beaune Clos de Mouche Blanc and Rouge – great wines).
On to Chorey and Savigny with visits to Tollot Beaut and Camus Bruchon. This is where a lot of frost damage occurred and it was easy to see in the empty cellars and glum looks. I like the style of these wines, even in such difficult years, as the wines seem to intensify the rich sweet-edged Pinot fruit and lower yields give added structure and weight – certainly in both of these estates there were delicious reds with lovely sweet fruit and lots of depth and decadence. Top wine from Camus for me was their gorgeous Savigny les Beaune 1er cru Les Lavieres, and for Tollot Beaut my nod went to a stunning Chorey les Beaune. Whilst not their top wine, I loved its rich opulence and open texture of this 'simple' village Chorey.
And so to Domaine Grivot in Vosne Romanee. The professor-like and totally amiable Etienne Grivot. I am a firm believer in his approach, expressing pure fruit and lush structure, letting the wine almost 'come' to the taster.
Whilst his wines show tremendous fruit and sweetness, there is a serious side, as he showed with an amazing 1994 Echezeaux pulled from his cellar – still showing a dark colour and rich fruit, very much alive and with more to go. Top wines from Grivot are almost embarrassing in their length, such was the power, structure and sheer elegance we tasted that day, but highlight a stunning Nuits St George 1er cru Les Prieux, and a simply hedonistic Echezeaux and an unbelievable Clos de Vougeot.
Our teeth stained red from Mr Grivots best reds, we headed back down the AutoRoute to the sleepy farmyard and slightly isolated Chateau Chamilly in Montagny. This small chateau lies in the midst of rolling farmland. The young and affable Arnaud Desfontaine produced some great red and whites, including a sumptuous Mercurey 1er cru Perrieres Rouge from a monopole, and a lovely Montagny 1er cru Les Burnins that showed an almost Cote d'Or like character. It begs the question as to why some people buy top priced Meursault from the big negociants and the like when wines of this quality are made by hand in small family domains at a fraction of the cost and offer such value and authenticity.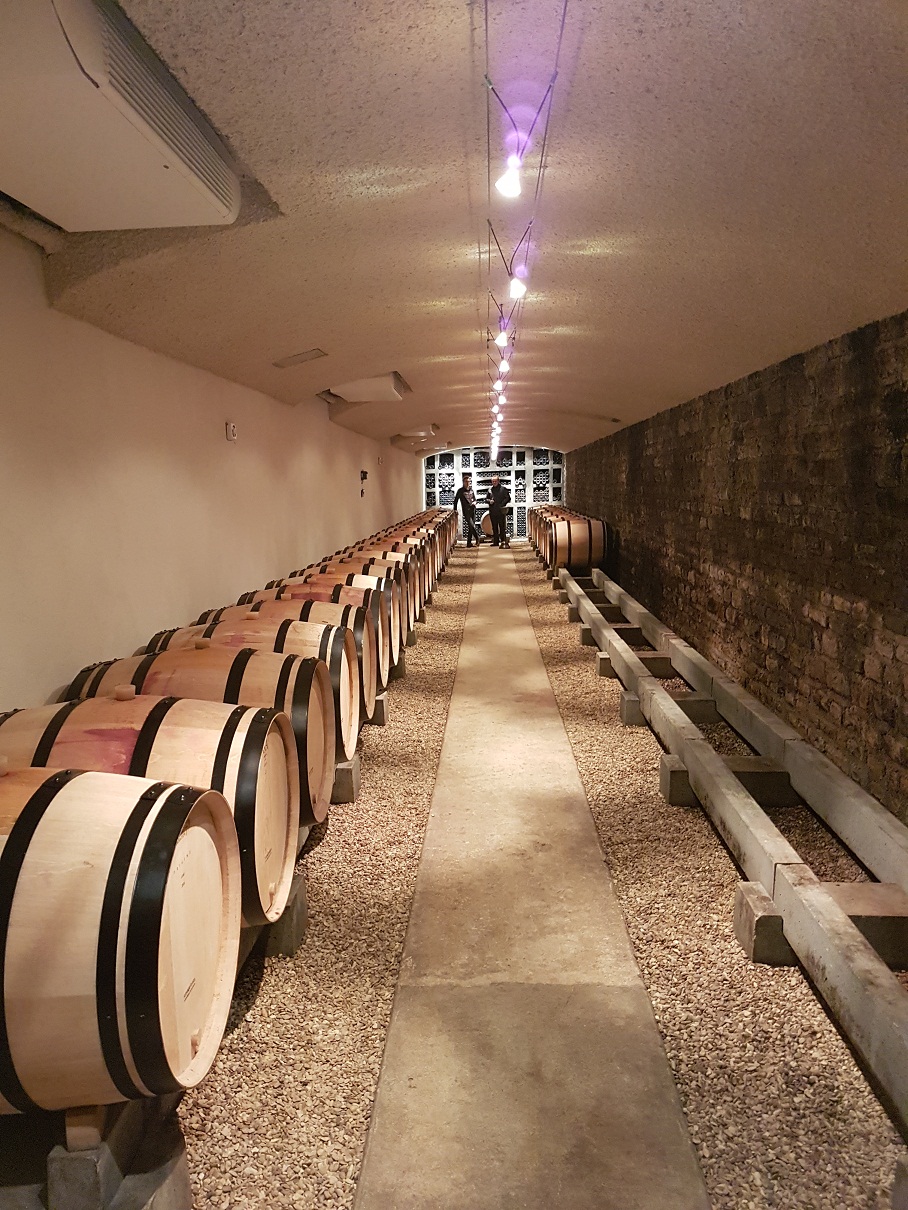 Back in the car, teeth starting to get a wee tad sensitive and the cloud and drizzle increasing, but that was a good morning's work. Off to Domaine Bachelet Monnot in Dezize-lès-Maranges. A new estate again for John, but I had been here a few years before and remembered the great Puligny and Chassagne. These wines still showed very, very well, but I was most impressed with the 2 Maranges 1er cru from the La Fuissiere vineyard. The white was sumptuous with great minerality, poise and rich Chardonnay fruit – almost Chassagne-like. The red was unbelievably good, decadent and rich with layers of smoky mulled red fruits and grip. Even their basic Bourgogne Rouge 2016 was a revelation – almost 'Arnoux-like' in its richness, elegance and punchy energy.
And yes, the Puligny was mighty, mighty fine.
A pop down the hill past the slopes of Batard, La Montrachet and Bienvenue and we arrived at the tiny estate of Sauzet, nestled at the very northern edge of the village of Puligny itself. With its small garden facing the vineyards, the warm stone walls and meticulously tidy chais and courtyard you almost sense this is a serious estate before you even taste the wines.
Met by Bernard, his knowledge and interpretation of all things Puligny goes without saying. He explained the loss of 40% in the frosts and the use of less wood in the wines.
As we have always found at this singularly impressive estate, the wines were classic examples of Puligny, displaying steeliness, restrained yet sumptuous white fruits, integrated, elegant oak and layers of complexity and heightened minerality; from Bernard's youthful yet restrained Bourgogne Blanc (a mini Puligny in all but name) to his rich, buttery and painfully complex Puligny 1er cru from Combettes and Perrieres – these are wines for purists.
Michelot was next, the first waxy outline of sun coming through the low grey clouds as we drove into Meursault. Greeted by the young Nicolai Michelot, we wound our way underground into the tasting room, almost warm compared to the chill outside.
The wines of Michelot are always a barometer for the white wines of the entire Cote d'or, and in 2016 they showed a balance of fatness and glycerine from the low yields, with tremendous poise and freshness. Whilst the straight Villages Meursault always shines, this year the standout wines for me were a very tropical, rich and citrus spiked Grande Charon (a wine based on the same latitude as the 1er cru's) with the 1er cru's of Genevrieres, Narvaux and Perrieres all rating a "wow" in my tasting book. In particular the Perrier 1er cru was simply one of the finest Meursault this humble taster has ever tasted – it was a top scorer for the entire week such was its level of rich buttery fruit, integrated oak, steely fresh acid and decadent, opulent creamy length.
And so from white to red – a short drive along the Route des Grand Cru, past the huddles of workers in the drab, stark vineyards as they began the pruning and vineyard 'refurbishment' before winter hit.
Domaine Voillot in Volnay is a great estate, looked after by affable and highly intelligent Jean Pierre Charlot, son in law of the founder, Joseph Voillot. This small family domaine has struggled with yields in the past few years; a victim of frosts, hail and disease amongst the 35 plots of vines that he controls. In 2016 the frost took many, many barrels of wine. Sitting in his tiny kitchen tasting room, it is hard to see why he still smiles and is totally professional. Yet every year we turn up and he pours the most amazingly sensuous and structured Volnay. From his straight Bourgogne Pinot through the 'basic' villages Volnay to his incredibly rich and seamless 1er cru's le Champans, Friemets and the Pommards of Epenottes this is a seriously good estate.
Rousseau was next, a long jaunt up the road to Gevrey and to the top of the village, nestled across the road from its picturesque and warm stone church at the base of the 1er cru vineyards.
Rousseau's style is uncompromising with rich structure and a core of concentrated fruit that seems to well up in the glass and take on a 'silky' quality, but underneath there is a fist of iron that makes these wines age well. The Gevrey villages, 18 months in used oak was upright, firm and perfumed, with the Charmes Chambertin showing a more exotic, smoky and rich structure with incredible depth. My top wine, as always at Rousseau, was his incredible Mazis Chambertin (scored a FAB) in my book, and the 1er cru of Clos st Jacques, which scored the same, but just seemed to have a degree more sweetness and energy – but I am splitting hairs (and this from a 'baldy'!)
A great days tasting.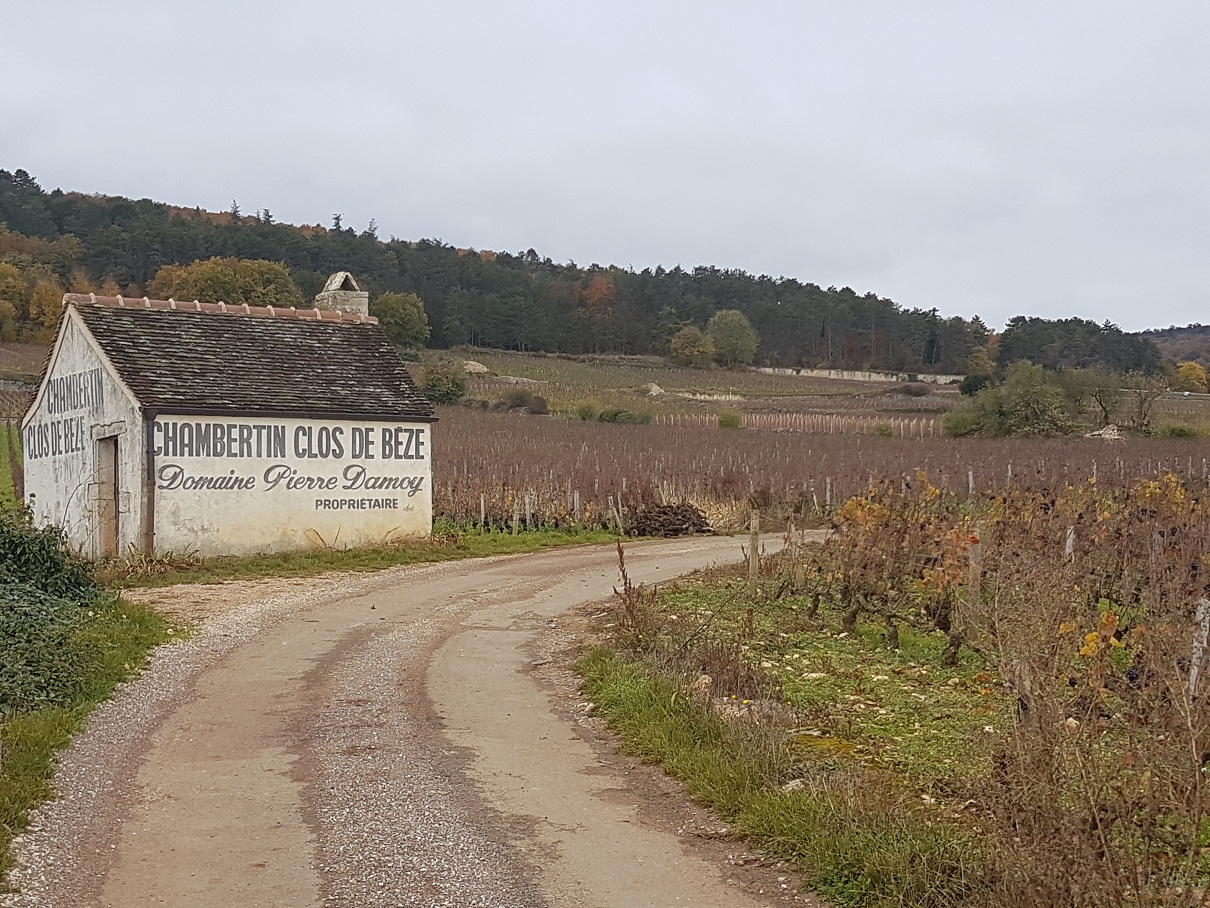 Wednesday
Yep, the sun was out…
At least it was somewhere in the world, 'cause it wasn't anywhere near Beaune that morning.
Wakened to the sound of the bins being emptied right below my window (thanks, Mercure!) and soon in the car for the short drive to Lafarge in Volnay where we were greeted by Frederick and swept into his rickety elevator to take us down into the dark, cool cellars.
I always find Lafarge's wines hard to interpret at the start, with their unyielding, uncompromising quality and inert freshness. Yet soon I am attuned and the quality shows itself. Highly structured Volnay from the 1er cru's of Clos de Chene, Caillerets and Chateau des Ducs all offered this core of rich fruit, great minerality and sinew. Bargain must be his straight villages Volnay -= a high scorer in my book.
Serafin was next, and this is an estate that many would wish to visit but few ever get the chance. We are lucky to have his wines and they are always a high point. In 2016 they lost around 40%, and the empty cellars again told a story. Highpoints of that tasting with the charming Karim and Frederique were every wine. A first for me, I scored every single wine from the basic Bourgogne rouge through the villages Gevrey and the Chambolle and Morey St Denis. The style is lush, decadent, highly concentrated and powerful, albeit with real seamless elegance and an almost ethereal quality. If I win the lottery then cases of his Cazatieres 1er cru, Charmes Chambertin and Chambolle Musigny will be filling my cellar.
Ahhhh, Arnoux! This is an estate to watch. The glossy entrance, the polished wood, smoked glass and discreet lighting tell you that they have a high regard for their wines, their image and their quality. Met by the youthful Charles, we were soon walking through empty cellars where once were barrels stacked 3 high – this space a result of losses of almost 60% in many cases. We tasted amongst the barrels, fingers gripped around books, pens and glasses in the cool cellar. The style is fleshy, rich reds with good structure that belie their power and intensity. My top wines from this tasting ran to a couple of pages, such is Arnoux's consistency and style. Particular favourites are his Vosne Romanee 1er cru's of Le Charmes; rich and silky with great fruit 'flesh', the outstanding and spellbinding Latricieres Chambertin and equally great Echezeaux. Charles opened a bottle of 2009 Echezeaux as a finale, to show the style of wines compared to today's tasting. One of the finest red burgundies I've ever tasted.
Last tasting of the week was the domaine of Machard de Gramont, where we were met by the sight of a wild haired Alban de Gramont high up on the scaffolding outside his wine 'barn' re-pointing the stonework in freezing temperatures. This is a domaine which John and I always look forward to; it may not have the grandeur and monied splendour, or the evocative name of others, but for sheer joyful drinking and tasting this is hard to beat. Starting with his crisp, buttery and sumptuous white Nuits St Georges, through a classy pedigreed Puligny les Houllieres and then racing through his rich, oak-led and sweetly commercial reds such as a great Beaune Epenottes (30% new oak) and a great Savigny les Beaune 1er cru Aux Coucherias. I do like Alban's style – his method of using French Oak barrels and American oak ends gives sweetness and depth to his reds, whilst the use of warm fermentation (especially in his Nuits St George 1er cru Damodes) adds weight and intensity.
Ok… we did a week, we worked through the cold, the gloom, the threat of snow and we soared high above the vineyards of Burgundy in a virtual 'tasting' sense. We drove for hours, climbed hills, drove into valleys and met dozens of energetic, passionate winemakers. We tasted around 300 wines, our hands hurt from gripping pens in freezing temperatures, our teeth hurt from the battering of acidity and tannins, we worked our laptops in the evenings to keep abreast of UK work, and tasted some nice food.
Where Eagles Dare? Not quite, but we won through against the climatic odds and uncovered a great Burgundy vintage."

Back to blog