A game of two halves is what Gavin Quinney from Chateau Bauduc in Bordeaux called Vintage 2018.
And in some ways football is a striking analogy. My mind immediately turning to the 'noble' game of football… 22 men in silk shorts kicking a bloated bladder of air from one end of a muddy field to the other. Sound familiar, or am I being too literal?
Football was going to be my analogy, honest. We can argue the off-side rule, and we can argue and debate the merits of the 4-4-2 versus 3-4-3, but when all is said and done, there are still 22 men in silk shorts moving a ball from one end of a field to another…
So, what's this got to do with football, I hear you ask?
Absolutuuuutely nothing!
Rugby, on the other hand, is exactly what I'm anologising about (if that's even a word!) two halves of a far nobler game, played with passion and vigor for a lot less money.
Remember Scotland versus England in the 2019 Six Nations at Twickenham? England went in as favourites, Scotland as underdogs. The match started badly for Scotland, who lost tries rapidly and it then got progressively worse. By the end of the first half, Scotland trailed 31 -7, with England mauling them in a way that only top teams can maul! Then the teams went in for halftime. England, chests out, arrogant swagger – they had this in the bag. The talk was only of how many points they could crucify Scotland by.
15 minutes later the teams emerged, the crowd expecting more than just a bloody nose, the English pack heavy with world class players, the Scottish heads were down. Then, in truest William Wallace paint yer face blue, thump your heart and cry "Freeeddddoommmmm!!" what happened next was a miracle.
So, what has this got to do with wine and the Bordeaux 2018 vintage?
In 2018, in Bordeaux, the season started with rain, then cold, then more rain… then it rained, then it piddled and then it rained some more… Like Scotland, the Borderlais heads were down and they could think only of salvaging a mere point or two of decent wine where possible. The vineyards were so wet it rejected the liquid advances and started to flood. 125mm of rain fell in March alone - the 30 year average is 64mm. In April there fell 87mm of rain – again, the 30 year average is 75mm... Not so bad, but compared to the 21mm of rain in 2017, you see where I'm going with this!
The flowering in May/June was settled for the small period it needed to be, then it hailed in late May causing severe losses in Bourg, Blaye and Macau. As temperatures rose in the vineyards in June, rot was a problem, as was mildew. The mildew was, to almost all affected, like a tsunami of hurt that no one could prepare for. If you farmed organically you were like a Turkey seeing the first Xmas card. Merde was a word used frequently. This was perhaps a vintage to write off, to shun, to gather in and sell off to negociants?
Half time…
Then, in early July, the sun came out! As Charles Sichel at Chateau Palmer said "it was if a light switch had been turned on". The sun came out - a blazing orange orb of welcoming warmth and respite, and stayed out. The 3 months leading up to the vintage were calm, hot and dry, with just enough rain (23-25mm) at sporadic times in August and September, to feed the vines and prevent stress. Temperatures rose, aiding the colour changes in July and August. Of the last 45 days before vintage started in late September, 22 days were above 30C. July 2018 was the warmest on record, after 1983 and 2006. From the wettest first half of a year ever, this became a warm, ripe vintage, close to 2003 in average temperatures and heat summation, with potential alcohols that climbed and attained overt 15% in some appellations.
2018 Bordeaux - A game of two halves…
Fast forward to April 2019 and it was time for our annual tasting and buying trip to Bordeaux. Here is an account of our week, by Neil Goldie, Prestige Account Director.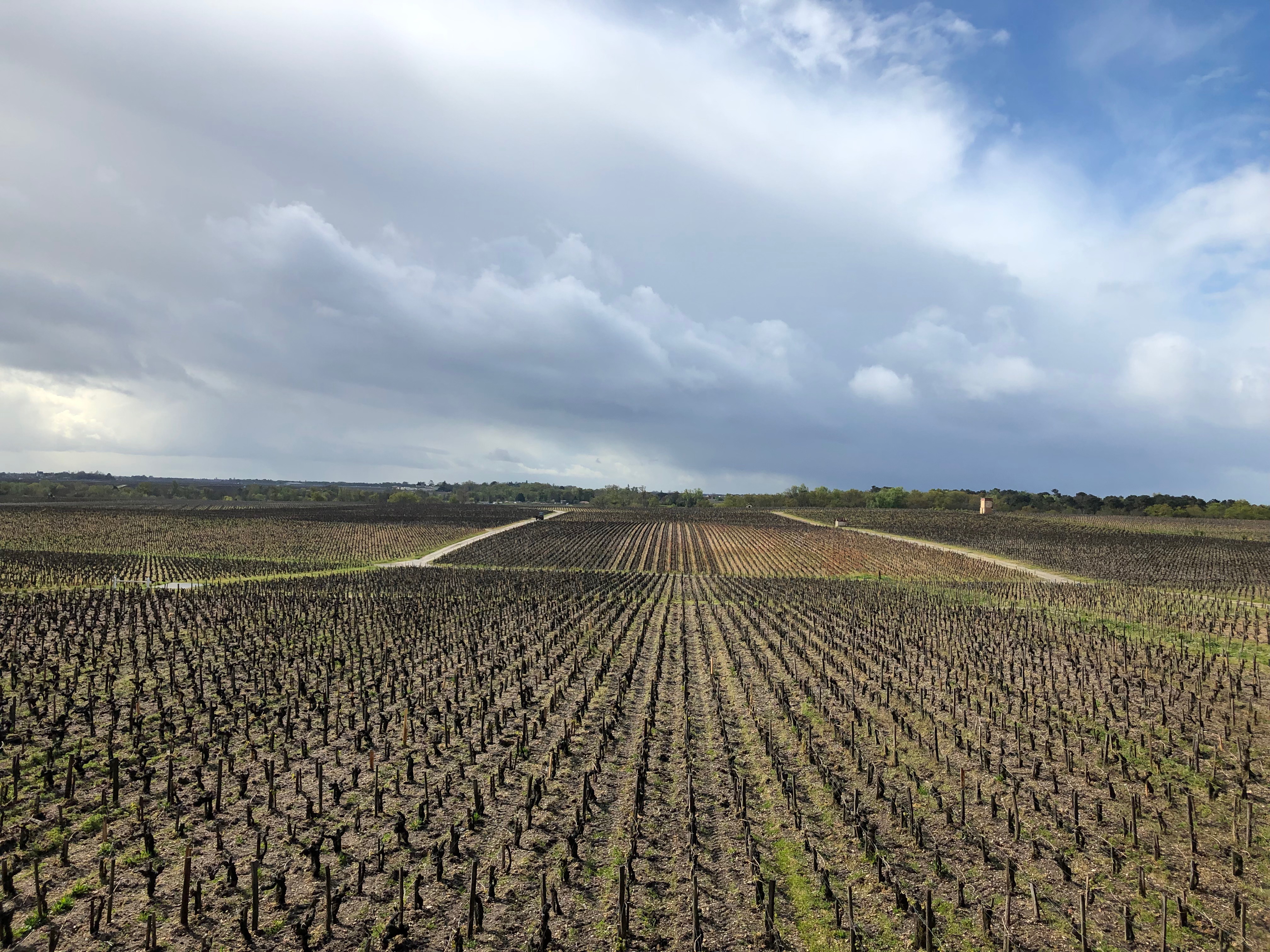 Sunday 31st March, 2019
We left Luton in grey mist and drab overcast weather, arrived Bordeaux in warm sunshine and clear skies – I already feel this is going to be a great vintage! On the plane, John and I discussed wines, previous vintages and looked through the weather data, vintage reports and background; some may think these buying trips are a jolly, we do work diligently and prepare… there is much at stake, and not just financial.
The first night in Bordeaux is very much meeting other merchants who you haven't seen for 12 months, discussing business, comparing stories on sales, Brexit, sales and more Brexit.
We were invited to the opening night, hosted again by the appellation of Pessac Leognan in southern Bordeaux, and held (again) in the wonderfully beautiful and stately Palais de la Bourse on the Quai's. A beautiful venue, resplendent with white tables manned by wine students and Chateau owners, groaning with top chefs making small course after small course, all matched to a particular chateaux who poured great wines from older vintages. The names ran like an Aladdin's cave of the good, the great and the mighty (expensive)… La Mission Haut Brion, Pape Clement, Malartic Lagraviere, Carbonnieux, Fieuzal etc. as well as showing wines from 2015, 2016 and 2017 in bottle formats in the central area. It was a juxtaposition of hedonistic delights, with a core of education and 'proper' tasting in the midst of it.
A wonderful night, a time to relax (slightly) and a time to eat well, drink better, and indulge in what is truly one of life's great pleasures – a good plate of food with a wonderful glass of wine!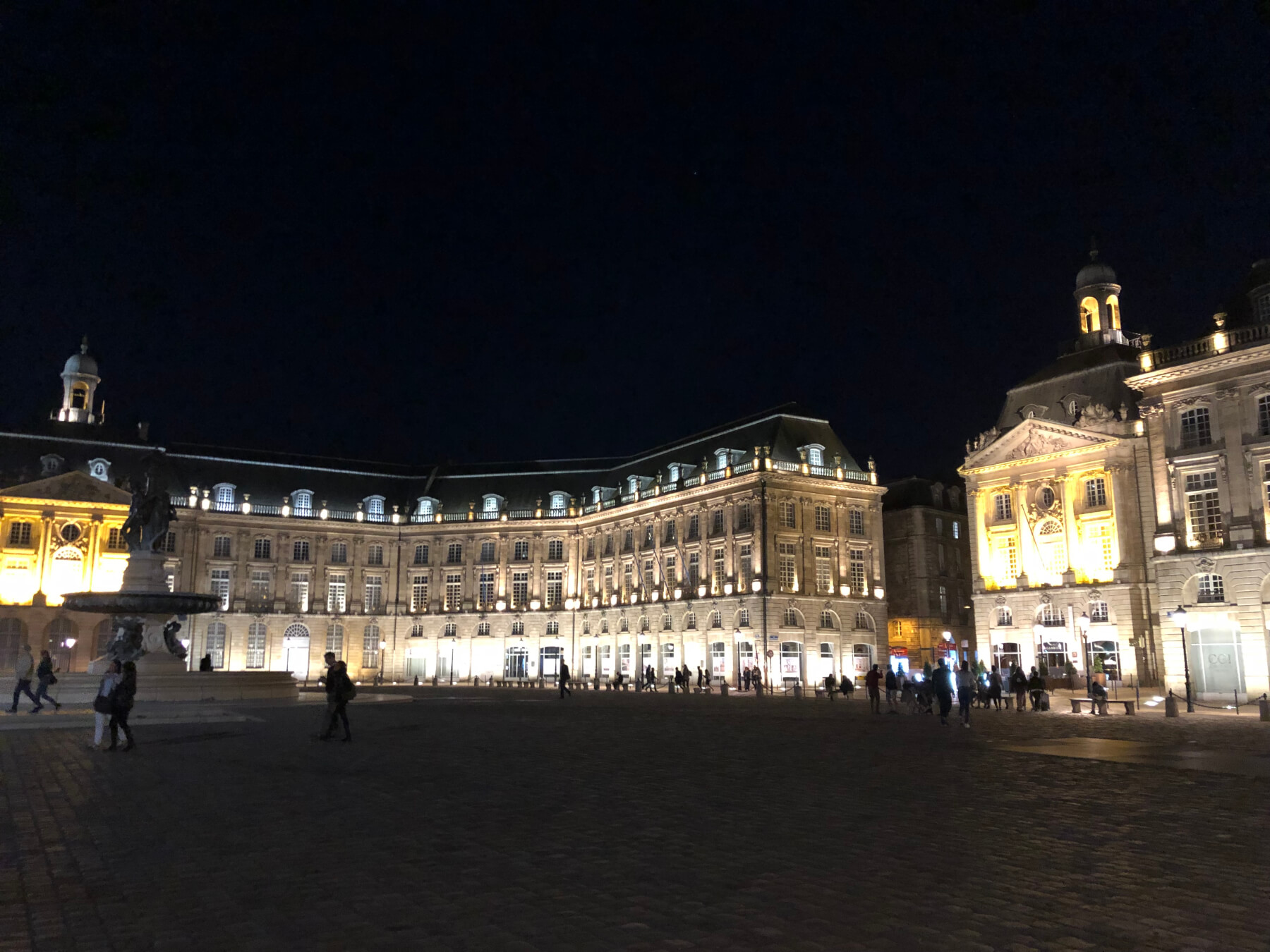 Palais de la Bourse


Monday, 1st April 1, 2019
We were in the centre of Bordeaux for 8.30am on a crisp Monday morning – April fools day. Were the wine Gods telling us something about the wines we were about to try?!
Our first giggle was over a YouTube video by the prankster Bruno Eugene Borie, owner of the famed Ducru Beaucaillou. It clearly showed an important announcement… from 2019 they would make no wine, selling in bulk only to private clients and their wine making would now only be… sorbets! It showed some beautiful iced desserts, purple and creamy, being scooped from the freezer… who would have thought? A Borderlais with a sense of English humour!
To Hangar 14, the large concrete structure on the riverside in Bordeaux centre… the 2nd year the major tasting has been held here. A chance to taste together, perhaps 120 classed growth clarets and whites from the 2018 vintage. John and I arrived, checked in, badges adorned and away into the melee we went, tasting books open and eagerly awaiting those first samples so we could begin to assess the vintage!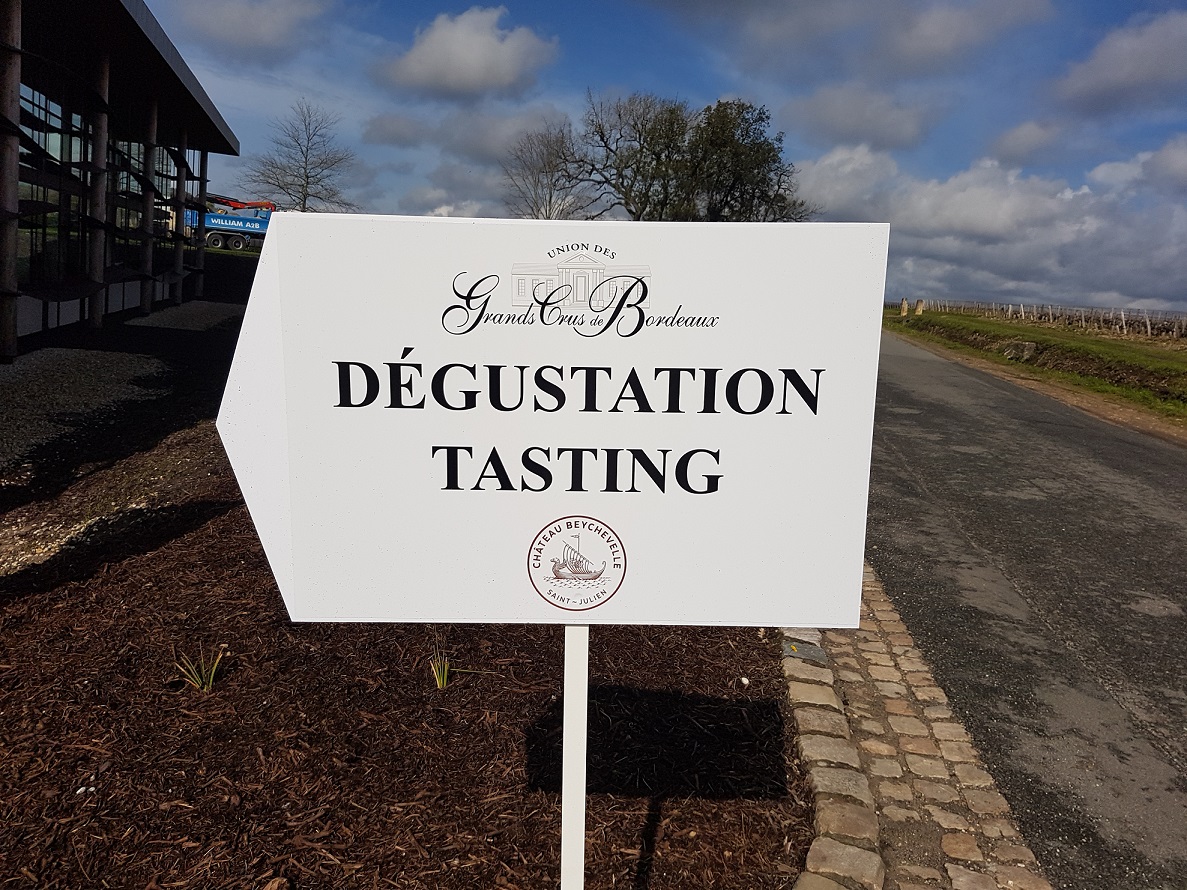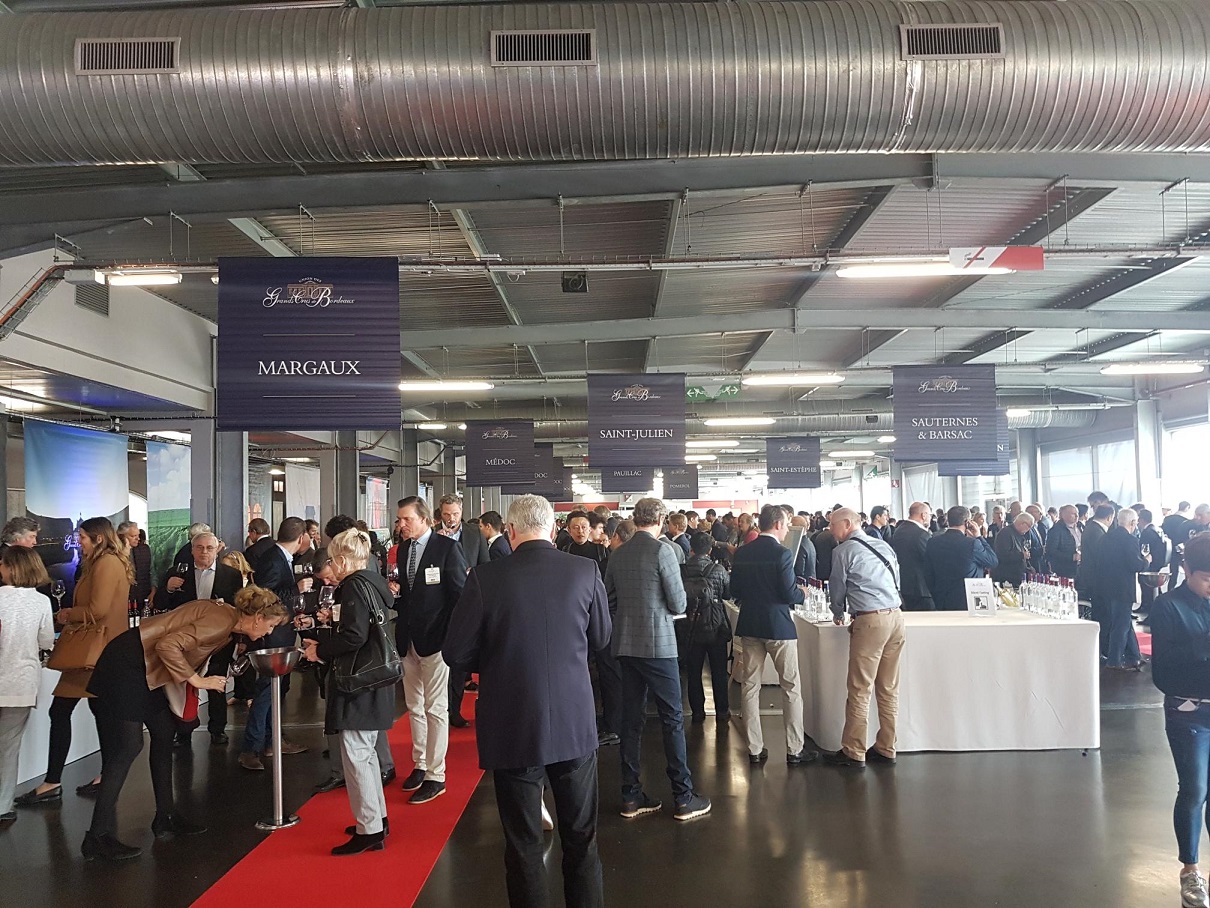 Degustation Tasting at Hanger 14 Degustation Tasting at Hanger 14
We emerged, 4 hours later, teeth stained purple, fingers like bruised beetroot from wine that missed our glasses, heads fuzzy with the concentration and warmth in a room filled with perhaps 500 people and lots of open wines… the air stuffy and about 2% ABV!
So, what can we say about 2018 from this mammoth snapshot? 2018 is unique. It combines elements of 2010, 2016, a little 2015, and a hatful of 2014. In short, it's a mongrel of mixed parentage, which just happens to have poise and breeding, a big heart and doeful eyes that you can't help falling slightly in love with. 2018 is a vintage where geography and wine making policy was key. If you farmed organically you got mildew by the spadeful and your losses were in the region of 50-90%. If you were in southern Medoc, Macau, Bourg, or Blaye you were ruined by hail the size of tennis balls. If you were on clay soil and planted Merlot your wines attained alcohol levels of 15% and taste like a New World Jammy Dodger. Generally 2018 is a high alcohol, high impact vintage. Those wines that reigned in the alcohol made cracking wines that combine beautiful structure with succulent fruits, flesh and yet underpin this rich weight and sweetness with a higher degree of freshness and robust tannins.
Highlights? Leoville Barton, Langoa Barton, Lynch Bages, Giscours, all the St Estephes, Pichon Baron, Comtesse… in fact almost all the Pauillacs too! John and I spoilt for choice in the end. We compared scores in the car as we drove north into the Medoc after lunch, and we had reached similar conclusions on a large number of wines.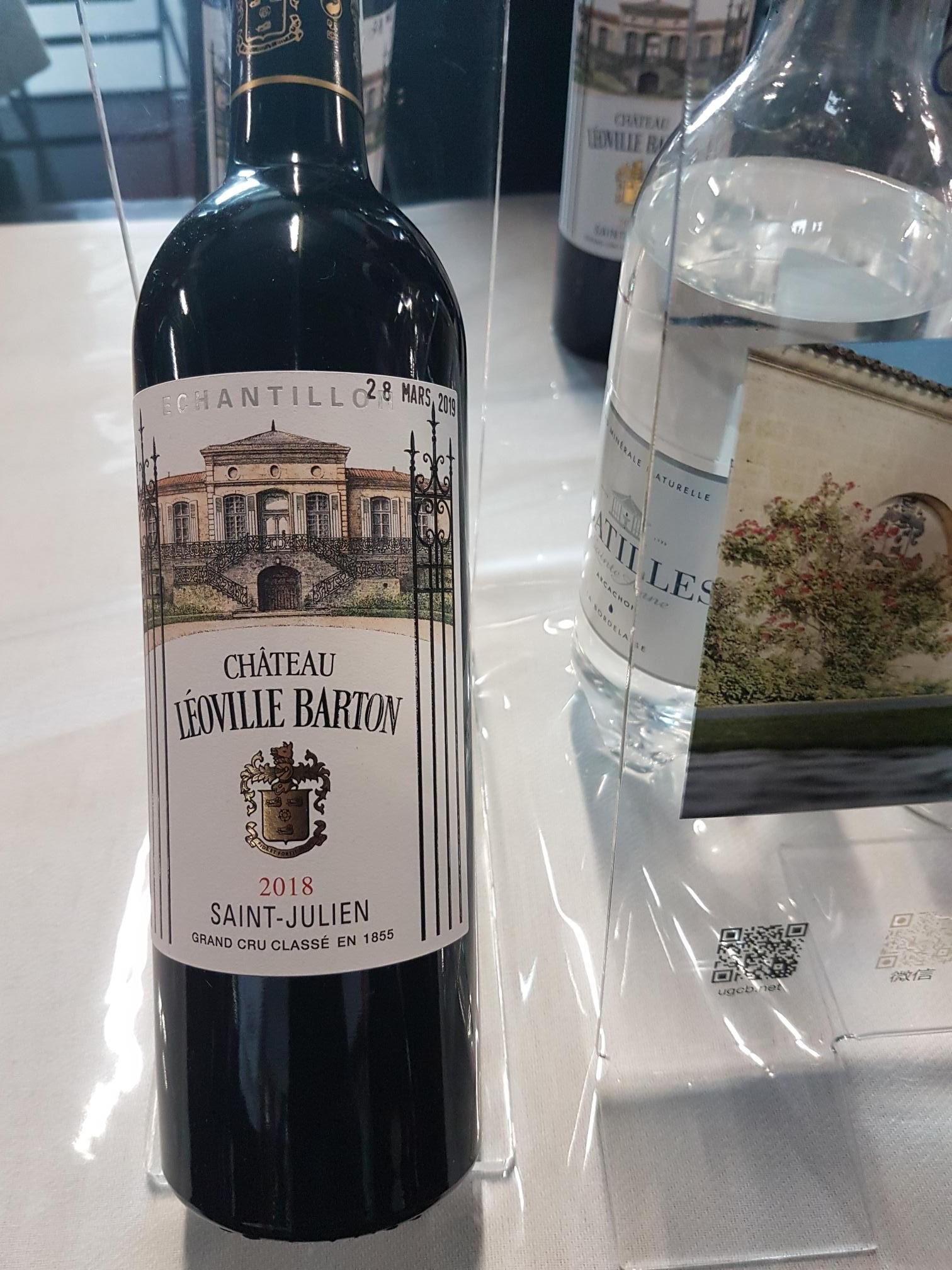 Leoville Barton, 2018

Downsides? There were a few. Mostly St Emilion, with a few Pessac as well. High alcohols, too much sweetness and richness, lack of freshness to support the sweetness… all traits we prefer not to have in claret for ageing.
From Bordeaux we headed to Pauillac, meeting tasters at Chateau Pedesclaux. A grand building - how they got this passed planning I do not know! A 17th century honey stone Chateau, now wrapped in smoked glass, with an interior of brushed steel and exposed oak, light filaments, concrete etc. It must have cost a wee fortune, or perhaps a Grande fortune! Whatever, it was both impressive and also slightly bizarre.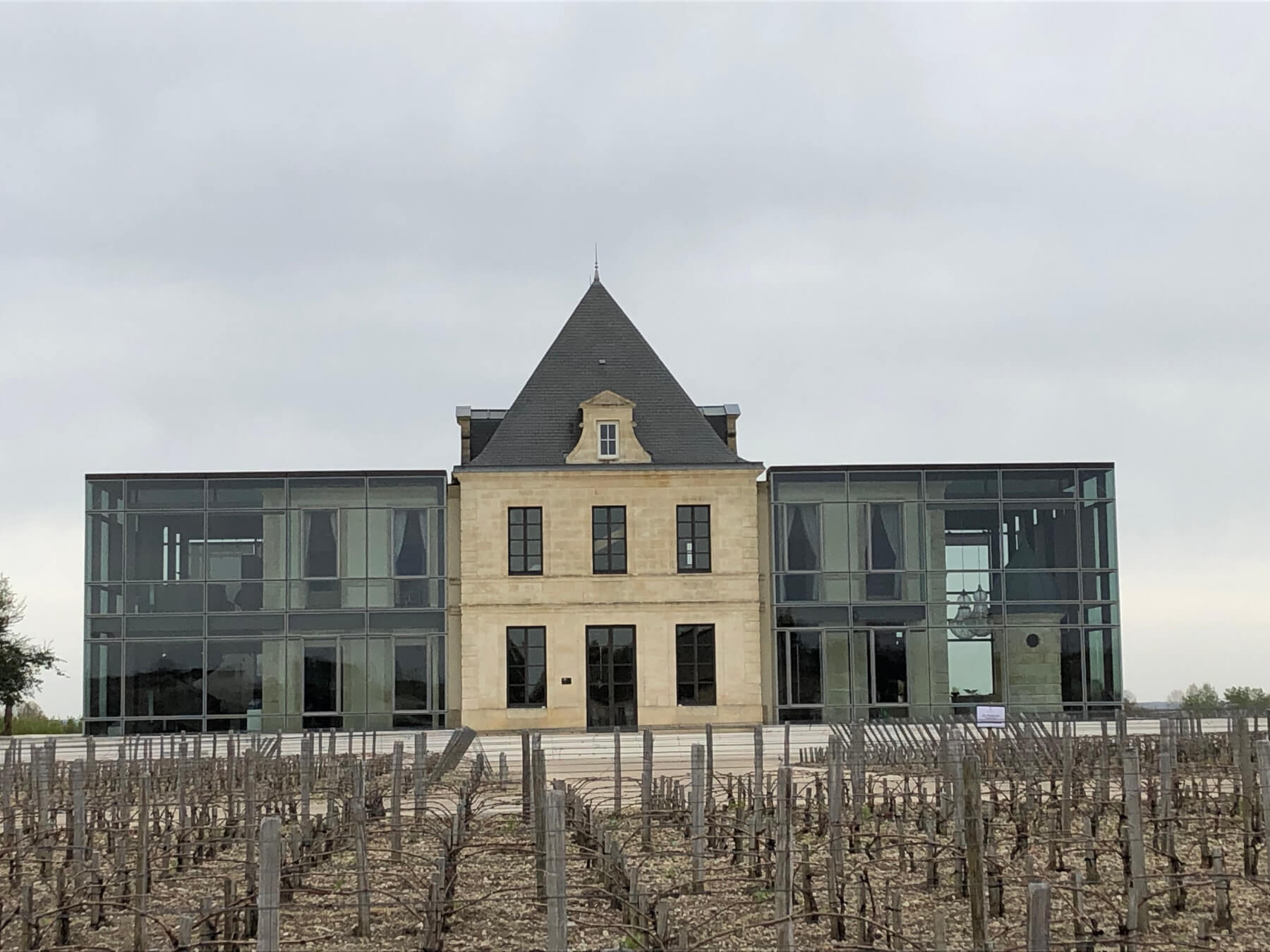 Chateau Pedesclaux

Tastings followed swiftly. Chateau Margaux, Chateau Pichon Baron (and Comtesse), Chateau Ducru Beaucaillou (where the affable prankster Ms Borie did indeed serve a series of Sorbets – you could have Petit Verdot, Cabernet and even Merlot – delicious!). We finished up in Chateau Palmer where they lost 50% and made no second wine at all. Their sister Chateau Angludet lost 80% of their grapes due to the mildew which, on top of a 100% loss in 2017 Vintage, must seriously hurt this great family Sichel.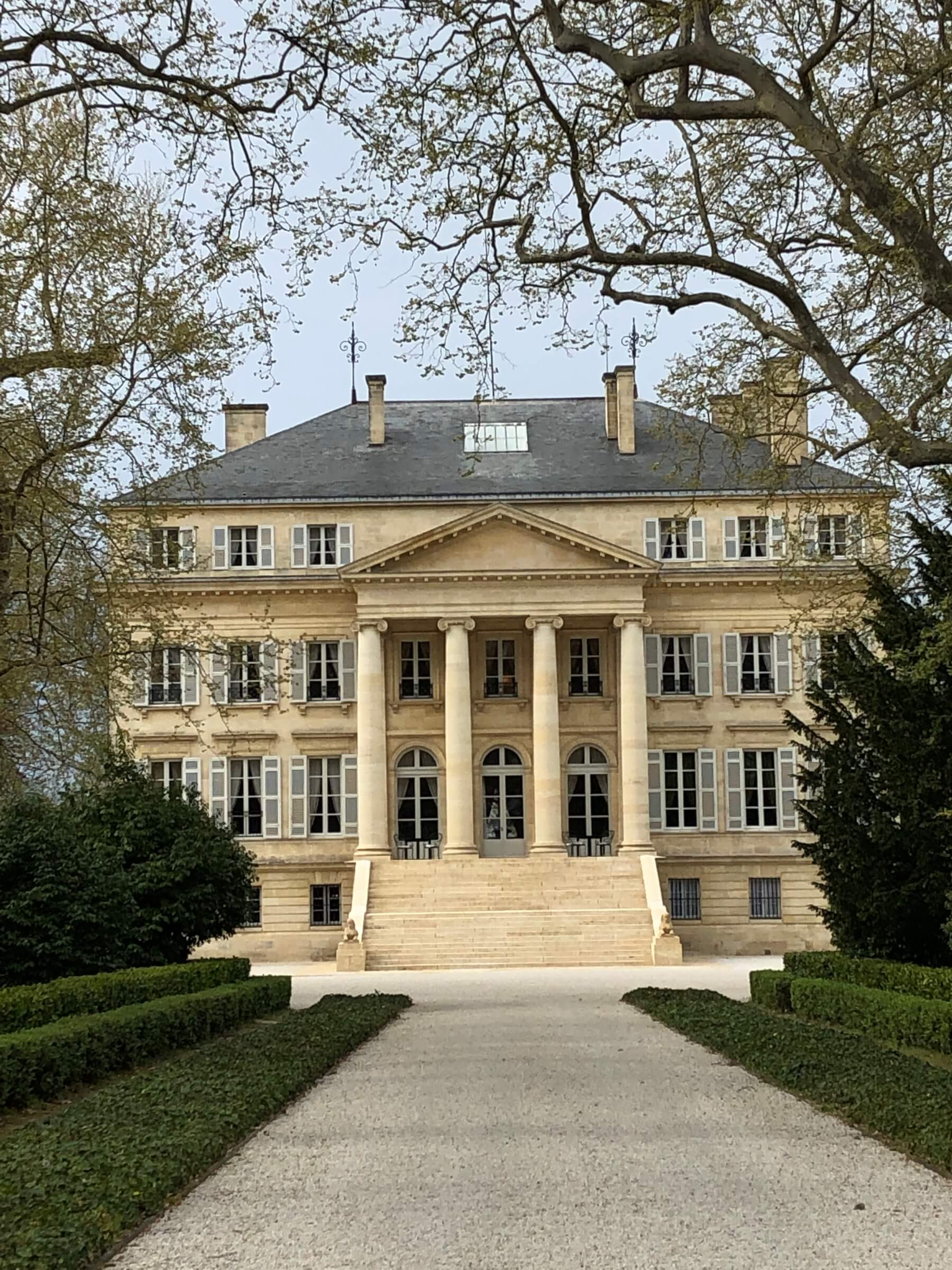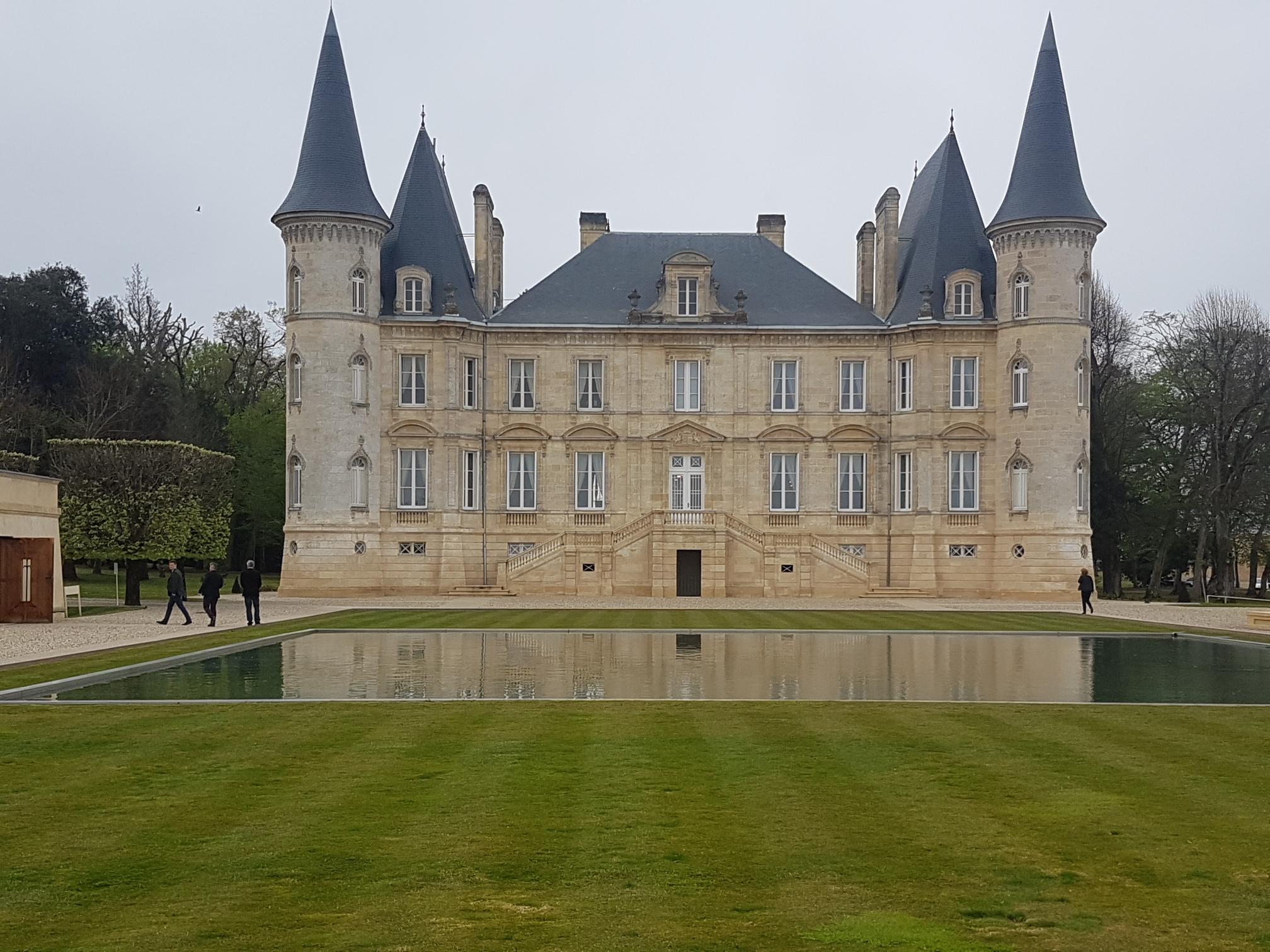 Chateau Margaux Chateau Pichon Baron

Our final tasting, at Angludet, was of the one wine… a lovely rich and scented, yet fresh and invigorating Angludet red. After the tasting we were escorted upstairs to the private dining room in the Chateau, where we enjoyed a wonderful meal and great wines. Our wonderful hosts, Charles and Max Sichel asked us only to guess the wines… all I can say is that we tried our best! Rarely do us Parochial English wine merchants get treated to such wonderful wines, served from the family's private cellars. Angludet 2005, Montrose 1999, Cheval Blanc 2000 – highlights and great memories!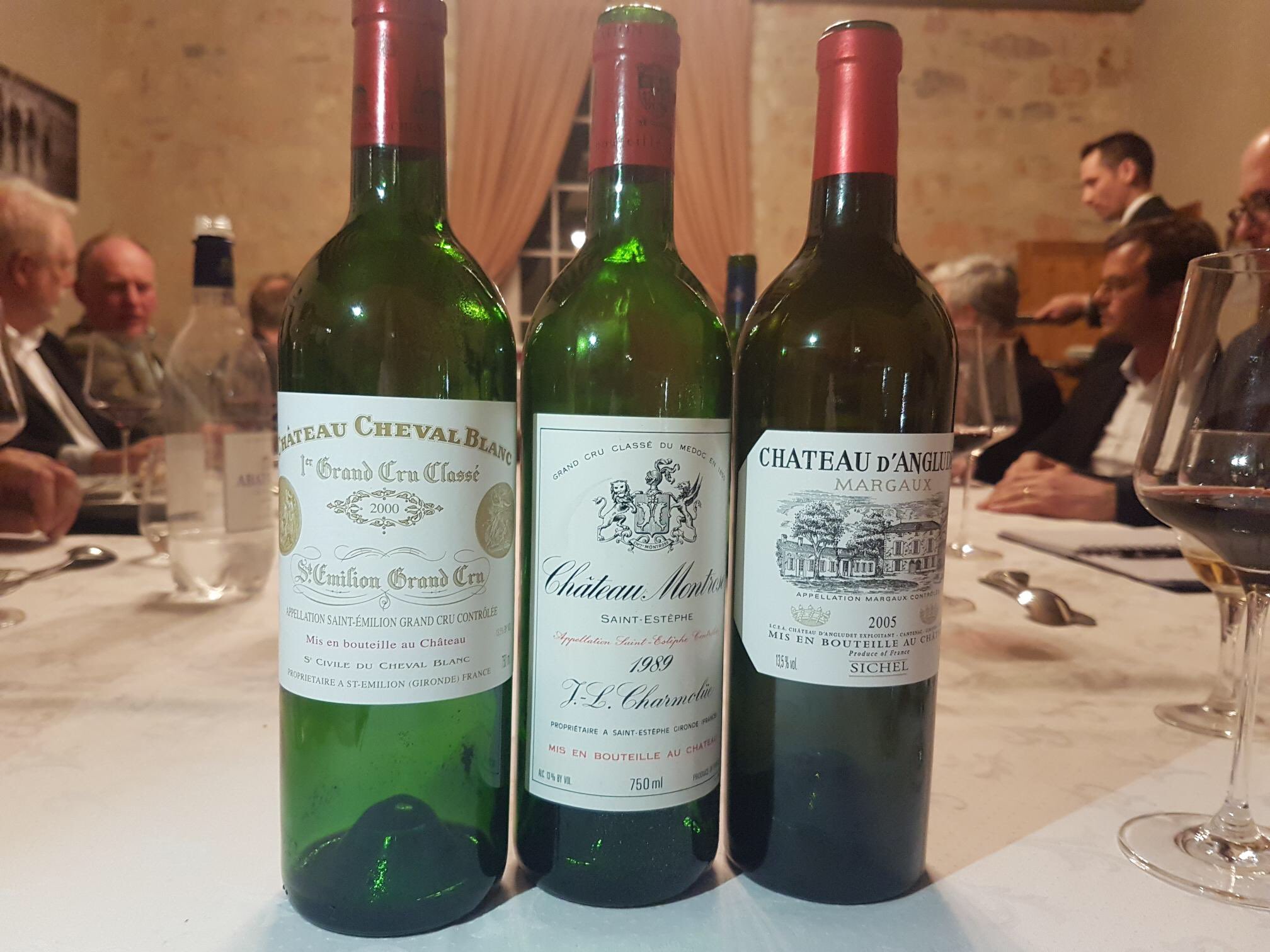 Blind Tasting at Chateau Angludet

Tuesday 2nd April, 2019
Our first appointment of the day was at Chateau Batailley in Pauillac. A noble 5th growth and one I was particularly keen to visit – this was the first proper claret I purchased in 1986, when I joined the wine trade! A favourite of the Royal Family (thank you Ma'am), and now punching well above its weight.
The UGC tasting at Batailley was a chance to re-visit the wines tried the day before, with the additions of wines such as Cos Labory, Haut Bages etc. The notable change to my ranking here was the Lynch Bages – from an outstanding wine tasted at Hangar 14, this sample was massively powerful, astringent and gripping in tannic force. The Chateau owners often say that the samples they provide for the different UGC tasting are the same, but both John and I commented on the Lynch as being totally different.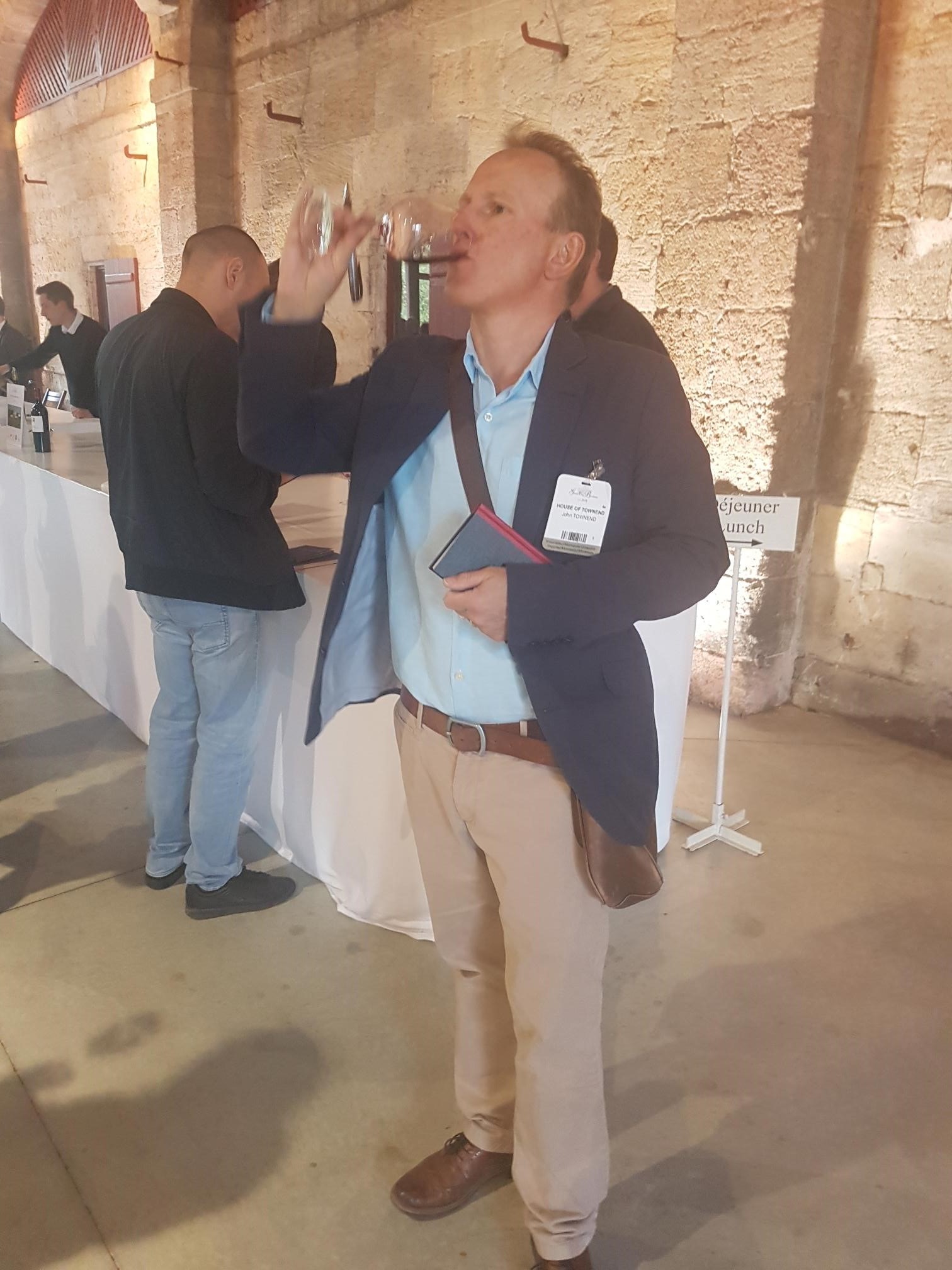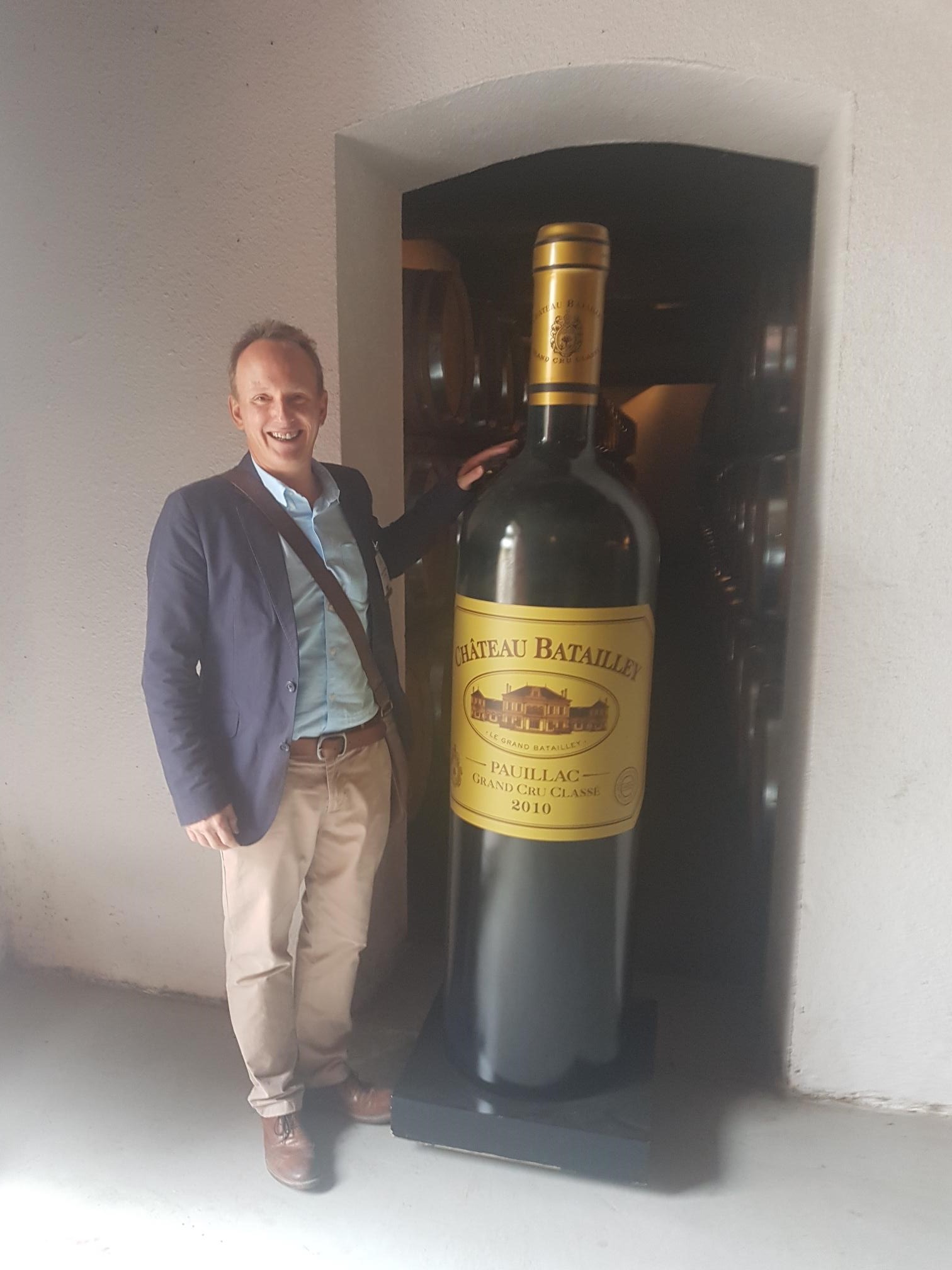 UGC Tasting at Chateau Batailley

Back down the road to Branaire Ducru for the St Julien UGC. Here we re-tasted the 20 or so wines – with Leoville and Langoa Barton still in the lead over the two days, although Gruaud Larose had risen in my mind to the very top on Tuesday - this Gruaud was a spell-bindingly great claret! All layers of creamy black fruits, coffee, perfectly judged oak, ripe, rounded, polished and well defined. It was arguably (and I like arguing!) the best wine I tried that day.
Like Patton's 1st Army, we moved from Chateau to Chateau over the next 4 hours… Chateau Dauzac in Margaux (very good Cantenac Brown and Giscours) then to Chateau Fonreaud in Listrac (a bit out in the country – perhaps too rural for some tastes but a chance to see the lesser- known wines). Highlights here were many and varied… this is true claret, with bargains aplenty. Cantemerle was good, as was Poujeaux, Beaumont (a long time Townend favourite) showed well, as did Chasse Spleen (ditto, a favourite of ours).
Lunch was late and a crowded affair, the marquee at Dauzac cramped and noisy as the World wine trade jostled for space to eat and drink. As always, the magnums and Jeroboams of fine claret were a welcome distraction! As John was driving the afternoon stint I afforded myself a glass of Cantenac Brown 2009 – blissful.
Late afternoon it was a trip back to La Lagune for the Sauternes tasting (a good year… sweet wines showed well with a first class Coutet and Rieussec) and then down toward Bordeaux for the end of the day and a well earned beer.
Wednesday 3rd April, 2019
An early start. We had moved to St Emilion, a beautiful little town situated an hour east of Bordeaux. Given we were due at Chateau Montrose in the northern Medoc commune of St Estephe first thing, not such a bright idea – but there were reasons!
2 hours later and our days tasting began. Montrose (simply outstanding), Cos d'Estournel (intense and brooding), Mouton Rothschild (so aristocratic), Pontet-Canet (another bio dynamic property that lost 2/3 of its crop)… the list of great names just kept on coming! And the wines were sublime. The tannins were high, so too were some of the alcohols and the structures were immense. The fruit element was also massively intense. The wines were monstrous but most notably, and importantly, they are perfectly balanced.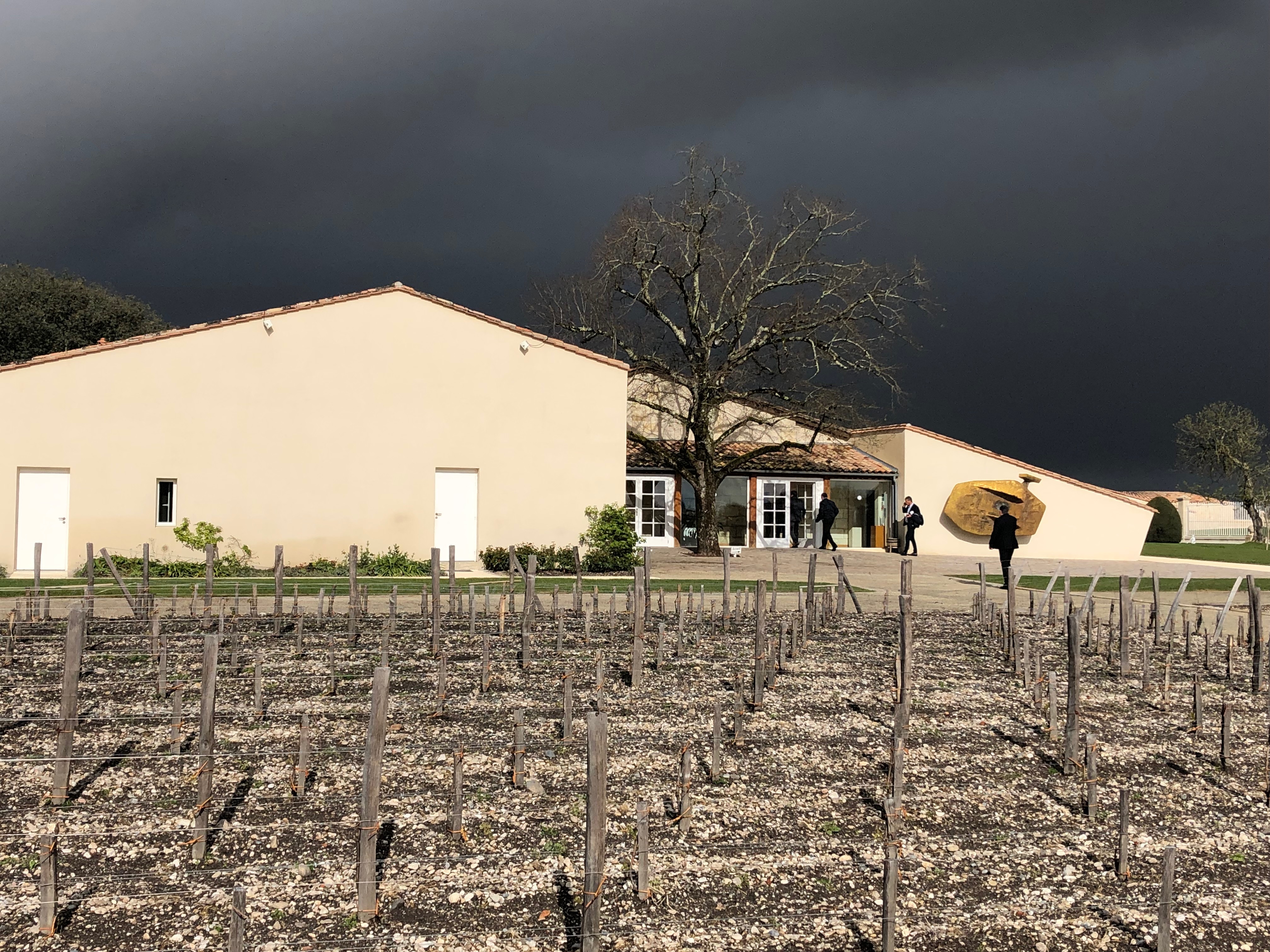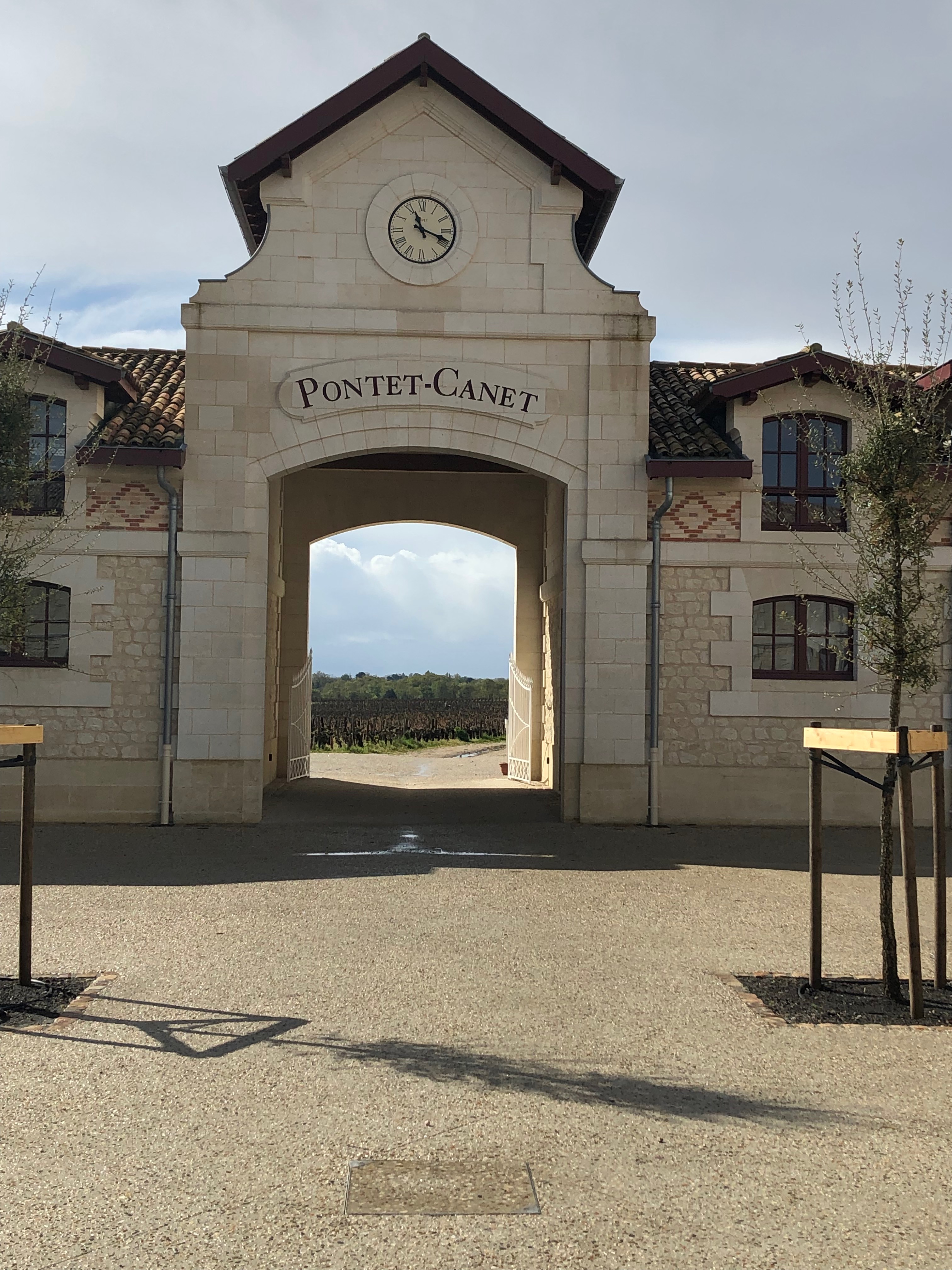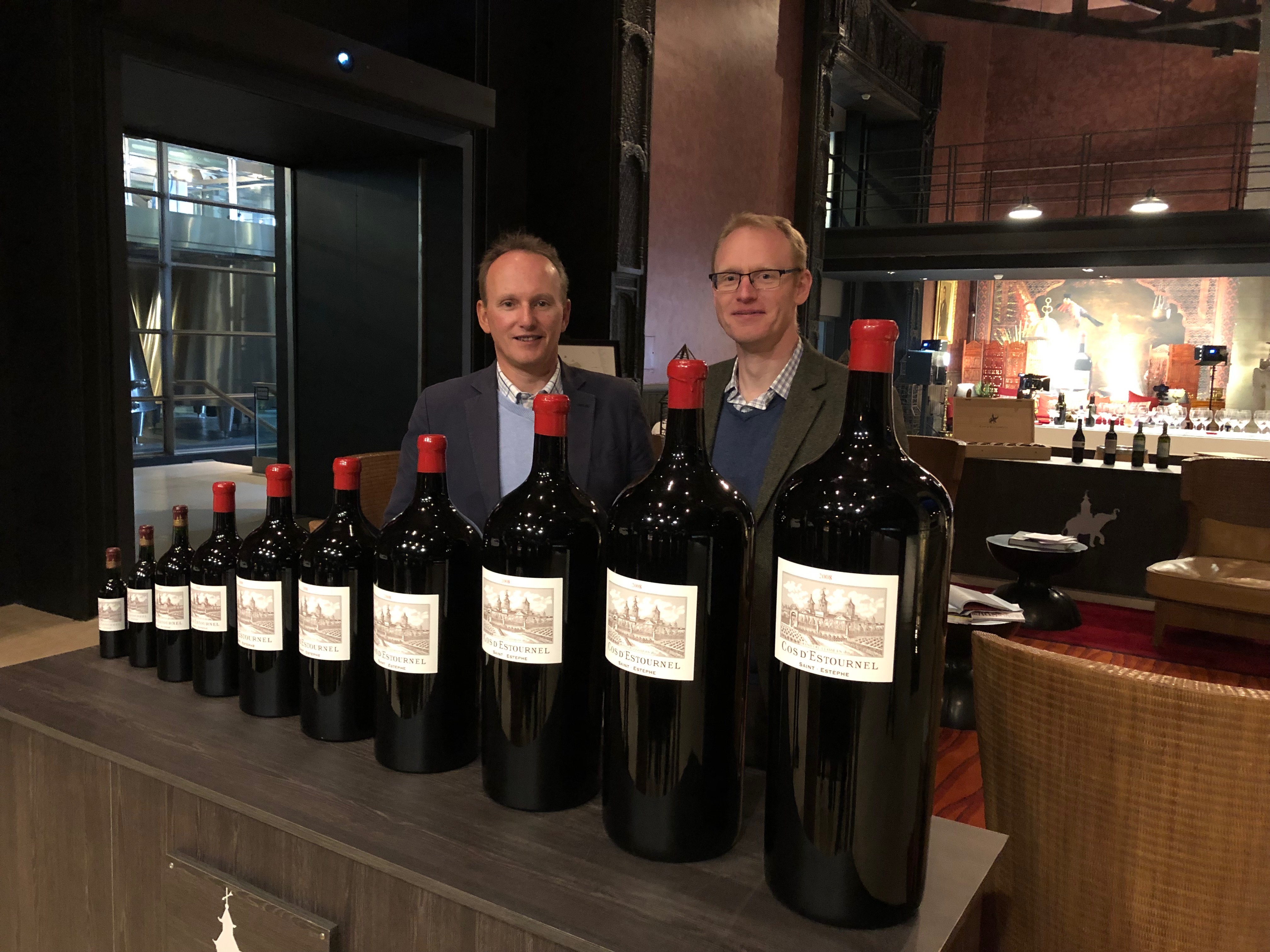 Chateau Mouton Rothschild Chateau Pontet Canet Chateau Cos d'Estournel

Trip Conclusion
2018, a game of two halves… is this a great vintage? Unsure! It is certainly an extremely good vintage with few Left Bank failures. St Estephe and St Julien have lead the way with Margaux showing the most variation. Given that the latter is the largest commune, that is often the case.
The Right Bank will struggle due to the high alcohols and over ripe fruit, but this was certainly a miracle year where attention to detail in the vineyard and the ability to react quickly to climatic conditions gave certain Chateau owners a fighting chance to preserve yield and quality, whilst others lost larger percentages of crop due to hail, mildew or even just high temperatures.
Bruno-Eugène Borie at Ducru Beaucaillou said that the berries came in 15% smaller, but with the same thickness of skins. This gave wines of deep colour, rich tannins and good freshness, with a sweetness that was lacking in 2017. Charles Sichel of Palmer took this further, adding that the 2018's were showing richer fruit, with more polished tannins and the ability to take more oak – always a good sign.
But one can look hard for comparisons, and argue the merits of every vintage, but perhaps we let 2018 stand alone as a vintage that is unique!

Back to blog