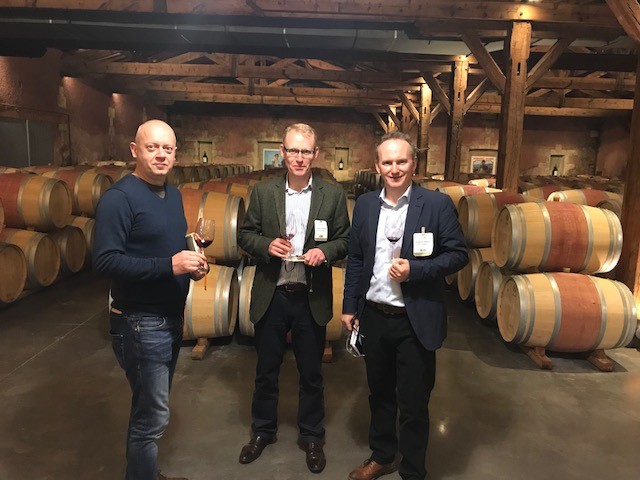 Our buying team has recently returned from the UGC (Union des Grands Crus) tastings in Bordeaux to assess the 2017 vintage. Managing Director John Townend, was accompanied by Director of Prestige Accounts, Neil Goldie and Sales Director, David Archibald. So what did they think?
Director of Prestige Accounts, Neil Goldie, was accompanied by Managing Director, John Townend and Sales Director, David Archibald. So what did they think?
Click here to learn more about En Primeur.
Click here to see our Bordeaux 2017 wines.

"Sunday 8th April
We convened at Luton airport on Sunday morning, hardly ideal as we were all trekking down from the Lakes, Ilkey and Beverley. No direct flights to Bordeaux from the North of England is very inconvenient!
The excitement of 12 months ago, when we had our first glimpse of the great 2016 vintage, was somewhat dulled. Reports suggested that 2017 was more varied, with the region suffering a catastrophic frost on April 27th of last year, which left devastation in the vineyards. Indeed we already knew that Château Angludet was so badly hit that there will be no wine from this property at all this vintage.
There was an underlying excitement however. These are the vintages where the wine merchant earns his/her colours. Careful selection will be very important. There will be some very good wines. We just need to find them…
On to Bordeaux!
A British wine merchant should surely expect that one should leave the damp, dismal, cold and overcast surroundings of Luton and arrive, transformed as if by a meteorological Paul Daniels trick, to Bordeaux city, glazed in warm spring sun, the honey stoned elegant Georgian-style boulevards and Palais bathed in startling, where-has- winter- gone golden, enveloping sunshine.
Instead we arrived in Bordeaux to the dark menacing clouds of an Atlantic Front, our travel into the city accompanied by the swish of a hundred car tyres on the sodden wet roads and 'grab yer jersey' coolness.
First night invite to the Palais de la Bourse on the river front – a grand building full of the crème de la crème of World Wine People with a capital 'P' – all in support of the Châteaux of Pessac and Graves.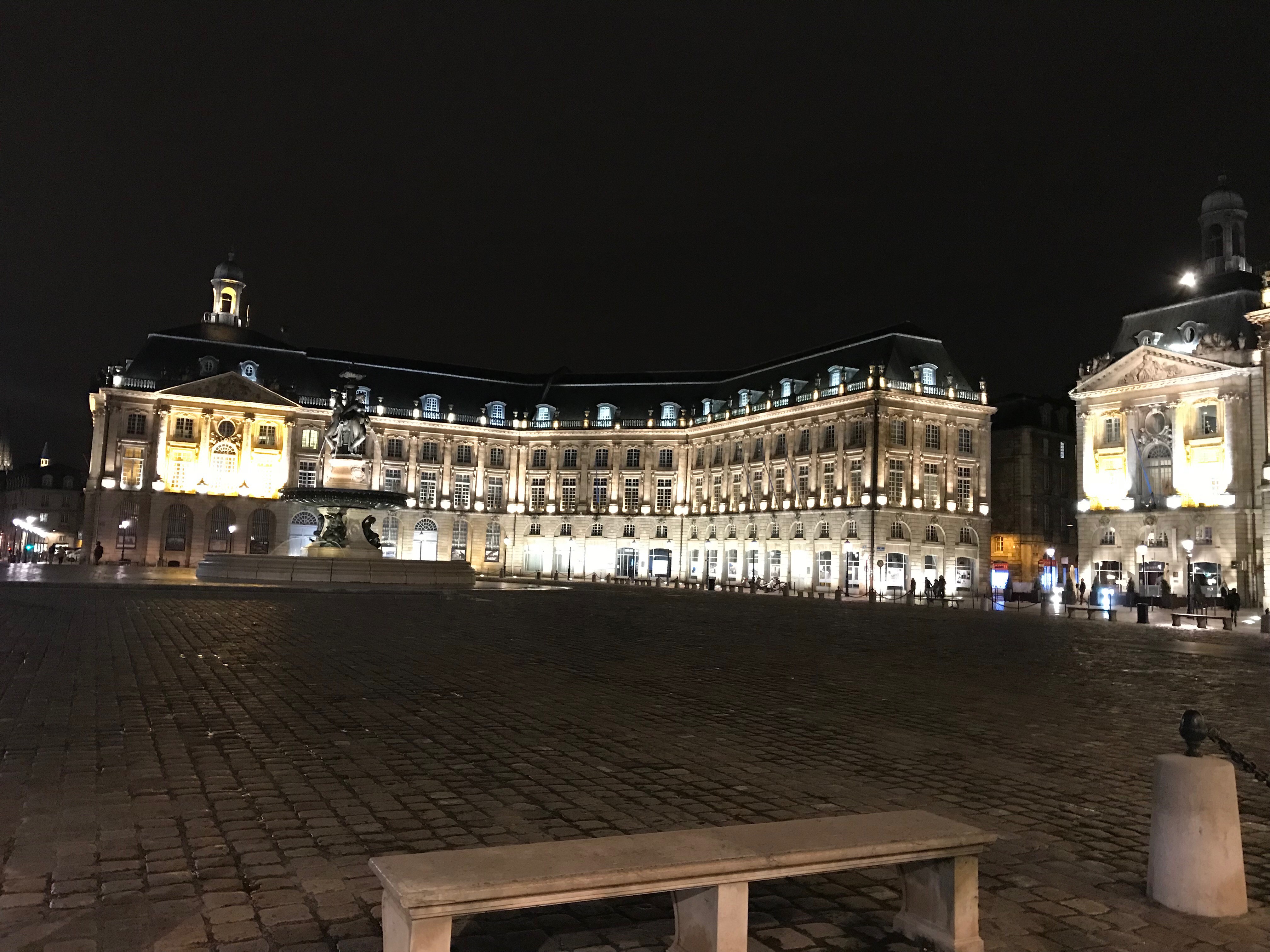 With the star skimmed ceiling overhead, the ornate medieval hall was lined with tables from which top chefs put together the most fantastic tasty morsels and canapes, all accompanied by Magnums, Double Magnums and Double Double Magnums of great wines hauled from the Châteaux cellars to wash down the said morsels. It is indeed nights like these that remind us of how lucky we are, working in an industry where generosity and wealth of those lucky owners and vignerons, make us seem, momentarily, worthwhile to be part of such an occasion!
Top wines from the evening? Well, take your pick:
La Mission Haut Brion 1996
Pape Clement 1986
La Louviere Blanc 2008
Larrivet Haut Brion 2014
Domaine de Chevalier 2004
Chateau du France 2010
Chateau Haut Bailly 2001
So, we are poised to begin the 'BIG week' and as always, we start with a discussion at the café table: How good is 2017? What have others heard? What have Châteaux owners admitted to, let slip, or mentioned?
2017 had all 4 seasons in one short spell of time (see how we linked it to the title!). Dubbed the Lucifer vintage, 2017 in Bordeaux could so easily have been called the "Frozen Vintage", such was the frost that hit pockets of appellations as far afield as Margaux, Libourne, St Estephe and Sauternes in April 2017.
Some châteaux lost 100%, others (when vintage arrived) had more grapes than they could handle. In July and August the heat arrived and the pendulum swung the other way; grapes failed to ripen due to heat stroke, berries got smaller, losing juice and volume. Sugar levels rose like a North Korean rocket on a pogo stick, whilst acidity fell like the share price at Conviviality…
Chateau owners faced conundrums; when to pick? What to discard? How much oak?
Monday 9th April
A team of three enabled us to split up and spread the load.
Sales Director, David grabbed the opportunity to make the glamour tour in the Medoc! A red eye special trip up the left bank to arrive at Château Meyney at the allotted time of 9am was the beginning of a monstrous day. Montrose and Cos d'Estournel completed the St Estephe visits, quickly followed by Lafite, Mouton Rothschild, Pontet Canet and Pedesclaux in Pauillac – and that was just before lunch! Château Lynch Bages was first up in the afternoon followed by Les Ormes de Pez and Pichon Comtesse de Lalande. The star filled itinerary continued throughout the afternoon with visits to Leoville Lascases, Ducru Beaucaillou, Margaux and finally Palmer at 6pm. The hour long drive back to the hotel in the centre of Bordeaux gave time for reflection on a very challenging vintage.
Neil and John drew the short straw! They attended the UGC tasting at the large warehouse Hangar 14, on the Quai des Chartrons in Bordeaux. Inside were around 200 Chateau from the major Communes, all showing the 2017 vintage; eager beavers at 9am on a grey and sodden Monday morning… Is this really glamourous? It's barely 9am and you are faced with around 130 very young red Bordeaux fresh from barrels… and you have 2 hours to taste, evaluate, write notes, discuss and then move on.
However, this is an excellent opportunity to taste some of (though not all) the finest Châteaux from the Medoc, Pessac Leognan, St Emilion and Pomerol under one roof. It enables you to get a quick understanding of the vintage and is a great precursor to the individual UGC tastings held in the various communes over the following couple of days.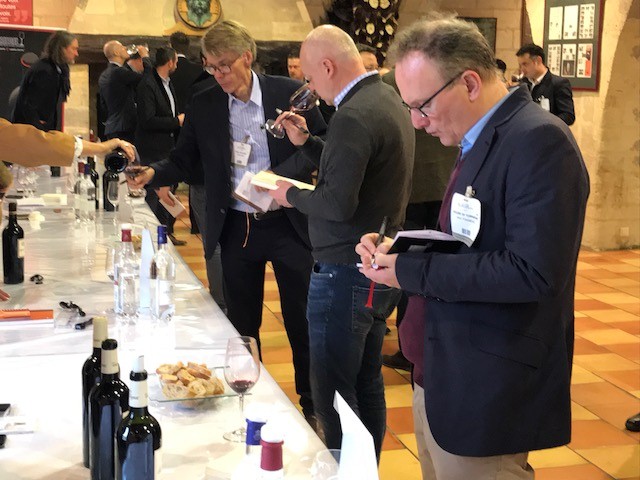 It was great to see Château owners, the likes of Lilian and Mélanie Barton, manning their own tables and on hand to give first hand their thoughts on the vintage. Well done to the Bordelais – an excellent tasting.
It was clear to see that this was very much a Cabernet Sauvignon vintage. The early September rains were very welcome following the exceptionally dry summer, especially for the Cabernet Sauvignon. There was still time for this variety to ripen. However the Merlots were pretty close to picking time. With no option to pick, the Merlots entered the wineries in a rather dilute state. We tasted wines that were variable – some were excellent, some not so good with dry tannins and lacking in underbelly.
Where Left bank had scored highly due to its dominance of Cabernet Sauvignon, how had the Right bank, with its high percentage of Merlot and Cabernet Franc fared? The answer was that they had faired quite well, all things considered. Losses by some estates were high, between 30% and 80% after they had sorted and selected both parcels of vines, parcels of grapes and then barrels of made wine. Pomerol looked mighty fine, especially estates such as Clos de Clocher and Bonalgue with St Emilion just a tad behind (except on price!).
As ever with these large tastings, it was important to question the producers regards assemblage, barrel maturation and any points they thought relevant to the resultant wine. In most cases their blends were similar to last few year, albeit more Cabernet Sauvignon dominated, and oak was less heavily used. The loss of Merlot due to the late rains in September had caused much angst to the château, altering picking schedules and making a 'selection' of ripe from unripe grapes at the winery a priority. However, we could see that even, at this early stage of tasting, the wines were more classically 'Bordeaux' than the decadent 15''s and 16's.
3 hours later we emerged, tooth stained and happy, and headed off over the river to Libourne, home of Audy, one of our long standing negociant suppliers, where we met our old friends Michel Moulene and Jean Babtiste Bourotte. Funnily enough Audy was established in 1906, exactly the same year as House of Townend!
As well as some delicious petit châteaux, this is where we source the likes of Clos du Clocher and Château Bonalgue. Sadly no Château Les Hauts Conseillants was produced in 2017. We tasted some impressive wines here before retiring for pork chop and fries overlooking the Dordogne River.
After lunch we returned to Audy for further tasting before bidding farewell and driving to Montange St Emilion to catch up with Jacques Rambeau and his Cellar Master, Sybille Aillet at Château Corbin.
They lost nearly 50% of the crop here due to the savage frosts, producing only 28hl/ha as opposed to 50hl/ha in a normal vintage. The wine is produced from 100% Merlot as all his Cabernets were destroyed. What a super little wine though and certainly one to buy!
Back into Bordeaux, tired and yet happy that the doom we had feared amongst the winter wine press may not be so bad. A beer was called for… or perhaps two!
Tuesday 10th
UGC day!
First stop Château Lafon Rochet which is at the top of the Medoc, past Château Cos d'Estournel in St Estephe.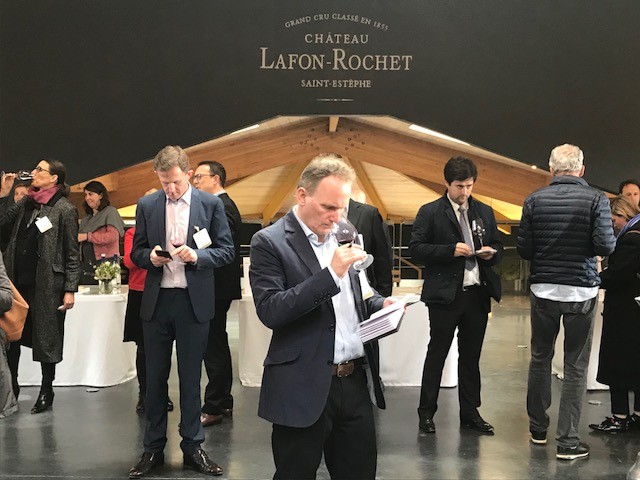 Hardly the sunny weather we were hoping for… Charles Sichel, one of five brothers who run the famous, family owned Bordeaux negociant as well as owning Château Angludet and co-owning Château Palmer, had told us the previous evening that it started raining in Bordeaux in November and has hardly stopped since. The ditches at the side of the road were brimming with water, however the vineyards of the Medoc are famed for their fast draining, gravel soils and this was very well demonstrated with no flooding at all.
The Lafon Rochet tasting covered both St Estephe and Pauillac. The wines were impressive and seemed rather more polished than those at Hangar 14 the previous day. It was becoming very clear that this was very much a year for Cabernet Sauvignon. Château Pichon Comtesse de Lalande was particularly impressive – we are sure the price will be too!
Our next stop was Château Beychevelle for the St Julien UGC tasting. The tasting was held in their new winery, first used for last year's vintage – nothing like starting with a great one! This commune is so consistent, producing some of the finest wines each vintage. The stand out here was Château Leoville Barton, with a whopping 93% Cabernet Sauvignon! Gruaud Larose also impressed.
The Margaux UGC was held at Château Citran and was the most variable of the three. It was becoming clear that the 2017 vintage is very much one of 'highs and lows' and whilst there are certainly some good wines produced in this commune there are also some less good, with dry tannins, weak texture and a lack of ripe underbelly.
After a quick lunch we set of to Château d'Arsac where the annual Cru Bourgeois tasting is held. This is always a difficult tasting with hundreds of wines that are very much at the beginning of their life's journey, with big structures and chunky tannins dominating the palate, particularly in the two top vintages of 2015 and 2016. The fact that the wines were more open, less intense and boisterous than usual was telling. There were some lovely wines on display with old favourites such as Château La Tour St Bonnet and Château Malleret showing well.
No trip to the Medoc would be complete without visiting our old friend Francois Nony at Château Caronne Ste Gemme. Sadly this year it was a very brief visit, but Francois is a great source of honest talk and we always sense a better understanding of the vintage once we have heard his own view. This vintage has been very difficult at Caronne. He lost 85% of his crop, producing only 3000 cases rather than the usual 23,000. Slightly more Cabernet Sauvignon than usual at 70%, there may not be much of it but it is exceptionally good! And Francois' view of the vintage? "If you didn't get frozen, St Julien was the place to be!"
By now we were getting tired and so we returned to Bordeaux, dropping in at Château La Lagune, where strangely the Sauternes UGC is held. The unctuous sweetness of these wines is just what you need to refresh the palate! Sadly this is a very niche product and is best bought when you want to drink it, sometimes at prices lower than when they are released.
And back to Bordeaux where we met some friends in the trade and dined with Max and Alex Sichel who treated us to an Angludet, Alter Ego and Palmer wine fest at Restaurant Lou Lou. A great end to the day. Thanks guys!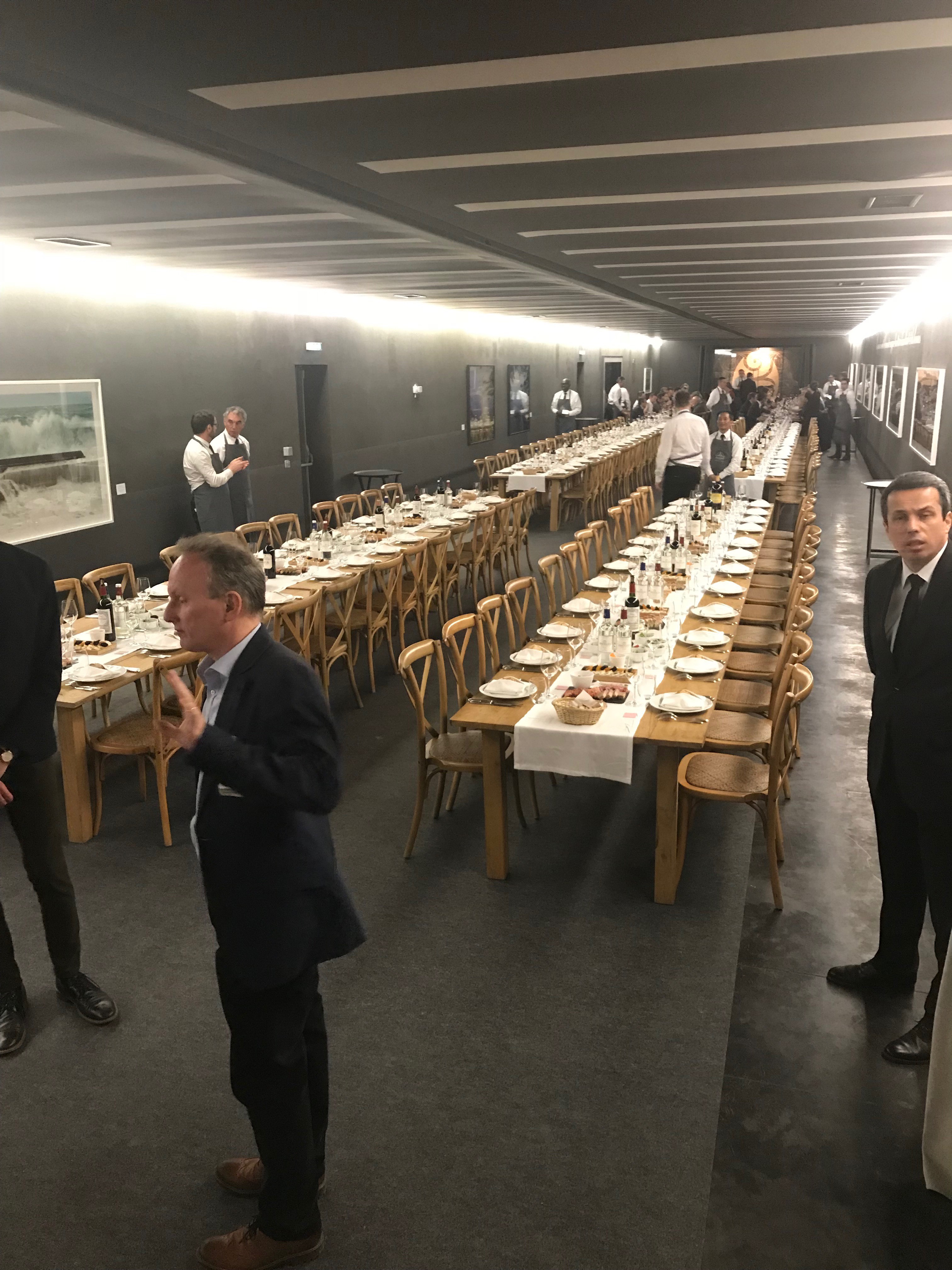 Wednesday 11th
Our final day!
A later start which was happily received. Sleep hadn't exactly been plentiful at the hotel we were staying at. No more to be said…!
Before our late afternoon flight back home we set of to St Emillion for the UGC tasting at Château Couspade. Arriving just as it opened we set to work and were quietly impressed with the quality on show. There were a few strange ones… Château La Tour Figeac only produced 10 barrels in 2017, normally 200, and typically it consists of 30% Cabernet Franc but the 2017 is 80%!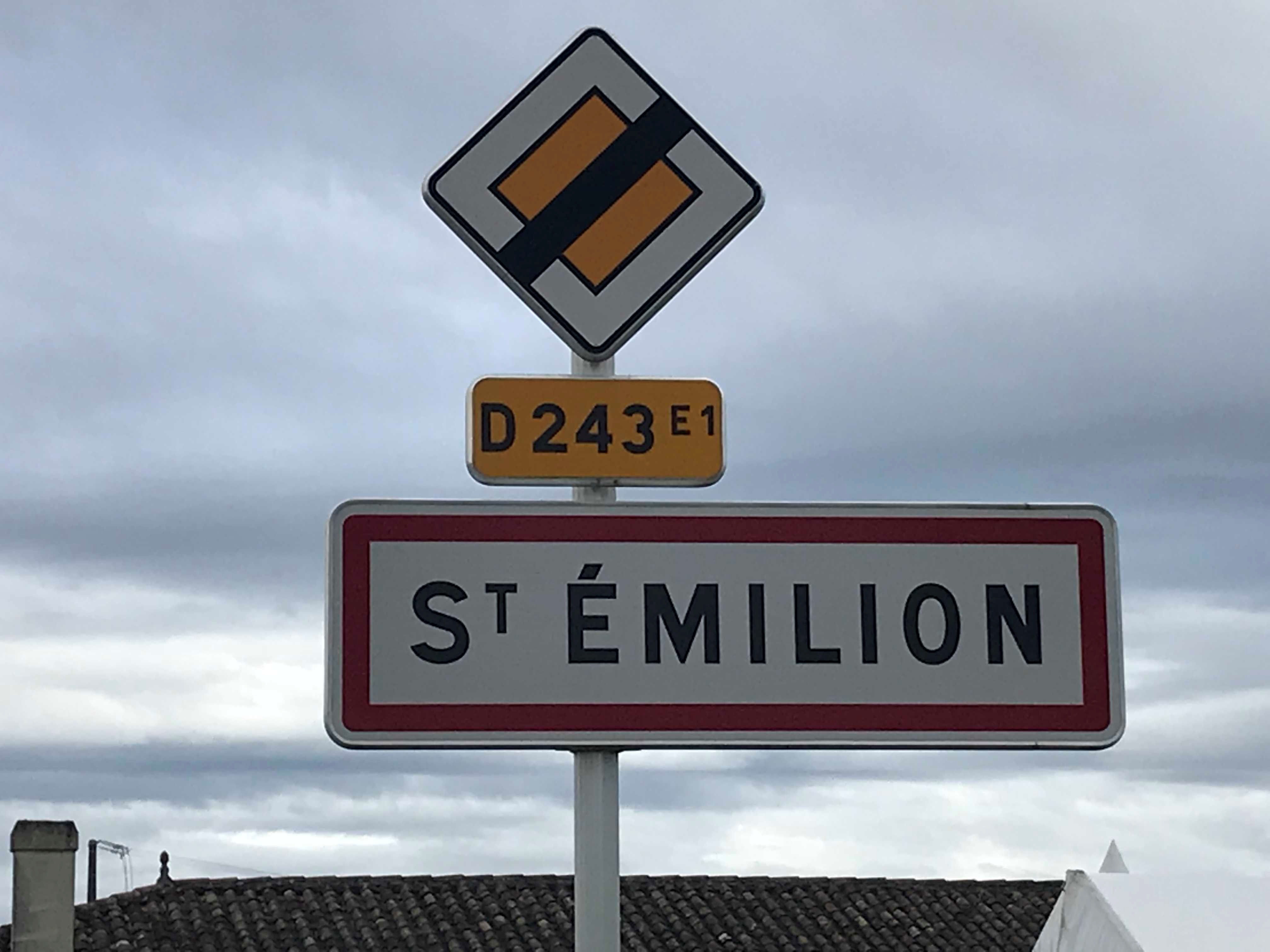 We were very pleased to see Troplong Mondot moving away from the Parkerised world it seemed to have lived in for some years with a much fresher, balanced structure. Overall a good tasting.
The Pomerol UGC was held at Château Gazin and this was more impressive. There were some delicious wines produced here; rich, chocolatey but with a fine balancing freshness. Interestingly, Château Rouget, one of the stand out wines of the tasting, is now produced with 35% whole bunch ferment, a very Burgundian trait. Clinet, Le Bon Pasteur and Petit Village also tasted well.
La Dominique was our final call, where we tasted their stable of wines followed by a whole host of wines whose production is overseen by renowned oenologist Michel Rolland. Of particular interest is Chateau Vieille Cure, a property we have followed in recent years. Owned by Americans, Colin Ferenbach and Peter Sachs, this is a real crowd pleaser, even if it is a little "in yer face!"
And back to the airport! Three solid days of tasting. Now for a period of reflection and discussion, before we decide what to offer in our forthcoming Bordeaux 2017 En Primeur offer.
It is an interesting vintage, not least for the sporadic and erratic weather patterns and the impact Mother Nature had on this agricultural Monobloc. This is a vintage where the tasters will have the final say and where experience counts. Even after so many years of tasting Bordeaux reds at this stage, we are never left with anything other than admiration for what Mother Nature, and a few thousand people in one small corner of France, can produce!"
Click here to learn more about En Primeur.
Click here to see our Bordeaux 2017 wines.

Back to blog