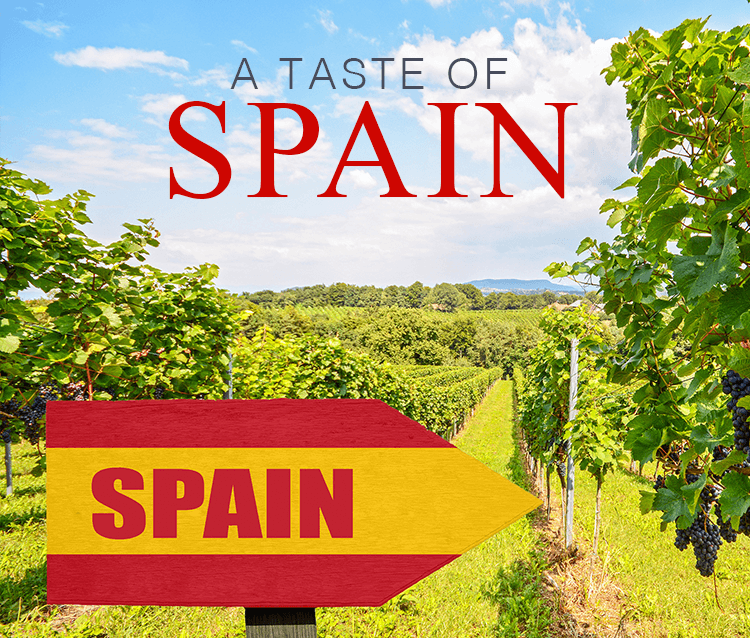 The old saying, "The rain in Spain, falls mainly on the plain" has always flummoxed me. I have spent time in the vast arid and barren plain of la Mancha in Central Spain basically heat scorched and good only for growing huge (and I mean HUGE) amounts of mediocre wine and, believe me, a few drops of rain would have been a blessing. I do not think that I have ever felt so hot, parched, and burnt… ever. Every surface was hot, every wine was warm. This is (or was) the problem with Spanish wine for many years – World class wines in a few pockets of excellence such as Rioja, Navarra, Ribero del Duero, Rueda etc. and then the Elephant in the Room – La Mancha, where industrial quantities of grapes were harvested yearly, made into millions of litres of so-so wine.
Scroll forward and modern Spanish winemaking has seen tremendous strides in recent years - new equipment, new ideas, some of them the result of young Spanish winemakers travelling and working in far-flung estates around the World, and importantly, investment, as well as a desire to increase quality and to demote industrial winemaking to history.
I have chosen 3 new wines that I brought into the House of Townend lineup a few weeks ago following many weeks of research, tasting and discussion, and these perfectly showcase the diversity, exuberance and expertise that Spanish winemakers and vineyard managers now exhibit. These are the sort of wines that just make you smile – perfect with food, or just as good poured into a glass and sipped as the evening unfolds.

Verdejo 2020, Oro de Castilla, Rueda - £11.99
One sniff of this wine and you know it's going to be good! Intense, uplifted and floral nose shoots from the glass, all limes, grapefruit and flecks of spice. The colour is clear and limpid, just as it should be. In the mouth the wine just comes alive – crisp, deliciously tingly and with the nervous energy you used to get from great Kiwi Sauvignon (but alas rarely do these days ). Expect citrus fruits, touch of passionfruit, grapefruit again, and layers of savoury minerality and lime juice. The finish is long and lingering. Intense throughout, but deliciously so. A great alternative to likes of Sancerre, Kiwi Sauvignon or Picpoul.
Antona Garcia 2017, Bodega Rejadorada, Toro - £17.99
This amazing wine is made from low yielding Tinta da Toro grape ( Tempranillo ) grown in the clay and pebble-strewn vineyards around the town of Toro close to the River Duero as it winds towards Portugal to the west. Named after the revolutionary woman, Antona Garcia who led a Spanish attack to recapture Toro from the invading Portuguese in 1476, this bright, full bodied and stylish red shows great depth and grip. The grapes are hand picked and sorted, then fermented at cool temperatures for 23 days, before ageing in a blend of Spanish, American and Hungarian oak. The result is a dark, dense and spicy red wine, full of coffee, red fruit, spice and vanilla notes with tannins and grip aplenty – almost Malbec in style, but with elegance and warmth. A definite with rich meats and hearty, spicy vegetarian dishes
Otero Reserva 2014, Bodegas Otero, Vallees de Benavente, Castilla y Leon - £14.99
Hailing from the relatively new and unknown subregion of Vallees de Benevente, situated around the village of the same name north of Zamora, wedged between Portugal and Ribero del Duero in the NW of Spain, this red wine uses the native ( to the region ) grape Prieto Picudo to make a wine worthy of many Rioja Reserva's. Prieto has a character similar to Tempranillo, but imagine it blended with Pinot Noir for a fragrant and sensual mouthfeel. Wonderfully fresh and fruit driven on the nose, all sweet mellow oak, balanced with succulent dark fruits, spice and the musk of cellars. A wine that has been aged to show the perfection that comes from great winemaking and matching a worthy grape to the right soil.
The palate is fresh and structured, again the 24 months in oak comes through sweetly and with the right balance – matching and supporting the cherry and red fruits, with a lovely streak of fresh acidity that brings the wine to life. A dusting of black pepper gives a savoury edge, the wine stays powerful throughout and the finish is long and lingering with mellowness almost ingrained within its body and soul.
Wonderful – I am afraid to say I held onto that bottle for the evening!
Neil Goldie
Director and Prestige Accounts

Back to blog