The team at The Spreadeagle (part of The Individual Inns group) had asked me to host a Gin tasting night which was my pleasure – it is always great working with these folks. Obviously given the current restrictions numbers had been limited to provide safe social distancing and the organisation of this on the night was very well done. Given this, we still had 19 "Gin enthusiasts "attending the event.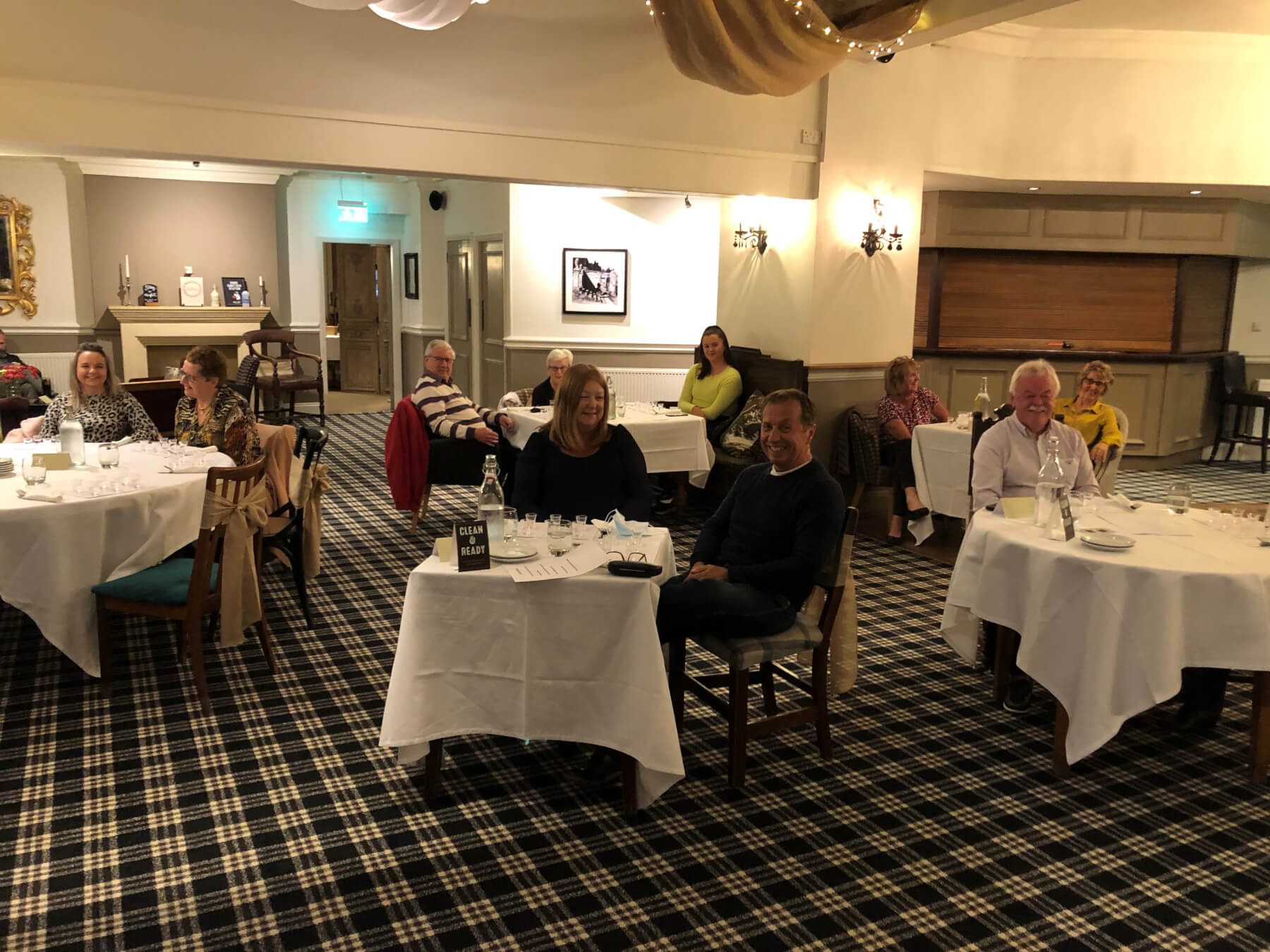 I have noted below the history of Gin and its production as I have done in previous Gin blogs just so that if you are reading this for the first time it will help!
Gin has seen a massive rise in consumption over the last decade... but what has sparked this? Well if we go back to the origins of Gin and its history we might get a better understanding.
Gin: A History
Gin has had quite the rollercoaster ride since its early days in the 12th century as an after dinner tummy-trouble reliever to the devastating effect on the poor in London during the 18th century where the death rate actually exceeded the birth rate! This is when the term "Mothers Ruin" came into being. Gin actually came to the UK during the thirty years war when English soldiers fighting alongside the Dutch against the Spanish noticed the Dutch drinking Genever to boost morale before going into battle, coining the term "Dutch Courage". It would take another 150 years before any Gin of substance would be distilled properly in the UK with Thomas Dakin opening his Greenall's Gin company in Warrington in 1761, shortly after Alexander Gordon opened Gordon & Company in Bermondsey and then Plymouth Gin began production in 1793.
Subsequently the likes of Beefeater and Tanqueray (who merged with Gordons) came into being. During the 1980's Vodka was the winning spirit in the western world. Recently the rise of small distilleries rather like craft beer has seen the popularity of the product far exceed our wildest expectations. Together with imaginative garnishes and better quality mixers we now have access to a multitude of offerings. So much so that to know that in 2013 there were only 153 Licensed Gin Distilleries whilst at the beginning of 2018 there were 315! With this figure growing all the time.
What is Gin?
Gin is made from the same base ingredient as Vodka - neutral spirit. What separates Gin from Vodka is the inclusion of juniper (a must for all Gins) and other botanicals (the plant matter and spices that are used to flavour the neutral spirit) during the distillation process. To extract the flavours and aromas from their botanicals most Gin makers soak these in the neutral spirit. These botanicals can be massively varied so whilst Juniper must be the dominant flavour they will use things like anise, liquorice root, saffron, cinnamon, cassia bark and orris root as well as fruit such as raspberries, strawberries and blackberries.
The Tasting
Well enough of the boring stuff what did we taste!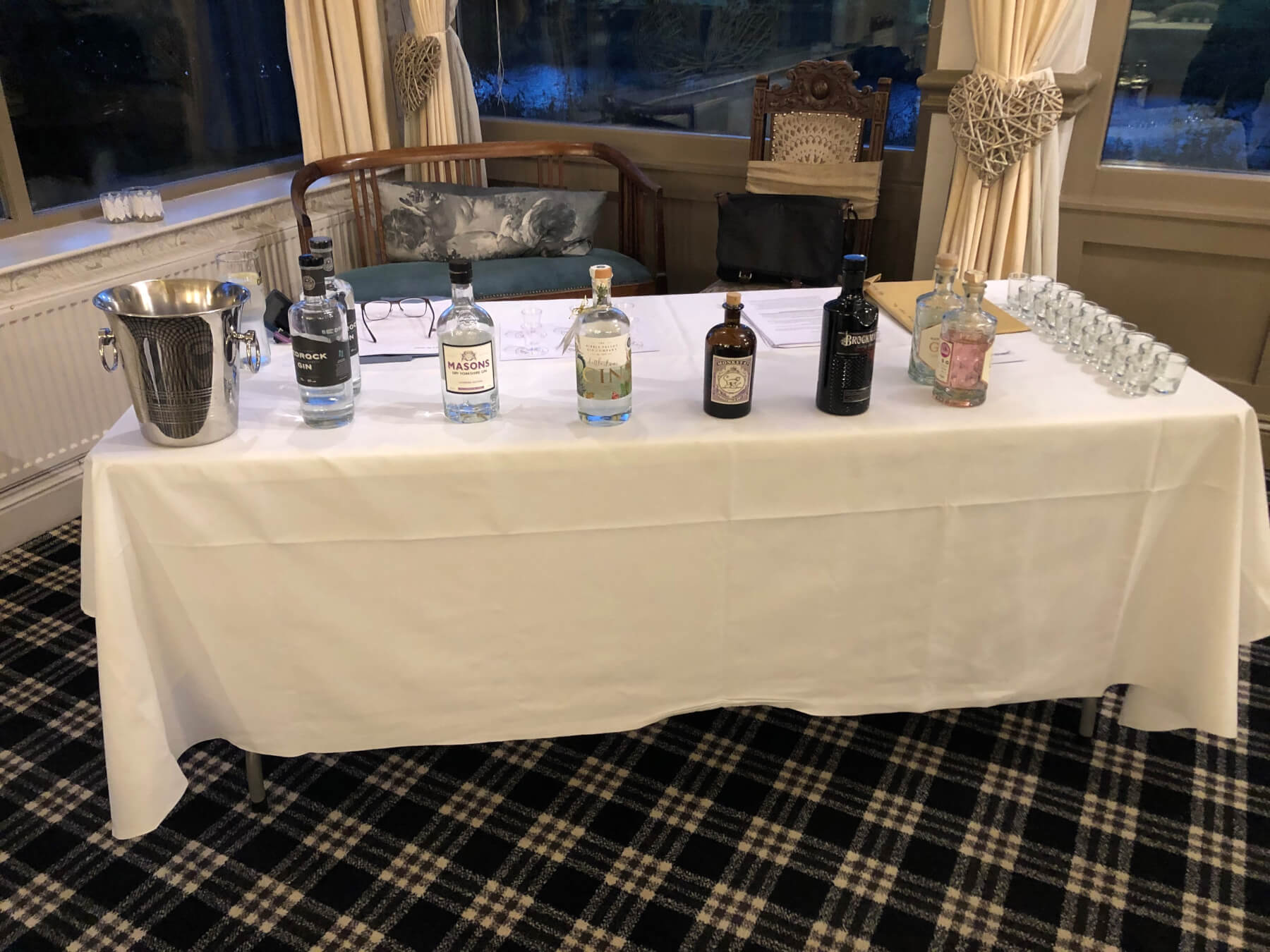 Alongside Natalie (part of the management team at The Spreadeagle with her husband and head chef, Greig) we had decided to taste 6 Gins and below are notes on each.
When I do a Gin tasting I believe that we should taste the Gins on their own, doing the nose and taste as one would do when wine tasting – only in this way can we compare the different notes and palates that each gin provide. Obviously I recommend drinking your Gin with tonic of your choice, however once tasted some of the Gins would not be bad on their own!
We kicked off with Bedrock (Keswick, The Lakes) - founded in 2008, Spirit of the Lakes ltd is the brand owner of Bedrock Gin, the first Gin to be made with spring water from the English Lake District- they are also the first Gin to use local oak bark as a botanical. This was enjoyed by most and was quite complex but not too harsh - definitely demands ice, lemon and good tonic.
We then moved on to Masons Dry, originally based in Bedale North Yorkshire, until an unfortunate fire forced them to re-locate to Leeming Bar- no matter the guys here are still producing wonderful stuff! Started by husband and wife team Kath & Karl Mason, their use of Juniper and a range of secret botanicals including citrus- well they had to give one away! Showed subtle aniseed and a fresh citrus finish. Lovely and one of my personal favourites and an award winning Gin.
Next on to Ribble Valley Little Lane- produced in Longridge, Preston, with its star botanicals being oak bark, blackberry leaves, meadowsweet, nettle, hawthorn berries and lime leaf! Apparently Lancashire does have its own native lime leaf- who would have known! This was extremely floral and zingy with a slightly spicy finish.
Whatever next? Well we took a trip to Germany to sample Monkey 47 produced in the Black Forest – so called because the 47 botanicals used and also its 47% abv – would love to list all but they are as usual a closely guarded secret- I wonder if there is such a thing as Gin espionage? This was very robust with pine notes and plenty of spice- not for the faint hearted- serve with tonic.
For the last 2 Gins we had decided to do 2 fruit based ones starting with the great Brockmans produced in Surrey. The predominant flavours of blueberries and blackberries abounded for us and it was beautifully smooth. This one I would try with a good Ginger Ale- marriage made in heaven!
The last Gin to sample was Manchester Raspberry Infused – well don't need to tell you where it is from and what the main botanical is – suffice to say they came through both on the nose and finish which was incredibly smooth. Tonic ok but try this …. Get some good vanilla ice cream and put a splash of either of the last 2 Gins on top- amazing!
A big thanks to Natalie, Greig and Amy at The Spreadeagle for their organisation and watch this space for future events.
Enjoy you gin and as usual please don't stick to the same one there are so many out there to try!
Rak

Back to blog