On 11th Feb this year our Director of Prestige Accounts, Neil Goldie, hosted an Italian Themed wine tasting in Kendal. ABPG was the acronym for the night - Anything But Pinot Grigio. The tasting consisted of 5 varied Italian wines.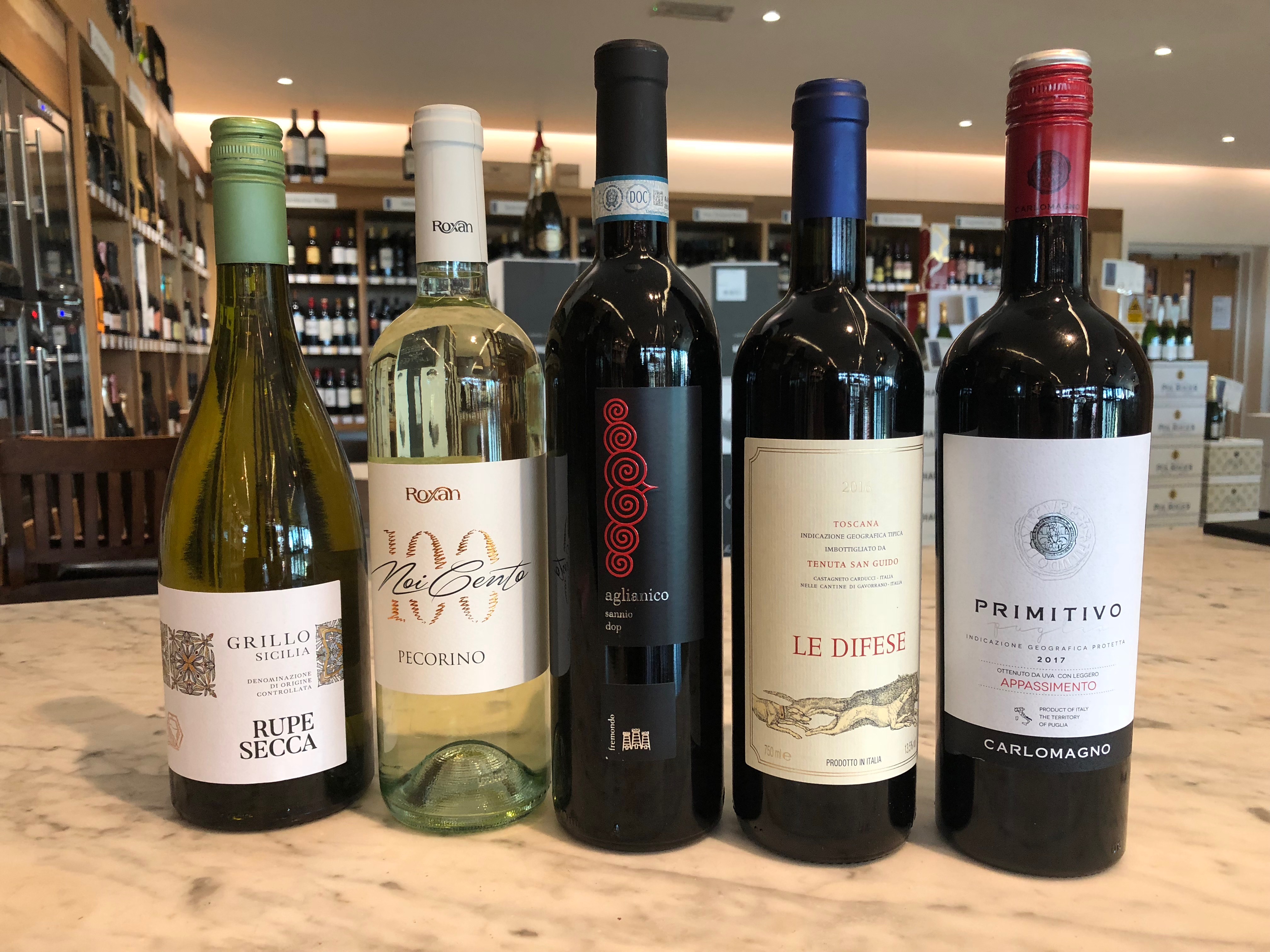 Here are Neil's notes from the night. The line up from left to right:
Grillo 2017, Rupe Seca, Sicily
Ripe, soft and layered with citrusy tropical fruit, touch of vanilla and butter cream, splash of peach and a dash of spice. Dry but not overly lip-smackin' crisp. Doesn't make your mouth pucker as one of the guests mentioned. Always a good sign!
Click here for more info.

Pecorino Noi Centro, Abbruzzi
Rare to find a great Pecorino at a decent price, and this was a really great example. Retailing for just £10.99, this Pecorino showed the linear, fresh and racy acidity of the grape, almost Burgundy like steely character – with a dash of saline and a nudge or two of baked apple. Lovely stuff and so much more interesting than Kiwi Sauvignon or mediocre Pinot Grigio!
Click here for more info.

Aglianico, Fremondo, Campania
I remember trying and Aglianico from Basilicata when I did my WSET Diploma many years ago – what a revelation that was… powerful, leathery, cherry infused but alas it tasted almost too powerful and robust for my young palate. Now this is rather good – lighter, fresher with a note of cherry and plum, rounded out with soft tannins and a nice crisp freshness.
Click here for more info.

La Difese 2016, Tenuta San Guido
Made from the same stable as Sassicaia in Tuscany, a wine whose 2016 vintage just scored the magic 100% in recent international tastings causing the price to jump significantly. The La Difese is a younger, fresher, more drinkable-at-an-early age red made from Cabernet Sauvignon and Sangiovese. On the night this showed well – purple red colour, good penetrating nose of crushed red and black fruits, oak, spice and leather. Whilst still young, this appealed to everyone and it scored highly.

Primitivo 'Appassimento' Carlomagno, Puglia
This was the top scorer on the night – dark, dense and full of supple and lush boiled black fruits, layered with subtle oak and lots of spice. Made from handpicked Primitivo grapes, fermented in tank with dried grapes added, the effect is a little like turbo-charging (but without the speeding ticket – that's another story!). The result is a rich, fruity, complex and concentrated red that shows just how good the Italian wine making scene is currently.
Click here for more info.

Back to blog