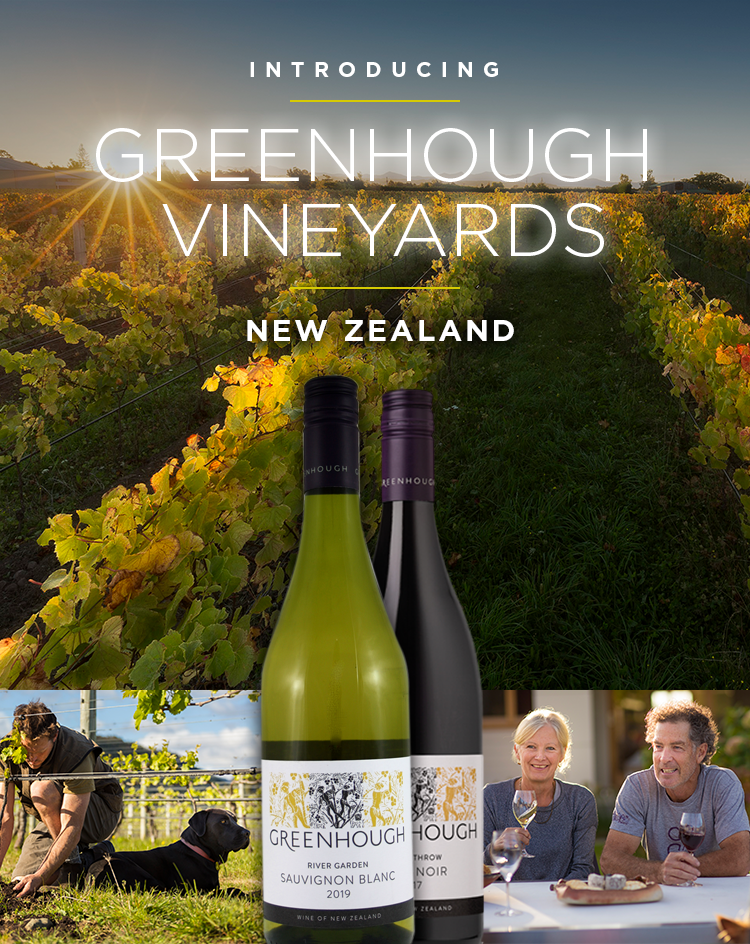 "Gloriously silky-textured Pinot Noir, bursting with ripe berry fruit. Expensive, but it would be hard to find a comparable red burgundy at this price. The Sauvignon Blanc in the same range is excellent, too." Fiona Beckett, The Guardian, 19th March 2021
This award-winning New Zealand winery is located in Nelson at the top of the Southern Island and is run by Drew and Jenny Greenhough, who are extremely well respected in the industry for their carefully crafted organic wines and whose hallmark is their gloriously pure fruit. Drew and Jenny have been honing their skills since 1990, when, inspired by a spell overseas, they upped sticks and left their careers in Auckland. The Greenhough's respect for their wines and terroir is reflected in their low yields, hands-on, organic approach to grape growing and individual small batch winemaking. Furthermore, they make the most of a climate that is more open to the tempering effects of the Tasman Sea giving conditions more akin to the Loire.
River Garden Sauvignon Blanc, Greenhough Vineyards 2019
Usual price £14.99
Offer price £13.50
With a restraint that is typical of Nelson, this Sauvignon is more 'Loire' than 'Marlborough' in style. Overt and aromatic and fragrant, there is a lovely expression of gooseberry fruits on the nose. The palate is rich and tropical with good creamy weight derived from 5% barrel ageing. There are notes of green apple and citrus with a sweet ripeness on the finish. Poised and balanced this wine has received critical acclaim.
"The 2019 vintage is the first to be labelled 'River Garden'. Fresh and mouth filling, it is sweet-fruited, with generous, ripe tropical-fruit flavours, a subtle seasoning of oak, good drive through the palate, finely balanced acidity and a rounded finish. Already delicious, it offers excellent drinking now to 2021."
5 Stars, Michael Cooper – Wine Buyer's Guide 2020
"Showing excellent ripeness and a light touch of silkiness on the palate, the 2019 River Garden Sauvignon Blanc includes a small portion (10%) of barrel-fermented fruit. Nectarine and melon notes are joined by citrus flavors in the medium-bodied wine, which finishes with refreshing acids and lingering hints of tangerine."
90/100, Joe Czerwinski – The Wine Advocate, April 2020
Stones Throw Pinot Noir, Greenhough Vineyards 2017
Usual price £18.99
Offer price £16.50
Ripe and fresh strawberry aromas, with summer berry-fruits, citrusy, floral notes and a lightly spiced, herbal fragrance. Quite Burgundian in style and aged in barrel for 10 months the palate is vibrant and bright, with a light spicy savouriness and supple structure of well-bound tannins. There is a depth in the exotic guava and quince which have a secondary, preserve-like richness. A refreshing plum-skin tanginess and chalky, minerality balances these ripper flavours.
"A blend of neighboring vineyards, the 2017 Stone's Throw Pinot Noir is exceptionally fragrant and silky, offering up hints of smoked bacon, various savory spices, floral notes and dark berries. It's medium-bodied, with delicate tannins that are just present enough to give the wine shape on the palate without interfering with its early consumption. Pretty and complex, it should be consumed over the next few years."
92/100 Joe Czerwinski, The Wine Advocate, April 2020
"Nelson is one of New Zealand's least celebrated regions, but there are some exciting wines being produced. This pinot is well priced compared with its European cousins and has plummy fruit and a silky, floral flavour. A great pairing with the roast turkey."
Will Lyons, The Sunday Times, 14th December 2020

Back to blog