David, our Sales Director and Johnny, our Regional Account Manager, travelled to Italy at the end of September 2019 to visit the lovely team at Villa Sandi. Two days of drinking fabulous wines, eating great food, visiting stunning vineyards and learning to make mozzarella... Here is Johnny's account of the trip:
Day 1
Mid-September saw the first few days of autumn, which seemed like an ideal time for Dave Archibald and I to head off to Northern Italy on a buying trip (that's what we call it anyway!) and our journey took us to Treviso, the home of Prosecco.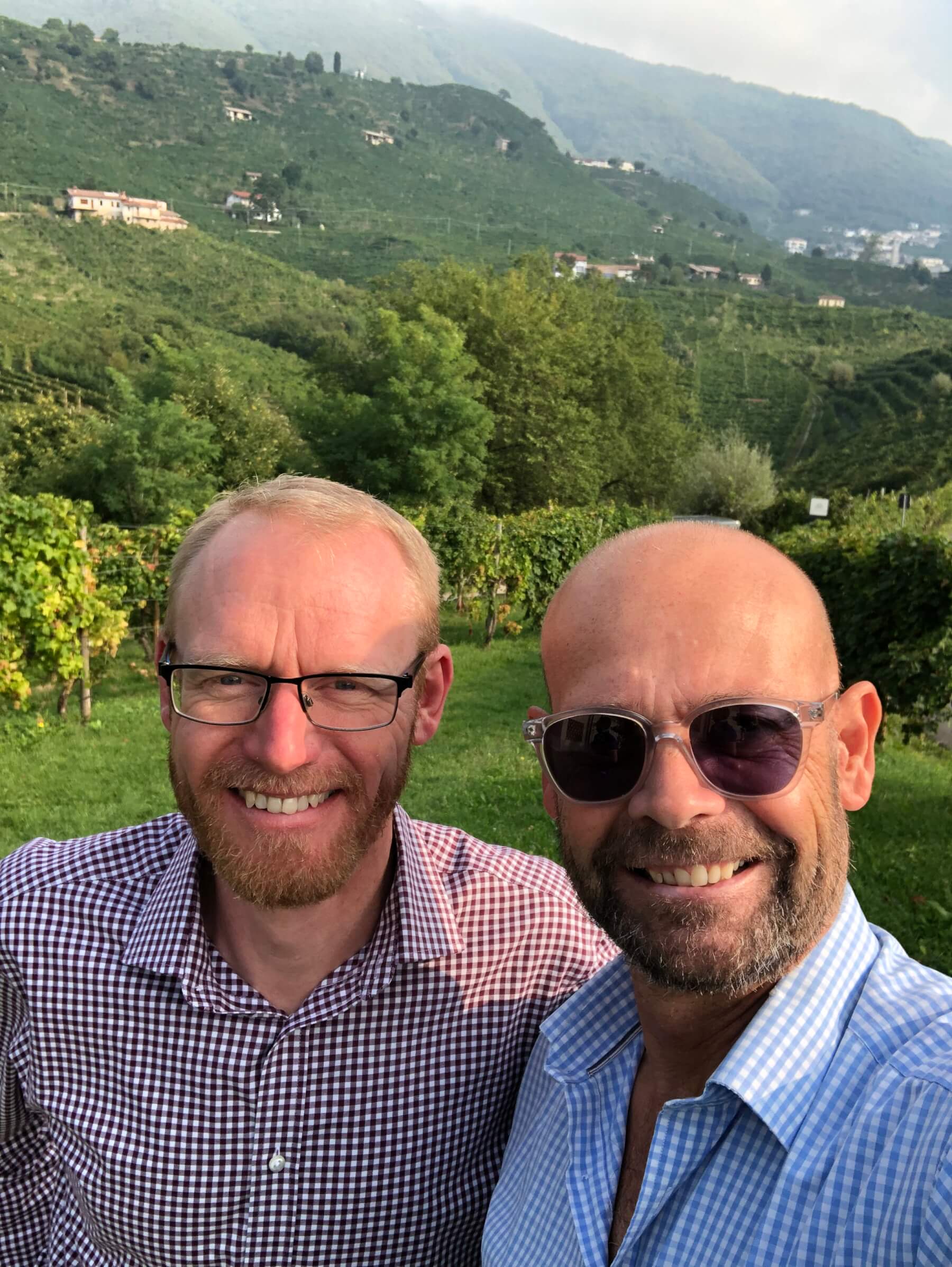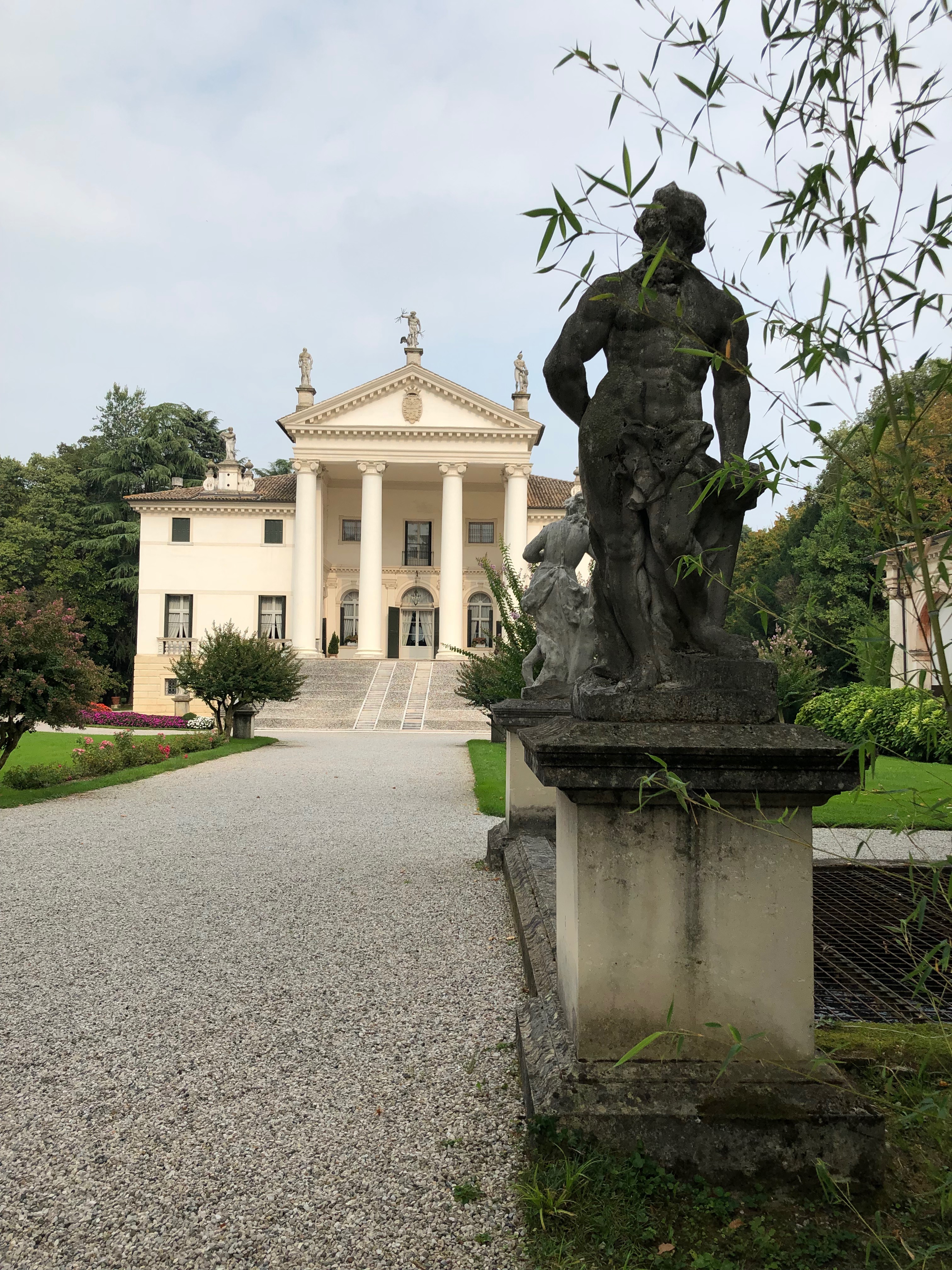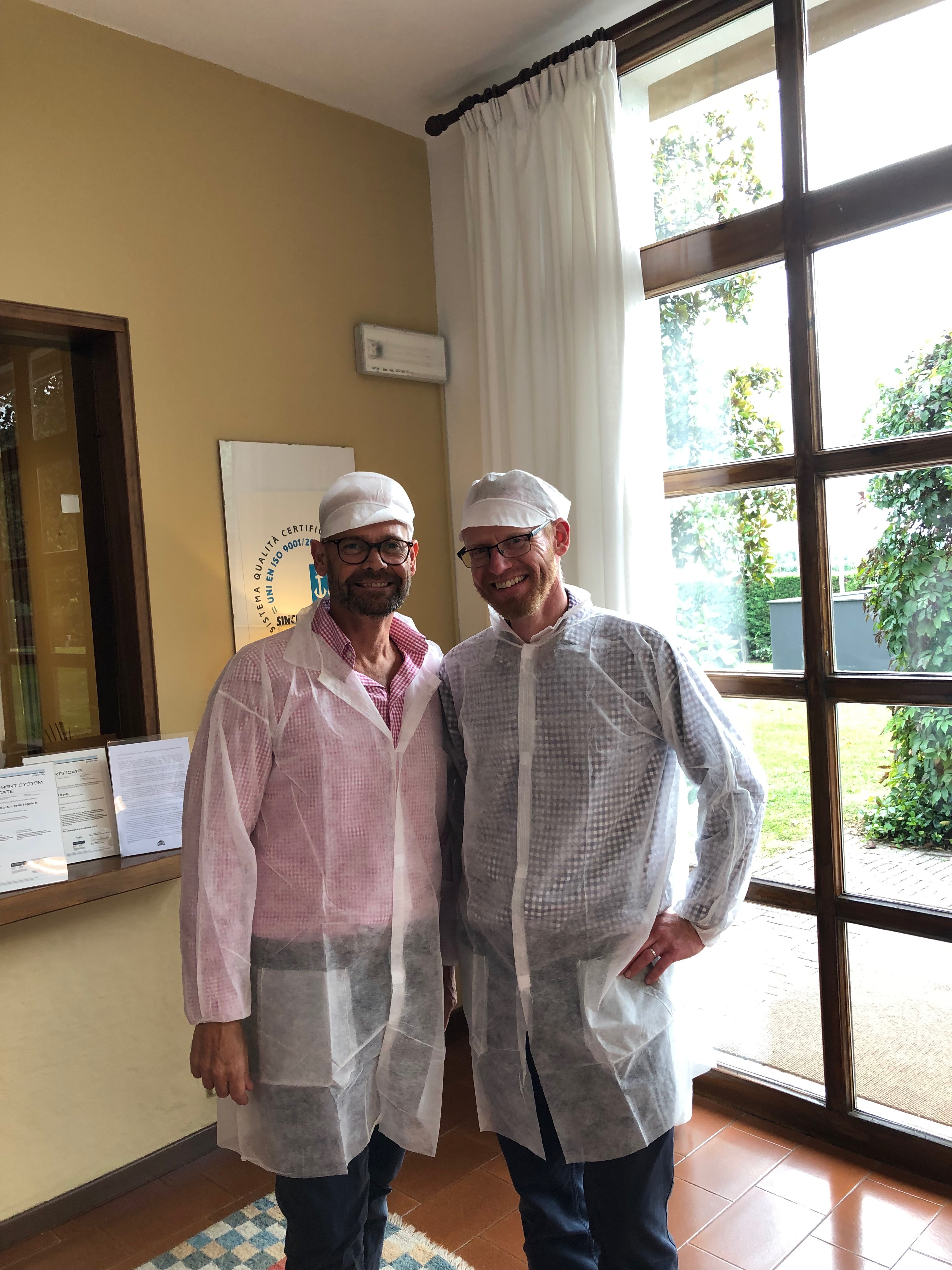 We have been working in partnership with Villa Sandi for many years and what never ceases to amaze me, is the variety and quality of products they produce. With production levels at 5 million bottles, Villa Sandi is a major player in the Prosecco region of Italy and you can see that the brand is very strong when travelling around. The quality is second to none and in one case that statement can be used literally. We were lucky enough to taste, in the middle of the vineyards where its grapes are lovingly grown, a Prosecco which has recently been awarded the best in class. More on that later!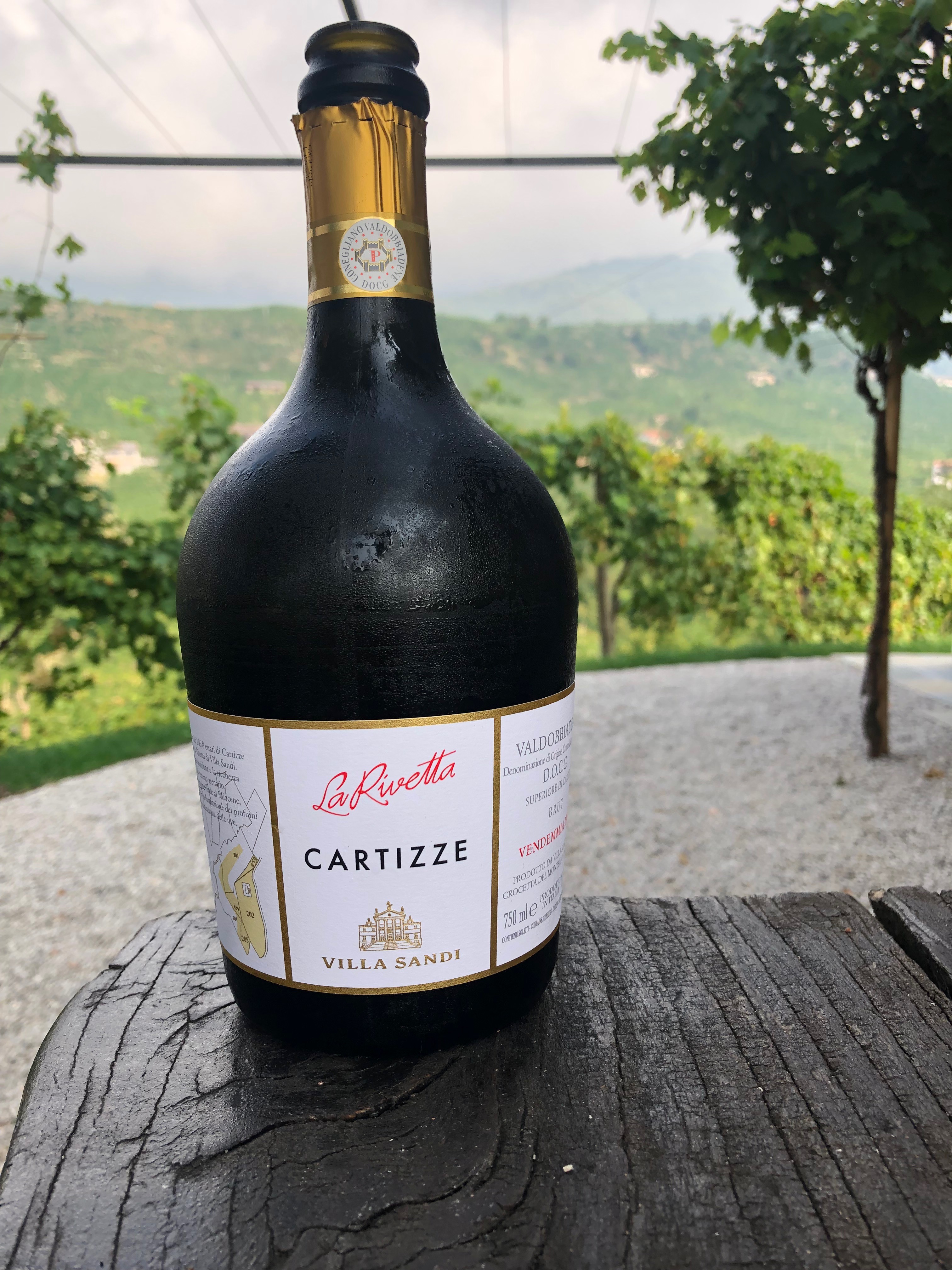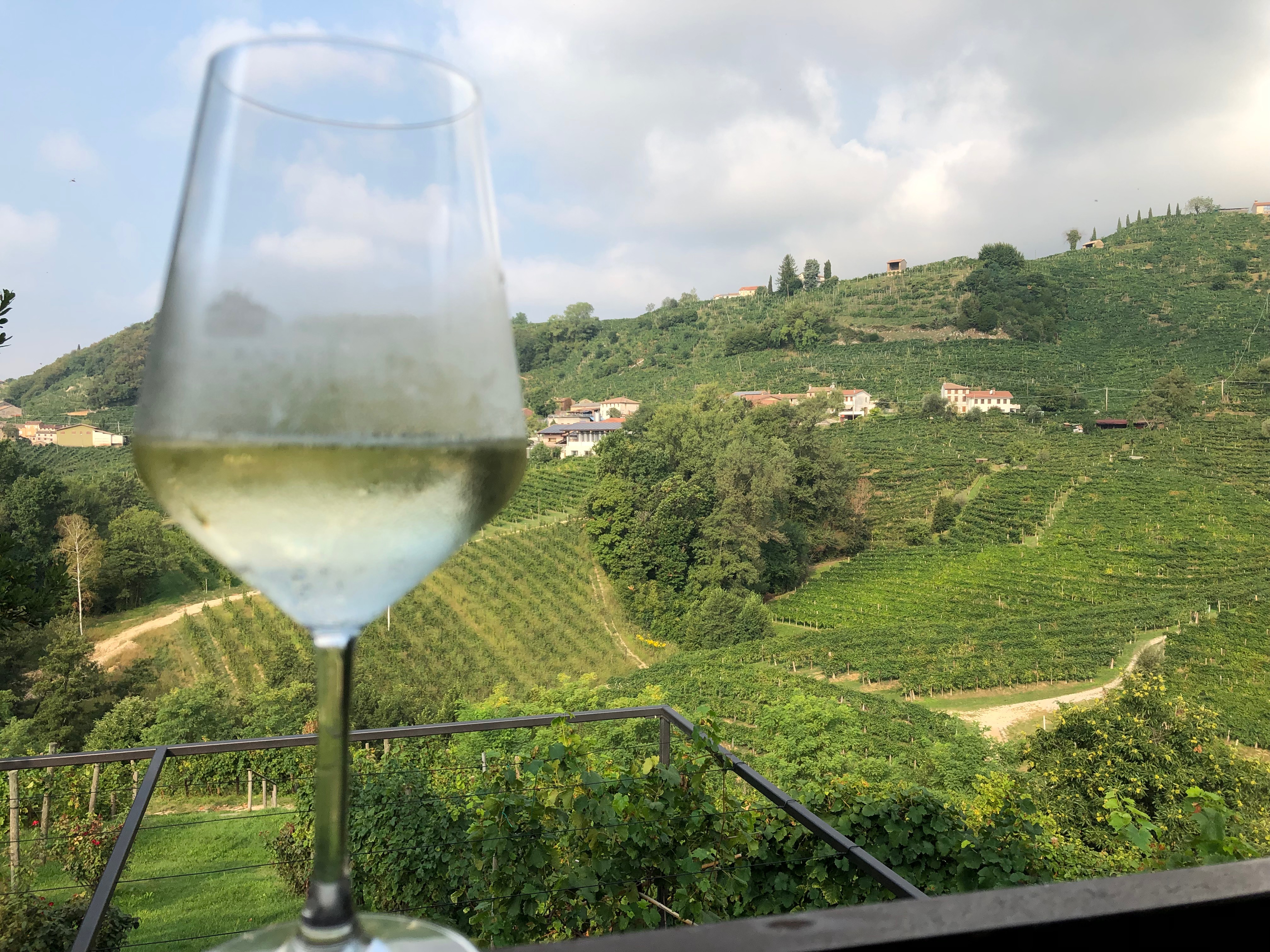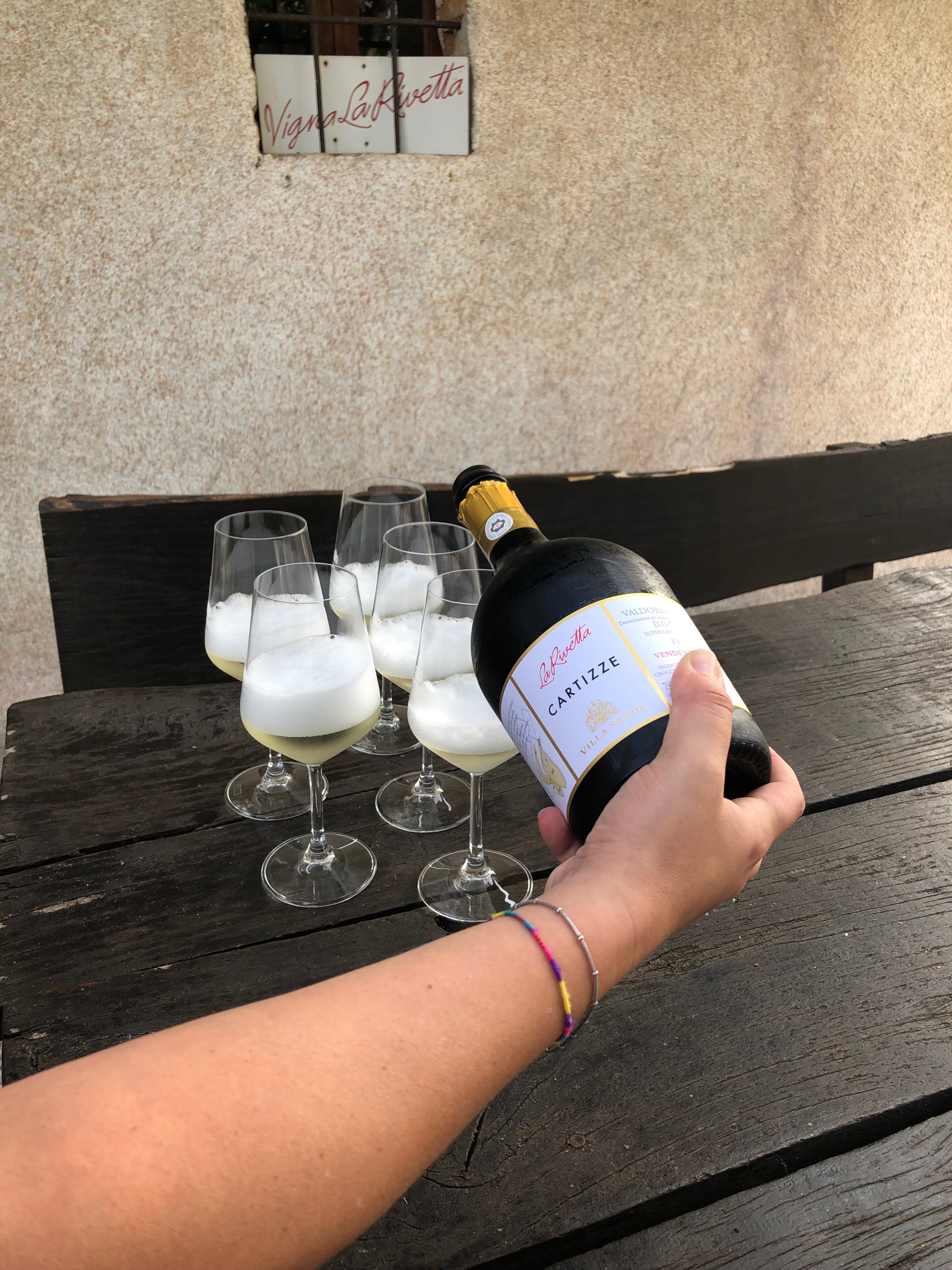 Our visit started with a lunch hosted by Stephano Gava, Villa Sandi's winemaker, and we were treated to some delicious pasta (of course) and a selection of wines: A welcome glass of the 'Il Fresco Brut' followed by their excellent Trevigiani Pinot Grigio. Interestingly, they are offering this now with a screw cap rather than cork. Much better idea in my opinion for so many reasons.
House of Townend's generous selection of Pinot Grigio is led by the Villa Sandi Pinot. Yes, it maybe a little more expensive that others, but it really is special. I don't think it needs a cork and actually it benefits from the freshness obtained by keeping it sealed in screw cap. For events of course, it speeds up the process of opening too.
After a detailed tour of the winery, incredible underground cellars, and bottling plant which has recently had a 10 million Euro upgrade, our Prosecco tasting started in earnest.
I am often asked, what makes Villa Sandi Prosecco so special. It is a combination of processes which begins with owning their own vineyards, having a special co-operation with a group of vine-growers and also collecting grapes from the same vine growers for decades.
The winemakers and agronomist regularly monitor the growing process to select grapes of the highest possible standard required by Villa Sandi. After selecting the best grapes, Villa Sandi relies on a special production technique to get the very best Prosecco.
To enhance and preserve freshness and the floral and fruity aromas of the Prosecco, the winemakers chill the 'must' (the freshly crushed grape juice that contains the skins, seeds, and stems of the fruit) and store it. For the entire range of sparkling wines, they start the sparkling process from the chilled must instead of starting it from wine. The chilled must maintains the freshness, floral and fruity notes and of course the quality of Prosecco at its' best (as if the grapes had just been harvested and pressed). The resulting sparkling Prosecco enhances these typical features, making Villa Sandi Prosecco different.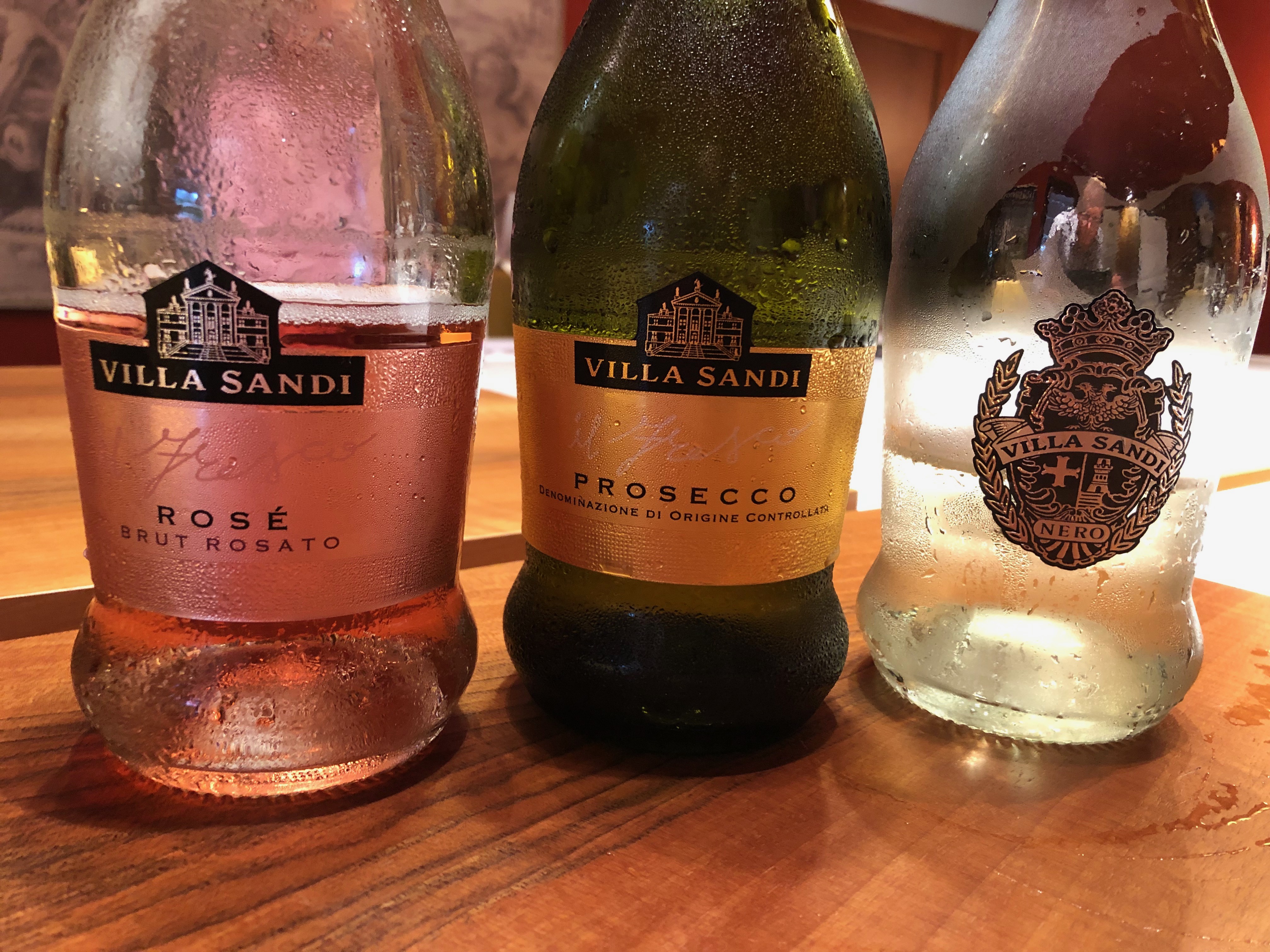 This tasting included:
'll Fresco', Brut – Our most popular Villa Sandi Prosecco. A perfect aperitif.
Valdobbiadene Superiore, Millesimato Brut – This is a step up with super elegant tones of apple and peach.
Valdobbiadene Superiore, Extra Dry – A fuller style with a touch more sugar making it a richer style. This makes it perfect with lighter first courses.
Valdobbiadene Rive Di San Pietro Di Barbozza - Harvested a little later to ensure a richness comes through making this an almost Champagne like taste. Complex and structured, the palate is powerful enough to match cheese, sushi and shell fish.
Nero, Asolo Prosecco Superiore Extra Brut – The Asolo Prosecco area lies in the Veneto Region just north of Venice. This is a very new product for Villa Sandi after they acquired the land in recent years. It's a very dry Prosecco with only 5g/ltr. On the palate, tones of acacia flowers which give the wine a gentle and elegant persona. The finish is incredibly clean. This was a real star of the show with a specially designed, smoked glass bottle.
Later that evening, Dave and I were treated to a sumptuous dinner at Locanda Sandi, Villa Sandi's own restaurant situated in the middle of the Valdobbiadene vineyards.
Lobster and Scallop Ravioli was served with the Tardo Sauvignon, Marca Trevigiana 2018 Villa Sandi which is a stand out wine for me. All the mineral qualities of a Kiwi Sauvignon but with a rounded, fuller mid-palate. It paired perfectly with the Ravioli. This was followed by a couple of cuts of prime beef cooked perfectly on an open fire. The red wine of choice for the beef was a Merlot called 'Carpore' by Villa Sandi. Aged for 1 year in French oak, this is a full bodied, rich and perfumed Merlot.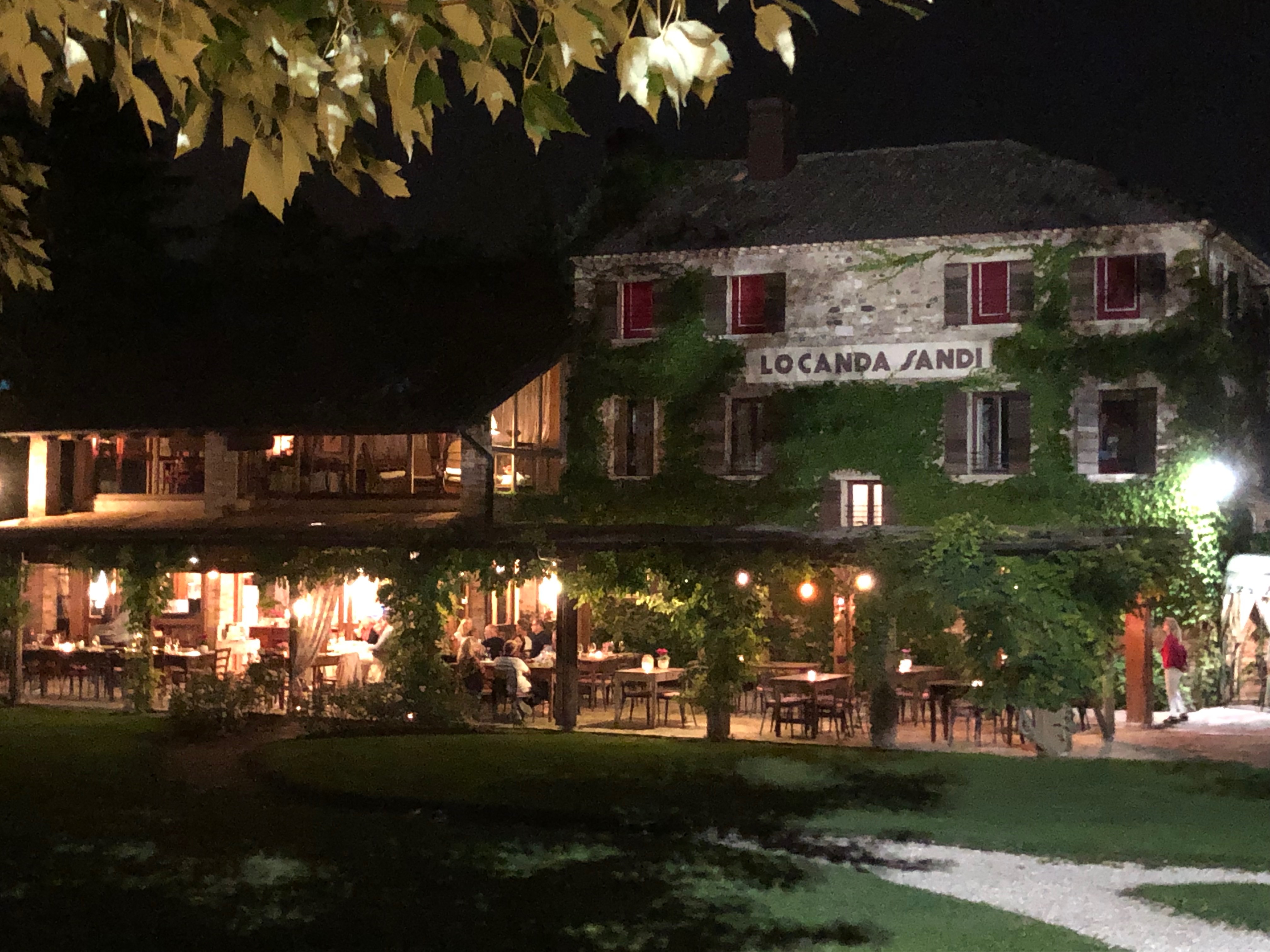 Day 2
As if this was not enough, the following morning, and for me the highlight of the trip, was a visit to the centre of the Prosecco area, Cartizze. Villa Sandi have named their award winning Prosecco (best Prosecco 10 years running) after the place it comes from - Valdobbiadene Superiore di Cartizze La Rivetta.
The Villa Sandi Estate Vigna La Rivetta lies in the heart of the 106 hectares Cartizze area, between the districts of Santo Stefano and S. Pietro Di Barbozza in the municipality of Valdobbiadene. A real Cru resulting from the perfect combination of a microclimate and very old land with calcareous sandstone and clays.
The steep hillsides and lush vineyards are stunning and it was a treat to be there on the last day of growing as the grapes were being harvested the following day. We were lucky to be blessed with great weather too!
Naturally, we had to open a chilled bottle and have a glass.
After lunch at a cookery school owned by Villa Sandi and having had delicious food cooked by the students, we headed back to the Villa for a tasting of the Opere Wines. These are their classic method (made like Champagne) wines.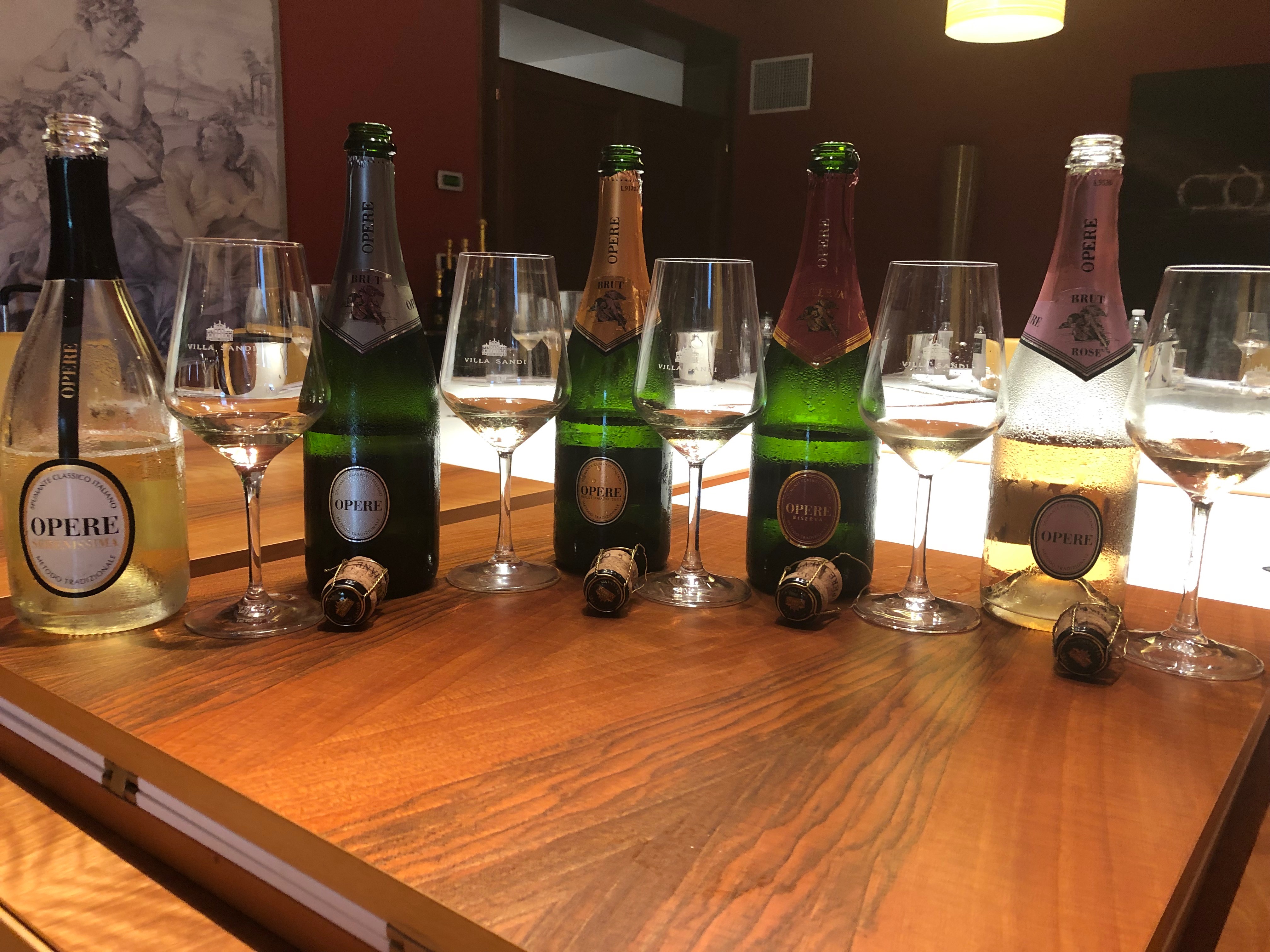 This tasting included:
Opere Trevigiane Serenissima – A 50/50 blend of Chardonnay and Pinot Noir. An excellent aperitif and ideal with light canapes.
Opere Trevigiane Brut - With 11 g/l, this is a slightly richer wine with 70% Chardonnay and 30% Pinot Noir. It pairs beautifully with seafood.
Opere Trevigiane Millesimato – With slightly more Pinot Noir than Chardonnay, this wine has a touch more complexity. The wine is left on the lees for at least 60 months before disgorging, being allowed to settle for a further two months prior to marketing.
Opere Trevigiane Riserva – A fuller and complex wine reminiscent of a fuller Champagne (Bollinger springs to mind). The blend, Pinot Noir heavy, is then split with 70% fermentation in temperature controlled steal tanks and 30% in used barrels. Again left on the lees for at least 60 months before marketing.
Opere Trevigiane Millesimato Brut Rose – 100% Pinot Noir is left to macerate for only a few hours to obtain the delicate salmon pink colour. This really is a stunning wine and an ideal partner to cured meats, shell fish and even strawberries and cream.
What a special day. Villa Sandi really looked after us in style and after all that tasting, we headed to the city of Treviso for a quiet evening of more spectacular food and wine.
On the final morning, we had a guided tour of Treviso before a quick pizza (when in Italy), back to the airport and home to go on a diet!
Massive thanks to all the team at Villa Sandi for their generosity and hospitality.

Back to blog